Rich and creamy, you'd never know that this Healthy Potato Soup is packed full of veggies and so good for you!
One of my FAQs is how I bake like a crazy person and still maintain a healthy weight. First, I had to develop this little thing called self control and learn to give away/throw away what I don't need. I'll be honest, those are both HARD sometimes.
But another huge part of the equation is making sure that my meals are generally healthy and nutritious. In the spirit of transparency, I feel that I should share that actually ate my kid's leftover Mac and Cheese for lunch today. Obviously, I'm not nailing it every time. But it was organic, so do I get points for that?
All that to say, the idea is to get as many fruits and veggies as possible, and eat real food. And this Healthy Potato Chowder nails it on all counts. It's packed with loads of veggies, even some that I generally don't care for (lookin' at you, cauliflower). They simmer together into a flavorful, filling meal that won't make you feel like you deprived yourself to eat something "healthy." It's the kind of soup that will stick to your ribs, and feels like a comfort food for the really, really cold winter day.
Another thing I love about this one is how versatile it is. As written, it's appropriate for Whole30 (just leave the cheese off the top) and is also dairy and gluten free. I really love the bacon on top, as well as the rich flavor it gives the onions, carrot, and celery when you use the rendered grease for sauteeing them. How is it so magical like that? You just can't beat that depth and saltiness it adds to every. single. dish it touches.
But if you're vegetarian (or even vegan!) this soup is still for you. Just leave out the bacon and sub olive oil for sauteeing. You would also want to use vegetable stock in place of chicken. Really, how easy is that?!
Very easy. And it's why this is going to be on heavy rotation at my house allll winter long.
Print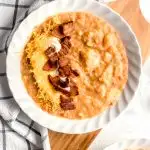 Healthy Potato Chowder
---
Description
Rich and creamy, you'd never know that this Healthy Potato Soup is packed full of veggies and so good for you!
---
1/2

lb (about

6

slices) thick sliced bacon, chopped into

1

inch pieces

1/2

a large onion, diced, about

3/4 cup

1/2

lb. diced carrots, 1 1/2-2 cups

1/2

lb diced celery, 1 1/2 cups

4

cloves of garlic, crushed

1/2

lb cauliflower florets, about

3 cups

2

lbs potatoes, peeled & diced

3 cups

chicken broth, divided

1 cup

coconut milk

1/2 Tbsp

. salt, to taste
---
Instructions
Begin by chopping all of the vegetables. Place the cauliflower in a small pot with 1 1/2 cups of the chicken stock and bring to a boil. Let it simmer for about 20 minutes, or until the cauliflower is soft when pierced with a fork. Pour it into the jar of a blender and let it cool.
In the bottom of a large stockpot, cook the bacon over medium-high heat until it is brown and crispy. Remove it to a plate lined with a paper towel, then add the onions to the bottom of the pot. Allow them to cook for 3-4 minutes, or until they are beginning to get soft and translucent, then add the celery, carrots, and garlic to the pot. Allow them to cook for another 5-8 minutes, or until they are becoming soft.
Blend the cooled cauliflower on high for a couple of minutes until it's completely smooth, then pour it into the pot with the other vegetables. Add in the chopped potatoes, coconut milk, and the rest of the chicken broth and bring the soup to a simmer.
Allow it to cook for an hour to an hour and a half, stirring occasionally. You want the potatoes to be soft all the way through. Salt the soup to taste, and add extra chicken broth if you want to thin it down.