Cookies and Cream Babka is chocolate sweet bread filled with a creamy chocolate filling and a whole pile of Oreos. Top it off with a sweet glaze and another handful of Oreos, of course.
Because of my life's calling (aka, making rather delicious baked goods and then taking pictures of them for this blog), we usually have a lot of good things hanging around our house. Cookies, cakes, pastries, and pies, there's probably something hanging out in the freezer or pantry for dessert. Which means that I don't have to buy much along those lines, and it's generally not even tempting.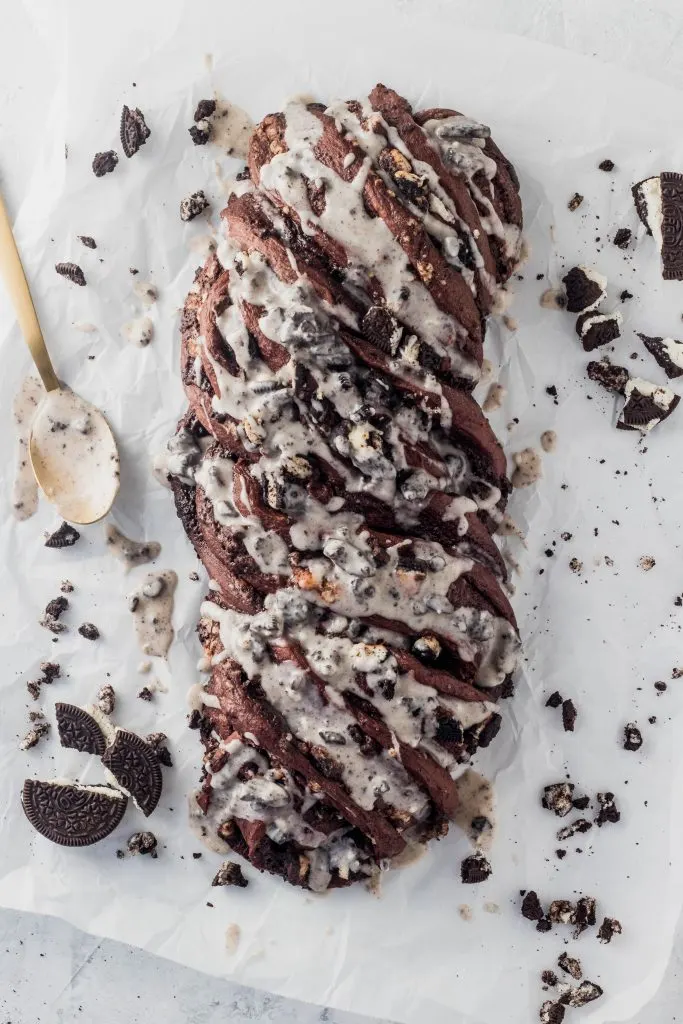 Except for Oreos.
Oh man, don't even get me started. And definitely DON'T hand me a sleeve of double-stuffeds. I can do magic tricks and make them all disappear. POOF. Gone, in a flash.
But actually, maybe you should hand me a package, because then I can make you this Cookies and Cream Babka. And that's a very good idea.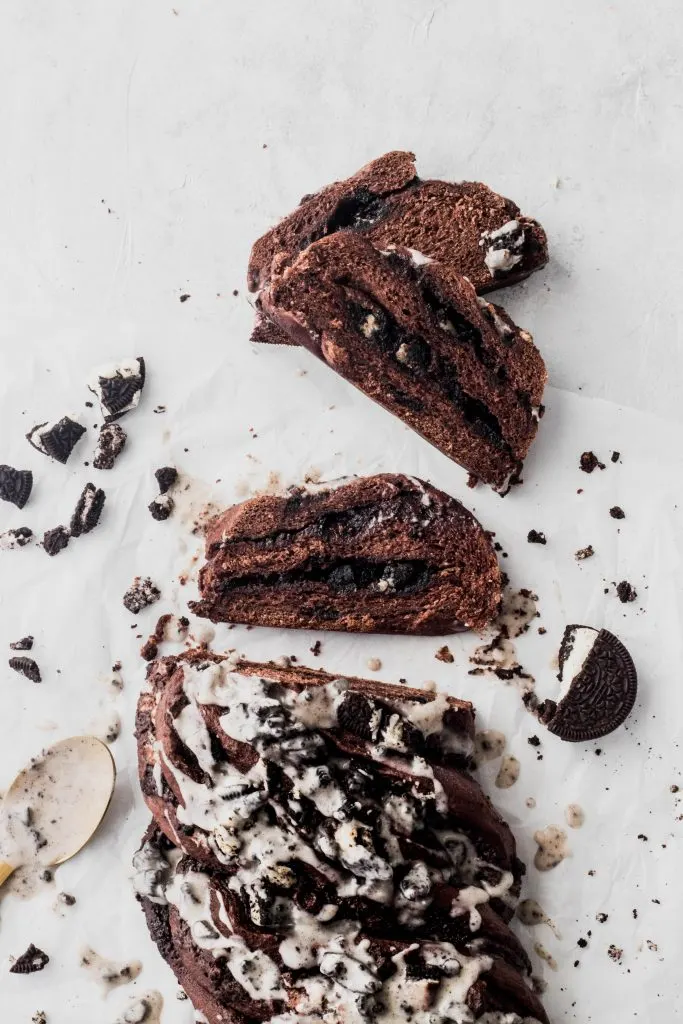 This sweet loaf is based on my recipe for chocolate sweet bread, then filled with a creamy chocolate filling and (of course) a whole pile of Oreos. Then you just twist and bake and glaze to make the most perfect sweet loaf. I kind of feel like this Cookies and Cream Babka is the best version of classy meeting trashy. I mean, Babka! So elegant and refined. And then Oreos! So incredibly indulgent and junk food-esque in all the best ways. They get together and it's pretty much like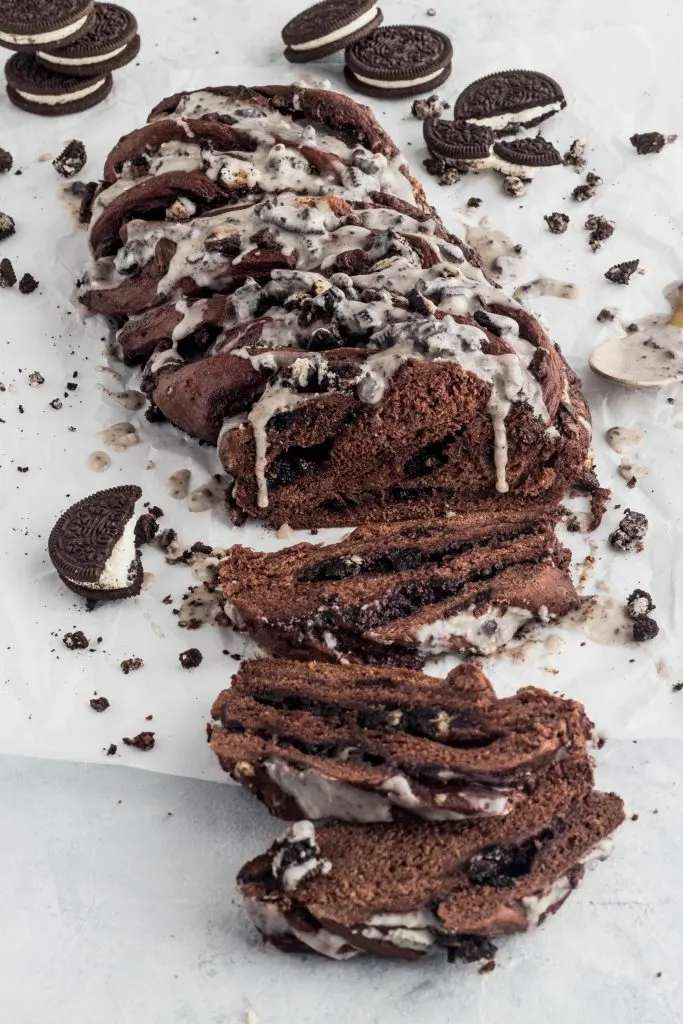 And then, you get to do your own magic trick and make the Oreos and this bread disappear. Voila!
Print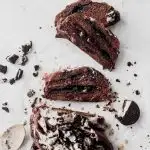 Cookies and Cream Babka
---
Description
Cookies and Cream Babka is a magical combination of chocolate sweet bread, gooey chocolate filling, and, of course, Oreos. Be sure to top it all off with a glaze and an extra sprinkle of Oreos.
---
For the Filling:
1/4 cup

(

50 grams

) white sugar

6 Tbsp

. heavy cream
a pinch of salt

3 oz

. (

85 g

) bittersweet chocolate

4 Tbsp

. (

56 g

) butter

1 tsp

. vanilla extract

12

Oreo cookies, chopped roughly
For the Glaze:
2 Tbsp

. milk

1 cup

powdered sugar

1 tsp

. vanilla extract

3

Oreos, chopped
---
Instructions
For the Bread:
Prepare the Chocolate Sweet Dough according to the directions. While it's rising, prepare the filling by combining the cream, sugar, and salt in a small saucepan. Simmer over low heat until the sugar has completely dissolved, for 4-5 minutes. Remove the pan from the heat, then stir in the chocolate, butter, and vanilla until melted and smooth. Let it cool to room temperature. It can be made ahead and stored in the refrigerator. Preheat the oven to 350 degrees. Set out a baking sheet lined with parchment paper. After it has risen, roll it out on a floured surface into a rectangle that's 12″x18″. Pour the filling over it, then spread it into an even layer. Sprinkle the chopped Oreos over the top, then roll the dough up along the longer side. Pinch the dough along the edge after it's rolled up to seal the filling inside the dough. Using a sharp knife, cut the roll in half lengthwise. Lay the halves with the filled sides up, and pinch the ends together. Carefully lift the right half up and over the left, then repeat until you reach the other end and pinch them together. Set the loaf on the parchment lined baking sheet, then let it rise for about 30 minutes. Set it on a rack centered in the oven and bake for 45-50 minutes, or until the dough in the center looks competely baked. It should measure at least 180 degrees f on an internal thermometer. Once it is baked, remove it from the oven and allow it to cool.
For the Glaze:
Whisk together the milk, powdered sugar, and vanilla extract. Use a spoon to drizzle it over the loaf, then sprinkle the Oreos over it. Allow it to dry before cutting.