This basic tart crust (pâte sucrée) is lightly sweet with a short, melt in your mouth texture, but is sturdy and simple to work with. It's the perfect base for any tart you wish to create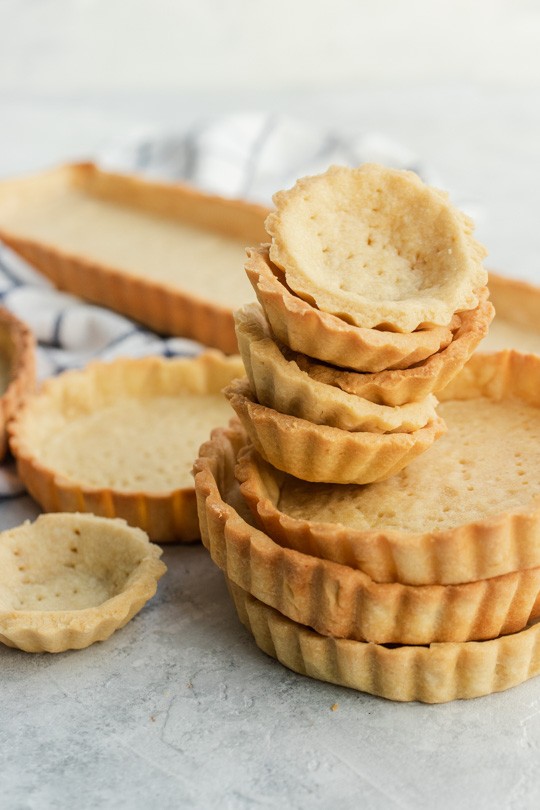 In the world of pastry, tarts are basically the slightly more elegant, incredibly versatile cousin to pies. The premise is the same–a pastry crust filled with custard, chocolate, or fruit, then served by the slice. But if you've ever walked into a French pâtisserie, you know the magic of perfect tarts, large and small, lining the pastry case with their varieties of fillings and sizes. They are a beautiful art form, with endless creative possibilities.
Personally, I find tarts to be not only more elegant than pies, but also easier to create and master. There are also a lot more options when it comes to the crust. For a savory tart or quiche, you would want to use a pâte brisée, which is essentially the French equivalent of American bakers' classic pie crust. But if you're creating a dessert tart, be it a custard, fruit, or chocolate tart, it's better to opt for something a little sweeter, with a rich, crumbly texture. Something like this Sweet Tart Crust, which in France would be called a
pâte sucrée. There's also have a pâte sablé, with a more delicate crumb, but it can be trickier to work with. Which makes this particular sweet crust the most versatile, enjoyable tart to create.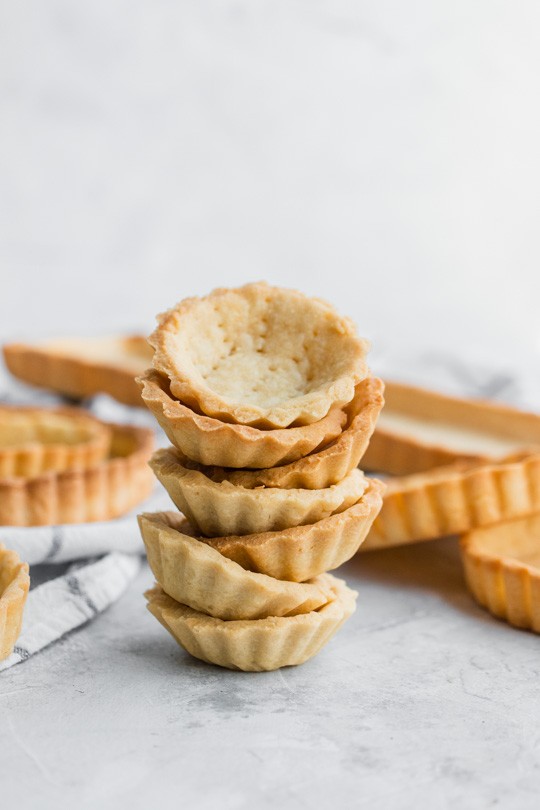 Let's just have a quick chat about the strange ingredient you see listed–the hard boiled egg yolk. Don't freak out, I promise it's all good. It'll give you a richer crumb, and doesn't leave any strange flavor or textures. In fact, it'll pretty much completely incorporate into the flour, and gives you a flakier result without too much effort.
Make sure to give the notes a quick read also. There are some pointers about rest times, making ahead (it's a good idea!), and just general tips to give you the best tart crust with no frustration.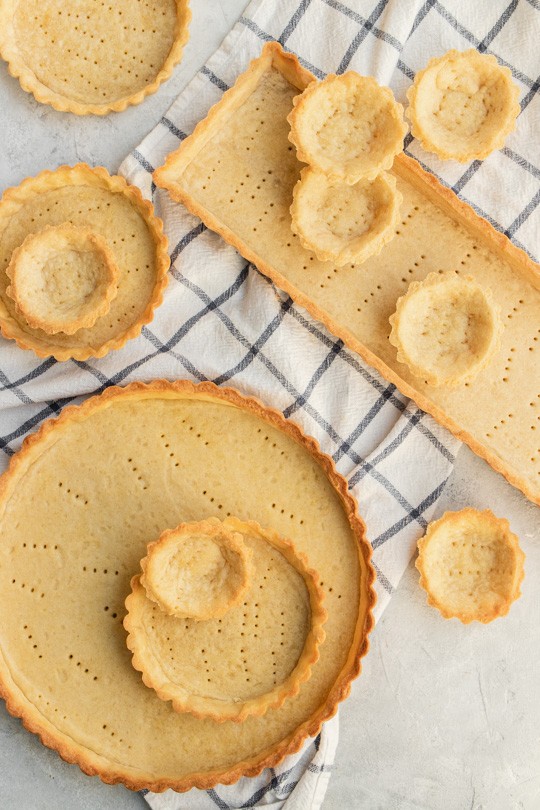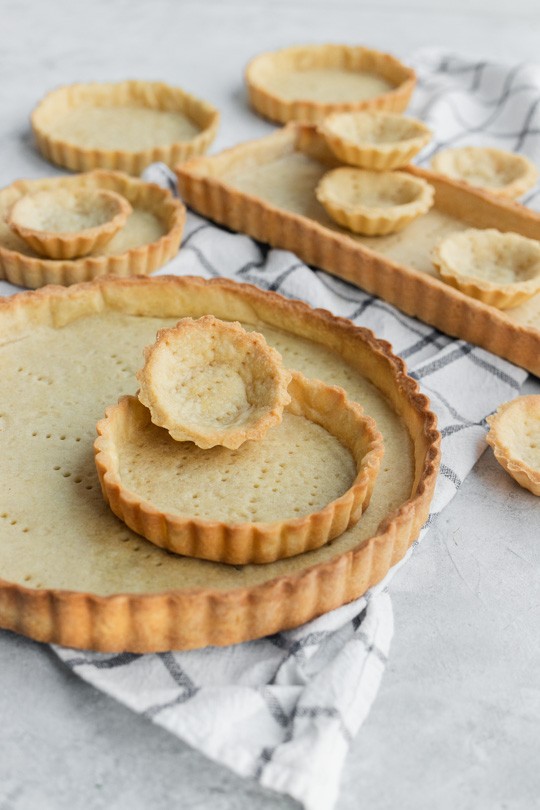 Print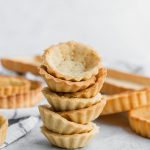 Sweet Tart Crust Recipe
---
Author:

Prep Time:

15 minutes || 3-24 hours resting time

Cook Time:

15-18 minutes

Total Time:

3.5 hours

Yield:

1

9″ round tart crust, or

6

4″ tart crusts

1

x
Description
This basic tart crust (pâte sucrée) is lightly sweet with a short, melt in your mouth texture, but is sturdy and simple to work with. It's the perfect base for any tart you wish to create
---
Scale
Ingredients
2 cup

s (

240

g) all-purpose flour

1/2 cup

(

63

g) powdered sugar

1/4 tsp

. salt

10 Tbsp

. (

143

g) butter, cool and not completely hard

1

large hard boiled egg yolk, grated

1

large egg yolk

3 Tbsp

. heavy whipping cream

1 tsp

. vanilla extract
---
Instructions
Fit your stand mixer with the paddle attachment. In it's bowl, combine the flour, powdered sugar, and salt. Stir on low to combine. Cut the butter into small chunks, and add them to the flour mixture one at a time while the mixer is running. Continue to mix until it is all worked into the dry ingredients, and the mix looks like slightly clumpy sand.
Stir in the grated egg yolk, then the raw egg yolk, cream, and vanilla extract. Stir until a dough is beginning to form. The dry ingredients should be completely absorbed, but you want to stop mixing while the dough is still in several smaller clumps and hasn't come together into one large ball.
Remove it from the bowl to a sheet of plastic wrap and press it together gently to form a ball, then wrap it with the wrap and press it into a disc. Refrigerate for at least 2 hours before rolling and baking. It can be kept in the refrigerator for up to three days.
To Bake the Tart Crust: Removed the dough from the refrigerator and, on a lightly floured surface, roll it into a round 1/4″ thick. Carefully lift the dough into your tart pan and press it into edges and side. Allow any extra dough to hang over the sides, and either run your rolling pin over the edges to remove it, or cut it off with a sharp knife. If any cracks are visible, press a bit of the excess dough into it with your fingers to fill it in. Put the crust back in the fridge for another hour.
Preheat the oven to 375F. Poke the crust 10-15 times with a fork, then line the crust with a sheet of parchment paper and fill it with baking weights, dry beans, sugar, or rice. Bake for 10 minutes, then remove it from the oven and lift the parchment paper with the weights from it. Return the crust to the oven and bake for another 5-8 minutes, or until the bottom crust is no longer shiny. The edges should be golden brown. Remove it from the oven and cool completely before filling. The crust can be frozen for up to two weeks if wrapped well.
---
Notes
The rest time after rolling and lining the tin is really important. It allows the gluten in the dough to relax, giving you less shrinkage and fewer cracks.
You want to be pretty deft with the dough to avoid as much gluten development as possible. The less gluten gets worked, the more delicate and less tough your crust will be.
This recipe can be made ahead and the dough frozen for up to a month. Alternatively, you can blind bake the crusts as directed and freeze them for up to two weeks.
If you pat the dough into a disc instead of a ball before chilling, it will be ready to bake sooner. 
Take any leftover dough, roll it out, and cut into cookies. Bake for about 10 minutes at 350F (bake times will vary based on how thick and large you cut them). They can be eaten plain, dipped in chocolate, or sandwiched with ganache, jam, or buttercream.
Category:

Pastry

Method:

Baking

Cuisine:

Dessert
Keywords: Sweet Pastry Crust