These Healthy Berry Breakfast Bars are packed full of whole grains, fruit, and use coconut sugar for a healthier sweetener. The perfect way to start your day!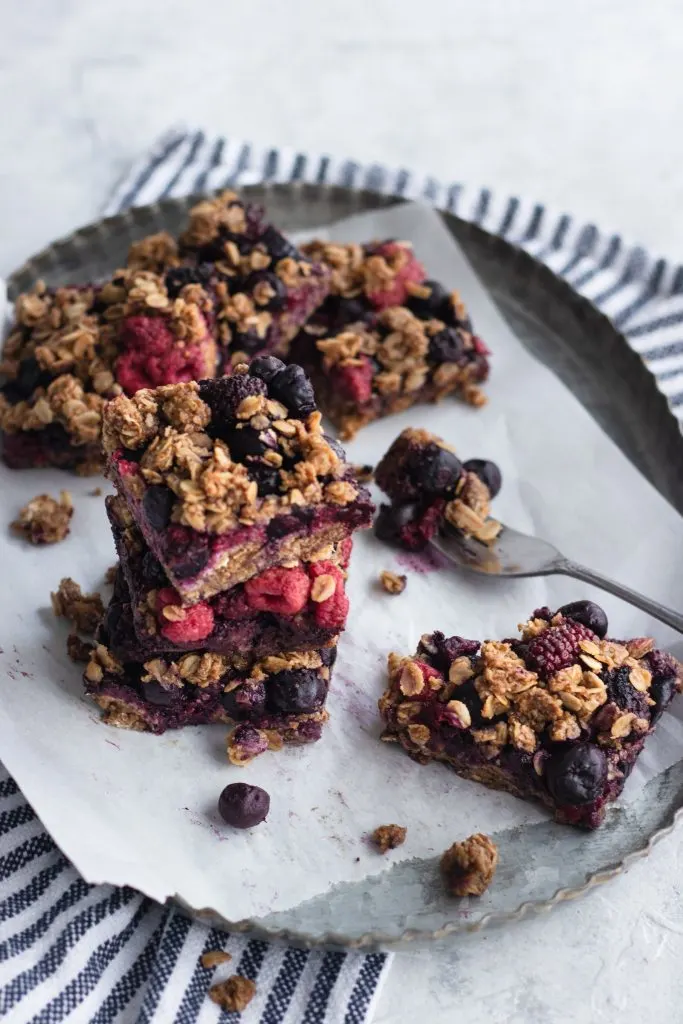 I'll admit that I'm generally skeptical of things that look like dessert but are labeled "healthy" and marketed as breakfast food. If it looks like a cookie, tastes like a cookie, and is a cookie, I'm probably saving it for dessert.
But these healthy berry breakfast bars are definitely an exception to that rule. I love them. My boys love them. My husband loves them. In fact, whenever I make a pan, I have to ration them out or they will be gone in one meal. Any leftovers would become snacks. And just like that, my clever plan to have breakfast ready to go for the next three days has vanished, leaving behind nothing but a few crumbles of oatmeal and maybe a stray blueberry.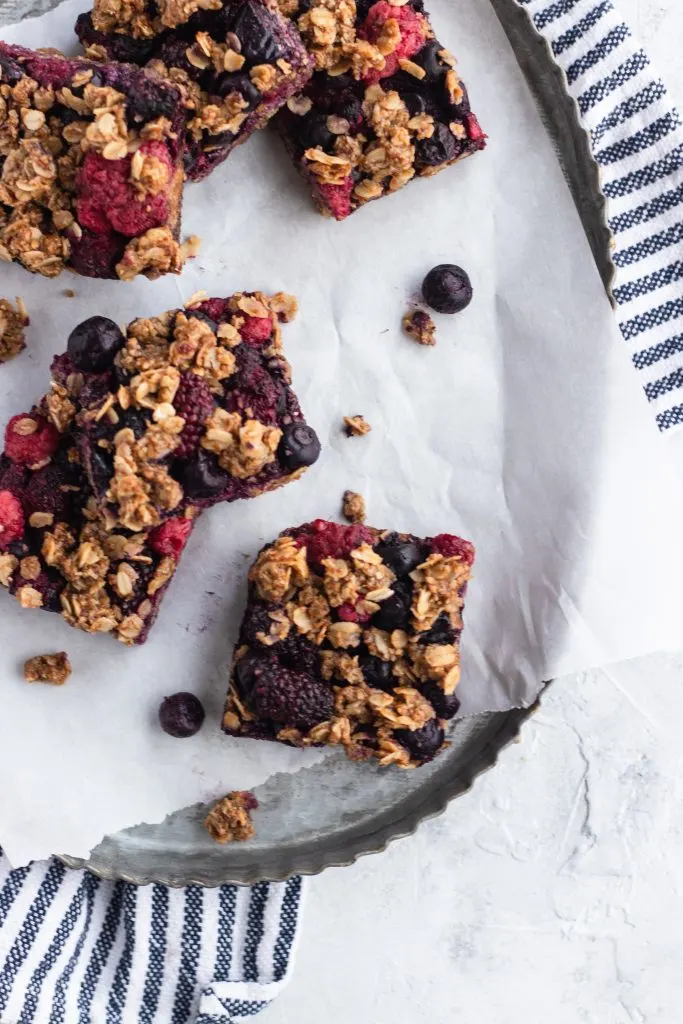 And I don't have to feel bad about feeding them to my kids or myself, because they're full of healthy things like:
Whole grain oats– These are gluten free without even trying!
Berries–I like to use the Triple Berry Blend from the freezer section of Costco. Frozen berries also mean that you can make these any time of year, not just when berries are in season!
Healthy fat–High quality butter is always my favorite option, but you can easily swap it out for coconut oil to make them dairy free!
Coconut sugar–While it's still a sugar, coconut sugar is much lower on the glycemic index than regular, meaning you don't get a sugar high followed by a crash from it.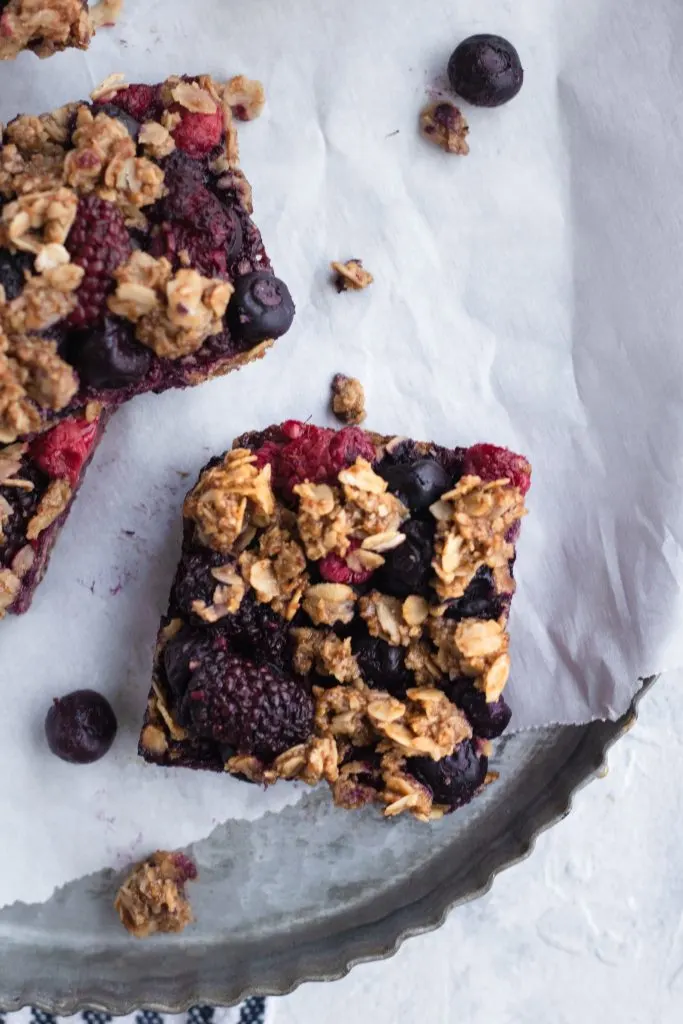 How to Make Berry Breakfast Bars
Start by setting your berries out to thaw. This should take about two hours on the counter, or you can let them thaw overnight in the refrigerator.
When you're ready to make your bars, preheat the oven to 375F and line a 9×13 baking dish with parchment paper.
Melt 10 Tbsp. of butter, then set it aside to cool but not reharden.
Blend 1 1/2 cups of oats in the blender until it's ground into a flour. Then mix it in a large mixing bowl with the rest of the old-fashioned oats, coconut sugar, salt, and cinnamon.
Add the cooled butter, beaten egg, and vanilla to the dry ingredients and mix until all of the oat mixture is coated. It will still be crumbly, and not a dough. Set aside a heaping cup of the mixture, then press the rest into the parchment lined baking dish to create a "crust."
Sprinkle/spread the thawed berries evenly in the pan over the crust and pour any juice that drained over the top of them. Sprinkle the reserved oat mixture over the top.
Bake for about 30 minutes, or until the berries look juicy and the oats are beginning to look toasty. Then remove them from the oven and let them cool completely before cutting or they will fall apart.
Store them in an airtight container in the fridge for up to a week (if you can make them last that long!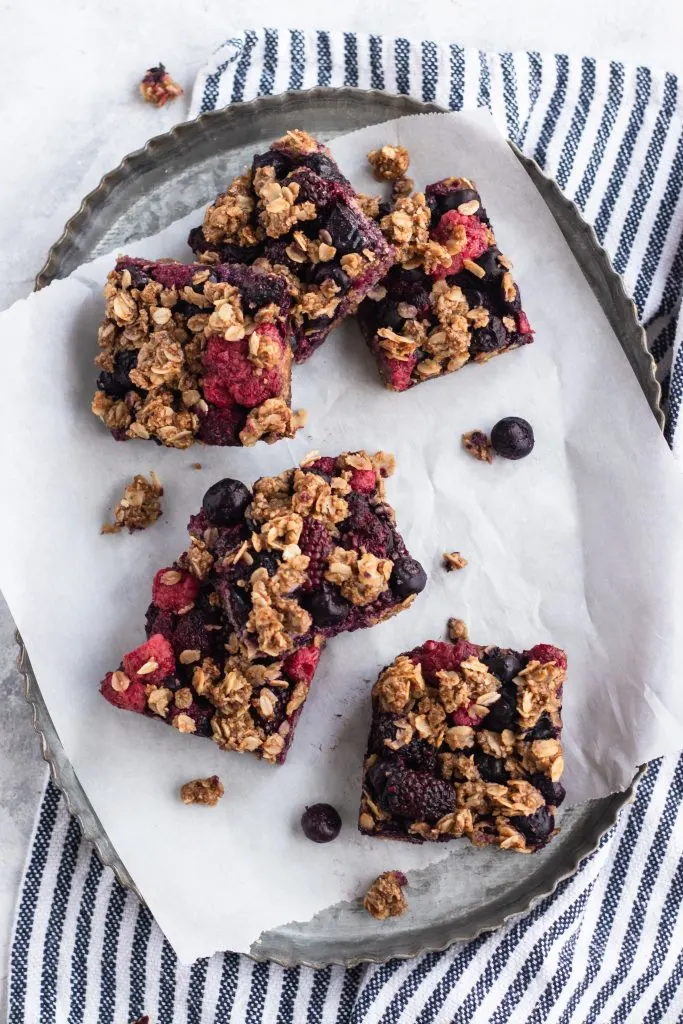 Notes on Allergy-friendly Options
Because the ingredients are all simple, real food, these are great for people with food allergies! You don't even have to think twice about gluten because oats are gluten free,* and the butter can easily be swapped for coconut oil. And you don't even miss those things, because they're just so. dang. good.
A quick note on gluten… While oats are gluten free themselves, the way they are processed can cause cross contamination. Make sure that your oats are gluten free, especially if you have or are baking for someone with Celiac's disease. You can find gluten free oats in the health food section of your grocery store, or you can order them online if your store doesn't carry them. Quaker Oats sells them, as does Bob's Red Mill. Just make sure you have old-fashioned oats for the best bars!
Other Recipes You May Enjoy (click on caption to view):
Print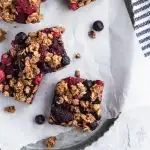 Berry Breakfast Bars
---
Author:

Total Time:

40 minutes

Yield:

12

bars

1

x
Description
These Healthy Berry Breakfast Bars are packed full of whole grains, fruit, and are low sugar. The perfect way to start your day!
---
2 cups

old-fashioned oats

1 1/2 cups

oat flour (blend oats in blender to make flour)

1 cup

coconut sugar

1/2 tsp

. salt

1 tsp

. cinnamon

10 Tbsp

. butter, melted

1

large egg

1 teaspoon

vanilla extract

1 1/2

lb. frozen mixed berries, thawed
---
Instructions
Preheat the oven to 375F and line a 9×13 baking dish with parchment paper. In a large mixing bowl, stir the oats, oat flour, salt, and cinnamon together.
Pour in the melted butter, egg, and vanilla and stir together until you have a damp, clumpy mixture. It will be crumbly, and not a dough. Reserve about a cup of the mix, then press the rest into the baking dish in an even layer.
Spread the thawed berries over the oat mixture and pour any juice over the top. sprinkle the rest of the oats over the berries and bake for 25-30 minutes. Allow the bars to cool completely before cutting. Cut the bars into 12 squares and store them in an airtight container in the refrigerator for up to a week.
Prep Time:

15 minutes

Cook Time:

25 minutes

Category:

Healthy Baking

Method:

Baking

Cuisine:

Breakfast