Peppermint Chocolate Pie is the perfect seasonal dessert with a fudgy, decadent, and fresh filling. Get creative with your decorations and toppings!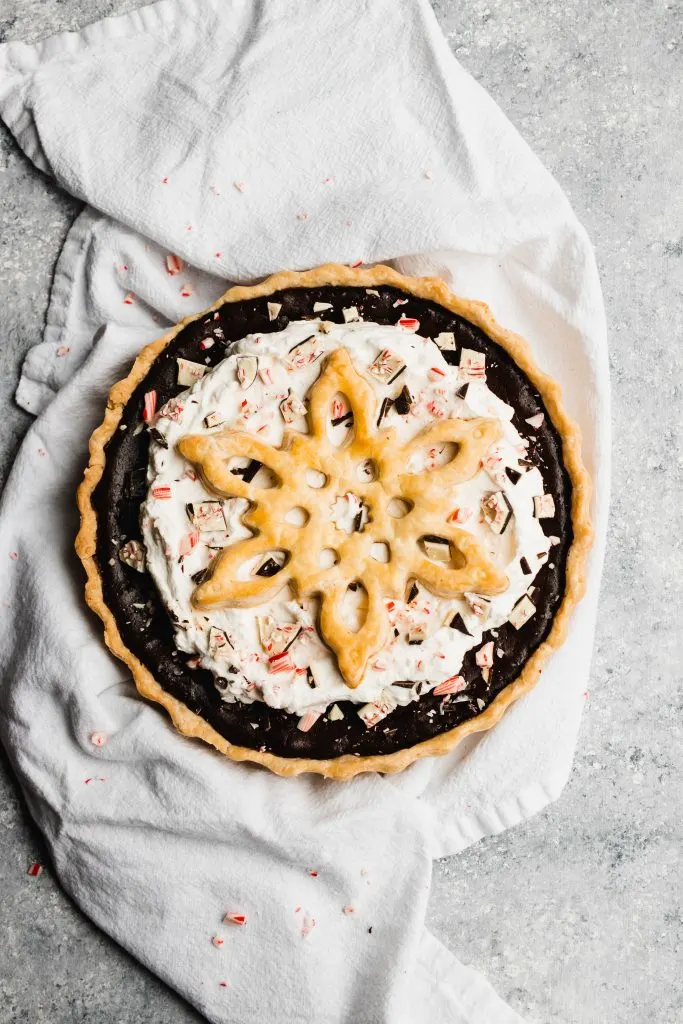 To be completely honest, I've had a hard time getting the Christmas cheer rolling this year. Usually I rival my (very enthusiastic) first born in enjoying the festivities, songs, and of course, food. It probably has something to do with moving to a new house the week of Thanksgiving, which was late this year and is also when we're usually decorating. It may be that exhaustion levels are rather high due to growing two humans. Maybe it's that sometimes, all the cheer and traditions seem obligatory, trite, and forced.
But I'm working on it. And slowly, the excitement is building inside and I'm enjoying the Christmas happenings. Especially the Christmas movies because then I don't have to move this pregnant self off of the couch. Just being honest. I also loved this article from the NYTimes that gave me a great deal of food for thought about how and why we celebrate, and made me realize that even if I'm not able to string quite as many lights or celebrate as elaborately as usual, I can still observe and celebrate the beauty and the joy that Christmas morning brings from the ashes of the world.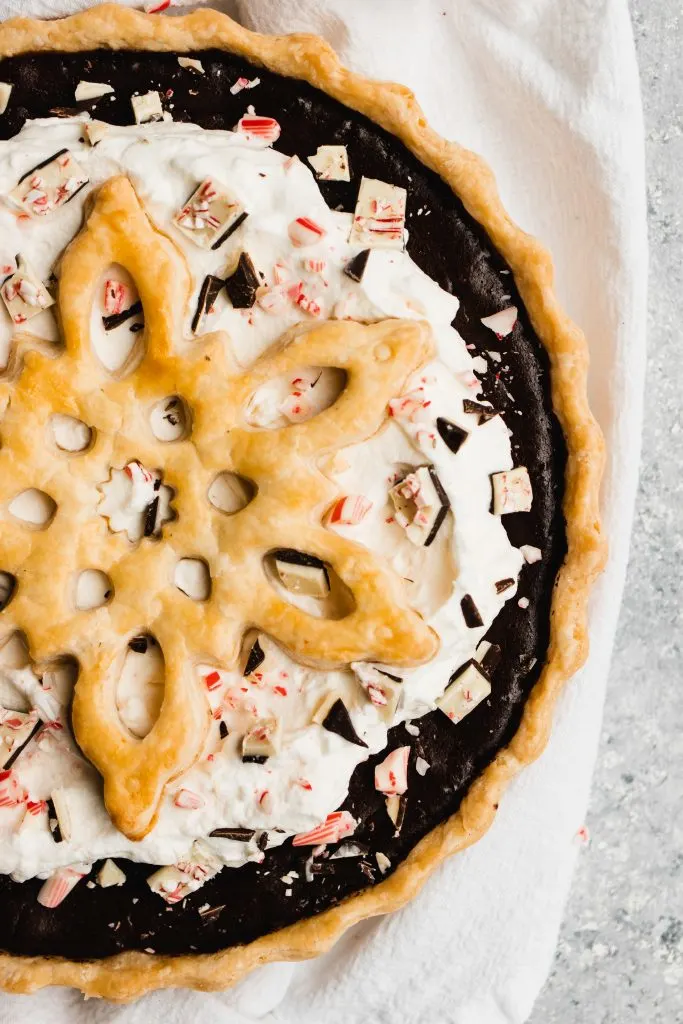 The food is also helping , and this pie is the ultimate ode to the wonder that is peppermint and chocolate together. Out of all of the seasonal flavors and spices that we throw into all of the cookies, cakes, pies, and other festive treats that make the yuletide so merry, peppermint bark is the one that I love and look forward to the most. Something about that flavor combo just gets me every. single. time.
And this Peppermint Chocolate Pie is all of those best things in a pie crust. The filling has both cocoa powder and dark chocolate in it, which creates a fudge-like consistency, studded with bits of peppermint bark.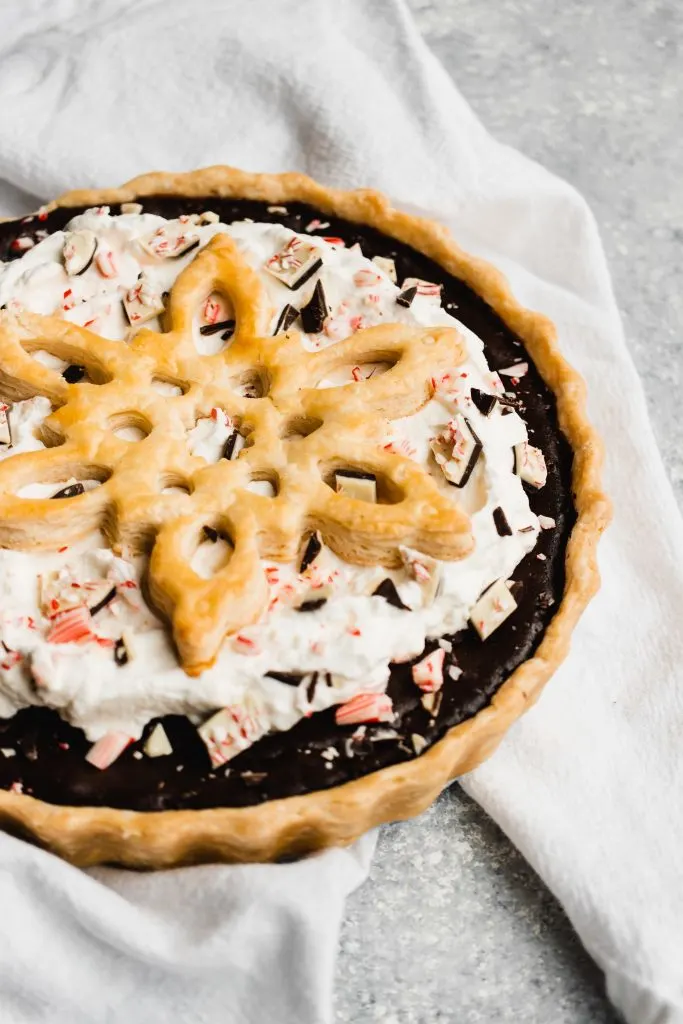 How to Make Peppermint Chocolate Pie
You'll start with a mostly baked pie crust (not deep dish). You can use a premade crust, but I highly recommend making your own. This is my favorite recipe. It uses both butter for flavor and shortening so that it's easier to work with. Bake it until it's mostly baked and slightly golden brown, but since it'll be in the oven with the filling also don't bake it completely.

The next part is making the filling. First, set up a double boiler, which is basically just a heat proof bowl over a pan with about an inch of steaming water. Melt the chocolate and butter in the bowl. Once that has melted down and cooled a bit, whisk the rest of the ingredients together and add them to the chocolate and butter.

Fold in the chopped peppermint bark, pour the mixture into the pie crust and bake it until it's set. A little jiggle in the middle is a good thing, since the filling will continue to bake from the residual heat in the pie.

After it's baked, allow the pie to cool completely and refrigerate it.

Before serving, decorate it however you'd like. I opted for whipped cream, a giant snowflake made with the extra pie crust, and extra bits of chopped peppermint bark and crushed candy cane bits. But really, you can do whatever you'd like that's fun, festive, and makes you happy.
How to Make the Giant Pie Crust Snowflake
For the giant snowflake on top, I used this cookie cutter from Williams-Sonoma. I think it's so elegant and beautiful, but they have lots of giant cookie cutters in all kinds of designs, so you can find one that suites your taste! Click here for a similar option from Amazon.
Roll out pie crust dough into about a 1/4″ round that is wide enough for your cutter. Cut it out with the giant cutter, then place it on a parchment lined baking sheet. Brush it with beaten egg to help the top brown nicely. Bake it in an oven preheated to 375F for 15-25 minutes, or until it's golden brown and flaky.
Can I make Homemade Peppermint Bark?
Yes, you absolutely can! Usually I make my own, and I love being able to choose my own chocolate, the level of peppermint flavor, and the fun of smashing candy canes.
This year (and for this pie) I opted to buy a box from Costco. I'm using the whole growing-two-humans-at-the-same-time excuse, and I've not been disappointed in that giant chocolate box that keeps on giving.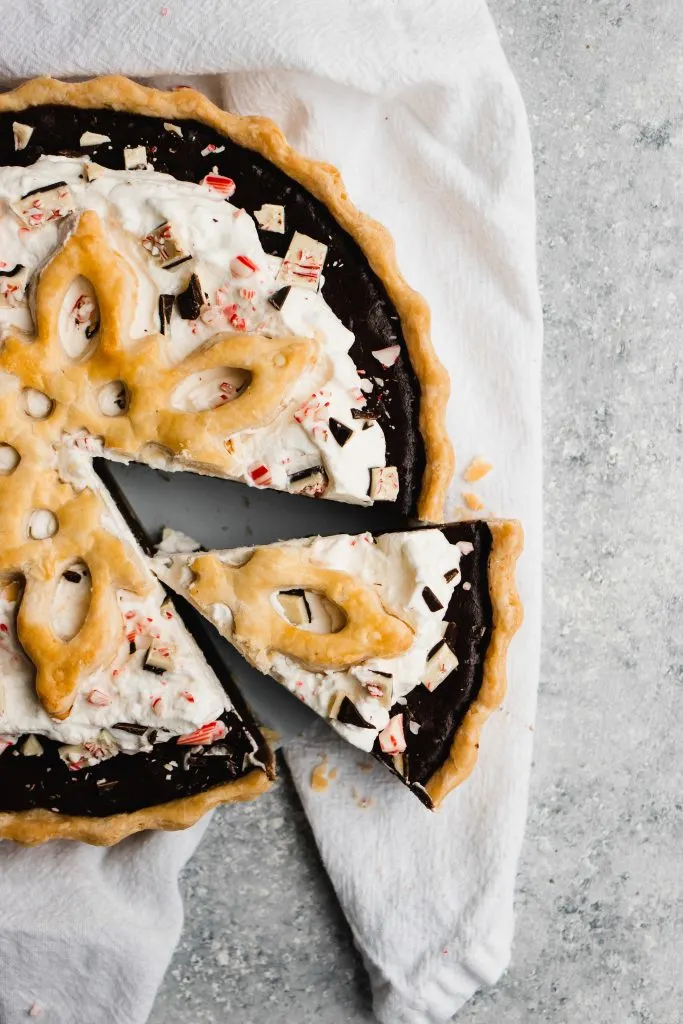 Other Chocolate Mint Dessert Recipes:
Peppermint Bark French Toast
Chocolate Peppermint Mousse Cake
Mint Chocolate Chip Cake Roll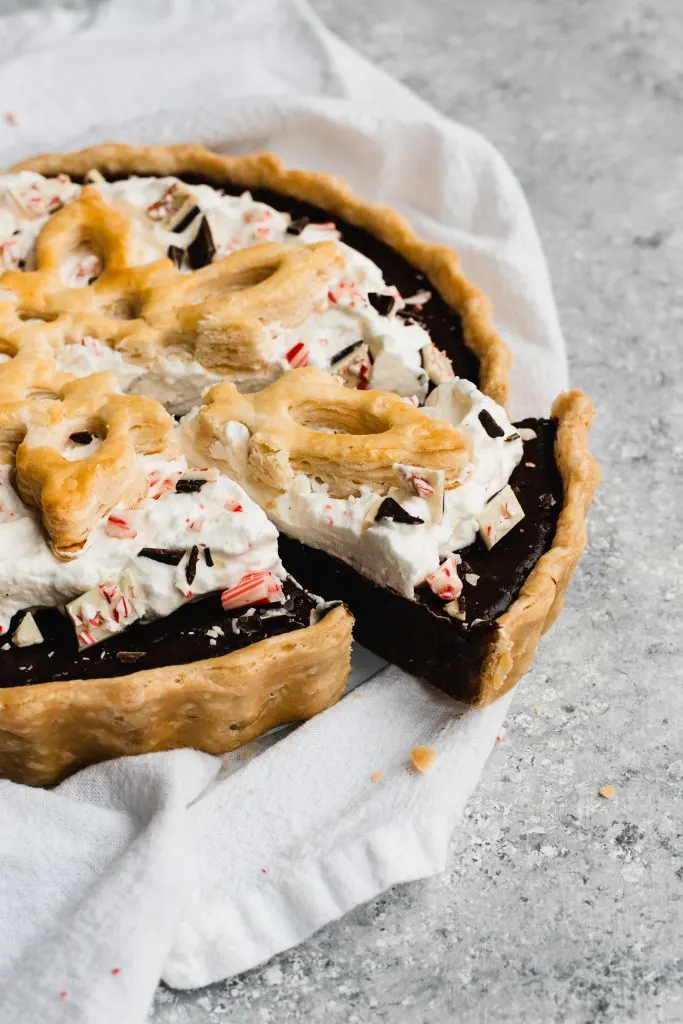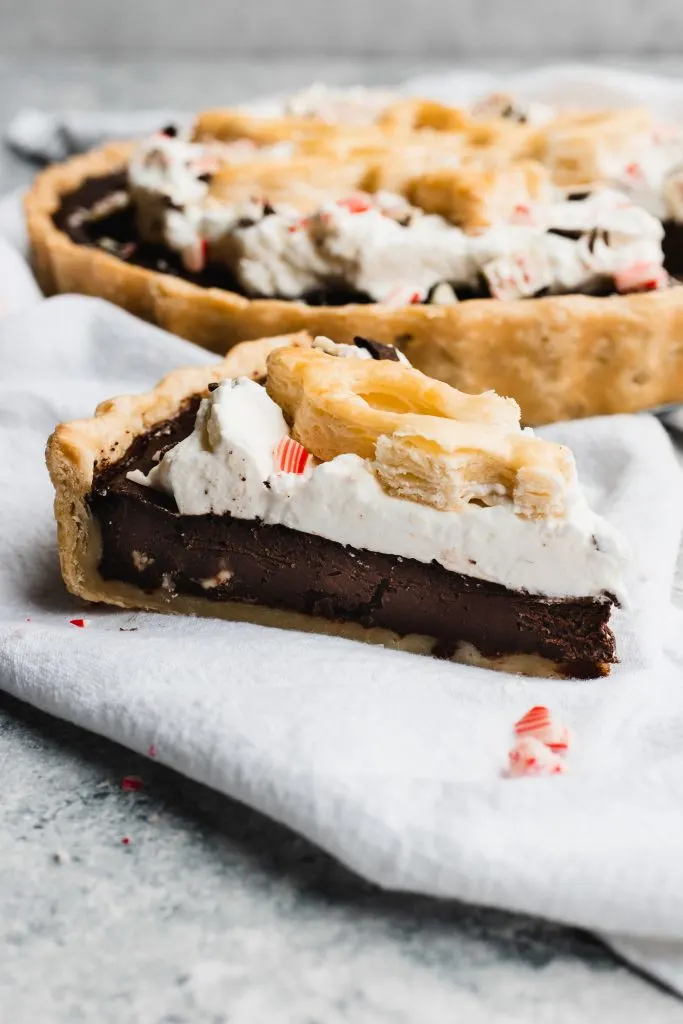 This post contains affiliate links, which means that if you purchase from any links in the post Good Things Baking Co. will receive a small commission at no added cost to you. Thank you for being here, and helping support good recipe to make and eat!
Other Recipes You May Enjoy (click on caption to view):
Print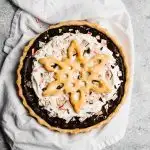 Peppermint Chocolate Pie
---
Description
Peppermint Chocolate Pie is the perfect seasonal dessert with a fudgy, decadent, yet still fresh filling. Get creative with your decorations and toppings!
---
1

9″ pie crust, prebaked

6 oz

. (about

1 cup

) chopped dark chocolate (at least 70%)

8 Tbsp

. (

1

stick) butter

1/2 cup

whipping cream

1 cup

whole milk

1/2 cup

(

100 g

) white sugar

1/4 tsp

. salt

2 Tbsp

. (

20 g

) dark cocoa powder

2

large egg yolks

3 Tbsp

. flour

2 tsp

. vanilla extract

1 tsp

. peppermint extract

1 1/2 cups

of coarsely chopped peppermint bark, plus more for garnishing

2

candy canes, crushed
For the Whipped Cream:
1 cup

whipping cream

3 Tbsp

. powdered sugar

1 tsp

. vanilla extract
---
Instructions
Put the butter and chocolate in a heat proof bowl, then place the bowl over a pot with an inch of steaming, simmering water. Stir it occasionally until it has all melted, then set aside to cool (but not harden).
Mix together the cream, milk, sugar, salt, dark cocoa powder, egg yolks, and flour. Pour the cream and milk mixture into the cooled chocolate and butter, then add the vanilla and peppermint extracts. Whisk all of the ingredients together until the mixture is smooth and cohesive. Fold in the chopped peppermint bark, then pour the filling into the baked pie crust.
Bake for 30-35 minutes, or until the filling is set with a slight jiggle in the center. Remove from the oven and place it in the refrigerator to cool completely.
Once the pie has cooled, top with the whipped cream, then gently press in the pie crust snowflake (directions below) if using. Sprinkle with extra chopped peppermint bark and candy cane. Chill until ready to serve.
The pie will keep up to a week without whipped cream on top, or 2-3 days with whipped cream.
To Make the Snowflake Pie Crust:
Roll out a sheet of pie crust, then cut out a snowflake with a well floured cookie cutter. Place it on a parchment lined baking sheet and brush with a beaten egg. Bake for 15-20 minutes, or until the crust is golden brown and flaky. Remove it from the oven and allow the snowflake to cool before handling.
To Make the Whipped Cream:
Place the cold whipped cream in a cool mixing bowl and beat it with an electric hand mixer until it is thick enough to create soft peaks. Add the powdered sugar and vanilla extract, then continue to beat until the cream is thick enough to make medium-stiff peaks.