Soft yeast donuts stuffed with spiced apple filling make these Apple Pie Donuts the ultimate fall treat! Serve with whipped cream and an extra dusting of cinnamon.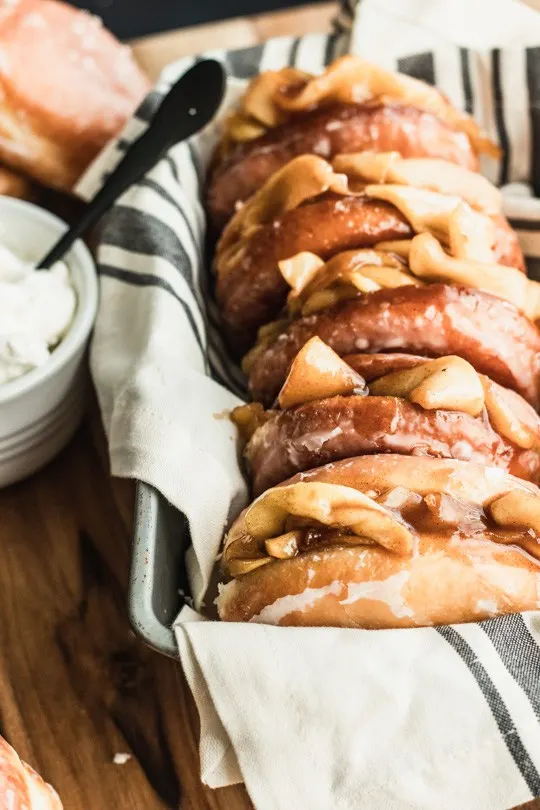 It may be in the high 80s and low 90s here in Georgia, but it's October. Which makes Fall official, right? I've got an apple orchard visit on the schedule, and I bought cinnamon sticks at the grocery store last week. I mean, we might even get to wear a sweater in the 30 days. IT'S A BIG DEAL, GUYS.
So with all of that fall…anticipation in the air, let's get started on all things spiced and apple-y. And let's start with these Apple Pie Donuts, because they are truly phenomenal..
We're starting with my favorite yeast donuts. They really are the best–light and tender, perfectly rich without being heavy or sweet. And they even made my donut-hating friend (I've got some strange ones, bless their hearts) concede that donuts can, in fact, be delicious. Right before she went for the second half that she'd left behind. #lifewin
And the filling. It's perfection, and I mean that. Don't let the addition of Apple Cider Vinegar turn you away–it really helps keep the apples from becoming overly sweet without setting your teeth on edge. It's really necessary, so don't be tempted to skip it.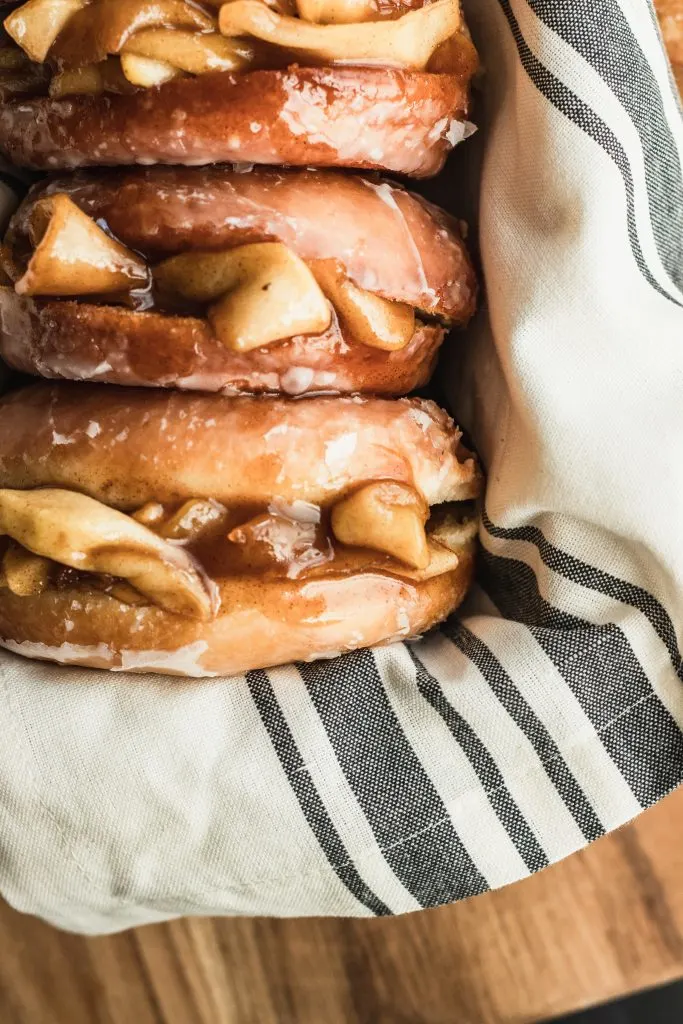 To Make Apple Pie Donuts
The doughnuts are a yeast donut based on my recipe for Glazed Yeast Donuts. You can read that entire post for lots of tips and general information on donut making, though I include the recipe and everything you need to know here.
Start by warming your milk to between 100 and 110F, then stir the sugar into it in a stand mixer bowl fitted with a dough hook. Add the yeast and let it sit for 5-10 minutes, or until it's bubbly and frothy. If you don't have a thermometer, just make sure that the milk is warm but not too hot, since too much heat will kill the yeast.
Mix in the eggs and melted butter on medium-low speed. Again, make sure the butter isn't hot, since you don't want to destroy the yeast activity.
While the mixer is still running, add the flour and salt and continue to mix and knead until it's all completely combined, for about five minutes.
Allow the dough to rest for about ten minutes, then move it to an oiled bowl. It will seem too soft to work with, but some time in the fridge will help it firm up a bit.
Cover with plastic wrap and place the dough in the refrigerator for at least 2 hours. I like to make mine the day before I'm frying the donuts and chill it out over night.
When cutting the donuts, be sure to flour your surfaces well. Be sure to not cut a center hole in the donuts, since they'll be sliced and filled. To let them rise, place them on a well floured sheet of parchment paper on a baking sheet.
After cutting them out the donuts need to rise. You want them to rise until puffy, but not too soft or they will create air holes and fill with oil when frying. If you want a quicker rise, turn on your oven for 2 minutes. Then, turn it off and your oven has become a nice, toasty proving drawer.
How to Fry Donuts Without a Deep Fryer
If you have a deep fryer at your house, by all means use it! I'm slightly jealous, and wish you well. However, if you don't, you may be wondering if you even can fry donuts without a deep fryer. The answer is a resounding YES! It just takes a little patience, practice, and protective hand gear. Oh, and a good thermometer
Start by using a fairly deep pot. You won't be using more oil that way, just providing protection from splatters. For example, I put about 2″ of oil in a pot that's 4″ deep (it's about 8″ across, just to give you a better idea of dimensions). That way, if oil pops it doesn't splatter all over me and the kitchen.
Heat your oil to 350F/176.6C over medium heat. It'll seem like it's taking an eternity to get there, but be patient! Once oil gets hot, it stays that way for a while and you don't want to have to wait for it to cool down again. Also, you'll need to monitor your burner temp and adjust as needed.
Once the oil is up to temperature, use a metal slotted spoon to carefully lower 2-3 donuts into the oil–if you add more, it'll lower the oil temperature too dramatically. They may sink at first, but should float after a few seconds. Allow them to cook for about 2 minutes, or until they are a deep golden brown. Flip, and allow it to cook for the same amount of time on the other side. Once the donuts are completely cooked, remove them to a tray lined with paper towels to absorb the extra grease.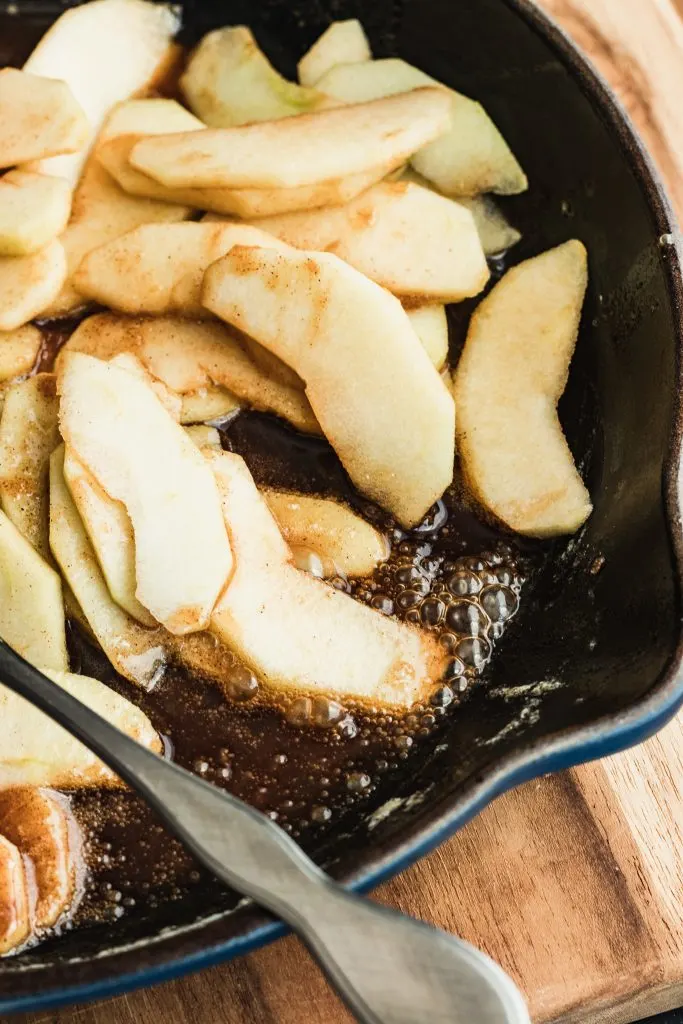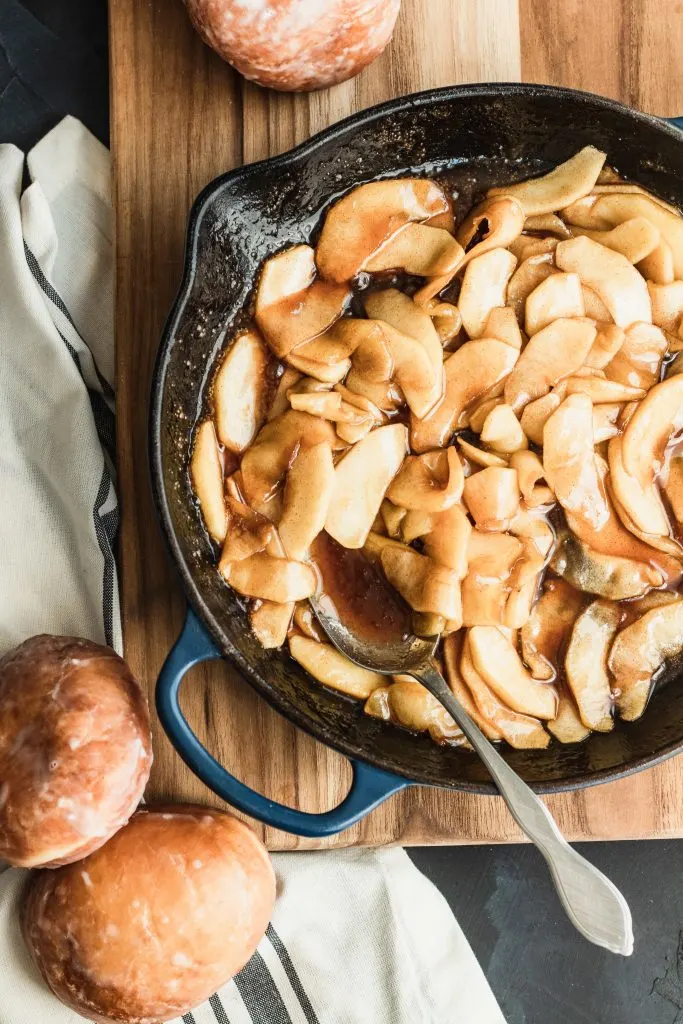 For the Apple Pie Filling
Start with peeling and slicing the apples into slices about 1/8″-1/4″ thick. If they'll be sitting for a while, cover them with lemon water to prevent browning.
Mix together the brown sugar, cinnamon, nutmeg, and cornstarch in a small bowl and have ready.
Melt the butter in a large skillet over medium heat, then stir in the sugar mix until it's completely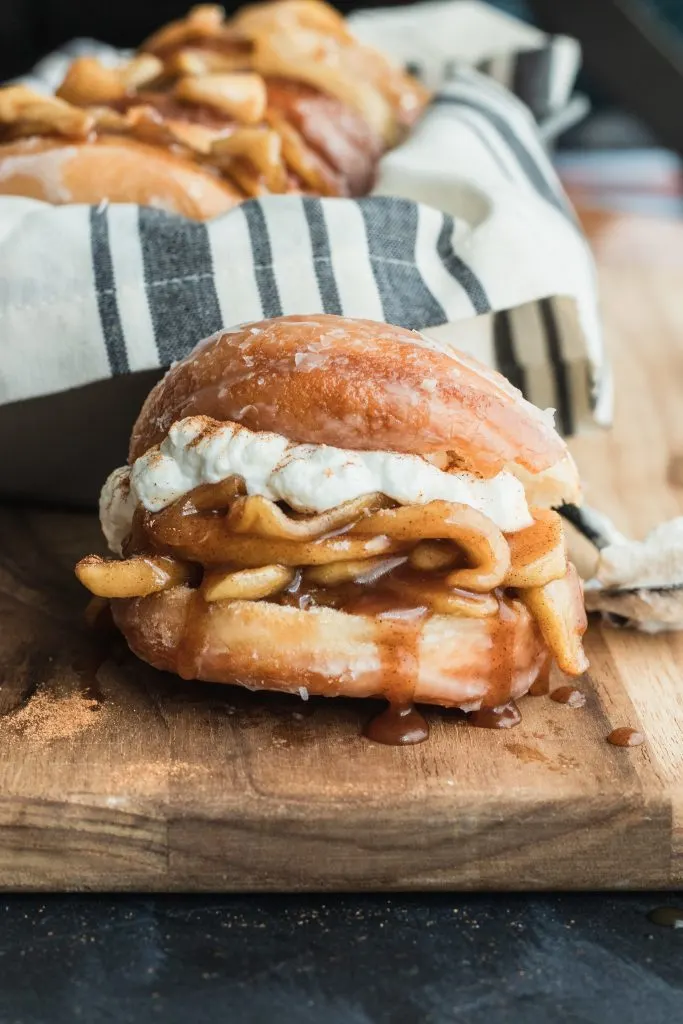 Finishing the Donuts
The glaze is pretty magical too. I use Alton Brown's recipe, and heating the milk (which dissolves the sugar) results in a thin, shattery crust of glaze that dries quickly on the donuts.
Slice the donuts in half horizontally, leaving them slightly attached on one side. Spoon a couple of fillings of the cooked apple filling into it.
Add a dollop of whipped cream, and a sprinkling of cinnamon. Next, eat them all.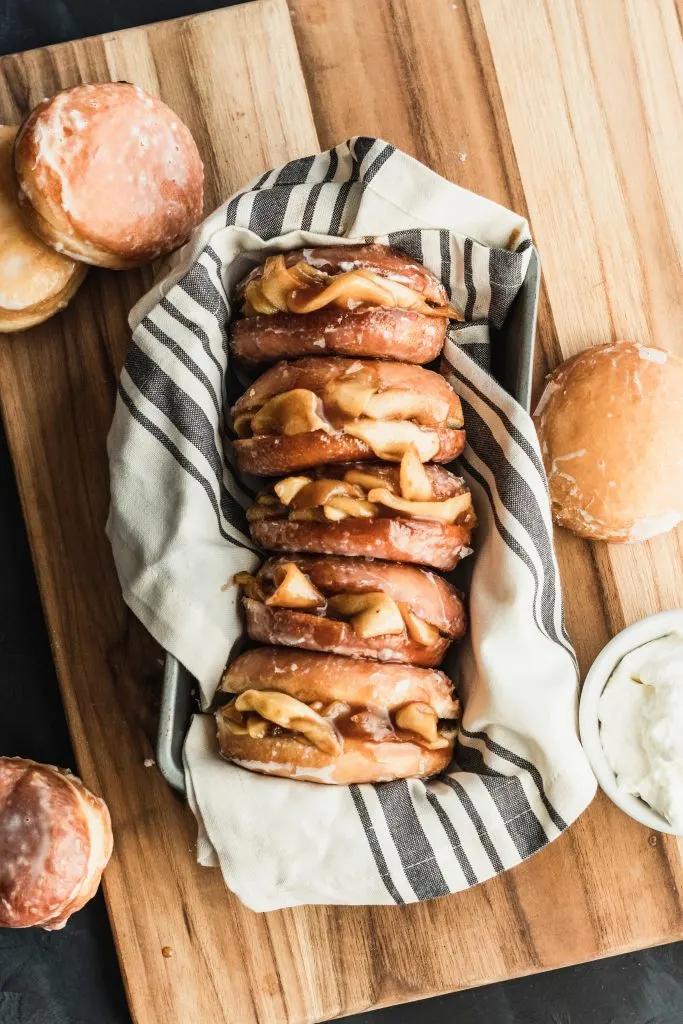 And that's how you take something as traditional as apple pie and make it even better. How it's done, people.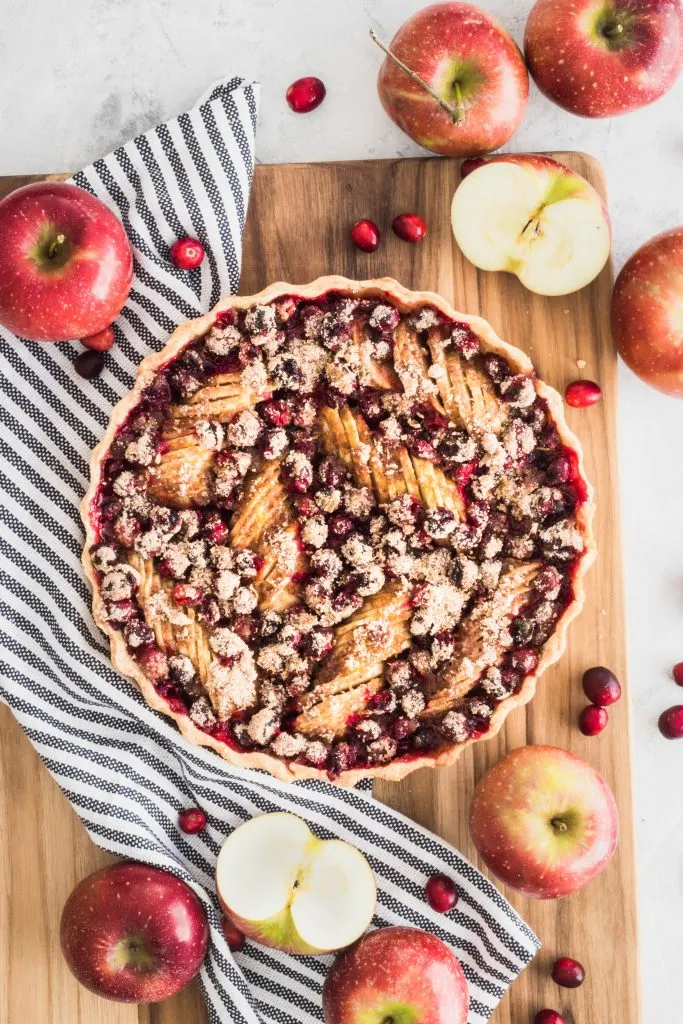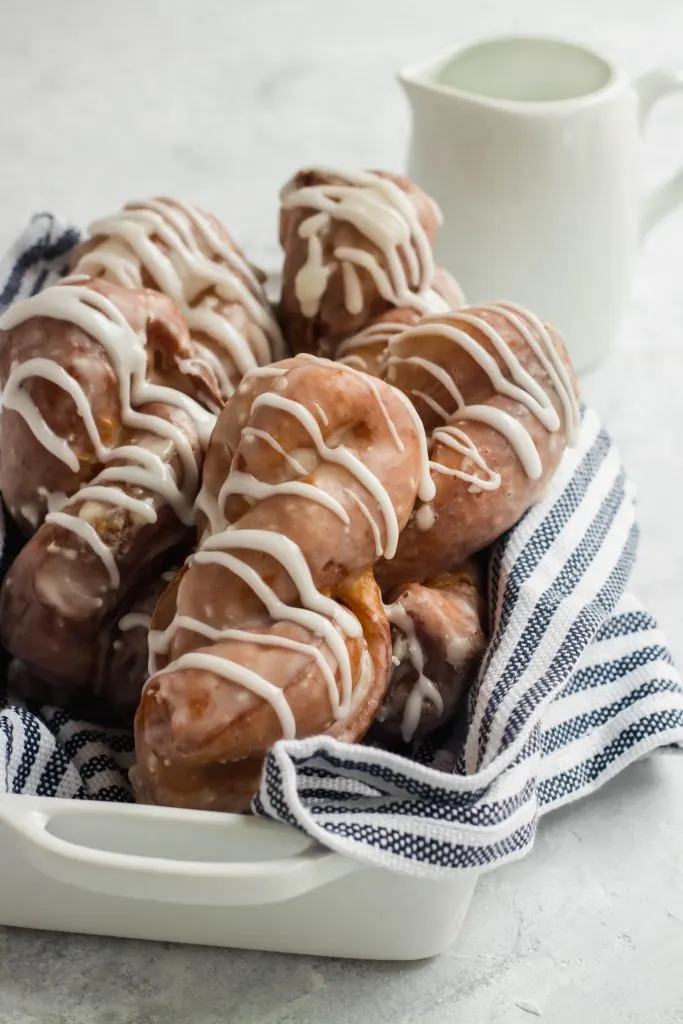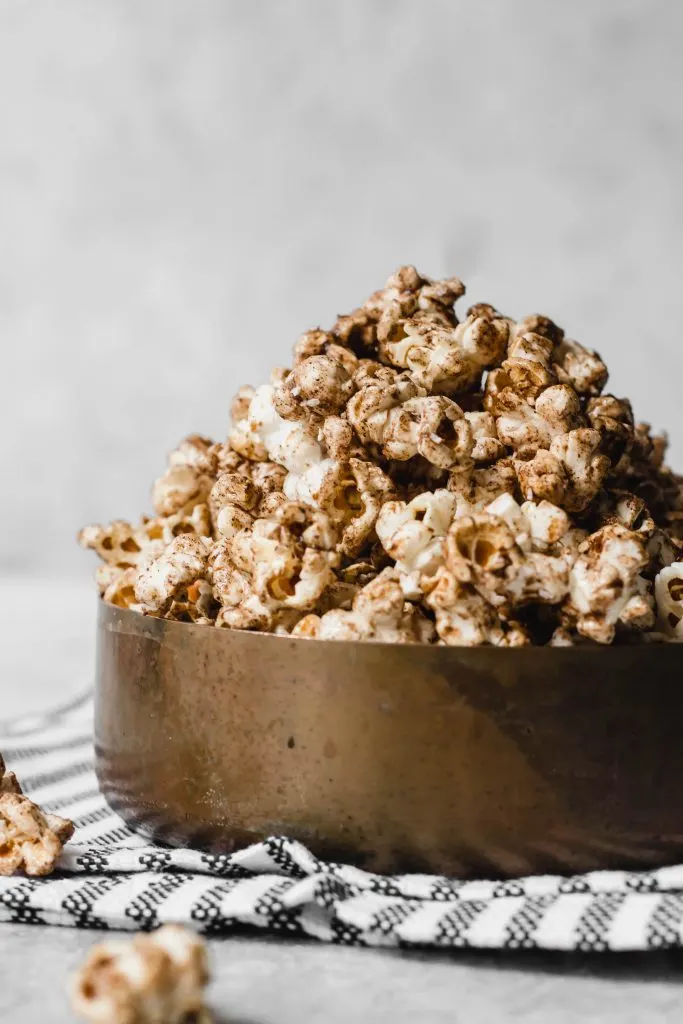 Print
Apple Pie Donuts
---
Author:

Yield:

12

donuts

1

x
Description
Soft yeast donuts stuffed with spiced apple filling make these Apple Pie Donuts the ultimate fall treat! Serve with whipped cream and an extra dusting of cinnamon.
---
For the Donuts:
1 cup

+

1 Tbsp

. milk

2 Tbsp

. white sugar

1 1/4 tsp

. yeast

1

large egg, beaten

5 Tbsp

. butter

2 3/4 cup

s all-purpose flour

1/2 tsp

. salt
Neutral oil (canola, vegetable, etc.) for frying
For the Filling:
4

–

5

granny smith apples

6 Tbsp

. butter

6 Tbsp

. brown sugar

2 tsp

. ground cinnamon

3 Tbsp

. apple cider vinegar

1 tsp

. cornstarch

1 Tbsp

. vanilla extract
For the Glaze:
1/4 cup

whole milk

2 cups

powdered sugar

2 tsp

. vanilla extract
Whipped Cream
Ground Cinnamon for Sprinkling
---
Instructions
To make the dough:

Warm the milk either over the stove or in the microwave, then pour it into the bowl of a stand mixer that has been fitted with a dough hook. Add the sugar and stir until dissolved, then add the yeast and allow it to sit for 5-10 minutes or until it becomes bubbly.

Add the eggs and melted butter and mix them in. While the mixer is running on medium-low, stir in the flour and salt until completely combined, about five minutes. Turn off the mixer and allow it to rest for 10 minutes.

After it has rested, move the dough to a clean, oiled bowl and turn it to coat all of the dough in oil. Cover the bowl with plastic wrap and put in the refrigerator for at least two hours, or up to 1 day.

To make the donuts, remove the dough from the refrigerator and turn it out onto a floured surface. With a rolling pin, roll it out until it is about 1/3-1/2″ thick, then using a large circle cutter (something about 3-4 inches, I like to use a wide-mouth jar lid), cut as many donuts as you can. Using a small cutter (about 1″), cut a hole out of the center of each donut. Lay them out on parchment lined baking sheets, leaving about an inch between them. Repeat the rolling & cutting with the dough edges until you have used it all.

Gently lay plastic wrap over the top of the doughnuts, and let them rise for 1-2 hours, or until they are puffed up and soft when you touch them. If your house is cold, turn on your oven for about 2 minutes then turn it off, just to make it slightly warm. Place the trays of donuts in the oven.

In a medium, heavy-bottomed pan, heat at least 2″ of oil to 350°. Carefully drop 2 or 3 of the donuts in and fry for about 2 minutes on each side, or until each side is golden brown. Remove from the oil to a cooling rack and repeat with the rest of the donuts and donut holes, keeping the oil around 350°.

To make the Filling: Peel and slice the apples into about 1/8″ to 1/4″ thick. Mix the brown sugar, cinnamon, and cornstarch together in a small bowl.

In a saucepan, melt the butter down until it's bubbling, then stir in the brown sugar mixture and apple cider vinegar. Turn the heat down to medium low and stir the apples into the sauce. Continue to cook and stir until the apples become tender and soft, about 5-8 minutes. Stir in the vanilla extract and set aside to cool.

For the glaze:

Combine the milk and vanilla in a small saucepan and heat over low until warm. Sift the powdered sugar into the pan, then whisk until smooth. Remove the pan from the heat, then dip both sides of the donuts in and allow it to set for about five minutes