They're light, fluffy, and incredibly soft with a perfectly sweet, spicy, and buttery filling. The best homemade cinnamon rolls are perfect for any breakfast or brunch!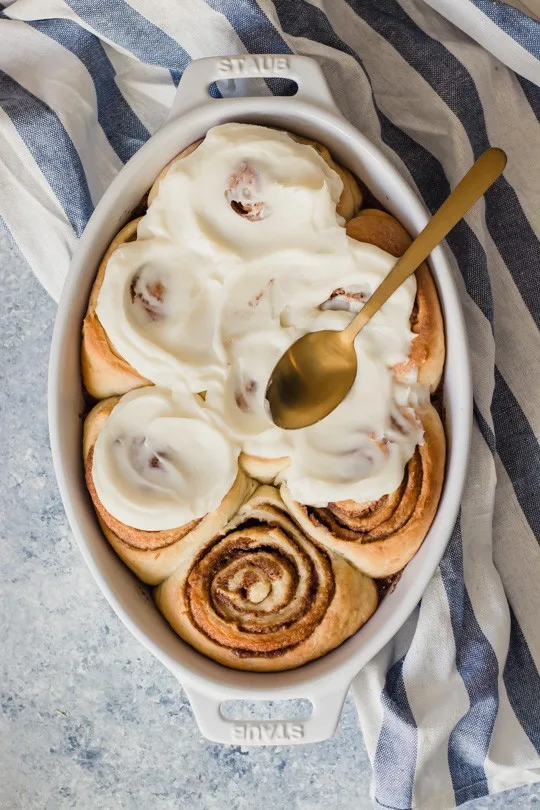 Growing up, my siblings and I loved going to the mall for one reason–Cinnabon. We could smell it all the way from Dillards to J.C. Penney. And when our parents said yes to getting a couple for us to split? Day made.
But then I grew up, and Cinnabon didn't taste all that great anymore. I mean, sure. They're still soft and fluffy, and they deliver on the cinnamon sugar hit. But they had a weird aftertaste, and once they weren't piping hot they were just…meh. Not worth the calories. And if this be treason, make the most of it.
So I've been on a mission to make the best homemade cinnamon rolls. Does that sound like hyperbole? Well it's NOT! Because they really and truly are the best. And I'm not even a bit dramatic, right? I live with a 2 year old and 5 year old who definitely agree.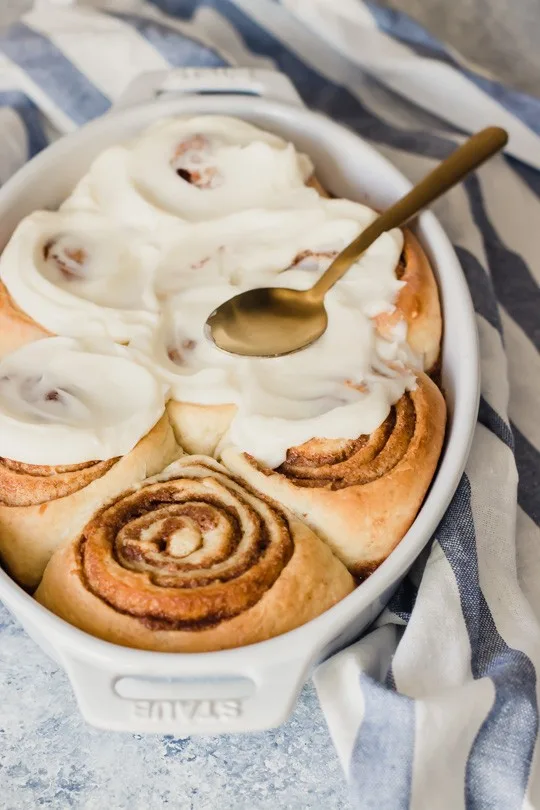 I've made lots of batches of cinnamon rolls over the years. I love how that makes me sound so old and wise. I'm not even 30, but don't let that ruin my credibility–I've tried so many different methods and tricks, and think I've finally nailed it. These have a soft, fluffy roll that doesn't feel dry after they've cooled. Plenty of cinnamon, butter, and a mix of brown and white sugar for the filling make them gooey and decadent. And the fluffy frosting is really the icing on the…roll? Sorry. That was painful. But these rolls aren't. They're so good.
How to Make the Best Homemade Cinnamon Rolls
We're starting with a double batch of my basic sweet dough. It's perfect for lots of uses, including this one. You can check out that post for a lot of tips and tricks for amazing dough, but I have included the recipe below. When making the dough, you may be tempted to add extra flour since it looks soft. But resist! Adding extra flour will make the cinnamon rolls tough and crumbly. After rising, the dough will be a lot sturdier and easier to work with. You also need to flour your rolling surface and pin well to prevent it from sticking.
Next, let's talk about filling. The secret to the gooiest filling is using brown sugar. The molasses content in brown sugar makes it moist and melt so nicely. However, I have found that a filling made entirely of brown sugar can ooze away and become a bit hard and tacky in the bottom of the dish once the rolls have cooled. So I also added white sugar to help balance that out, and mix it all up with butter and a boatload of cinnamon into a paste. It gives you a nice, even filling and a perfect swirl with all of the flavors perfect in every bite.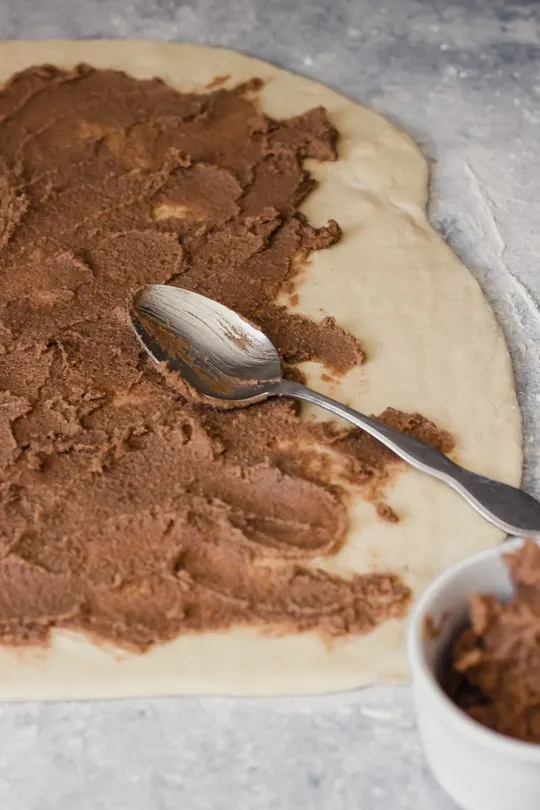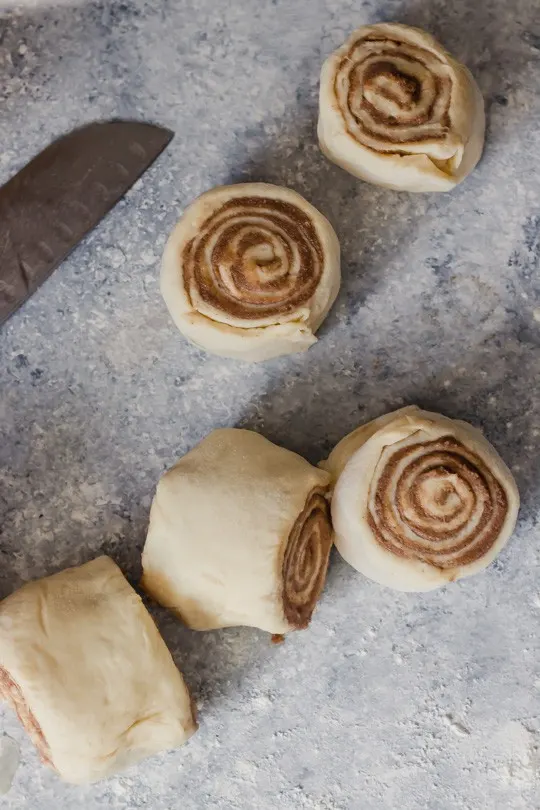 Now for the Icing. Do you prefer yours fluffy and piled high, or thin and melted into the roll? I'm not sure which is better, but if I had to pick one way forever I would probably opt for melty. It just makes them even more ooey and gooey and marvelous. But if that's not your style, I've got options for both! If you want it to stay on top, use heavy whipping cream to thin it, and wait until the rolls have cooled to spread it on. If you want it to seep into the rolls, milk will give you a thinner icing that you can spoon over the rolls while they're still hot.
Or, if you're a fan of cream cheese icing, try out this recipe for your cinnamon rolls!
Why aren't my cinnamon rolls rising?
Well, I really hope this doesn't happen. Because it's sad when it does. But, here are a few pointers to help you succeed, since yeast can be a tricky master.
Don't overheat the milk and butter when making the dough. Yeast dies at more than 110F (43C), so you need make sure that your liquids aren't going to scorch it. Ideally, the milk should be between 90F and 110F, but if you don't have a thermometer, it's should be good if you submerge a (clean) finger in it and it doesn't feel hot or cold to the touch. Also, go buy a thermometer–it'll revolutionize your life.
Make sure that the yeast is foamy and bubbly before finishing the dough. If you're using yeast that is old or has been exposed to a lot of heat, it may be dead. After it sits in the warm milk for 5-10 minutes, it should be foamy and bubbling on top of the liquid. If the yeast just dissolves and you don't see any activity, it's time to buy new yeast.
Don't make the yeast too cold either. I told you it was finicky. But once the dough is made, it should be kept in a warm place that isn't drafty. If your kitchen is chilly, allow your oven to preheat for about a minute and a half, turn it off, then put the rolls inside it. The warm atmosphere should perk that dough right up.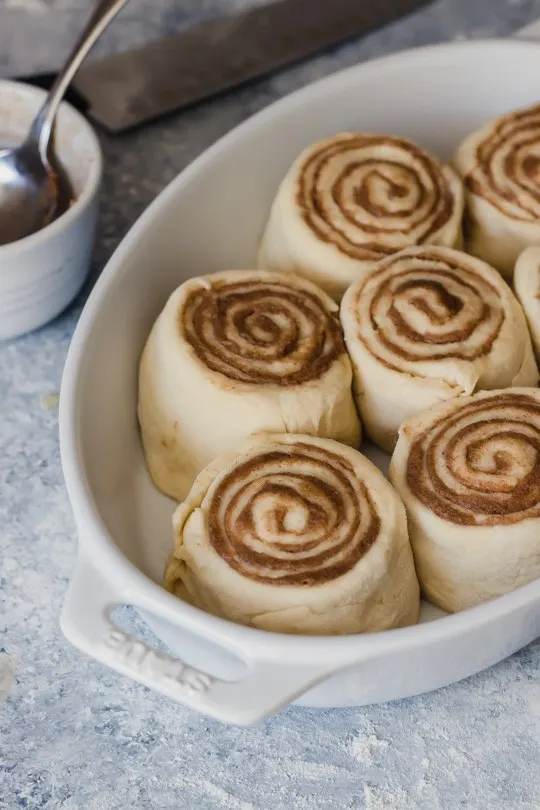 How can I tell when the cinnamon rolls are done baking?
This can be tricky, but definitely is doable! You can't measure the internal temperature, because the sugar will be a lot hotter than the dough and will give you a false reading.
To make sure the cinnamon rolls are done, I like to use a fork to gently pull the swirls on one of the rolls in the center of the pan. Don't tear it, just stretch it a little bit. If it still looks doughy, tuck it all back in and give the rolls a few more minutes in the oven before checking again. The tops and edges should also be a lovely golden color.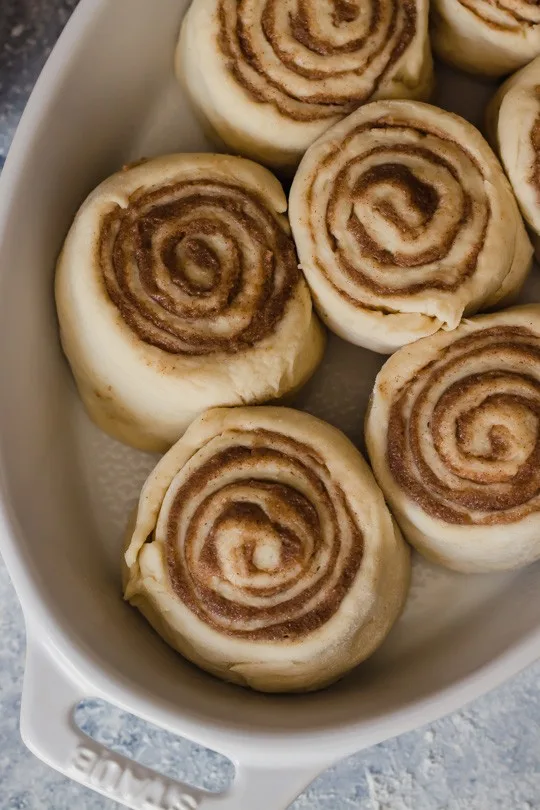 Can I make Cinnamon Rolls ahead of time?
Yes, absolutely! You can refrigerate the dough for up to 24 hours after the rolls have been rolled, cut, and are in the pan. Cover it securely with plastic wrap, then pull it out about an hour to an hour and a half before baking. Allow the rolls to come to room temperature and rise the next day. Chilling the dough will halt the activity of the yeast, so make sure that you give it plenty of time to get warm and busy before baking!
To freeze the cinnamon roll dough before baking, again get them rolled, cut, and in their pan. Cover them well with plastic wrap, and then foil. They can keep in the freezer for about a week–if you leave them much longer than that, ice crystals can form in the dough that destroy the yeast. Thaw them in the refrigerator overnight before allowing them to have their final rise and baking them.
You can also freeze them after baking and before frosting. Just let them cool thoroughly before wrapping and freezing them for up to two weeks. Reheat them at 300F for about 8-10 minutes, or until the center rolls are warm, then top with the icing and serve.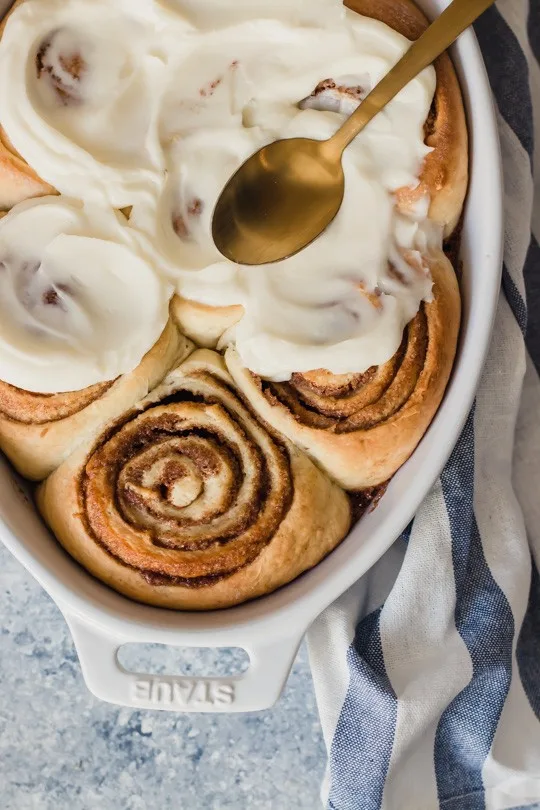 Print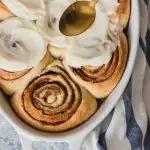 The Best Homemade Cinnamon Rolls
---
Author:

Total Time:

4 1/2 hours

Yield:

1

dozen large cinnamon rolls

1

x
Description
They're light, fluffy, and incredibly soft with a perfectly sweet, spicy, and buttery filling. These homemade cinnamon rolls really are the best!
---
8 tbsp

. (

112

g) butter

1 1/3 cup

(

10 3/5 oz

.) whole milk

3 tsp

. (

12

g) instant yeast

6 tbsp

. (

72

g) white sugar

2

large eggs

4 1/2 cup

s (

540

g) all-purpose flour

2 tsp

. (

12

g) salt
For the Filling:
12

–

14

Tbsp. salted butter, very soft

3/4 cup

brown sugar

1/2 cup

white sugar

2 Tbsp

. ground cinnamon
For the Frosting:
1/4 cup

butter, very soft

3 cups

powdered sugar

5

–

6

Tbsp. heavy whipping cream

1 Tbsp

. pure vanilla extract
---
Instructions
Melt the butter in a small saucepan, then remove it from the heat. Add the milk and pour it into the bowl of a stand mixer fitted with a dough hook. Measure the temperature to be sure it's between 90F and 110F. If it's hotter than 110F, allow it to cool so that it doesn't kill the yeast. Sprinkle the yeast, then the sugar, over the warm milk and butter, then give it a stir to wet all of the yeast. Allow it to sit for five to ten minutes, or until the yeast is foamy. Lightly beat the egg in a separate bowl, then add to the milk & yeast mixture.
Add in the flour and salt and turn the mixer on low until the dough has come together into a ball. Turn the mixer up to medium and knead for 4-6 minutes, or until it is a smooth and taut. Remove the dough from the mixing bowl, shape the dough into a ball, and place it into a greased bowl. Allow it to rise for 1 -1 1/2 hours, or until doubled in size. At this point, you can use it to make a variety of sweet breads or rolls. Simply shape however you like, then cover with a cloth and allow to rise for about another hour, or until the dough is soft and puffy.
To Make the Rolls: While the dough is rising, mix together your filling in a mixing bowl. Make sure your butter is nice and soft so that it will spread easily over the dough without tearing it.
After the dough has risen, turn it out onto a well-floured surface. Roll into a rectangle 18″x24″ and carefully spread the filling in an even layer over the dough. Roll it along the long edge of the rectangle into a spiral. When you've rolled it up completely, pinch the edge to the roll of dough to seal it.
Cut the roll of dough into 2″ sections, then place them in a greased baking dish. Cover lightly with a clean towel and allow the rolls to rise for about 45 minutes to an hour, or until the rolls have become puffy and soft.
While the cinnamon rolls are rising, preheat the oven to 350F/176C. When it's ready, bake them for 25-30 minutes, or until the rolls are a light golden brown and are no longer doughy in the middle. Allow them to cool.
Frosting the Cinnamon Rolls:
With a hand mixer, beat together the butter, powdered sugar, 4 Tbsp. of the whipping cream, and vanilla until fluffy. Add the rest of the cream, on tablespoon at a time, until the frosting is the consistency you want. If you prefer a thinner frosting that seeps into the rolls, use milk instead of cream.
Prep Time:

1 hour, divided, + 2-3 hours rising time

Cook Time:

30 minutes

Category:

Breakfast

Method:

Baking

Cuisine:

American
Keywords: best, handmade, cinnamon rolls, breakfast, brunch