These tender, melt-in-your-mouth Glazed Yeast Donuts can be enjoyed on their own or with a million different fillings, glazes, or toppings.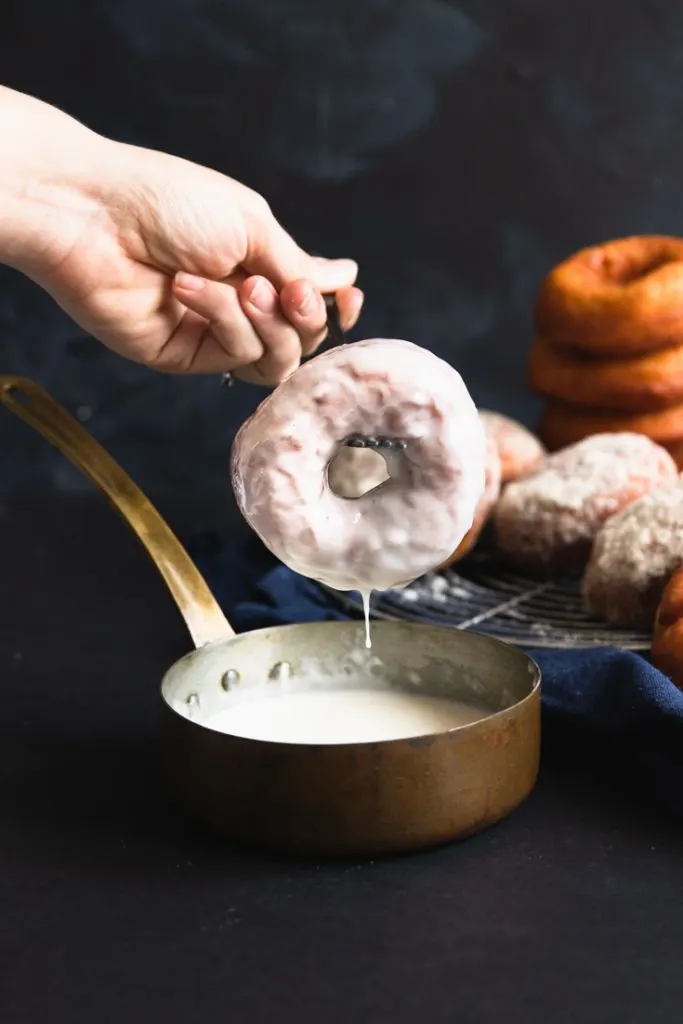 Donuts may seem like a strange recipe to master, since there are shops to buy them everywhere. But I'm here to tell you that one bite of these glazed yeast donuts will convert you instantly. They're tender and will melt in your mouth, with a thin, shattering glaze that tops any donut shop around.
Not only can you make amazing glazed donuts, this recipe is a gateway to countless other flavors and fillings. There are a few ideas at the bottom of this post, but you can also get creative and do whatever fillings and toppings you want!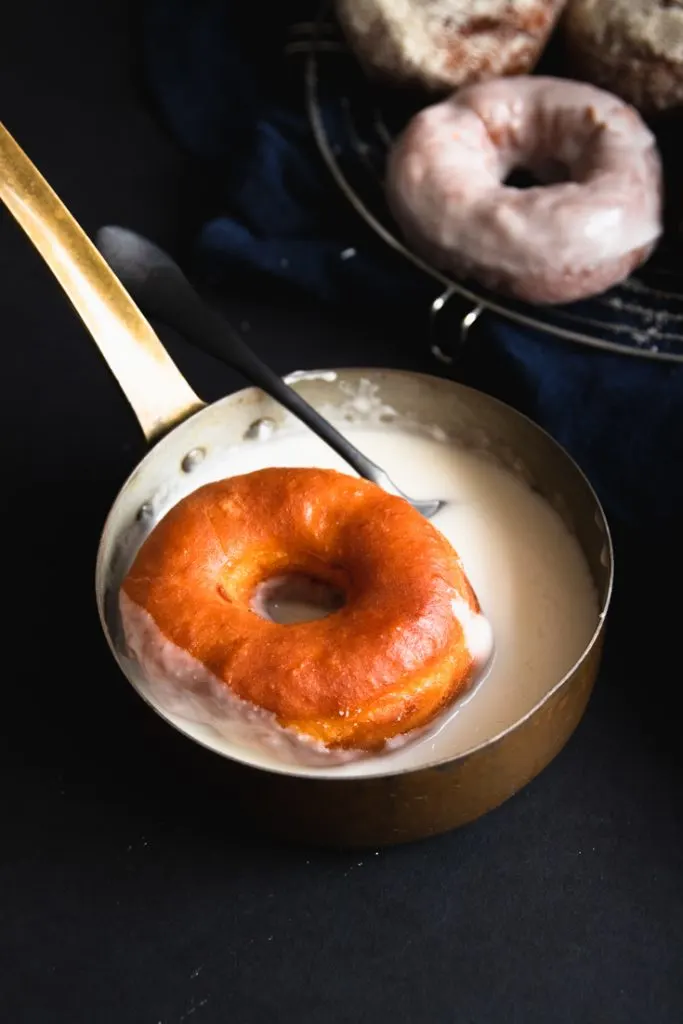 To Make Glazed Yeast Donuts
Start by warming your milk to between 100 and 110F, then stir the sugar into it in a stand mixer bowl fitted with a dough hook. Add the yeast and let it sit for 5-10 minutes, or until it's bubbly and frothy. If you don't have a thermometer, just make sure that the milk is warm but not too hot, since too much heat will kill the yeast.
Mix in the eggs and melted butter on medium-low speed. Again, make sure the butter isn't hot, since you don't want to destroy the yeast activity.
While the mixer is still running, add the flour and salt and continue to mix and knead until it's all completely combined, for about five minutes.
Allow the dough to rest for about ten minutes, then move it to an oiled bowl. It will seem too soft to work with, but some time in the fridge will help it firm up a bit.
Cover with plastic wrap and place the dough in the refrigerator for at least 2 hours. I like to make mine the day before I'm frying the donuts and chill it out over night.
When cutting the donuts, be sure to flour your surfaces well. Be sure to not cut a center hole in the donuts, since they'll be sliced and filled. To let them rise, place them on a well floured sheet of parchment paper on a baking sheet.
After cutting them out the donuts need to rise. You want them to rise until puffy, but not too soft or they will create air holes and fill with oil when frying. If you want a quicker rise, turn on your oven for 2 minutes. Then, turn it off and your oven has become a nice, toasty proving drawer.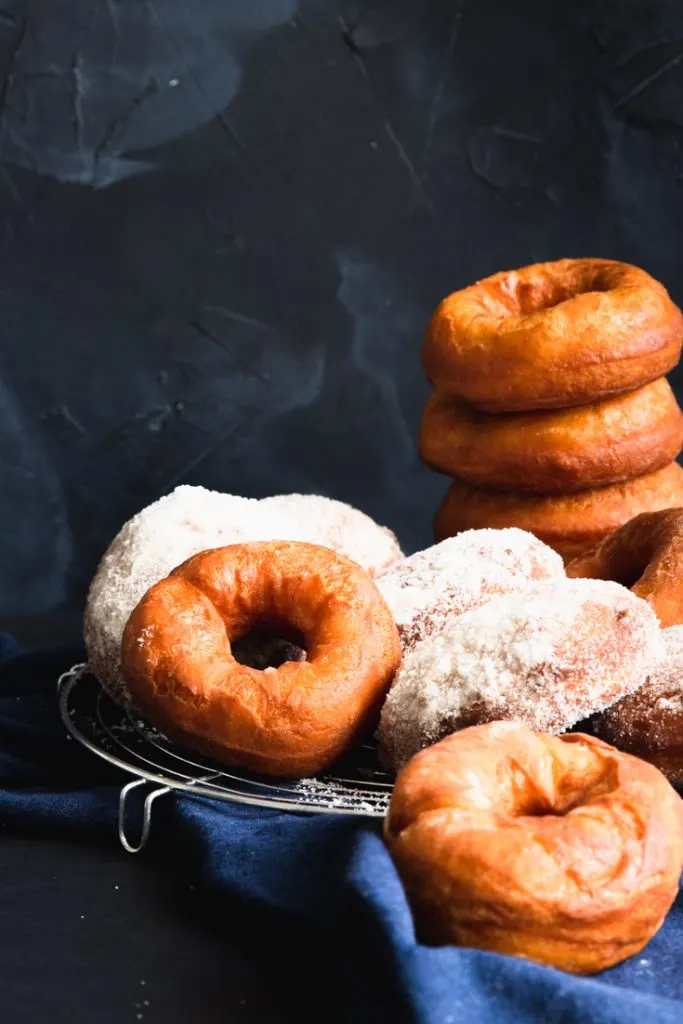 How to Fry Donuts Without a Deep Fryer
If you're wondering if you can fry donuts without a deep fryer, the answer is a resounding YES! It just takes a little patience, practice, and protective hand gear. Oh, and a good thermometer
Start by using a fairly deep pot. You won't be using more oil that way, just providing protection from splatters. For example, I put about 2″ of oil in a pot that's 4″ deep (it's about 8″ across, just to give you a better idea of dimensions). That way, if oil pops it doesn't splatter all over me and the kitchen.
Heat your oil to 350F/176.6C over medium heat. It'll seem like it's taking an eternity to get there, but be patient! Once oil gets hot, it stays that way for a while and you don't want to have to wait for it to cool down again. Also, you'll need to monitor your burner temp and adjust as needed.
Once the oil is up to temperature, use a metal slotted spoon to carefully lower 2-3 donuts into the oil–if you add more, it'll lower the oil temperature too dramatically. They may sink at first, but should float after a few seconds. Allow them to cook for about 2 minutes, or until they are a deep golden brown. Flip, and allow it to cook for the same amount of time on the other side. Once the donuts are completely cooked, remove them to a tray lined with paper towels to absorb the extra grease.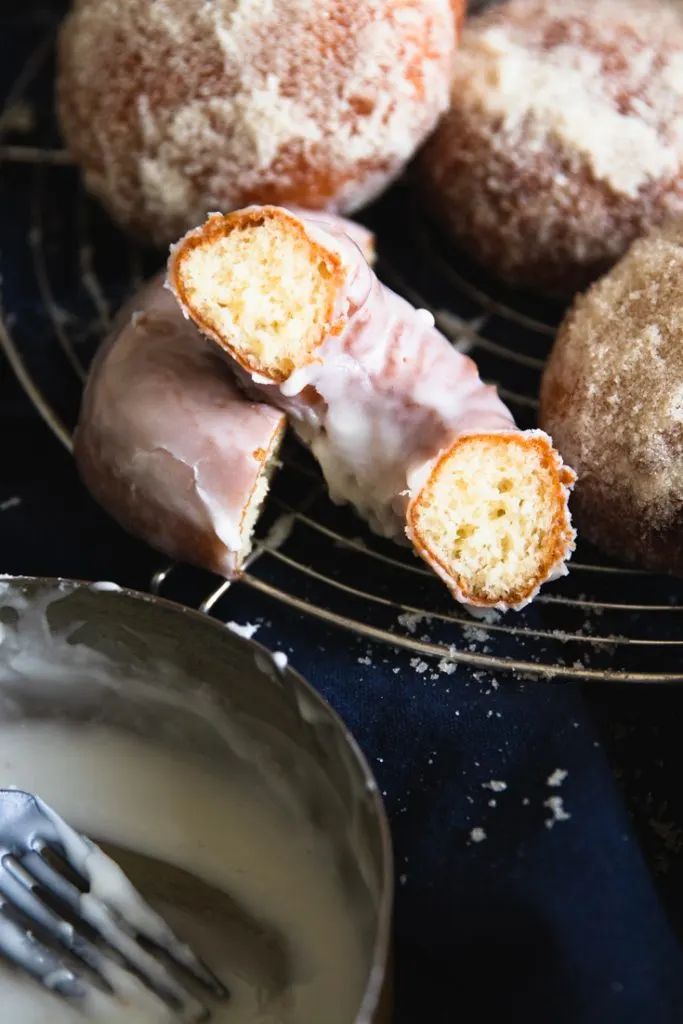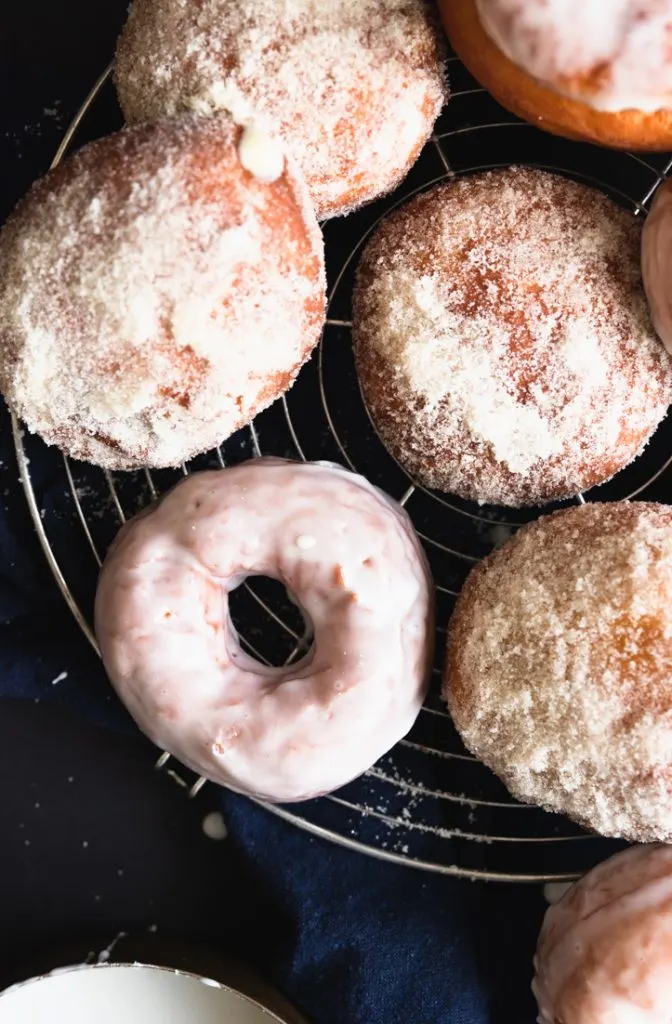 Other Donut Recipes You May Enjoy: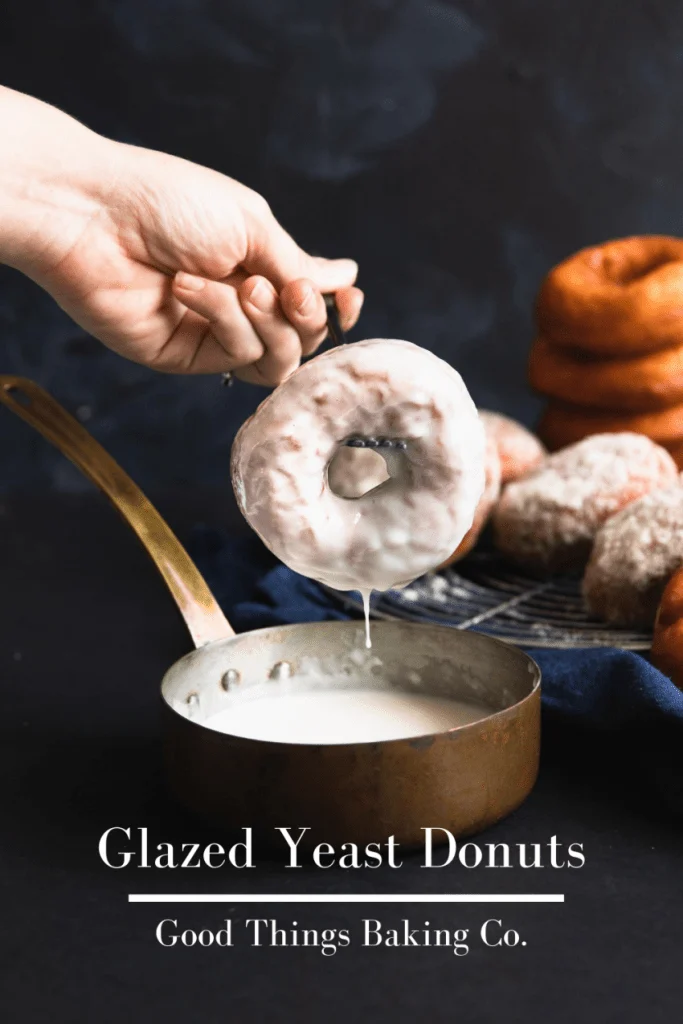 Print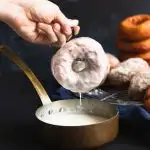 Glazed Yeast Donuts
---
Author:

Total Time:

5-25 hours

Yield:

12

–

15

donuts

1

x

Diet:

Vegetarian
Description
These are tender, melt-in-your-mouth glazed yeast donuts that can be enjoyed on it's own or with a million different fillings, glazes, or toppings.
---
For the Donuts:
2 cups

milk

1/4 cup

white sugar

2 1/2 tsp

. yeast

2

large eggs, beaten

10 Tbsp

. butter

6 cups

all-purpose flour

1 1/2 tsp

. salt
Neutral oil (canola, vegetable, etc.) for frying
For the Glaze:
1/2 cup

milk

1 tsp

. vanilla

4 cups

powdered sugar
---
Instructions
To make the dough: Warm the milk either over the stove or in the microwave, then pour it into the bowl of a stand mixer that has been fitted with a dough hook. Add the sugar and stir until dissolved, then add the yeast and allow it to sit for 5-10 minutes or until it becomes bubbly.

Add the eggs and melted butter and mix them in. While the mixer is running on medium-low, stir in the flour and salt until completely combined, about five minutes. Turn off the mixer and allow it to rest for 10 minutes.

After it has rested, move the dough to a clean, oiled bowl and turn it to coat all of the dough in oil. Cover the bowl with plastic wrap and put in the refrigerator for at least two hours, or up to 1 day.

To make the donuts, remove the dough from the refrigerator and turn it out onto a floured surface. With a rolling pin, roll it out until it is about 1/3-1/2″ thick, then using a large circle cutter (something about 3-4 inches, I like to use a wide-mouth jar lid), cut as many donuts as you can. Using a small cutter (about 1″), cut a hole out of the center of each donut. Lay them out on parchment lined baking sheets, leaving about an inch between them. Repeat the rolling & cutting with the dough edges until you have used it all.

Gently lay plastic wrap over the top of the doughnuts, and let them rise for 1-2 hours, or until they are puffed up and soft when you touch them. If your house is cold, turn on your oven for about 2 minutes then turn it off, just to make it slightly warm. Place the trays of donuts in the oven.

In a medium, heavy-bottomed pan, heat at least 2″ of oil to 350°. Carefully drop 2 or 3 of the donuts in and fry for about 2 minutes on each side, or until each side is golden brown. Remove from the oil to a cooling rack and repeat with the rest of the donuts and donut holes, keeping the oil around 350°.

For the glaze: Combine the milk and vanilla in a small saucepan and heat over low until warm. Sift the powdered sugar into the pan, then whisk until smooth. Remove the pan from the heat, then dip both sides of the donuts in and allow it to set for about five minutes
Prep Time:

30 minutes || Rest 4 to 24 hours

Cook Time:

30 minutes

Category:

Donuts

Method:

Frying

Cuisine:

Baked goods
Keywords: donuts, yeast, raised, glazed