This basic sweet dough recipe gives you a tender, soft crumb, and can be made into any sweet bread or roll you'd like.
These sweet, chocolatey little knots first came about when I had a bit of leftover dough from a project. Prentice asked to play with it, and we futzed around with it a bit–he even got his first lesson in kneading, which he aced. We then added chocolate and sugar because what could make a little boy happier? And after baking it? Well, you've never seen a prouder little baker. He savored every bite, and even shared with Quentin.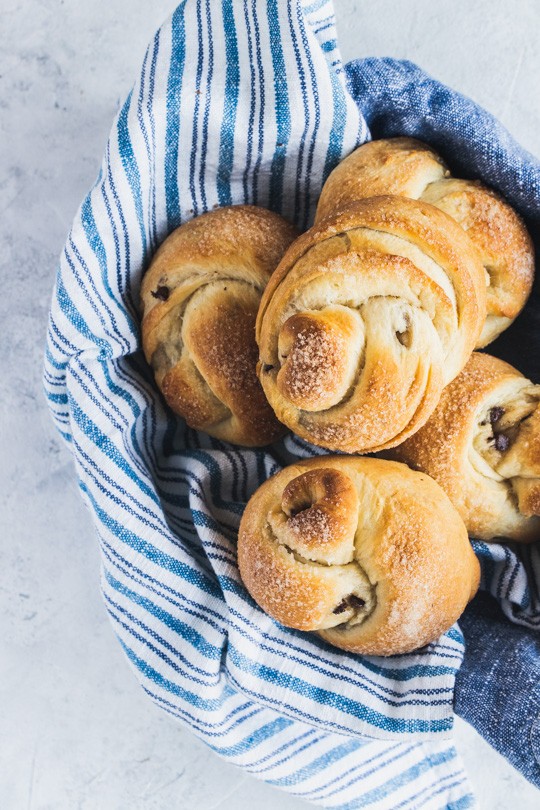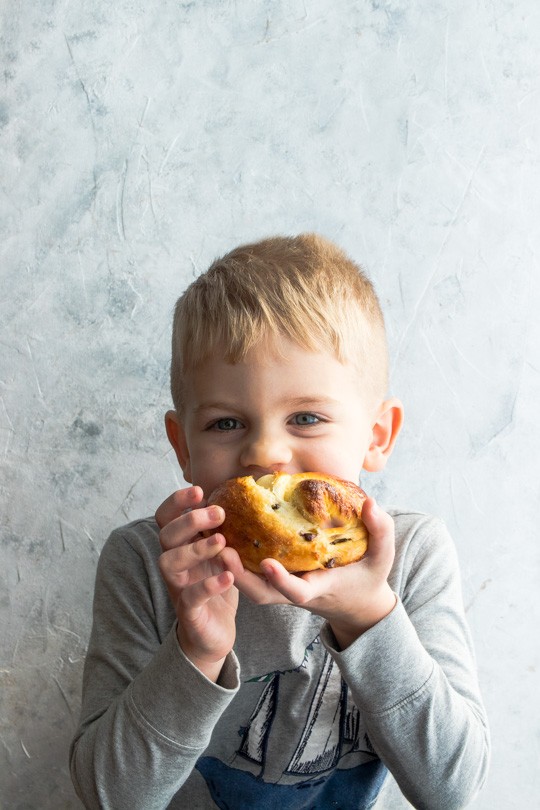 A few times a week, I try to ask Prentice if there's something he'd like to do that day. He usually has about five things on his list, most of them involving being outside or playing with friends. But a few days ago, the whole list was baking–cinnamon rolls and mousse cakes and raspberry/lemon/chocolate/cinnamon roll cakes. And since nothing makes my heart happier, I agreed, after narrowing the list to more realistic proportions. This is what we finally settled on, and as we began rolling the little balls of dough out he told me happily that "baking is my best part of life." Now, when you're four (and a half), you have lots of best parts of life, but baking making the list? That made my heart so very happy.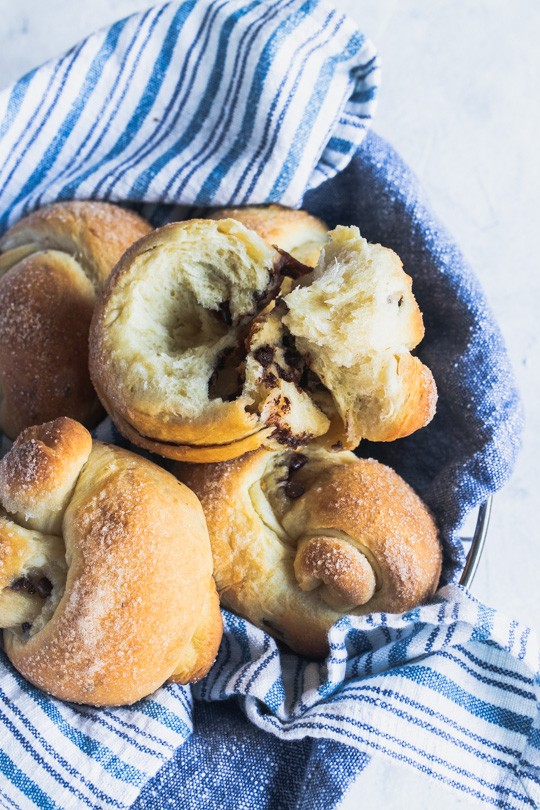 This basic sweet dough is one of those basic recipes that offers so many incredible options. Want to make cinnamon rolls? Well here's where to start. Have a sweet loaf in mind, stuffed with delicious things? You can make it all happen with this dough. This is one that I've made and tweaked and made again and played with multiple times in the past few months. To be honest, the first batch went in the garbage can because it wasn't edible. I've made a strawberry heart bread for Valentines, rolls that never saw the light of Instagram, and most recently these chocolatey little twists.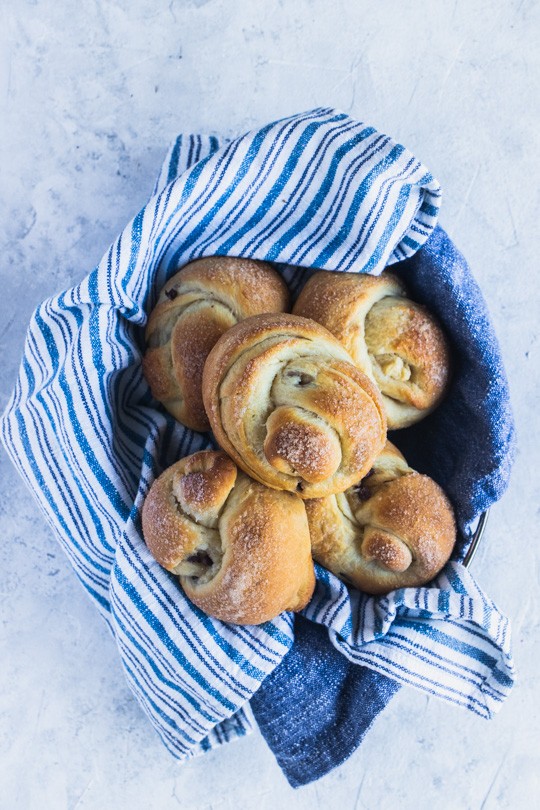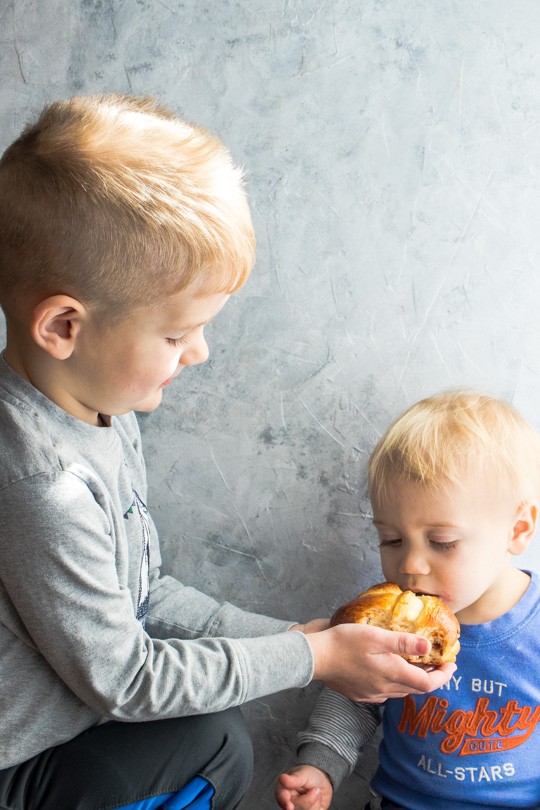 I hope these make your heart happy too. I recommend finding a four year old to help with the sugar and chocolate sprinkling for added joy.
Print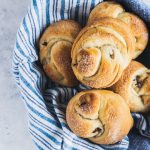 Basic Sweet Dough Recipe
---
Author:

Prep Time:

10 minutes, + 2-3 hours rising

Cook Time:

25 minutes

Total Time:

3.5 hours

Yield:

1.25

lb. dough

1

x
Description
This basic sweet dough recipe gives you a tender, soft crumb, and can be made into any sweet bread or roll you'd like.
---
Scale
Ingredients
4 Tbsp

. (

56

g) butter

2/3 cup

(

5.3 oz

.) whole milk

1 1/2 tsp

. (

6

g) instant yeast

3 Tbsp

. (

36

g) white sugar

1

large egg

2 cup

s (

284

g) all-purpose flour

1 tsp

. (

6

g) salt
---
Instructions
Melt the butter in a small saucepan, then remove it from the heat. Add the milk and pour it into the bowl of a stand mixer fitted with a dough hook. Measure the temperature to be sure it's between 90F and 110F. If it's hotter than  110F, allow it to cool so that it doesn't kill the yeast. Sprinkle the yeast, then the sugar, over the warm milk and butter, then give it a stir to wet all of the yeast. Allow it to sit for five to ten minutes, or until the yeast is foamy. Lightly beat the egg in a separate bowl, then add to the milk & yeast mixture.
Add in the flour and salt and turn the mixer on low until the dough has come together into a ball. Turn the mixer up to medium and knead for 4-6 minutes, or until it is a smooth and taut. Remove the dough from the mixing bowl, shape the dough into a ball, and place it into a greased bowl. Allow it to rise for 1 -1 1/2 hours, or until doubled in size. At this point, you can use it to make a variety of sweet breads or rolls. Simply shape however you like, then cover with a cloth and allow to rise for about another hour, or until the dough is soft and puffy.
For the Knots Pictured: Divide your dough into 6 equal portions. Roll each one out into a rectangle (it doesn't have to be completely square) that's about 4″x7″, then brush on melted butter. Sprinkle with about a teaspoon of sugar, then mini chocolate chips. Roll them up along the long side, then pinch the seams to seal. Roll the dough "log" under your hands while applying gentle pressure to stretch and lengthen it, then turn a simple knot with the dough. Mix the leftover melted butter with about a tablespoon of milk, then brush it on the outsides of the knots and sprinkle with sugar.
Bake at 350F for 20-25 minutes, or until the outside a golden.
For Cinnamon Rolls: Roll the dough into a rectangle about 12×18, spread butter over it, then sprinkle with sugar and cinnamon. Roll it up in a log along the longer edge, then cut it into 1 1/2″ thick slices. Place them in a greased baking dish, allow them to rise for 45 minutes to an hour, then bake at 350F for 25-30 minutes, or until golden brown. For Breads: Roll the dough out into a rectangle 8″x24″, then spread with any fillings you wish. Roll into a roll along the long edge, then slice it in half lengthwise. Turn them filling side up, and twist them around each other, like a braid. Turn them into a circle, and pinch together the ends. Allow it to rise for 30-45 minutes, then bake at 350F for 20-25 minutes, or until golden brown around the outside.
---
Category:

Breads & Pastries

Method:

Kneading, Baking

Cuisine:

Bread
Keywords: Basic Sweet Dough Bread