This Blueberry Tart recipe features a lightly sweet pastry crust bursting with a blueberry filling with a hint of lemon. Beautiful and delicious, you can use fresh or frozen berries for this tart.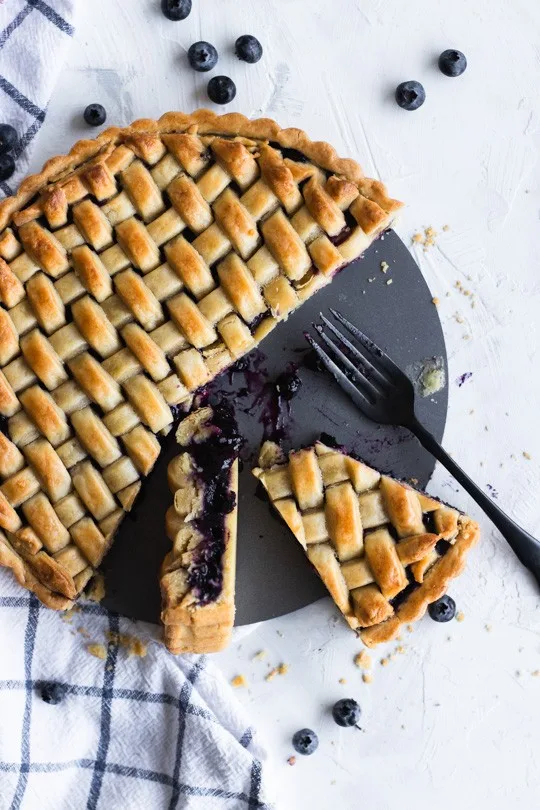 This is a rather nostalgic recipe for me. When I was a teenager, my sisters and I would make these blueberry squares for any potluck or picnic we headed to. It's one of the first times I remember working with pastry for the express purpose of making a dessert beautiful, even though it was always a simple wide lattice. Apparently it's become something of a habit, because making food pretty has become one of my favorite things to do.
I've tweaked the original recipe a bit for my purposes, including using my own tart crust recipe. It's simple and decadent all at once, which often makes for the best desserts, don't you think?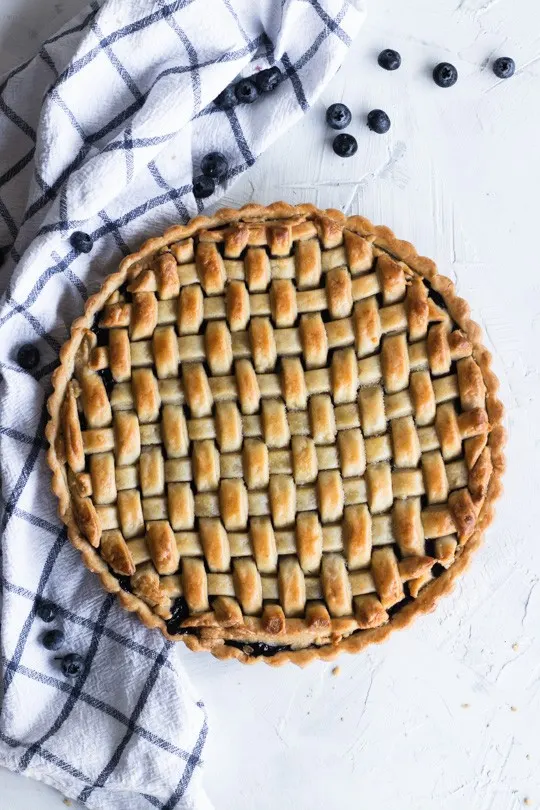 How to Make Blueberry Tart
For the Crust: You'll need a double batch of sweet tart crust. I've put it in the recipe card below, but if you visit the original post, I've got some pointers and tricks for making a crust you'll be happy with.

You want to make the dough ahead of time to allow for chilling to help it hold it's shape.
For the Filling: You can use fresh or frozen berries for the blueberry tart filling since you are cooking it before baking. Blueberries also have pectin (which is a thickener) in them, so don't worry about not having enough cornstarch.

The lemon zest adds a nice little touch of tart balance to the sweetness of the blueberries. You just want to rub it in the sugar until it's fragrant and delicious.

To Bake the Tart: You'll need a 9″ tart pan for this recipe, like this one. They're not expensive, and it's honestly one of my most used baking pans since tarts are addictive to make once you try them.

I always brush the crust with a beaten egg. This gives it a lovely, shiny finish.

A couple of other things… if your tart pan has a removable bottom (which I recommend for easy removal and serving), you may want to have a baking sheet underneath it in case any butter seeps through the cracks. If there's no sheet underneath, you'll end up with a smoky oven. Which is smelly and difficult to clean.

Also! Keep a sheet of foil handy to cover the top crust if it's golden brown before the baking time has finished. This will prevent it from burning while the bottom of the crust finishes baking.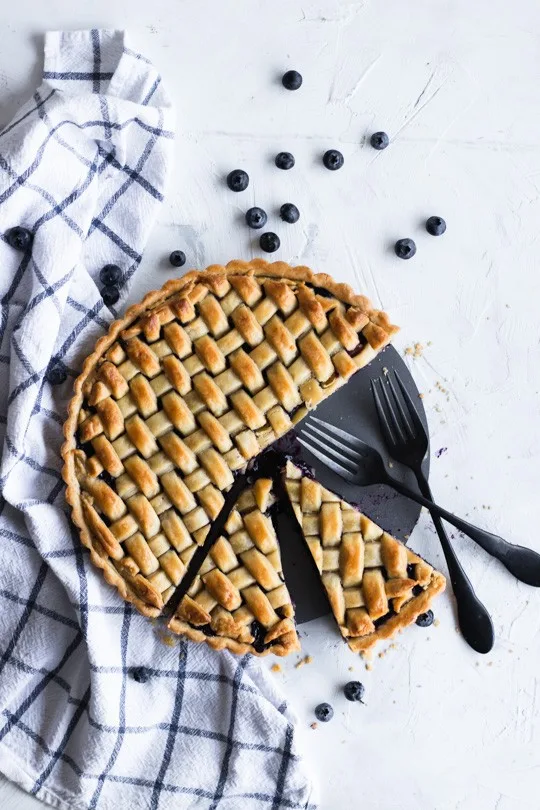 Tips for Weaving a Lattice Crust
First, I recommend watching a video like this, since a video is worth a million words. That is how the saying goes, right? Obviously mine is a little different, so here's what I did:
I followed the general every other strip weave pattern, but kept the strips right next to each other rather than leaving gaps between them. You can opt for whichever version you prefer, but the tight weave will keep the filling from bubbling out.
The strips on this crust were 1/2″ wide. If you want to make them wider, it'll be easier and quicker to make.
Lay out the strips and do the weaving on a floured sheet of parchment, or it will stick to your counter and tear and all of your lovely work will be undone. Chill it after weaving to make it easier to work with.
You'll probably have some leftover tart crust dough–just reroll it, cut it into square, and bake at 350F for delicious little sable cookies.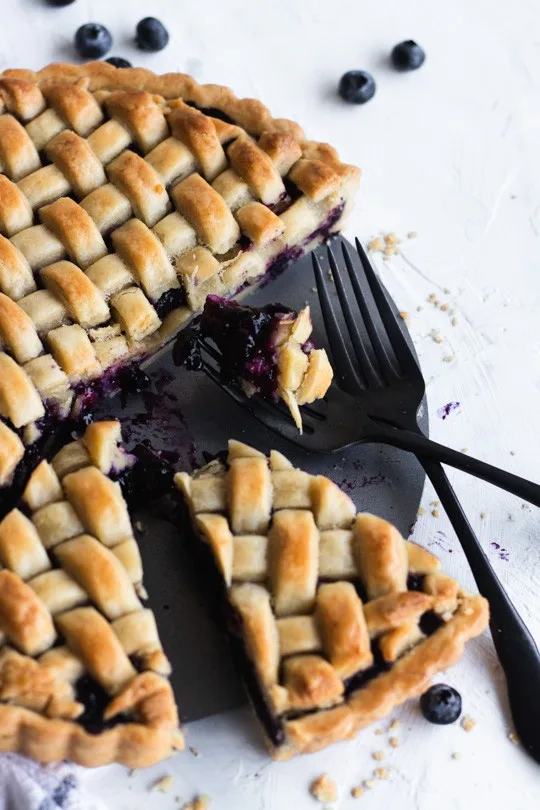 This post contains affiliate links, which means that if you purchase from any links in the post Good Things Baking Co. will receive a small commission at no added cost to you. Thank you for being here, and helping support wonderful things to eat!
Print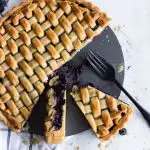 Blueberry Tart
---
Author:

Total Time:

2 1/2 hours

Yield:

1

9″ tart

1

x
Description
This Blueberry Tart recipe features a lightly sweet pastry crust bursting with a blueberry filling with a hint of lemon. Beautiful and delicious, you can use fresh or frozen berries for this tart.
---
For the Tart Crust:
4 cup

s (

480

g) all-purpose flour

1 cup

(

126

g) powdered sugar

1/2 tsp

. salt

20 tbsp

. (

286

g) butter, cool and not completely hard

2

large hard boiled egg yolk, grated

2

large egg yolk

6 tbsp

. heavy whipping cream

2 tsp

. vanilla extract
For the Blueberry Filling:
3 cups

of blueberries, fresh or frozen
Zest of

one

lemon

1/2 cup

white sugar

1 1/2 Tbsp

. cornstarch

1/2 tsp

. salt
---
Instructions
For the Tart Crust:
Fit your stand mixer with the paddle attachment. In it's bowl, combine the flour, powdered sugar, and salt. Stir on low to combine. Cut the butter into small chunks, and add them to the flour mixture one at a time while the mixer is running. Continue to mix until it is all worked into the dry ingredients, and the mix looks like slightly clumpy sand.
Stir in the grated egg yolk, then the raw egg yolk, cream, and vanilla extract. Stir until a dough is beginning to form. The dry ingredients should be completely absorbed, but you want to stop mixing while the dough is still in several smaller clumps and hasn't come together into one large ball.
Remove it from the bowl to a sheet of plastic wrap and press it together gently to form a ball, then wrap it with the wrap and press it into a disc. Refrigerate for at least 2 hours before rolling and baking. It can be kept in the refrigerator for up to three days.
For the Blueberry Filling:
In a medium saucepan, stir the filling ingredients together. Cook over medium low heat, smashing a few of the blueberries stirring constantly to prevent scorching. Continue cooking and stirring until the blueberries have burst and the juices have thickened, about 5-8 minutes. Set it aside to cool to room temperature, but do not refrigerate.
To Bake the Blueberry Tart:
Divide the tart dough in half and roll one half out on a well floured surface until it fits a 9″ tart dish. Lift it carefully into the dish, and press it into the edges of tart tin. Dock the bottom of the dough with a fork, then chill it for at least 30 minutes.
Preheat the oven to 350F. Spread the blueberry filling into the crust, then put the lattice top (See directions below) carefully on top. Trim it all around the edges so that it fits into the bottom crust. Beat an egg until it's smooth, then brush it over the top of the crust. Bake the tart for 50-60 minutes, or until the denter has baked through and no longer looks doughy. You may need to cover the edges with foil if they start to get over browned.
To Weave the Lattice Crust:
Take any dough remaining from the bottom crust and press it into the remaining dough. Roll it all out on a well floured surface until it's between an 1/8″ and 1/4″ thick. You want to roll it in an oval/rectangle-ish shape that about 10-11″ high so that you have more strips of an appropriate length.
Lay out half of the strips next to each other vertically on a well-floured piece of parchment paper. Fold every other strip back halfway, then lay one across the center of them horizontally. Fold the strips back down over the horizontal strip, then take the ones that weren't folded the first time and carefully lift them over the horizontal strip. Lay a second strip horizontally, and continue the process until you've worked to the edge of the vertical strips. Repeat all the steps again from the center, folding the strips down and working your way up to the upper edge of the crust.
Be careful when lifting and folding the strips, and if the dough gets too warm and soft, pop it all in the refrigerator for about 10 minutes to cool it back down.
Once you've finished weaving the lattice, Slide the parchment paper onto a baking sheet and place it in the fridge to chill until it's completely cold. This will help you move it onto the tart without breaking the weave or having it fall apart.
Prep Time:

1 1/2 hours, divided

Cook Time:

1 hour

Category:

Tarts

Method:

Baking

Cuisine:

Dessert
Keywords: tart, fruit tart, blueberry tart