You're going to think I'm crazy, but this Triple Chocolate Mousse Tart came to me in a dream.
It was a very vivid, specific sort of dream, the kind where you wake up and wonder how in the world that wasn't actually real life. But about 10 seconds later, I knew it wasn't real life, because Lorelai Gilmore was the person who told me to make this tart.
Yes, you read that right. Apparently I had been on one of my Gilmore Girls binges recently because while I slept a very caffeinated, hyper Lorelai told me to make a three chocolate tart. Luke was mowing the yard while we talked. Rory was nowhere to be seen. Per Lorelai's instructions, said tart was supposed to be three layers of white, milk, and dark chocolate ganache. That seemed like it would be overly rich and opted for the first two layers being mousse. It's not like I was talking to Sookie, right? I figured a little flexibility was permissible.
The mousse layers are white and milk chocolate, topped with a healthy layer of dark chocolate ganache. It's sweet, decadent, and rich, with a blend of textures that complement each other beautifully. The mousse is soft and airy, the crust tender and flaky, and the ganache silky smooth.
This one gets major bonus points, because you can freeze it in various stages. Pate Sucree can be frozen when it's dough (I like to have a round in my freezer pretty much all the time) or after baking. Both mousse and ganache freeze beautifully. So if you need to make it ahead, wrap it up a couple of times in plastic wrap and just pop it into your freezer for up to a week. Put it in your refrigerator a couple of hours to thaw, and voila! I would actually recommend adding the ganache layer after you thaw it so that the top isn't marred in all of the wrapping and moving that's going on.
Oh, and those chocolate shavings on top? Totally fancy and pretty, but totally not necessary. I really thing it takes the tart to the next level, as well as letting people know that there are multiple kinds of chocolate underneath the dark, mysterious gloss on top. But really, you could decorate it anyway you like. The beauty of tarts is that they can stand on their own in the looks department, but they are also the perfect canvas for whatever your imagination can conjure up.
The crust recipe is based on Richard Bertinet's tart crust recipe. He actually has a video on youtube demonstrating the technique, which I found to be really helpful. It's important to work gently so that the crust doesn't end up tough, but don't be scared of it either.
This tart may take time, and effort, but I think we can all agree that the best things in life require a bit of both. I think it's obvious that this is one of those best things, don't you?
Print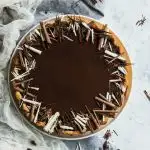 Three Chocolate Mousse Tart
---
Author:

Total Time:

12 1/2 hours

Yield:

1

9″ tart

1

x
Description
Triple Chocolate Mousse Tart
---
For the Crust:
3 cups

all purpose flour
pinch of salt

1

stick +

1

TBbsp of butter

2/3 cup

white sugar

2

whole eggs +

1

egg yolk, beaten
White Chocolate Mousse:
2

egg yolks

2 Tbsp

. sugar

1 cup

heavy whipping cream, divided

1/2 cup

(

3 oz

.) white chocolate, finely chopped
Milk Chocolate Mousse:
2

egg yolks

2 Tbsp

. sugar

1 cup

heavy whipping cream, divided

1/2 cup

(

3 oz

.) milk chocolate, finely chopped
Dark Chocolate Ganache
3/4 cup

heavy whipping cream

3/4 cups

(

4.5 oz

) finely chopped dark chocolate
---
Instructions
For the Tart Crust: Combine the flour, sugar, and salt in a medium sized mixing bowl. Place the cold butter between two pieces of grease proof paper (like waxed paper) and pound it until it's about 1/4" thick, using a rolling pin or kitchen mallet.
Using your fingers, work the butter into the flour mixture quickly, until the mixture is sandy. Using a rubber spatula or a bowl scraper, mix in the egg until the mixture is a cohesive dough. Using your fingers, gently and deftly becomes a ball, then pat it into a disc and wrap tightly with plastic wrap. Place it in the refrigerator for at least 2 hours, or up to three days.
When you are ready to bake it, remove the chilled dough from the refrigerator. Preheat the oven to 375°. Let it soften slightly, then roll out on a floured surface into a round 1/4"inch thick. Roll it back over the pin to transfer it to a round 9" tart pan. Dock the crust (prick all over with a fork), line it with parchment paper and fill with pie weights, beans, or sugar. Bake for 15 minutes, then remove the parchment with the weights. Bake for another 10-15 minutes, or until the crust is golden all over. Let it cool completely before filling.
For the White Chocolate Mousse: In a small bowl, beat the 2 egg yolks with two tablespoons of sugar until smooth. Heat 1/2 cup of whipping cream in a small saucepan over medium heat until barely simmering, then slowly pour it into the eggs while whisking quickly. Return the mixture to the pan and cook over low heat, stirring constantly with a rubber spatula until it is thick, then remove from the heat. Stir the chopped white chocolate in until it has melted. Transfer the mixture to a small bowl, then chill for two hours.
Beat the remaining 1/2 cup of whipping cream until stiff peaks form, then carefully fold into the custard until it's completely mixed. Pour it into the cooled crust, then let it set in the refrigerator for 2 hours.
For the Milk Chocolate Mousse: Repeat the method for the white chocolate mousse, and pour it over the white chocolate layer in the crust. Again, let it set for 2 hours
For the Ganache Layer: Chop the dark chocolate and place it in a heat proof bowl. Heat the 3/4 cup of whipping cream in a small saucepan or in the microwave until gently simmering. Pour it over the chopped chocolate, then let it sit for 10 minutes. After that, stir it gently until the mix becomes cohesive and smooth. Pour it over the top of the milk chocolate mousse, then refrigerate for a couple of hours or until the ganache sets.
For the Chocolate Garnish (Optional): Using a sharp chef's knife, lightly rub the back of a bar of chocolate with your hand to soften it slightly. Place the blade of the knife almost flat against the chocolate, angling and pressing it down slightly, and carefully pull it towards yourself, skimming off a curl of chocolate. It may shatter, but the fragments can still be very pretty. Arrange the curls in any pattern on the top— I placed mine all around the edges, but they could also be very pretty piled in the middle or scattered across the top.
Prep Time:

2 hours

Cook Time:

30 minute bake time || 10 hours rest time

Category:

Pastry

Method:

Baking & Chilling

Cuisine:

French