This Strawberry Lemonade Sorbet recipe is the perfect summertime dessert, using only four simple ingredients and is so easy to make!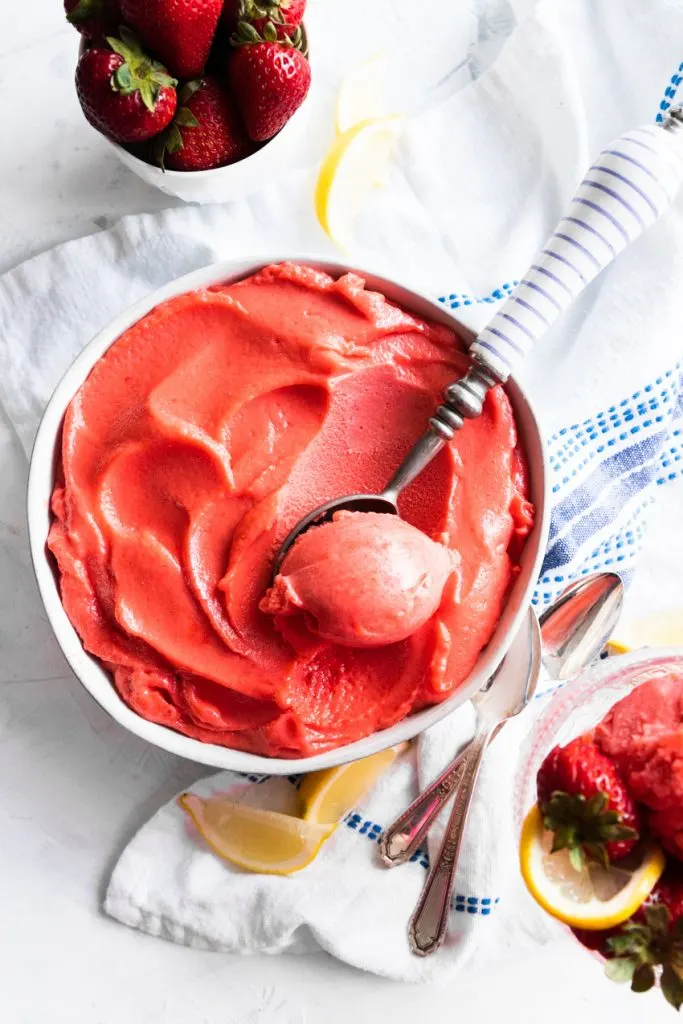 I remember the first bite of really good sorbet I ever ate. It was in Canada while on vacation, and we were doing that really adultish thing where you eat it straight out of the container with a spoon. And that first spoonful was so memorable–creamy and smooth, with perfectly balanced sweetness. The cream wasn't even missed in the vivid flavor and luscious consistency.
That sorbet memory is what I've tried to recreate here, with and added pop of lemon for an even brighter, more summery flavor. Enjoy every last bite, whether it's straight from the container or from a fancy dish.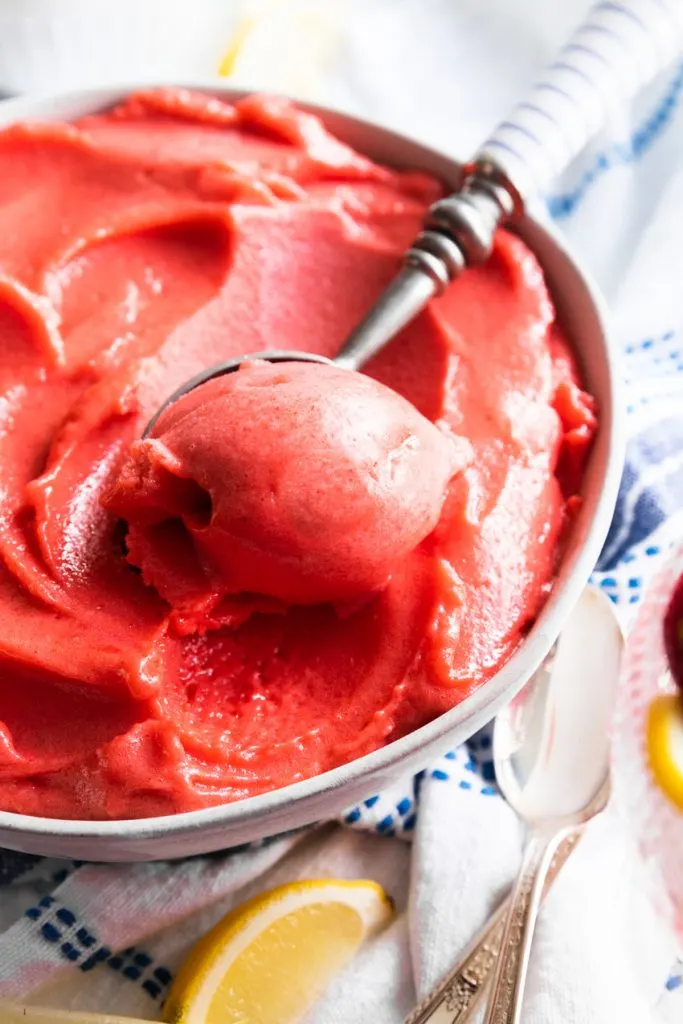 What is Sorbet?
Sorbet is a frozen dessert made of nothing but fruit puree or juice and simple syrup (which is just sugar and water). It's similar to ice cream in that it's churned, but it's a great gluten , egg, and dairy free alternative that is universally popular and loved! P.S. it's also very low fat!
There are a few things that don't freeze solid, which contribute to ice cream's creamy consistency– the fat (cream, eggs) and sugar. But when making sorbet, you don't have any added fats, so you rely on the sugar in the simple syrup to not only sweeten and enhance the flavor of fruit, but also to prevent it from freezing into a solid block. If you want to get all nerdy about the science of sorbet, this article on Serious Eats is a great place to start!
Is Sorbet Healthier than Ice Cream?
As I mentioned above, sorbet is a great low fat, allergen friendly ice cream alternative. However, it is fairly high in sugar, so it's best consumed in moderation. If you're looking for more information on if sorbet is something that you can safely add to your diet, please consult a registered dietician.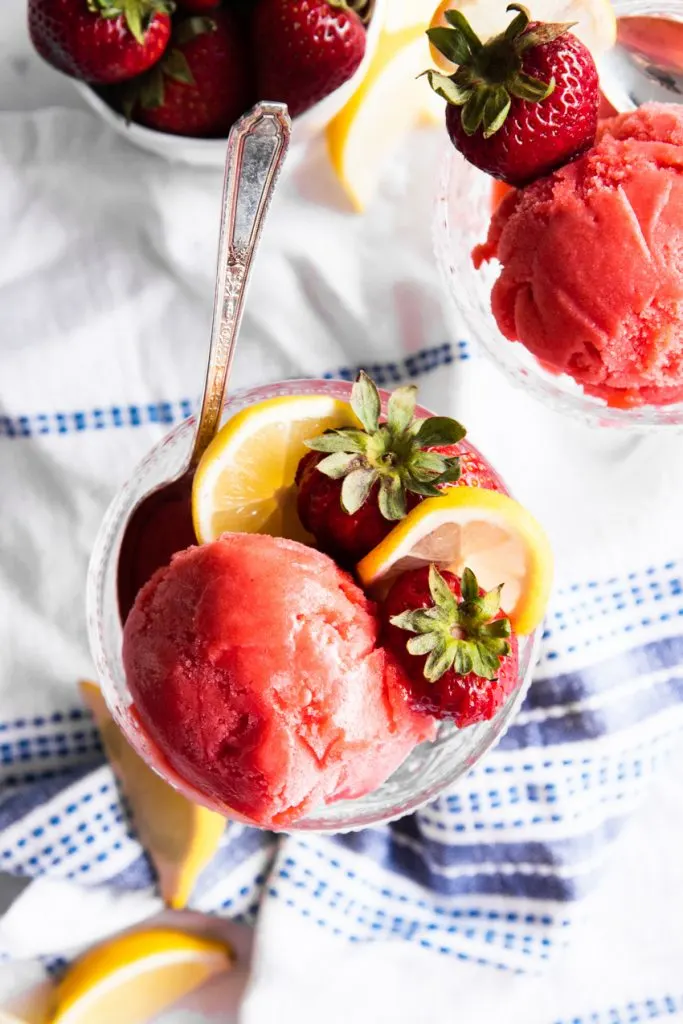 How to Make Strawberry Lemonade Sorbet
Begin by combining the sugar and water in a pot and stirring it over medium heat until the mixture is just beginning to bubble and all of the sugar has dissolved. This is called a simple syrup. Set the mix aside to cool.
Wash and hull (remove the green tops from) your strawberries. Place them in the jar of a blender and blend until you have a smooth puree with very few seeds visible. Measure out two cups, add to a medium mixing bowl, and set aside.
Juice lemons until you have 3/4 cup, then stir it into the bowl of strawberry puree.
Take an egg, wash it well, and carefully place it in the bowl of lemon and strawberry juice. It should sink.
Gently stir about 2/3 of the simple syrup into the fruit juice. The egg should begin to float. Continue stirring in more simple syrup until the egg is at the surface, and a section of the shell about the size of a quarter is visible.
Place the fruit and simple syrup base in the refrigerator and allow it to chill thoroughly, or about 3-4 hours.
Churn the fruit base in your ice cream maker according to the directions until it is thick, about the consistency of soft serve ice cream.
Remove the sorbet from the ice cream maker and place it in an airtight container. Put the container in the freezer and freeze until solid.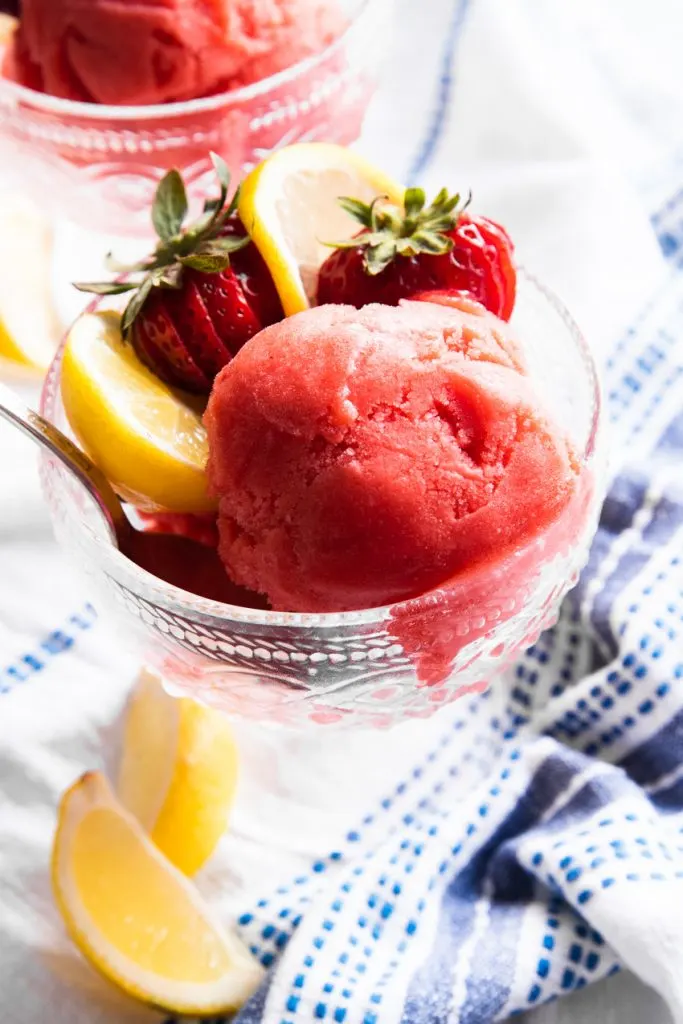 Why Float an Egg? And Other Notes on Sorbet Making
So… floating an egg may seem like a strange way to make a recipe. But it's science! As I mentioned above, there are a few things that don't freeze–fat, alcohol, and sugar. They're the components that keep ice cream from being a solid block of ice, as well as the air that's incorporated while churning.
Since sorbet doesn't have fat like ice cream does, we have to make up for it with sugar to prevent too-hard freezing and get a smooth, not icy consistency. Each fruit has different sugar levels, so each will need a different amount of simple to make sure that it's a dense enough mixture yield a smooth sorbet. Even if you're making the same exact strawberry lemonade sorbet, your strawberries or lemons may have more or less sugar than mine did. Hence, using the egg tells you when the fruit to sugar ratio is correct.
This method should work with any fruit juice! Remember that freezing makes things less flavorful, so even if the mix tastes too sweet when you're mixing it, it will probably be perfect once it's been frozen.
Also, it's best to keep your sorbet as cold as possible after churning. Prefreeze the container you're going to store it in and get it into the coldest part of your freezer (usually the back) as quickly as possible. Do you best to keep it from melting at all, as any that melts will refreeze and become more dense and icy.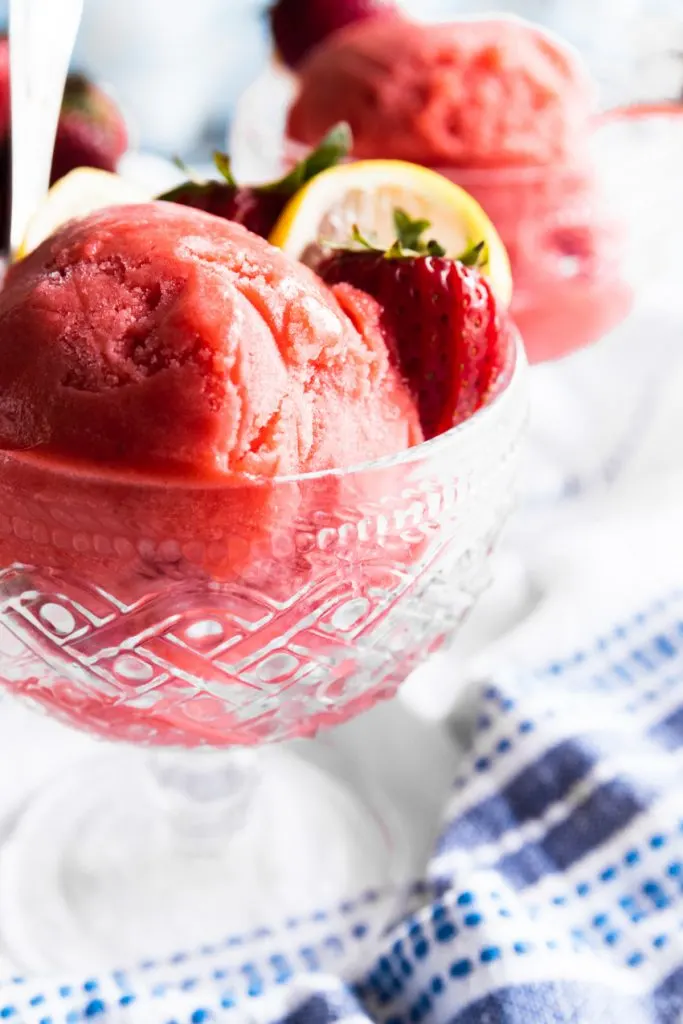 The Best Ice Cream Makers for Sorbet
While you can use pretty much any ice cream maker for sorbet, it's alot easier to have one that doesn't require fussing with ice and salt. While I haven't tried every tried cream maker on the market, the Cuisinart 2 qt. ICE-30BC has always done a great job! It's also a pretty affordable price point, though you can definitely save a bit if you do opt for the ice and salt variety of ice cream maker.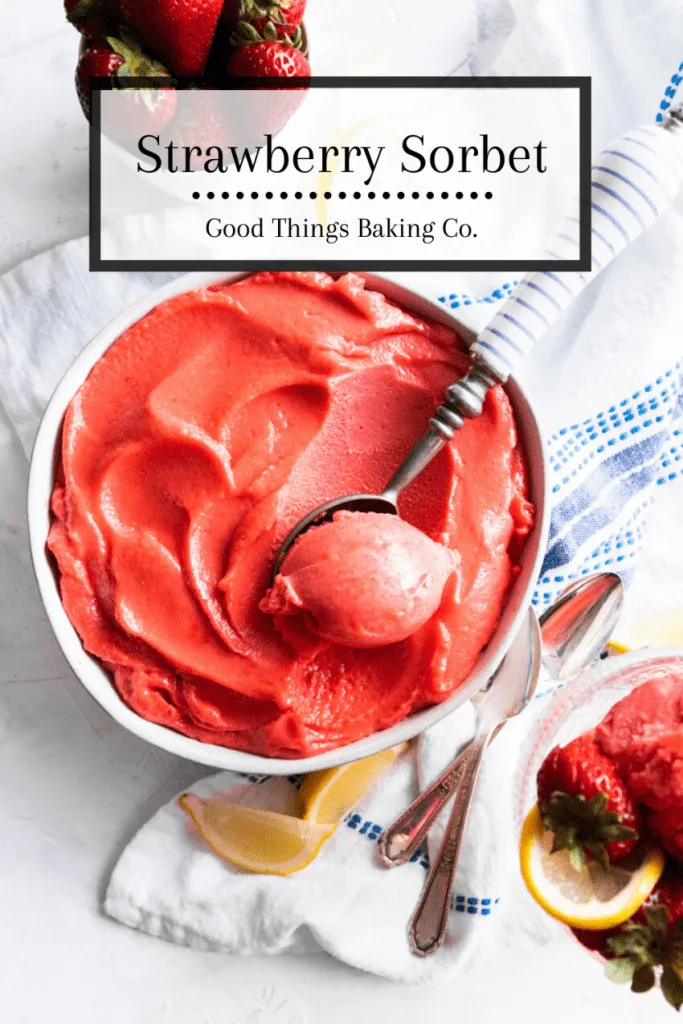 Other Recipes You May Enjoy:
Print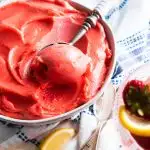 Strawberry Lemonade Sorbet
---
Author:

Total Time:

12 hours, 40 minutes

Yield:

Approximately

2

qts.

1

x

Diet:

Vegan
Description
This Strawberry Lemonade Sorbet recipe is the perfect summertime dessert, using only four simple ingredients and is so easy to make!
---
2 cups

strawberry puree (about

1

lb. of strawberries)

3/4 cup

freshly squeezed lemon juice

1 1/2 cups

sugar

1 1/2 cups

water
---
Instructions
Begin by making a simple syrup out of the water and sugar by placing them in a saucepan and stirring. Bring the mixture to a light boil and stir until all of the sugar is completely dissolved. Set it aside to cool.
Wash and hull your strawberries and place them in the jar of a blender. Turn it on and puree them for 2-3 minutes, or until they are very smooth and most of the seeds are ground. Measure out two cups and pour it into a bowl that will hold at least 3 more cups of liquid.
Juice lemons until you have 3/4 cup, then stir it into the strawberry puree. Wash and dry a whole, raw egg and set it aside. Stir about half of the simple syrup into the strawberry and lemon juice, then gently place the egg in the bowl. Continue stirring in the simple syrup until the egg is floating, and you can see a section about the size of a quarter. Stir gently so that the egg shell doesn't crack.
Cover the bowl of fruit puree in the fridge to chill completely.
Prepare your ice cream maker according to the directions, then churn the fruit and sugar mixture until it's the consistency of soft serve ice cream. Transfer it quickly to a freezer safe container, cover, and put it in the freezer until it's thoroughly frozen. This should take 4-6 hours, depending on your freezer.
The sorbet will keep in the freezer in an air tight container for up to a month.
Prep Time:

10 minutes + 3-4 hours chilling time

Cook Time:

30 minutes to churn, + 8 to freeze

Category:

Frozen Dessert

Method:

Freezing
Keywords: strawberry sorbet, sorbet recipe, strawberry lemonade, vegan, vegetarian, gluten free, dairy free, dessert, egg free