Creamy vanilla ice cream with fresh blueberry syrup swirled in makes for a perfect summer treat for your Fourth of July parties.
How do you celebrate the Fourth?  We're usually in California visiting family and go to the parade in the small town Micah grew up in. Over the years it's evolved (devolved?) into a massive water fight with squirt guns, water balloons, and even five gallon buckets being thrown. By the end, everyone is drenched and the southern CA sun is not quite so unbearable.
Ice cream has a similar affect.  The overpowering heat of summer is a little bit more bearable when you've got an ice cream cone in hand, and it's even more enjoyable when it's coming straight from your own kitchen.
It's one of those labors of love that you can make easier by spreading out over a couple of days.  Make your custard and blueberry syrup today so that it can be thoroughly chilled, and churn and serve it tomorrow for your Fourth of July party.  And everyone is happy.
I've tried so many swirled ice creams over the past few years, and typically I added them to the machine at the end of churning.  But I never got the ribbons of fruit or chocolate running through that I was after, so I kinda gave up.  But this one worked out perfectly because I used a completely different method that could be applied to any flavor.  After churning the vanilla ice cream, I added about 1/5 of the mix to the container I was freezing it in, then spooned over about a fourth of the blueberry sauce.  Repeated those two steps with the rest of the ice cream and sauce, gave it a quick swirl with a knife, then popped it into the freezer.  The result was a marbled ice cream that made my little heart flutter.
I mean, can you not want to dig in right now?
Print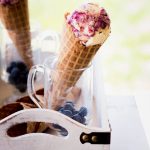 Blueberry Vanilla Swirl Ice Cream
---
Author:

Prep Time:

30 minutes || Rest Time: 8-24 hours

Cook Time:

30 minutes churning

Total Time:

9-24 hours

Yield:

About

1 quart

1

x
Description
Blueberry Vanilla Swirl Ice Cream is vanilla ice cream with fresh blueberry syrup swirled in makes for a perfect summer treat for your Fourth of July parties.
---
Scale
Ingredients
1 cup

whole milk

2 cup

s Whipping Cream, divided

3/4 cup

white sugar
a pinch of salt

5

large egg yolks

1 tsp

. pure vanilla extract

1/2 cup

fresh blueberries

1/3 cup

white sugar

1 tsp

. vanilla extract

1 Tbsp

. lemon juice
---
Instructions
For the Ice Cream Custard: Beat the egg yolks in a medium sized mixing bowl and set them aside.  In a medium sized stock pot, combine the milk, whipping cream, sugar, and salt.  Heat and stir the milk and cream until gently simmering, then gradually pour it into the egg yolks, whisking as you pour. You are tempering the eggs with this step, or slowly bringing them to a similar temperature as the warm cream so that they don't scramble when they are poured into the warm pan.
Return the entire mixture to the pan, then heat over medium low, stirring constantly with a rubber spatula to prevent it from burning and clumping.  Do not let it come to a boil, as this will likely make the mixture curdle.  Heat until it is 194° F (90°C), or is thick enough to coat a clean spoon without dripping off.  Stir in the vanilla extract.
Pour the mixture into a bowl, cover with a layer of clingwrap directly on top of the custard, and refrigerate for at least 8 hours and up to 24.
For the Blueberry Swirl:  In a small saucepan, combine the blueberries, 1/3 cup white sugar, and lemon juice.  Cook over medium-low heat for about 8-10 minutes, stirring constantly.  It will be dry at first, but as you cook it the sugar will melt and the blueberries will let off juice, forming a liquid sauce.  Continue to stir and cook until it has reduced by about half and runs off of a spoon in thick drops.
Pour the sauce through a sieve into a bowl, pressing through with a spoon to extract as much of the juice and fruit from the skins as possible.  Discard the skins and chill the sauce until cold.
To Churn the Ice Cream: Churn the custard according to your ice cream maker's instructions.  Once it has reached soft serve stage, spoon about 1 /5 of the mixture into the container it will be stored in.  Pour about 1/4 of the blueberry sauce, then repeat those steps until all of the ice cream and sauce are combined.  Before putting it into the freezer, swirl with a knife.  Freeze until hard.
---
Category:

Ice Cream

Method:

Churning & Freezing

Cuisine:

American
Keywords: ice cream, blueberry