This sourdough pizza crust is a flavorful, simple recipe and a great way to get creative with your sourdough starter! You can make it overnight or even mix it up the morning you plan to make pizzas for dinner.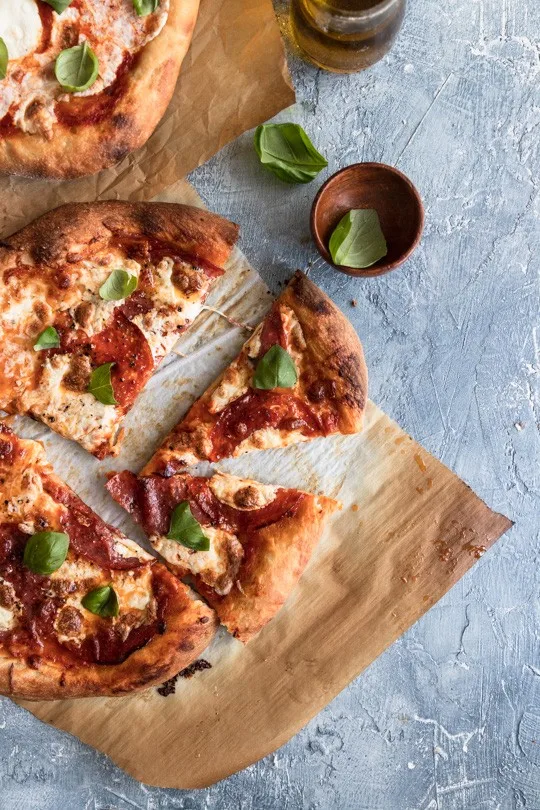 What's your take on homemade pizza? Is it a cherished family tradition? Or would you just as soon get a delivery from a dude with a funny sign on top of his car? Do you love the authentic Italian kind with simple, quality ingredients, or are you all American and pile those topping high? The pizza of my childhood was a thick, dense, whole wheat affair with pepperonis and mozzarella thrown under a broiler for a few minutes. Then, in my late teens, I discovered the magic of authentico Italian pizza through Peter Reinhart's fabulous book American Pie, and there's been no going back. His thorough, clear recipes and exploration of different kinds of pizza was intriguing, and I transformed my oven into the closest thing to a brick pizza oven I could get with stones, bricks, and tiles galore. And the results were magical– crisp, perfect pizzas with golden, toasted cheese. I was flexible with toppings–honestly, I could do without any extra if the crust, sauce, and cheese are good enough.
Reinhart claims that the crust is the key to a good pizza, and I set out to recreate the magic with my beloved sourdough starter (his name is Lawrence). Together, Larry (ew) and I made something glorious and good that I think would get Mr. Reinhart's stamp of approval.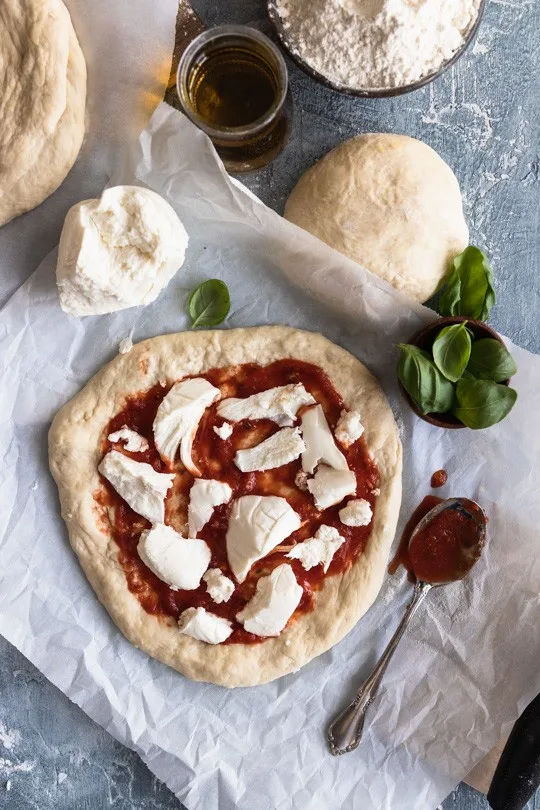 How to Make Sourdough Pizza Crust
No matter your pizza tastes and preferences, this sourdough pizza crust is here for you. It's simple and quick to make, and easy to double if you're feeding a crowd. You can make two 6″-8″ pizzas, or 1 10″-12″ pizza.
Feed your starter about 6-8 hours before you're going to mix the dough. If you're planning to make it in the morning, feed your starter just before going to bed. If you catch it after it's started to deflate some, that's ok! As long as you can still see bubbles and activity in the starter, it will work just find.
Next, stir together the flour, and salt in a medium sized mixing bowl. Add in the starter, lukewarm water, wine (if using), and honey. Mix it all together by hand or in your mixer with a dough hook until it comes together in a shaggy, rough dough. If it seems too dry, add more water a teaspoon at a time until all of the flour has been absorbed. If it seems too wet, work in about a tablespoon of flour at a time until the dough is workable and not too sticky.
If you're working by hand, turn the dough onto a floured surface and knead until the dough becomes a smooth and elastic ball. It should spring back quickly when you press/poke it gently with your finger. If you're using a mixer, knead the dough with the dough hook until it's ready.
Once you've finished kneading, shape the dough into a ball. Pour 1-2 teaspoons of olive oil into the bottom of a clean bowl and place your ball of dough in it, turning to coat the dough in oil completely. Cover with a clean tea towel or plastic wrap.
If you're mixing the dough the day before you want to make pizza, let the dough rise for 2-4 hours, then gently fold the dough a couple of times, recover, and refrigerate. Pull it out a few hours before baking to allow the dough to come to room temperature and yeast to become active again.
If you are making pizzas the same day that you mix the dough, let it sit in a warm, draft free area until it has doubled in size. Your dough is now ready to shape and bake!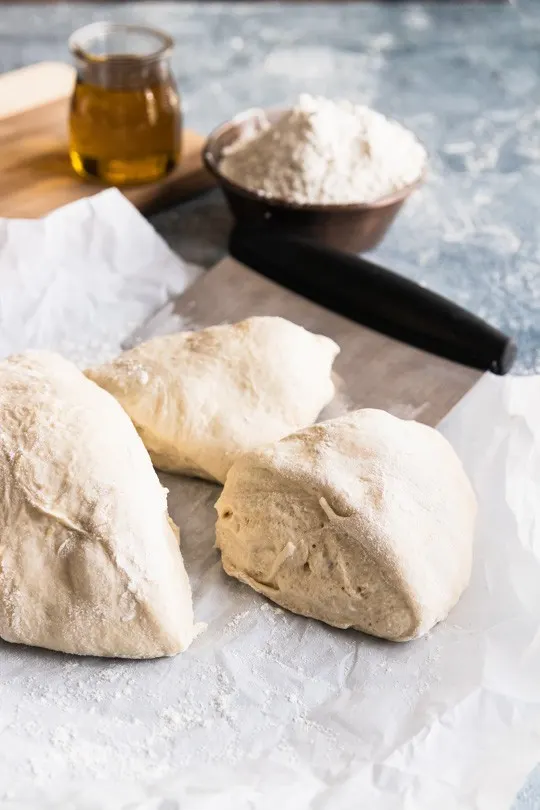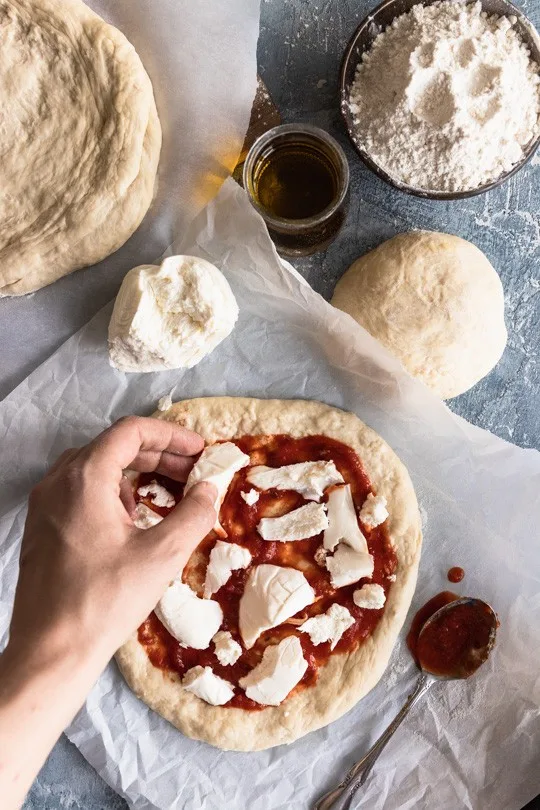 How to Shape Sourdough Pizza Crust
While it would be lovely to have the hand thrown pizza crust skill down, most of us haven't got it going on. I know I don't! But here are a few tricks to shaping that pizza dough.
First, divide the dough if you're going to make more than one pizza. Then, gently shape each portion of dough into a round and begin to flatten it with your fingers. Don't press too hard, as you don't want to completely deflate the gas in the dough.
After it has spread into a small circle, carefully drape the dough over your fist and slowly stretch it by spreading your knuckles. Rotate it and continue doing this, allowing the weight of the dough to stretch and grow the crust.
Once it gets too large to comfortably hold and handle, set it down on a piece of parchment paper and continue to stretch and press it out gently with your fingers until it has reached the size and thickness you want.
If the dough is sticking to your fingers, rub a bit of olive oil on your hands.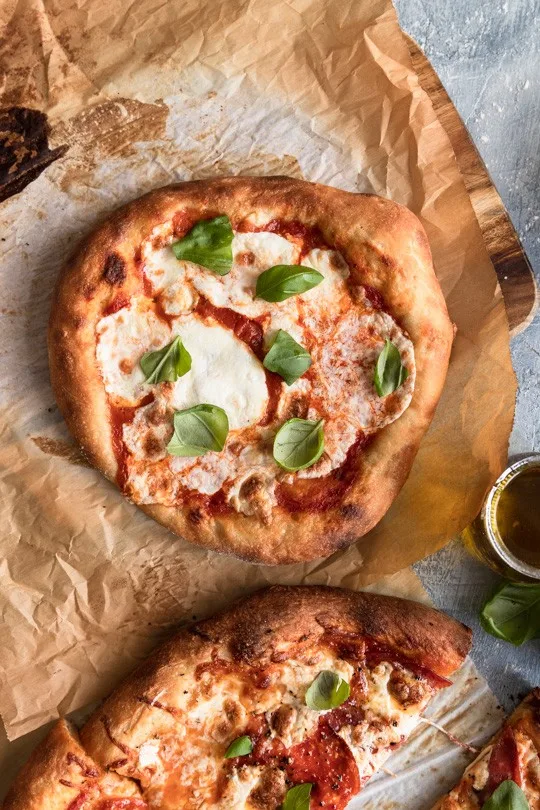 How to Bake a Crusty Pizza
There are so many factors that go into the finished product, but here are my best tips for getting a great crust every time you make pizzas.
Crank that oven temperature up! We're talking 450F. The high heat not only gives you a beautiful golden brown finish, it also helps give your crust a good oven spring. While that sounds fancy, it just means that the shock of high heat makes the yeast in the dough go crazy when it first goes into the oven.
Use a baking stone. If you don't have one, they're worth the investment. The stone holds and regulates heat so well and is much more effective than a baking sheet at making the bottom of the pizza as golden brown as the top. Believe me, they're worth the money if you don't already have a stone, wood fire pizza oven on hand. If you do, can we be friends please?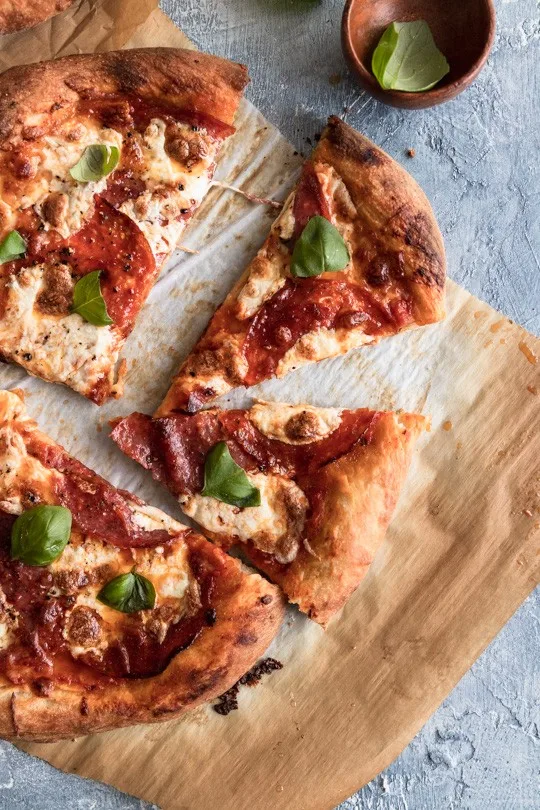 Pizza Crust Notes
While any sourdough recipe will taste better and be more active if you let it refrigerate overnight, you can mix the crust in the morning, let the dough rise in a nice warm place during the day, and have a lovely dough for pizza making at dinner time.
If you are going to refrigerate the dough, be sure to pull it out a few hours before you're ready to bake so that it can warm up before you start to work with it.
I like to replace about half of the water with white wine as it add so much flavor.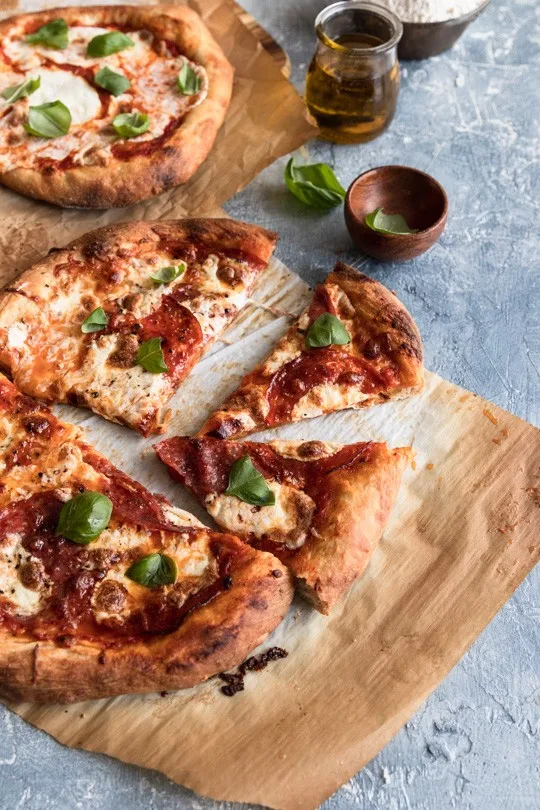 Equipment for Making Better Pizza
While you can definitely make good pizza in any oven, there are few things that can really help take your pizza pies to the next level.
Pizza Stone: Pizza stones are a great way to get a crusty, artisan finish on your pizzas. The stone helps hold and radiate heat more evenly, and also insures that the bottom of your pie is getting thoroughly cooked. They get bonus points for creating great crusts on your artisan bread!
Baking Steels are supposed to work at conducting and radiating heat even more efficiently and thoroughly than even stones. However, I've never used one so I can't personally vouch for them. They also can be used for baking great bread loaves.
Pizza peels are handy, but definitely not necessary for getting the pizzas in and out of a hot oven. Make sure you have semolina on hand to sprinkle on your peel for easy transferring! However, I usually make my pizzas on the bottom of a large baking sheet so that I can easily slide them onto the stone in the hot oven by pulling on the parchment paper.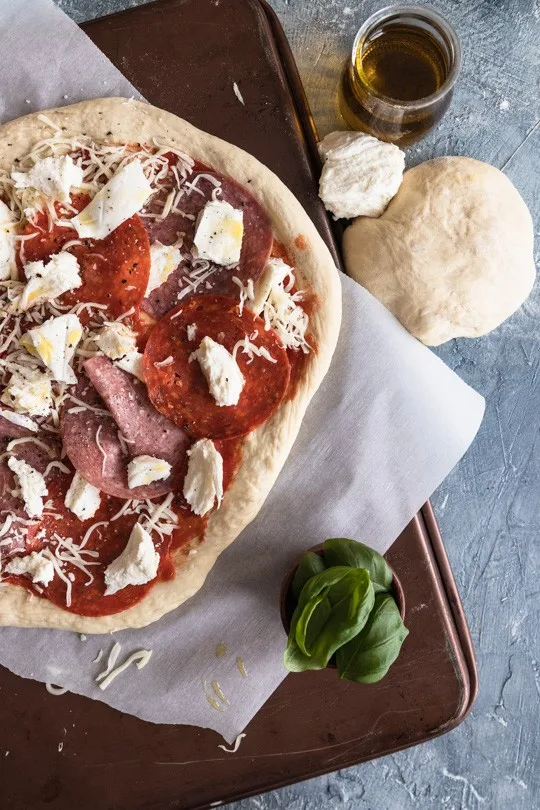 Pizza Topping Ideas
A classic margherita pizza is always a good idea–just sauce, mozzarella, and a few basil leaves sprinkled on top after baking. It's simple, but an effective way to showcase quality ingredients.
Sauce is a must on pizza, and while a tomato based sauce is standard, you can also opt for pesto or a white sauce.
Cheese: Is it even pizza if there isn't cheese piled on top? Mozzarella is the standard, but you can take it up a notch and buy balls of fresh mozzarella in the deli department of your store. Other great options are burrata,
Sauteed mushrooms are a popular choice–they're buttery and add a great meaty texture to a vegetarian pizza.
Meat options can be traditional, like sausage & pepperoni, or a little more unique, like salami and bacon. Just be sure to not pile on so much heavy meat that the crust will be overwhelmed by it.
Veggies: I recommend sauteing any vegetables–such as onions, peppers, etc.– before baking. Because the pizza bakes at such a high temperature for a short time, veggies that take a longer time to cook will be mostly raw, but could possibly scorch.
Eggs are a somewhat strange but great way to add flavor and texture to your pizza. Just crack an egg over the top of the pizza about 5 minutes before the end of the baking time and you should have a lovely runny yolk.
For some reason, pineapple on pizza is highly controversial, but I for one love it.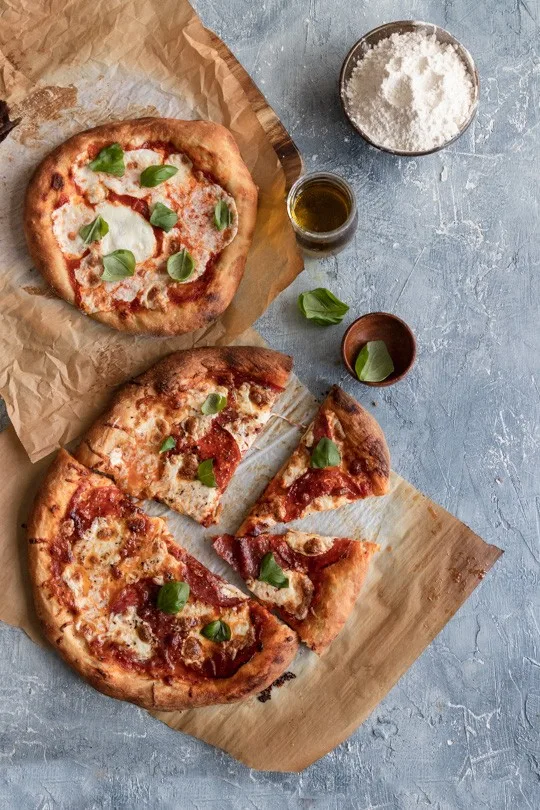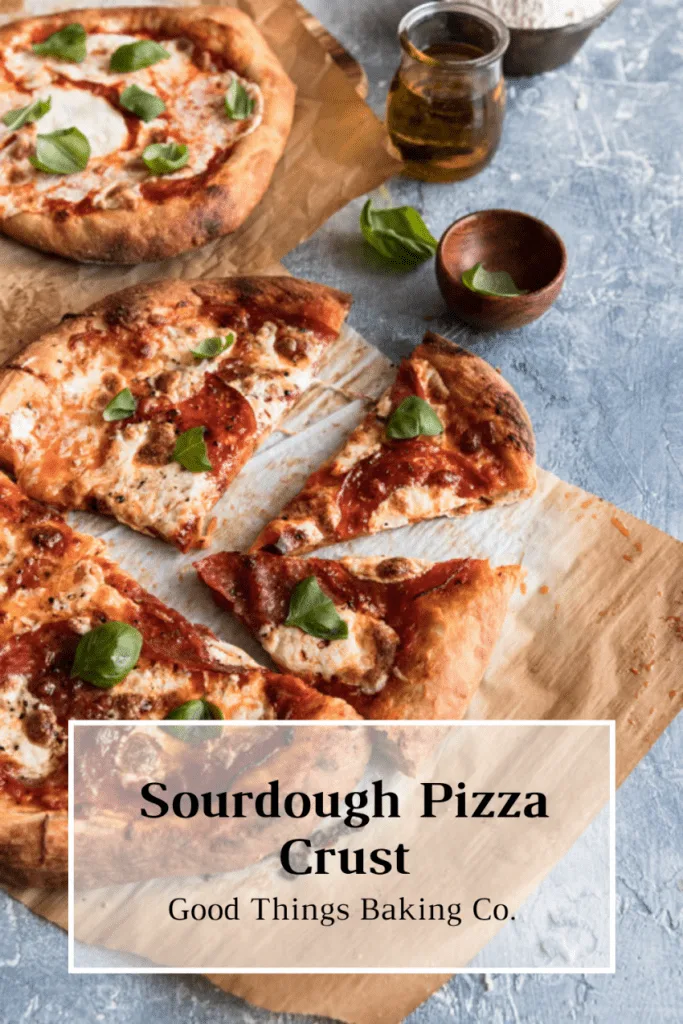 This post contains affiliate links, which means that if you purchase from any links in the post Good Things Baking Co. will receive a small commission at no added cost to you. Thank you for being here, and helping support good recipe to make and eat!
Print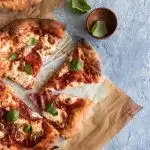 Sourdough Pizza Crust
---
1 1/2 cups

all-purpose flour

1/2 cup

sourdough starter

1/2 cup

water or 1/4 cup water and 1/4 cup white wine

2 Tbsp

. olive oil, plus more for the bowl

1 tsp

. salt

1 Tbsp

. honey or sugar
---
Instructions
In a medium mixing bowl, combine the flour and salt, then add the rest of the ingredients. Mix together with a large spoon until a cohesive but rough dough forms. Turn the dough out onto a lightly floured surface and knead for 5-7 minutes by hand until the dough has become smooth and elastic. It should spring back when you lightly press it with a finger.
Place the dough in a clean, oiled bowl and turn it once so that all of the surface is coated with oil. Cover with a clean kitchen towel and let it rest for at least six and up to 10 hours. If you want to make it the day before, allow it to rest for four hours before putting in the fridge.
When you are ready to make the pizzas, preheat your oven to 450°F. If you have a baking stone or steel, place it in the oven during the preheating. If you don't, set out a round baking sheet and line it with a sheet of parchment paper.
Generously flour the parchment paper (semolina flour works best for this) and gently turn out the pizza dough onto it. The dough should be fairly light and bubbly, and you don't want to deflate all of the gases out of it, so be gentle. Carefully begin to flatten the dough into a disc, pressing with your fingers in the center and working them out towards the edges. If the dough is sticking to your hands, you can rub a bit of olive oil on them.
Continue to press the dough out into a circle until it has reached between 10 and 12 inches. The smaller the circle, the thicker the crust will be.
Spread pizza sauce over the crust, then top with cheese and desired toppings. Place in the oven and bake for 10-15 minutes, or until the crust is brown and the cheese is melted and bubbly. Remove from oven and sprinkle and greens (basil, arugula, etc.) on top before serving. Serve immediately.
Other Recipes You May Enjoy: