Who can resist a chocolate cake? And it's even better if you can use your sourdough starter discard to make it! This recipe makes the best simple, one-bowl sourdough chocolate cake.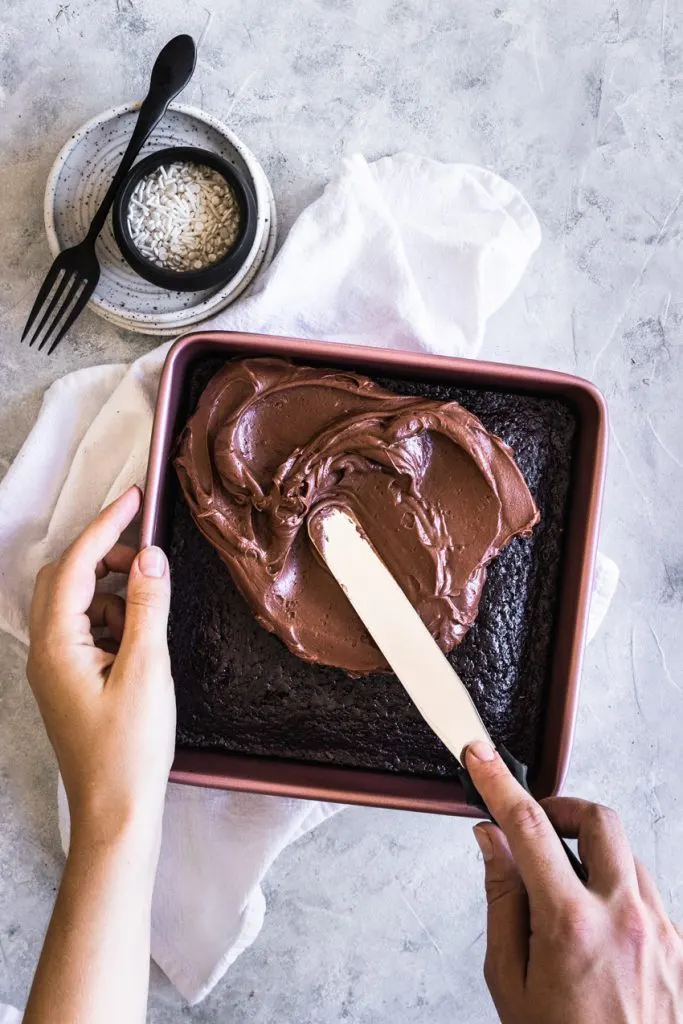 Is there any dessert that says comfort food like chocolate cake? And it's even better when it's a sourdough chocolate cake.
Because if you have a starter, chances are you have a jar of starter discard sitting in their fridge, just waiting for its chance to shine. This chocolate cake is that chance, and I guarantee you'll love it. In fact, it's the only cake that my cake-loathing children (yes, they're weird) can get behind. I think you'll join the fan club too.
Reasons to Love Sourdough Chocolate Cake
You can ferment the cake batter or bake it right away.
The sourdough starter gives the cake a lovely flavor, a slight tang that compliments the bitterness of the chocolate and the sweetness of the cake.
It can be made in one bowl, making clean up a breeze!
Top your cake with the recipe for fudge frosting that I've included, or make a simple buttercream. Either way, sprinkles aren't really optional.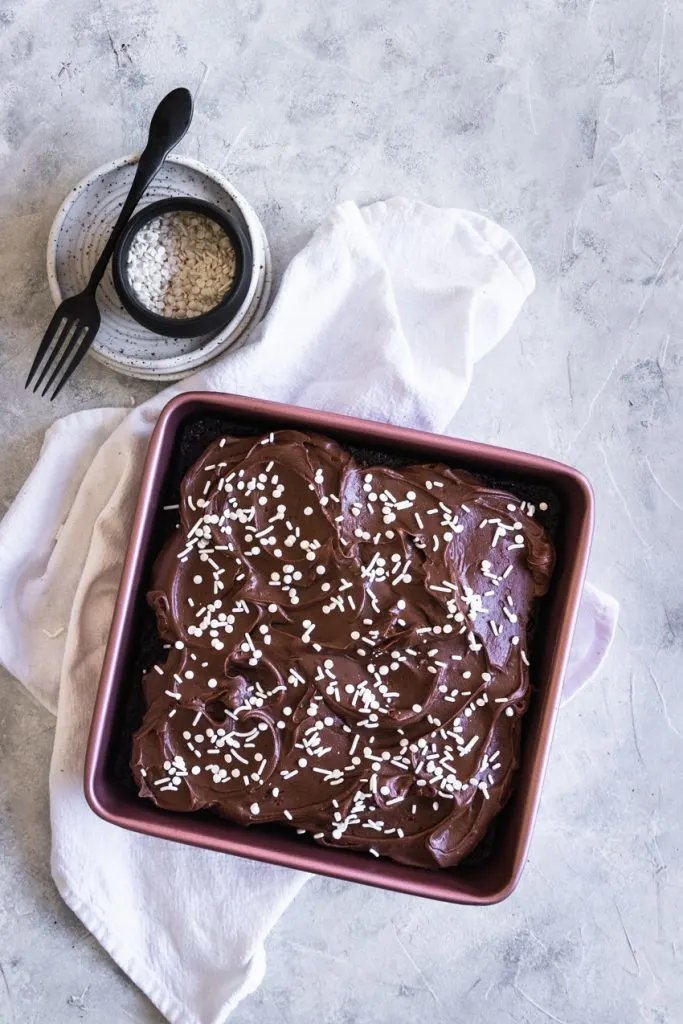 Fermented Sourdough Chocolate Cake
If you want your sourdough cake to be fermented, simply mix the batter the night before baking. It can sit for up to 24 hours before baking.
There are several benefits to a longer fermentation period. It improves the flavor of the cake, giving it more depth. It also begins the process of breaking down the starches and gluten, making the cake easier to digest.
However, because the cake's rising agent is baking powder, you'll need to bake the batter within 24 hours to make sure it's still reactive. Otherwise, you could end up with a flat cake.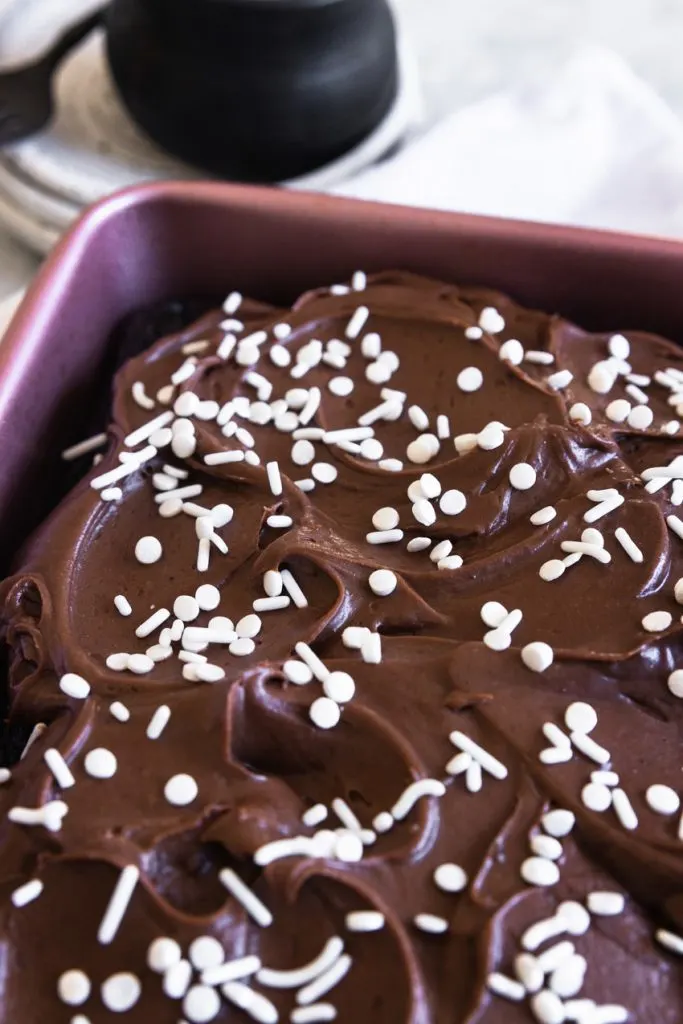 Ingredients for an Easy, One Bowl Sourdough Discard Chocolate Cake
Sourdough Starter: This can be active, bubbly starter or discard. It's a great way to use up that jar of discard that you've accumulated in your fridge!

Buttermilk: If you don't have buttermilk on hand, see the substitutions at the bottom of this section for some ideas.

Egg+Egg yolk: Egg yolks =more fat. And that's a really good thing when it comes to cake textures and flavors. If you're doubling the recipe, you can use three whole eggs instead of 2 eggs and 2 egg yolks.

Oil or Melted Butter: If you opt for oil, use a neutral flavored oil, like avocado. Olive or coconut oils will add their own flavor to your cake, which you can do if you enjoy their distinct tastes.

Vanilla Extract

All-Purpose Flour

Granulated Sugar: Any granulated sugar will work well. I love the flavor of cane sugar, and use the organic cane sugar found at Costco.

Dutch Process Cocoa Powder: Dutch Process Cocoa powder will give you the darkest, richest chocolate cake. However, if you have natural cocoa powder on hand, that will work well in this recipe also.
Baking Powder & Soda: These are the rising agents that make your cake so nice and fluffy. Make sure your baking powder hasn't expired!

Salt: Use fine ground table or sea salt.
Buttermilk Substitutions:
If you find yourself without buttermilk, there are a few ways you can "make" your own.
The way I recommend doing it is to measure out 2-3 tablespoons of plain Greek yogurt or sour cream into the bottom of your liquid measuring cup. Add milk until it's reached ½ cup, then whisk them together. The milk should be slightly thickened.
If you don't have sour cream or yogurt on hand, you can also start by adding 1 tablespoon of lemon juice or white vinegar to the bottom of your liquid measuring cup. Fill it with milk to ½ cup, stir, and let it sit for 5 minutes. The acid will cause the milk to thicken and curdle slightly, but I don't find this method as effective for thickening the milk.
You can also use plain milk kefir as a substitute for buttermilk. Since kefir is a fermented food, it even doubles up the fermentation in your cake!
A Note on Adding Coffee:
Many chocolate cake recipes call for adding coffee to the batter because coffee can enhance the flavor of chocolate. However, if you're sensitive to caffeine like I am, that can pose a problem because the caffeine doesn't "bake out" of the cake.
So it's entirely up to you! If you want to substitute ¼ cup of coffee + ¼ cup of buttermilk, you absolutely can.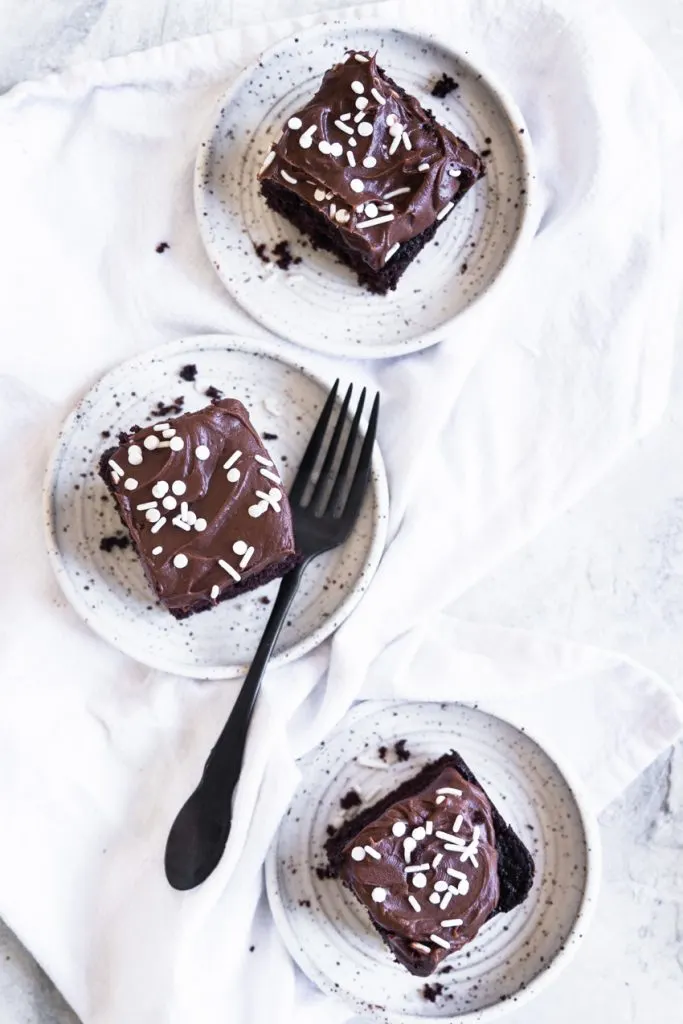 How to Make Easy Sourdough Chocolate Cake
In a mixing bowl, measure out the wet ingredients– sourdough starter, buttermilk, egg and egg yolk, melted butter or oil, and vanilla extract. Whisk them together until the eggs are well combined and the mixture is cohesive. The oil will still be visible at this point.
Place a wire mesh sieve over the mixing bowl. Put the bowl on the baking scale and weigh out the flour, sugar, cocoa powder, baking soda and powder, and salt.
With a spoon, stir the dry ingredients in the sieve until they've all sifted through. Use a rubber spatula to fold, and then mix in the dry ingredients until the batter is thoroughly mixed.
There shouldn't be any visible streaks of flour in the batter, but make sure you don't over mix. Stirring too long can make the gluten develop in the batter, which gives you a less tender consistency.
Pour the batter into a greased, parchment lined cake pan. Smooth it into an even layer of batter, then bake for 25-28 minutes.
To test if the cake is done, tap the center gently with your finger. If it springs back immediately, it's done baking. If your finger leaves an indentation, it's not quite ready. Continue baking for another 2-3 minutes.
Alternatively, you can insert a toothpick into the center of the cake. If it comes out clean or with just a few moist crumbs, your cake is finished.
Remove the cake from the oven and allow it to cool completely. Then, frost it (there's a recipe for fudge frosting below) and add any sprinkles or decorations you'd like.
Cut the cake into slices and serve. Store any leftover cake in an airtight container, or leave it in the baking pan and cover with plastic wrap. It will keep for 2-3 days if covered.
I used this Chocolate Fudge Frosting for the cake in these pictures. They pair very well for maximum chocolatey decadence.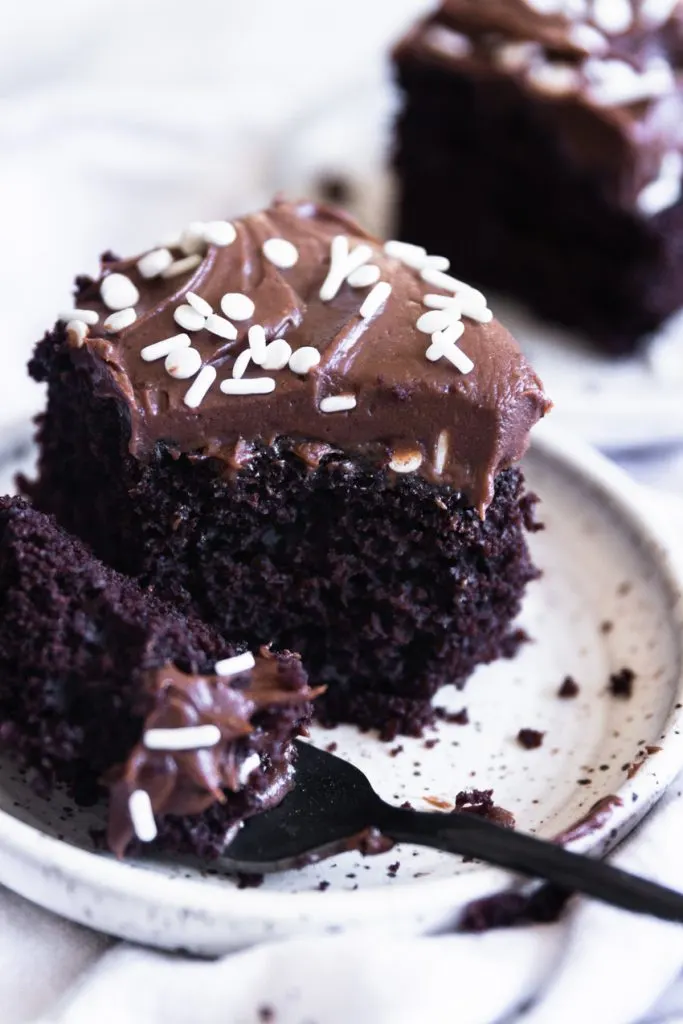 Recipe Tips and Notes
Why Make a Cake with a Sourdough Starter?
Using your sourdough starter (especially the discard) can help reduce food waste, since you'll be using starter that you may otherwise throw away.

It also can make a chocolate cake that's easier to digest, since sourdough helps break down the starches and proteins in baked goods. This fermentation process also develops a lovely flavor, so it's a win-win!
Can I make a Chocolate Sourdough Bundt Cake?
This cake can be made into a chocolate sourdough bundt cake. You'll need to double the recipe to fill a ??? cup bundt pan (like this one). Bake at 350 F for ??? minutes, or until it can pass the toothpick or tapping test.
If you want to make a 9×13″ cake, this recipe is easy to double! Add 3 whole eggs instead of 2 whole eggs and 2 egg yolks.
You can use your active sourdough starter or discard for this recipe.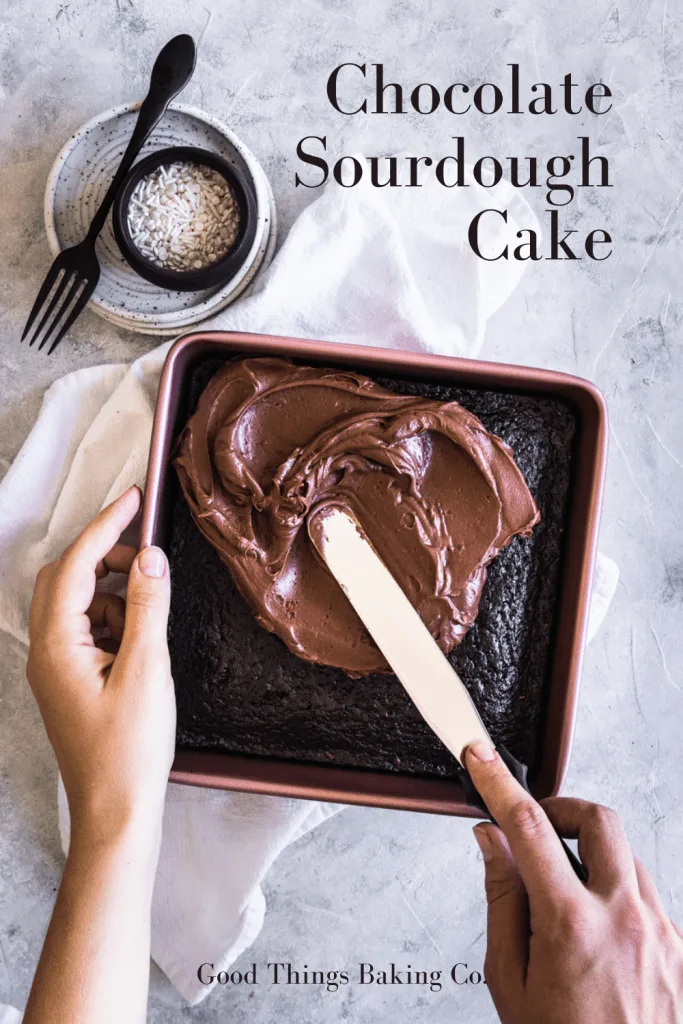 Other Recipes You May Enjoy: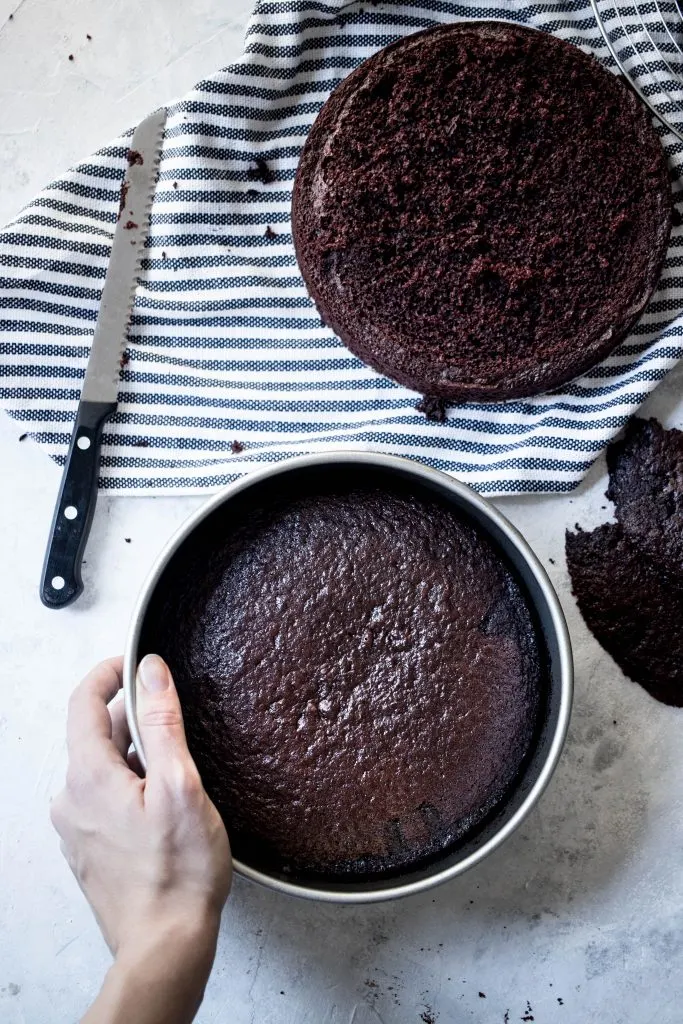 Print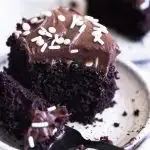 Easy Sourdough Chocolate Cake
---
Description
This easy sourdough chocolate cake recipe is one of the best ways to use up your sourdough discard. It uses one bowl and takes only a few minutes to mix up!
Note: Doubling the quantities only works for the volume measurements, not weights.
---
1/2 cup

(

4 oz

./

114 g

) sourdough starter, discard or active

1/2 cup

(

4 oz

.) buttermilk

1

large egg +

1

large egg yolk

1/4 cup

(

2 oz

.) canola or vegetable oil

1 tsp

. vanilla extract

1 cups

(

140 g

) all-purpose flour

1 cups

(

200 g

) white sugar

1/4 cup

+ 2 Tbsp. (

36 g

) Dutch process cocoa powder

1 tsp

. baking powder

1/4 tsp

. baking soda

1/2 tsp

. salt
---
Instructions
Oil a 8×8″ or 9×9″ baking pan and preheat the oven to 350°.
In a large mixing bowl, whisk together the 1/2 cup sourdough starter, 1/2 cup buttermilk, 1 large eggs, large egg yolk, 1/4 cup canola oil, and 1 tsp. vanilla extract.
Place a large sifter over the bowl. Place the 1 cups all-purpose flour, 1 cups sugar, 1/4 + 2 Tbsp. cup cocoa powder, 1 tsp. baking powder, 1/4 tsp. baking soda, and 1/2 tsp. salt. Stir and gently shake the dry ingredients into the wet. Mix them together until completely mixed into a smooth batter.
Pour the batter into the greased cake pan and bake for 24-28 minutes, or until a toothpick inserted in the center comes out clean. Remove it from the oven and let it cool completely before frosting and serving.