A classic chocolate Swiss roll gets a fresh, peppermint upgrade in this Mint Chocolate Chip Cake roll, with a fresh minty filling and rich chocolate glaze.
This post is sponsored by Chocolove. Thank you for loving and supporting both me and some of my favorite brands by being here!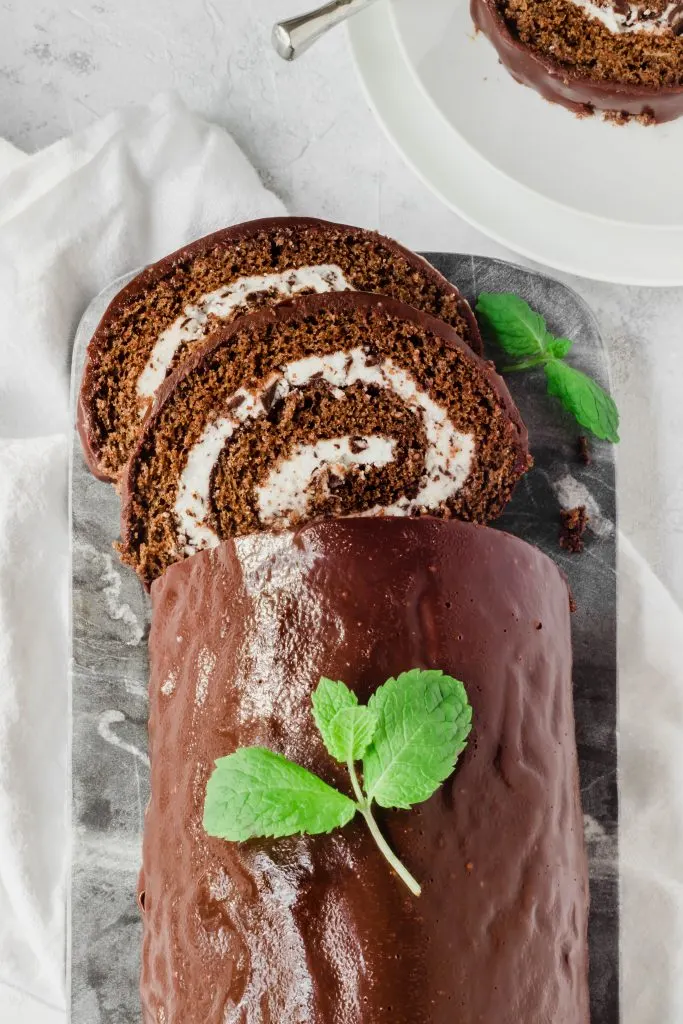 Welcome to the most wonderful time of the year!
Not even kidding, I full-on LOVE Christmas time. I rival my four year old for enthusiasm in all of the festivities, though he's definitely more into the fire-breathing dragon blow ups than I am. And watching both of my boys experience the magic and get excited about the season only makes it that much better for me.
There's just so much about it that's magical. When else can you have a tree in the house covered in twinkle lights and shiny dangling ornaments? What other time of year has it's own large set of music completely dedicated to celebrating the season? Or when can you eat as many sweets as you want with pretty much zero judgements?
Hands down, my favorite flavor for Christmas time is peppermint and chocolate. I'm a fiend for the cool, sharp rush in your throat after a good bite of something really minty. Throw in some rich, dark chocolate to contrast and how can any of it be wrong?
And that is why I'm kicking off the first week official week of Christmas season by entirely devoting it to peppermint and chocolate, and we're starting all of the partying with this Mint Chocolate Chip Cake Roll. It's really worthy of the honor of being the inaugural Christmas recipe.
I really love that it's so versatile, and not matter how complicated it looks, it really isn't too time consuming or difficult. You can take it to a party and impress with the wow factor. Or you can make it for a quiet family gathering and savor it with loved ones. Or, if you want it all for yourself, just tuck a few wrapped slices in the freezer and pull them out to eat while staring at tree lights reflecting on sparkling on ornaments. It's perfect for celebrating any way, any how.
One thing that you absolutely can't skimp on here is the chocolate. The whole point of this is the strength and clarity of the flavors. So for this one I would recommend something Chocolove's Extra Strong Dark Chocolate. All of their chocolate is AMAZING, but I really love this one for the intense flavor that isn't at all bitter and tastes exactly how you would imagine pure chocolate should.
You really couldn't ask for a better ka-POW chocolate bar to combine with the ZING of the mint filling. Sorry for speaking in sound effects, but you get the gist, right? I'm a boy mom. It's a way of life—a fire-breathing dragon yard blowup way of life with lots of noise.
Print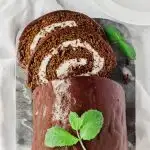 Mint Chocolate Chip Cake Roll
---
Author:

Total Time:

1 hours

Yield:

1

11″ cake roll

1

x
Description
A classic chocolate Swiss roll gets a fresh, peppermint upgrade with a mint chocolate chip filling and rich chocolate glaze.
---
4

eggs at room temperature

1/2 cup

(

100 g

) white sugar

1/2 cup

(

65 g

) all purpose flour

1/3 cup

(

30g

) cocoa powder

1 tsp

. baking powder

1/2 tsp

. salt

2 Tbsp

. (

28 g

) unsalted butter, melted
Filling:
4 Tbsp

. unsalted butter, softened

2 1/2 cups

(

312 g

) powder sugar

5

–

6

Tbsp. heavy whipping cream

3/4

–

1

tsp. peppermint extract

1

bar Chocolove Extra Strong Chocolate, chopped very finely
Chocolate Topping:
1

bar Chocolove Extra Strong Chocolate

1/3 cup

heavy whipping cream

1/2 cup

(

62 g

) powdered sugar

1/2 tsp

. peppermint extract
---
Instructions
For the Cake: Preheat the oven to 350° and line the bottom of an 11"x15" baking pan with parchment paper. Grease the pan and paper well and set aside.

In the bowl of stand mixer, combine the four eggs with the sugar and beat with the whisk attachment for 5-6 minutes, or until the mixture has become thick and pale. When you pull out the whisk, any egg that runs off should leave a ribbon across the top of the mixture that stays visible for about 3-5 seconds.

While the eggs are beating, sift together the flour, cocoa powder, baking powder, and salt in a separate bowl. Melt the butter in a microwave safe bowl and set it aside to cool. After the eggs have finished beating, use a rubber spatula to gently fold in the dry ingredients. Adding the flour mixture a little bit at a time helps to incorporate it without lumps or pockets of flour staying unmixed. At the end, fold in the melted butter (make sure it has cooled, but not hardened).

Pour the mixture into the prepared baking sheet and spread it out into an even layer. Bake for 15-20 minutes. It will be ready when the edges are beginning to look dry, and a toothpick inserted in the center comes out clean or with a few moist crumbs. The center may not look completely cooked, but it is ready. Remove it from the oven, run a sharp knife around the edges, and allow it to sit for 5 minutes.

Using a sieve, sprinkle the top of the cake with cocoa powder. Then, lay another sheet of parchment over the top and flip the cake out onto it. Beginning on a short end, roll the cake tightly but gently— you don't want to smash it! Allow it to cool completely before filling.

For the Filling: In a stand mixer bowl, beat together all of the ingredients except the chopped chocolate until the mixture is completely smooth. You will want to start with the smaller amount of cream, and keep adding it a bit at a time until the consistency is soft and very spreadable (the cake is fairly delicate and you don't want to rip it), but not runny.

Fold in the finely chopped Chocolove Extra Strong Chocolate— you don't want any large chunks that will get in your way when you're slicing your beautiful cake roll.

Take the completely cooled cake roll and carefully unroll it. It won't flatten out completely, but don't force it or you might break the cake. Remove the parchment paper that is inside the roll, then place spoonfuls of filling all around the surface of the cake. Use a table knife or cake decorating spatula to spread the filling gently until the entire cake is covered. Carefully roll it back up and place it on a baking sheet and trim the ends of.

For the Chocolate Glaze: Break up the bar of chocolate and melt it in the microwave in short increments, stirring every 15-30 seconds to avoid burning it. In a small mixing bowl, combine all of the ingredients until a smooth, somewhat thick but still runny glaze is formed. Pour it over your cake roll and spread it out until smooth with a spoon, making sure to cover the roll where it curves around underneath. The bottom can be left uncovered.

Carefully move the cake roll with a metal spatula to the plate you wish to serve it on, then place it in the refrigerator until the glaze has become firm. Trim any unevenness off of the ends, then slice and serve.
Prep Time:

45 minutes

Cook Time:

15 minutes

Category:

cakes

Method:

cake roll

Cuisine:

dessert
Keywords: chocolate cake, mint chocolate chip