These apple pie bars feature a shortbread crust topped with soft, cinnamon apples, and a crumbly, sweet topping. All the flavors of a Dutch apple pie without having to make a pie crust!
Important question for this time of year: Are you team apple or team pumpkin?
I'm personally team apple alllll the way. I mean, pumpkin spice is basically a trick to make us eat and drink squash (blech) in our desserts. I can get behind fruit for dessert, but not so much on the squash front.
These Dutch Apple Pie Bars are a mashup of all of the best cinnamony, sweet apple-y things fall has to offer. The top is like a Dutch apple pie. Or maybe a crisp, minus all of the oatmeal. The shortbread crust makes these easy to hold for eating, being sturdy enough to support the soft, sweet apples.
Personally, I love making pie crust. But even I will admit that they can be time consuming and messy to make, with all of the chilling and rolling. So shortbread pressed into a pan is a nice quick alternative and gives an added little sweet hit.
The glaze here is entirely optional. You could opt for whipped cream instead, or maybe a scoop of vanilla bean ice cream. Add a dollop of caramel sauce to the top, and you'll be so extra, but in the very best way possible.
Print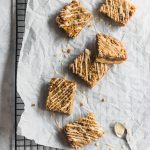 Dutch Apple Pie Bars
---
Author:

Prep Time:

40 minutes

Cook Time:

45 minutes

Total Time:

1 hours 25 minutes

Yield:

8 bars
Description
These Dutch Apple Pie Bars feature a shortbread crust topped with soft, cinnamon apples, and a crumbly, sweet topping. All the flavors of a Dutch apple pie without having to make a pie crust!
---
Ingredients
8 Tbsp. soft unsalted butter
1/4 cup brown sugar
1 cup all-purpose flour
1/8 tsp. salt
1/4 tsp. vanilla extract


For the apples:

2 medium sized apples, peeled and sliced thinly (about an 1/8")
1/4 cup flour
6 Tbsp. white sugar
1 tsp. cinnamon
1/4 tsp. nutmeg


For the Topping:

1/2 cup flour
1/3 cup brown sugar
1/4 cup white sugar
1/2 tsp. cinnamon
a pinch of salt
4 Tbsp. melted butter


For the Glaze (optional):

1/4 cup powdered sugar
1/2 tsp. vanilla extract
2-3 tsp. milk
---
Instructions
Preheat the oven to 350°F and line a 8"x5" baking dish with parchment paper.
In a medium mixing bowl, using a hand mixer, beat together the softened butter, brown sugar, and vanilla. Add in the salt and flour and mix on low until completely combined. The dough will be crumbly but soft.
Press it into the bottom of the pan until it's an even, smooth layer, then dock the dough (poke it with a fork all over to allow steam to escape.) Bake it for 15 minutes, then remove from the oven.
While it bakes, peel and slice the apples. Stir in the 1/4 cup of flour, 6 Tbsp. white sugar, cinnamon, and nutmeg.
For the topping, mix together the 1/2 cup of flour, brown & white sugars, cinnamon, and salt. Pour in the melted butter and stir until everything is completely mixed—it will be crumbly.
Gently press the apples in an even layer into the shortbread crust. Sprinkle the topping over it, then return to the oven and bake for 30-35 minutes, or until the topping is browned around the edges.
For the glaze drizzle, mix together the powdered sugar, vanilla and 2 tsp. of milk. Continue adding milk by the 1/2 tsp. until the glaze is runny enough drip off the end of a spoon. Place the glaze into a small zippered plastic bag and snip off a small corner. Squeeze it over the bars in whatever pattern you would like.
Allow the bars to cool completely before cutting or the will end up falling apart. To cut, lift them from the pan, using the parchment paper. Cut into 8 bars if your pan is rectangular, or 9 bars if your pan is square.