This Apple Bread Wreath is a perfect way to celebrate fall! Beautiful and delicious, it's an incredibly tender bread with a spiced apple filling.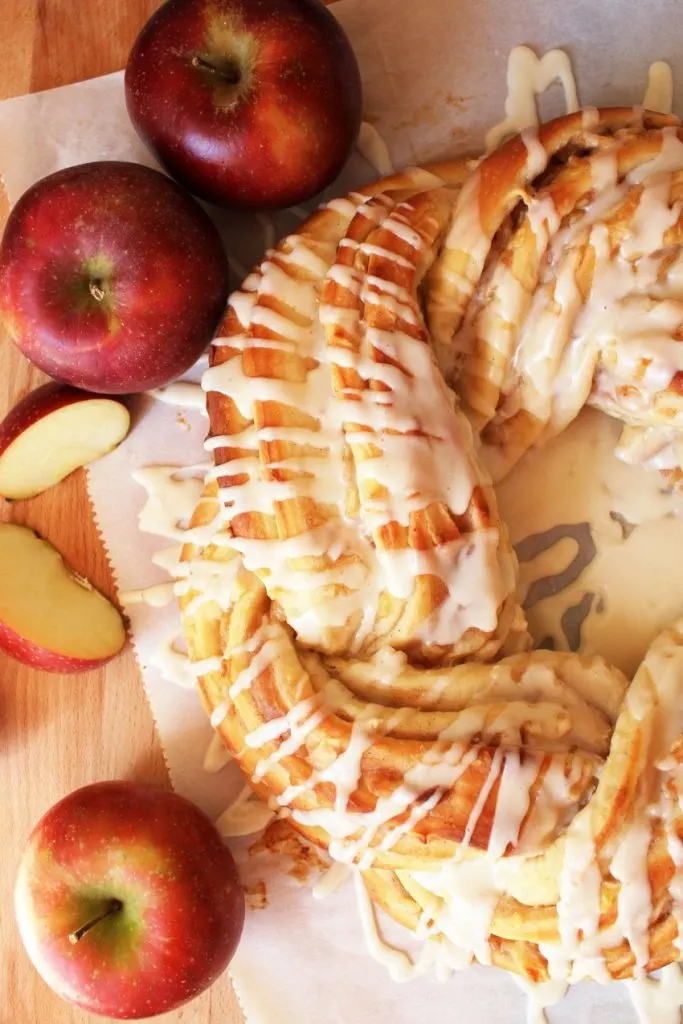 A few weeks ago found me trekking through an apple orchard with one of my very best friends, my three year old, and my very pregnant self. There was also a half-bushel bag that I had rather rashly chosen over the "tiny" peck-sized bags. Suffice it to say, we came home with a LOT of apples, and as a result have been eating apples and all of the apple things. This bread is the result of my overly ambitious picking, and a rather enjoyable consequence at that.
This apple bread wreath was mostly inspired by King Arthur Flour's September bakealong challenge. Beautiful pictures of the apple twist loaves started popping up in my Instagram feed, but I was busy that weekend and couldn't participate. Fast forward a few weeks, and with a bit of spare time, and a lot of apples to play with, I decided to give it a try. But being me, I felt the need to tweak. So I changed up the bread recipe (Um, does anyone actually keep mashed potatoes in their fridge to randomly use in bread? I don't.) and doubled up the filling. The glaze though? That definitely stayed.
All of those swirly layers of cinnamony, gooey, apple-y goodness? They're cozied up with some of the softest, pillowy of breads. Fall flavors aren't typically my favorite, but this recipe will probably become an annual happening.
Other Apple Recipes You May Enjoy:
Print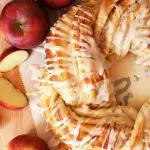 Apple Bread Wreath
---
Description
This Apple Bread Wreath is a perfect way to celebrate fall! Beautiful and delicious, it's an incredibly tender bread with a spiced apple filling.
---
For the Bread:
1 Cup

of milk

1/4 Cup

of Butter

1/4 Cup

of Sugar

1

Egg

1 1/2 tsp

. Yeast

2 1/4

–

1/2

Cups of All-Purpose Flour

1 tsp

. Salt
Apple Filling
1.5 Cups

of Apples

1 Tbsp

. Lemon Juice

1/2 Cup

Sugar

1/2 tsp

. cinnamon

1 Tbsp

. Butter

1/4 Cup

Cornstartch
Frosting
1

–

1 1/4

cup sifted Powdered Sugar

1 tsp

. Vanilla Extract

3

–

4

Tbsp. Heavy Cream
---
Instructions
In a medium pan, combine milk, butter, and sugar. Warm over medium heat until butter has melted, then allow to cool until it's lukewarm, about 90-100 degrees Fahrenheit. Sprinkle with yeast and let sit for a couple of minutes to let it soften. Beat in the egg, then the flour and salt. The dough should be soft, but not too sticky to work with. If the dough is too sticky, add flour, a tablespoon at a time, until a workable consistency. Allow to rise for about an hour, or until dough has nearly doubled in size.
While dough is rising, prepare the apple filling. Cut the apples into small chunks, 1/2″ at most, place in a medium saucepan and sprinkle with lemon juice. In a small bowl, combine the sugar, cinnamon, and cornstarch. Stir into the apples, add the butter, and cook over low heat until the butter is melted and the juice from the apples has begun to cook out. turn the heat up to medium-low and continue cooking until the juices bubble and have thickened, about 5-8 minutes. Set aside to cool.
Turn the dough out onto a well floured surface and roll into a rectangle that is approximately 12″x 20." Spread the cooled apple filling onto the dough, then roll it lengthwise, as you would if you were making cinnamon rolls, and pinch the edge closed. With a very sharp knife, cut the roll in half along the length, then gently turn the half-rolls onto their sides with the filling side up.
Offset the ends by a few inches, then gently lift one half-roll over the other along the whole length to create a twist, keeping the filling side up. Bring the ends together to create a ring, tucking the ends together. Place the ring on a parchment lined baking sheet. Cover lightly with plastic wrap and allow to rise for 45 minutes to an hour, or until dough is soft and puffy. Rising time may vary depending on the temperature of the room.
Preheat oven to 350 degrees and place the bread ring on a rack in the center. Bake for 30-35 minutes, or until the ring is golden brown. A thermometer inserted in the center should read at least 180 degrees. Remove from oven and allow to cool completely.
In a small bowl, combine the powdered sugar, vanilla, and cream and beat until a smooth frosting is formed. Place the glaze in a disposable zippered bag and trim the corner off and squeeze over the bread, or apply it with a spoon.
Notes
Bread can be prepared one day and baked the next. Prepare the wreath and place it on sheet and cover immediately with a clean, unscented plastic bag. Refrigerate until ready to bake. Remove the bread from the refrigerator and allow to sit for 1 to 1.5 hours, or until dough has come to room temperature and has become puffy and risen. Continue with baking normally.
The bread freezes very well! Pre-slice and freeze on a tray before transferring to a zipper freezer bag. Pull out and thaw at room temperature.