Learn how to make delicious, crispy smashed potatoes in the air fryer. They're a simple, wholesome, hearty side dish with just 4 ingredients.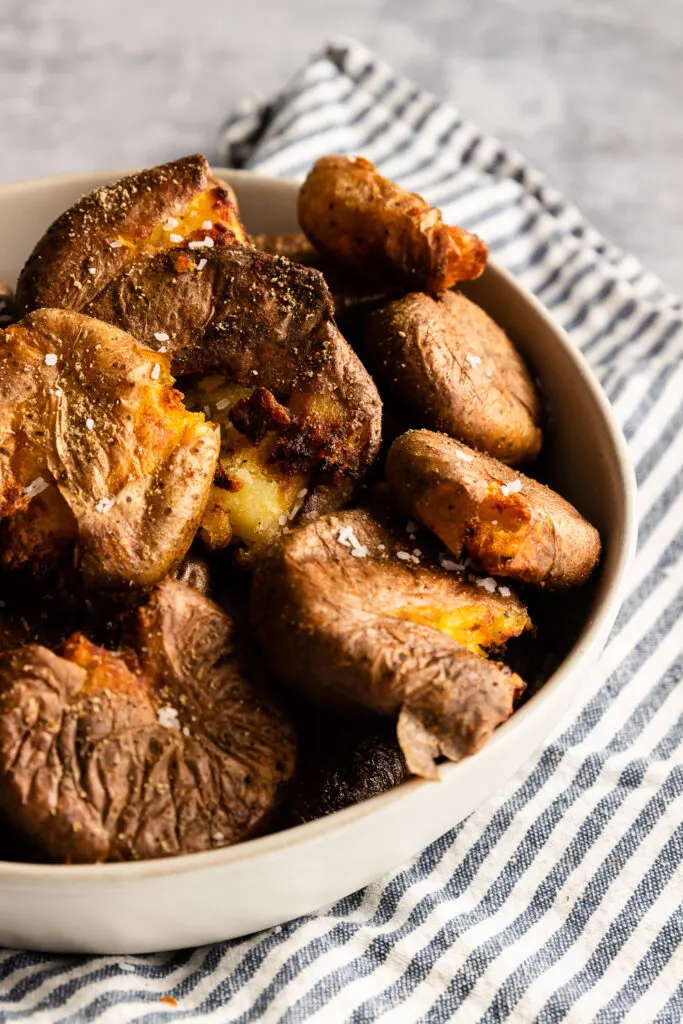 These air fryer smashed potatoes have so much going for them! They have:
Just 4 ingredients, and they're pantry staples that you have on hand.
Wholesome and simple.
The smashed potatoes are vegan, gluten free, and dairy free.
Recipe Ingredients
Fingerling or new potatoes: Any small potato works great! I go into more detail on the difference between the two kinds of potatoes in the questions sections later in the post, so head there if you want to learn more.
Extra Virgin Olive Oil: This helps the potatoes get their perfectly crisp finish.
Salt and Pepper: A good quality sea salt and dash of freshly ground pepper finish off the potatoes beautifully.
Ingredient Notes and Subs
You can use any kind of oil you'd like, as long as it has a high flash point. That means, essentially, that it won't catch fire while cooking at high heat in the air fryer.

Some other healthy oils that safe to use are avocado or coconut oil. Avoid using butter, since the milk solids can scorch during cooking. Seed oils like vegetable or canola are a less healthy option, and don't have as nice of flavor.

While smashed potatoes are delicious with just salt and pepper, you can get really creative with the herbs and seasonings. Rosemary, garlic, chives, or herbes de provence are all great additions to your smashed potatoes.

Serve the crispy potatoes with a dollop of sour cream, a drizzle of pesto, or a toss in some garlic butter. Or better yet, sprinkled some crumbled bacon on top. This recipe for fingerling potatoes has a great garlic butter recipe that would be delicious on these!

Note: Adding sour cream, butter, or bacon make the potatoes not dairy free or vegan.
How to Make Air Fryer Smashed Potatoes
Place the baby potatoes in the basket of your air fryer.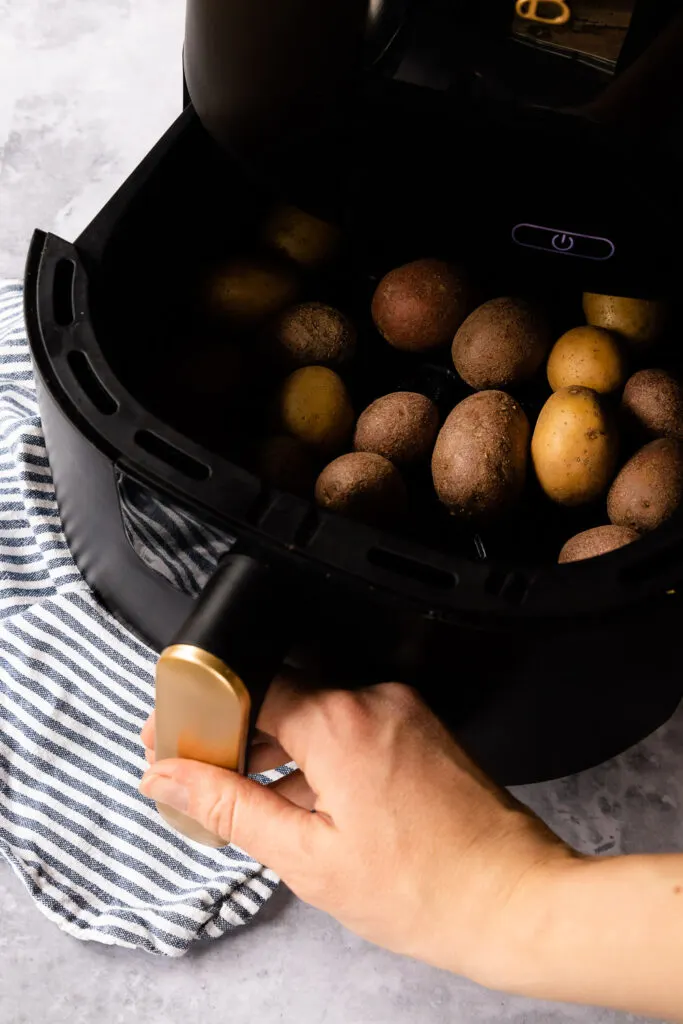 I'm using baby potatoes – also called new potatoes – in this recipe. This is a variety mix from Costco, but you can use Yukon Gold, baby Red potatoes, or any color or variety you'd like for this recipe. Fingerling potatoes are also a great option.
You should prewash your potatoes, and make sure they're dry. Even if they've been washed and the dirt has been removed, they've been handled in packing, transit, and at the grocery store.
Air fry the potatoes for 20 minutes at 400° Fahrenheit.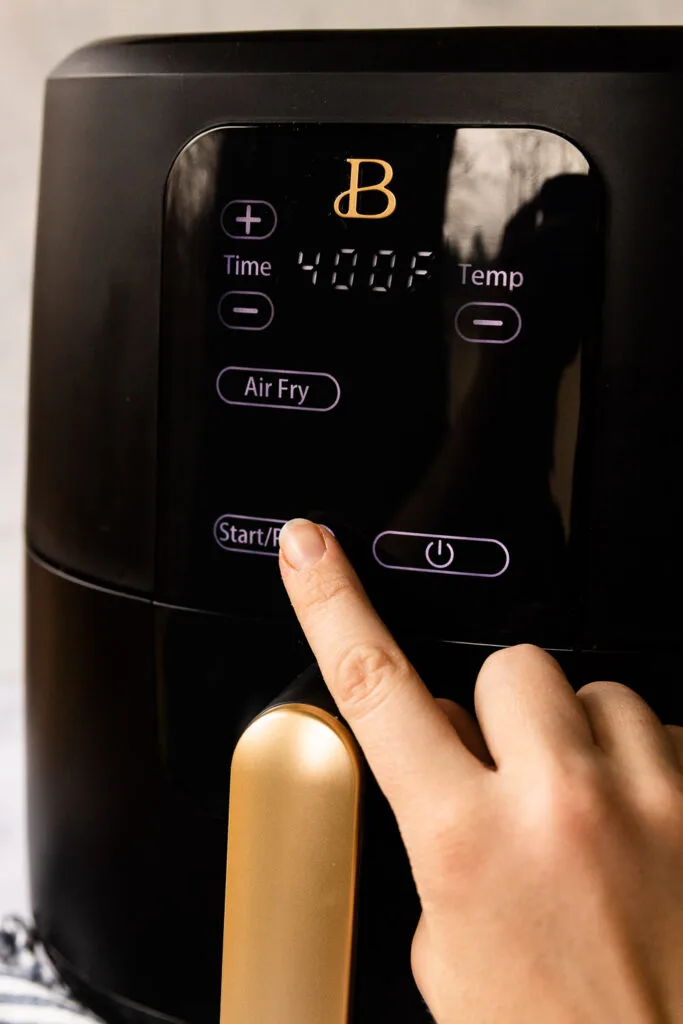 There's no need for seasoning, oiling, or anything else at this stage. Just toss the clean potatoes into a basket and get the air fryer going!
Put the potatoes on a baking sheet and smash with a glass or fork.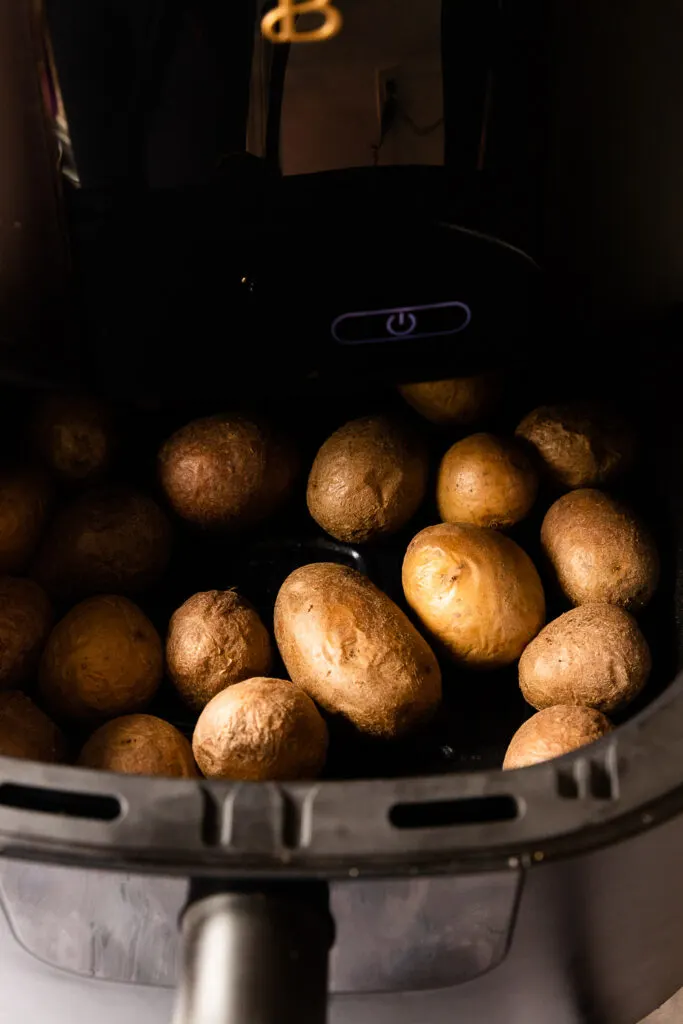 When the potatoes have finished cooking, their skins will look slightly wrinkled, but not crisp. Remove the basket and dump them onto a large baking sheet.
Drizzle them generously with olive oil and roll them around until all of the potatoes are completely coated. With the bottom of a glass or a fork, smash each potato until it's about 1/2″ thick. Also, peep those cute little toddler fingers helping me.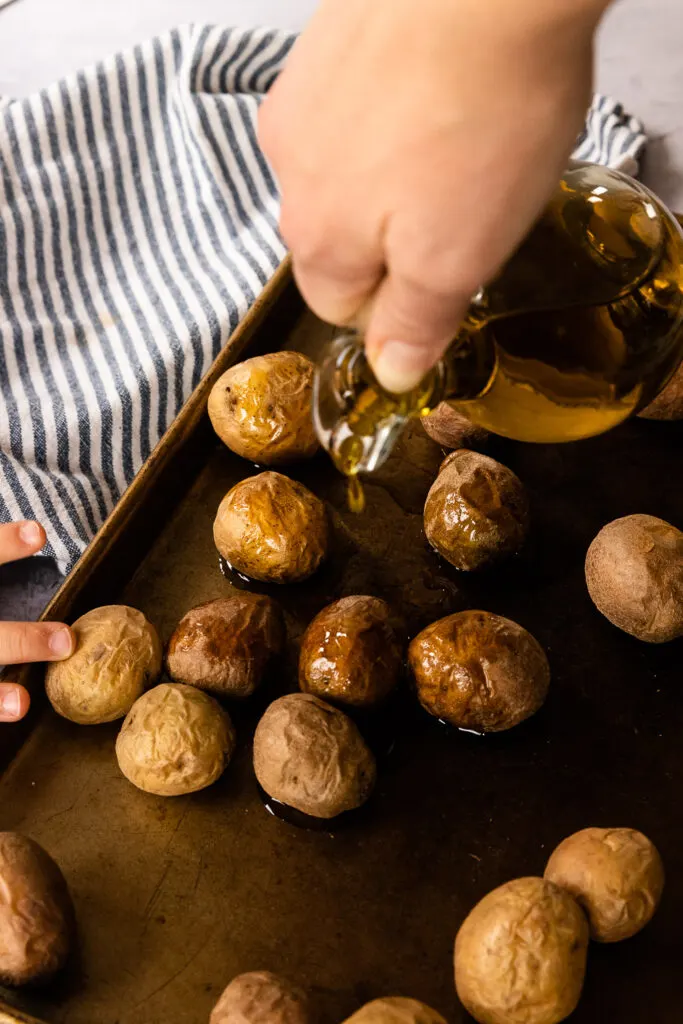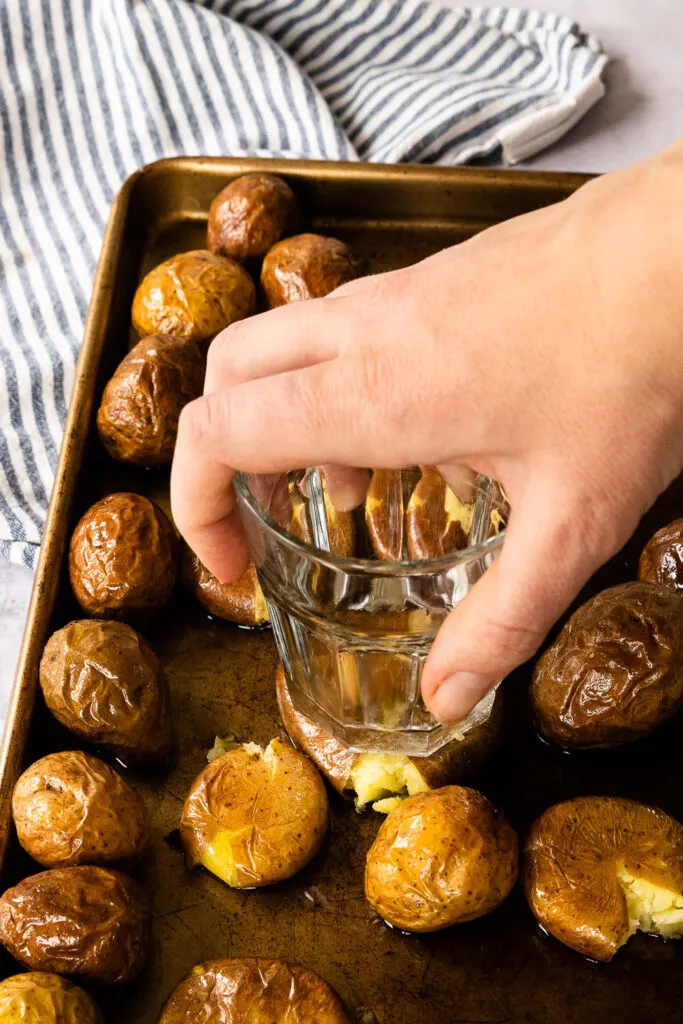 If they seem dry, add a bit more oil to the potatoes. Sprinkle them generously with salt, pepper, and any other herbs or spices you'd like. The seasonings will stick best at this stage, when the oil is wet.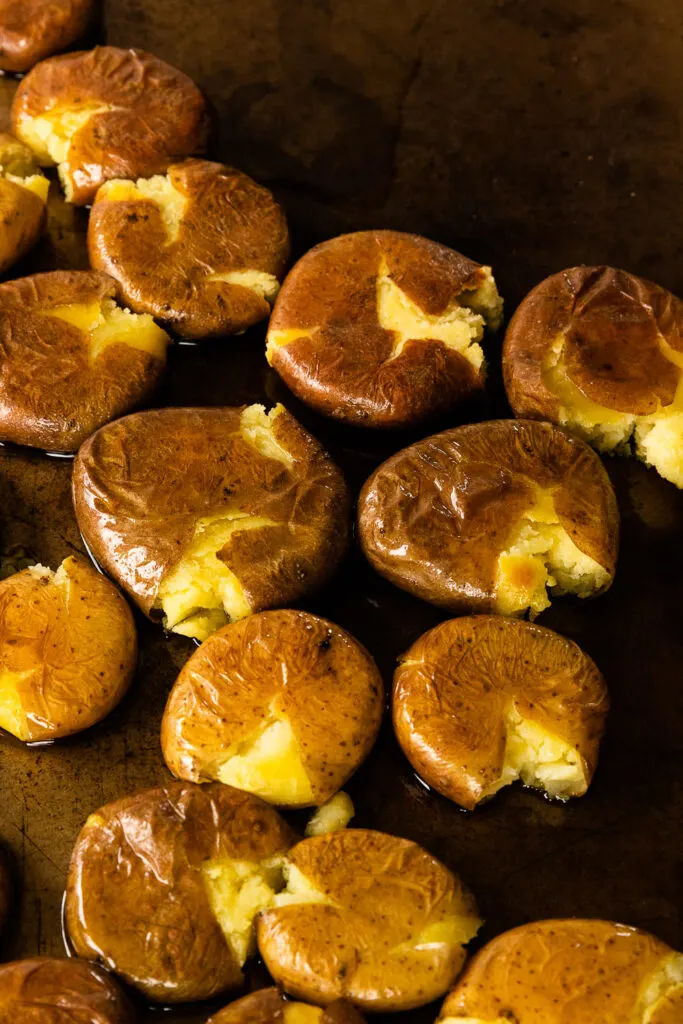 Cooking the smashed potatoes.
Return the smashed potatoes to the air fryer basket. You want them in an even layer, but there's no need to lay them out meticulously.
Cook them again for 15-18 minutes at 400° Fahrenheit. Remove the basket around halfway through the time and shake it well to rearrange the potatoes and allow all of the surfaces of the potato to be cooked. At this point, assess how crispy the potatoes are and how much longer you want to cook them.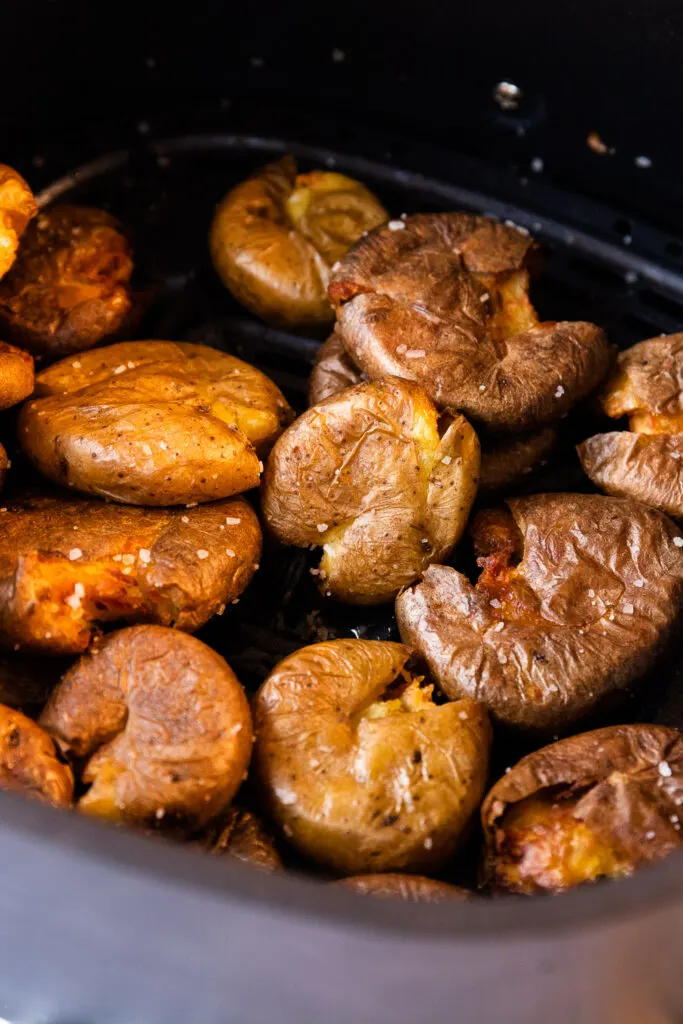 Recipe Notes and Tips
When adding oil to the potatoes, be generous! Because the potatoes aren't absorbing water from being boiled, as with traditional smashed potatoes, they can be dry to eat if you don't oil them well.

Don't smash the potatoes too thin. You want them to be thick enough for a fluffy, soft inside surrounded by the crispy edge.
How Long to Air Fry Smashed Potatoes
Because they're cooked twice, smashed potatoes will spend about 35-38 minutes total in the air fryer. 20 minutes for the initial cooking, then another 15-18 minutes after being smashed.
And while this may not seem like it saves a lot of time over a conventional oven, remember that with the air fryer, you don't have to boil the baby potatoes before smashing. Also, if you live in a hot climate, an air fryer saves you from having to heat up your oven, and by extension, your house.
There will be some variables in cook time based on the size of your air fryer and how many potatoes you are cooking in it. The few the potatoes, the more quickly they'll cook, so check them regularly during cooking.
What to Serve with Smashed Potatoes
Potatoes are a perfect wholesome side dish. They go perfectly with a good roasted chicken, pork tenderloin, or to to make a dinner salad more hearty.
Breakfast and brunch are also a great time to serve some crispy smashed potatoes. That makes it a perfect side for a unique vegetarian sun dried tomato and spinach quiche, or a more traditional bacon and cheese quiche.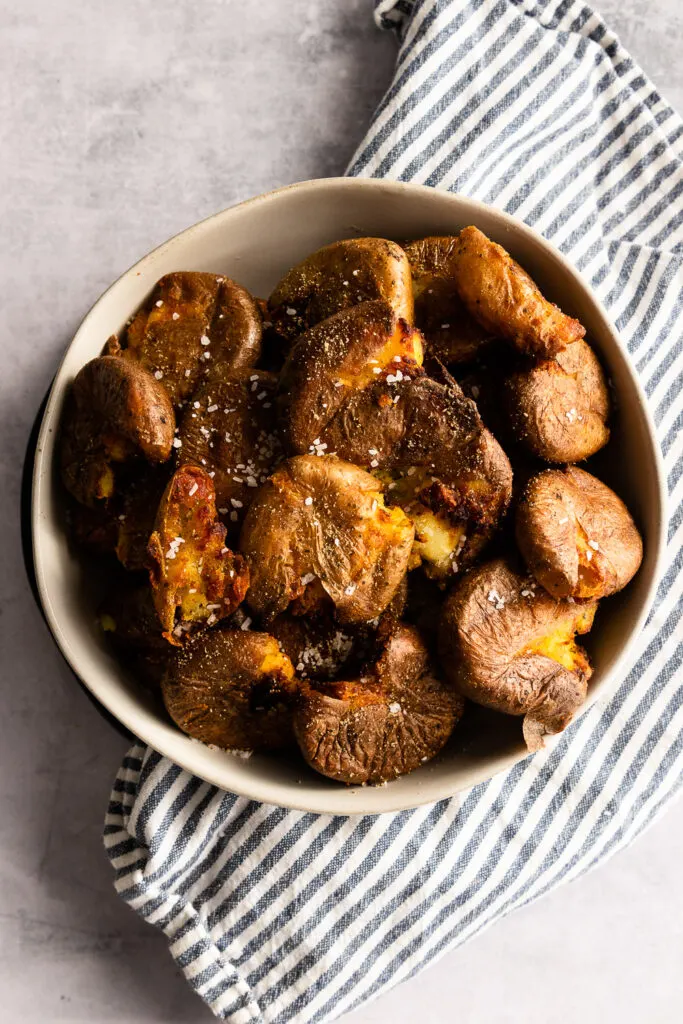 Recipe Questions and Tips
Do you have to boil the potatoes before air frying?
Most smashed potato recipes have to be boiled before smashing and roasting. But with the air fryer, we can skip that step.

Instead, cook the potatoes whole, then smash and toss them in oil. After cooking in the air fryer again, you'll have perfect, crispy, air fryer smashed potatoes!
Can I use foil or parchment paper in an air fryer?
Yes, both parchment paper and foil are safe to use in an air fryer. Waxed paper should never be used, since the wax will melt and the paper itself can catch fire at high heat. Plastic wraps should also NOT be used in the air fryer, as it will melt.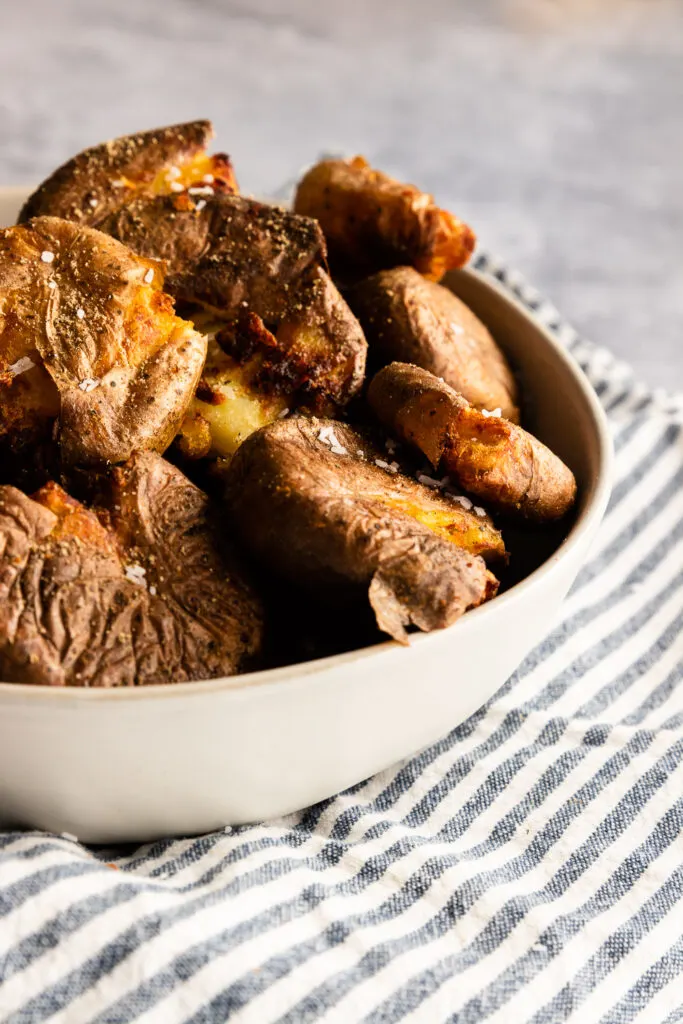 Enjoyed this recipe? Please consider leaving a rating and comment below. Thank you!
Print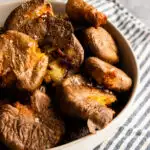 How to Make Air Fryer Smashed Potatoes
---
1 1/2

pounds baby or fingerling potatoes

4

–

6

tablespoons extra virgin olive oil
Salt & Pepper
---
Instructions
Wash and dry the potatoes, then place them in the basket of the air fryer.
Replace the basket in the air fryer and cook the potatoes for 20 minutes at 400°F.
When they're finished with the first cook time, dump the potatoes out on a baking sheet. Drizzle some oil over the tops and roll them around until all sides of the potatoes are oily.
With the bottom of a glass or a fork, smash the potatoes until they're about 1/2″ thick. If they seem dry, drizzle some more olive oil over them and salt and pepper them generously.
Return the potatoes to the air fryer basket and cook again at 400°F for another 15-18 minutes. Remove the basket about halfway through the cooking time and toss them to allow all of the surfaces of the potatoes to get crispy.
When they're finished cooking, remove the potatoes and serve immediately.