This Bacon & Cheese Quiche is perfect for any meal of the day. Caramelized onions add flavor to the cheesy, egg goodness.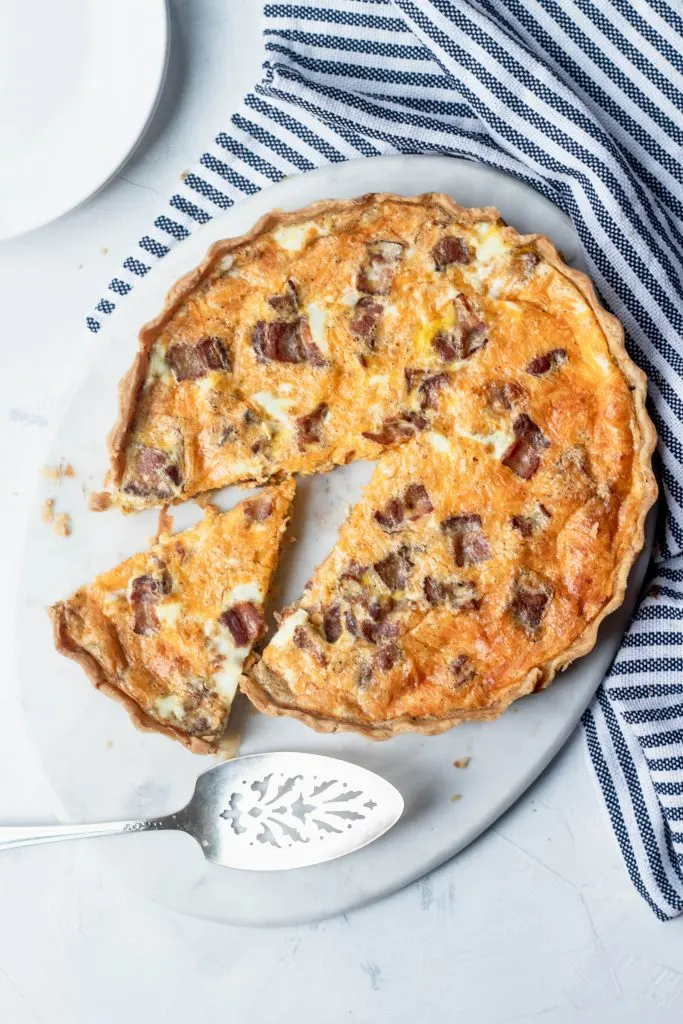 How did you ring in the New Year?
We're the proverbial parents when it comes to New Year's Eve. No parties, no plans. Just stay home and try to get the kids in bed as close to on time as possible. We did stay up until midnight, and caught a few of the fire works going on around us, but the fog made it kinda hard to see. So very exciting stuff, obviously. My teenaged self would be so proud.
And in the spirit of all things New Year and resolution-esque, I've decided to forgo the usual dessert in favor of something…not sweet. Not lighter, for sure. But no sugar, so…healthier? And still delicious, and so perfect for a chilly winter morning.
Eggs are a major food group for me. As a rule, I eat at least two a day, but scrambling and frying can get a little bit boring. Enter things like this quiche—it's loaded with so much flavorful savory goodness. Caramelizing the onions gives them a special sweetness, and cooking them in a bit of the grease from the bacon gives an extra boost of flavor. Add in the sharp cheddar, and you've pretty much died and gone to decadent savory heaven.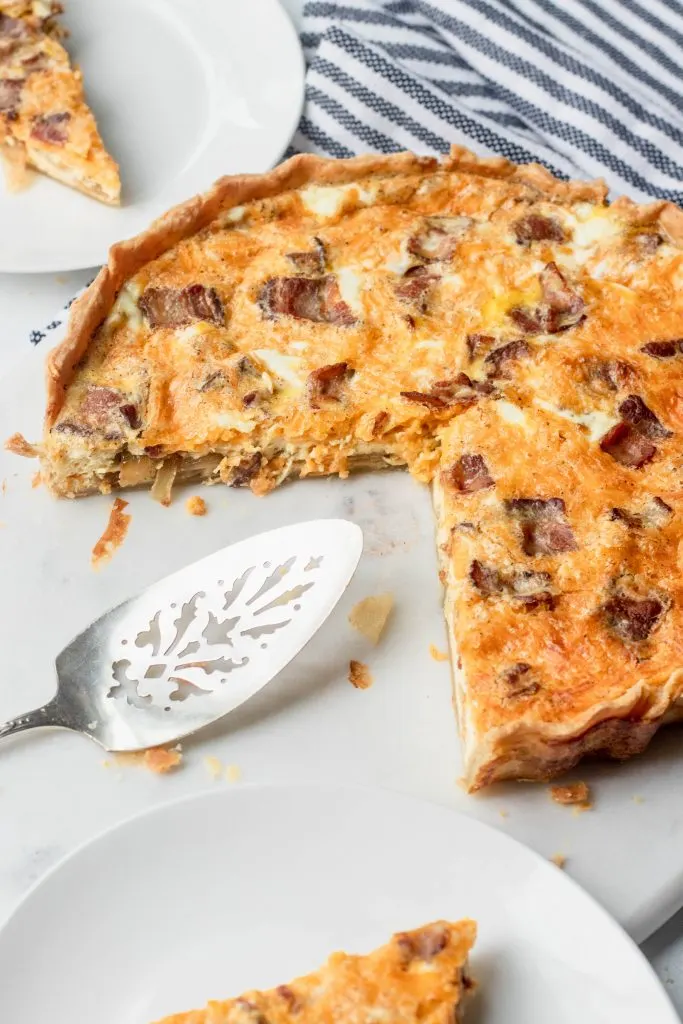 How to Make a Bacon and Cheese Quiche
Start with a good pie crust. I like to make mine and always use this recipe, but if you're more the grab it from the grocery store type, I will never judge you for that. You need to line a 9″ pie tin (not deep dish) with the crust and blind bake it for a bit. This will allow the crust to cook fully (no soggy bottoms, you know) without burning the eggs.
While the crust is blind baking, start working on the fillings. Start by chopping up the bacon and cooking it in a skillet, and make sure to keep all of the grease. You're going to caramelize the onions in it, which gives them the best, richest flavor you can imagine. If there's not quite enough bacon grease and they start to stick, go ahead and add a little bit of butter.
Now comes the easy part. The custard (egg filling) needs to be whisked together, so get those eggs, milk, salt, and pepper in a bowl and get in a little arm workout. You do want a fairly cohesive mix, so keep at it for a couple of minutes.
After you have all of the filling ingredients prepped, start layering them in the bottom of the pie crust starting with the onions, then cheese and bacon. Carefully pour the egg filling over the top of all of it.
Return the quiche to the oven to continue baking for 30-35 minutes. You know it's ready when the filling is set, but still has a slight wobble in it. Also, you can insert a sharp knife into the center and if there's runny/raw egg on it you can pull your quiche out.
Allow the quiche to cool and set for a while before slicing into it. The residual heat will continue to cook the filling (that's why you pulled it out while it still had a bit of jiggle), and if you slice into it too soon the filling will likely fall apart.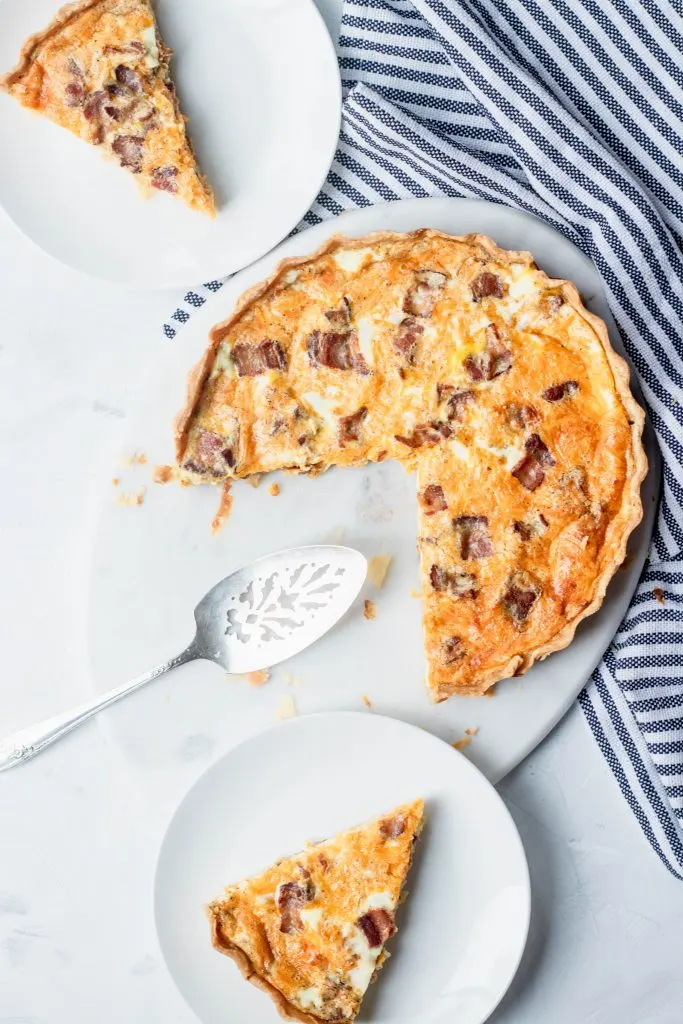 Tips for Making Bacon & Cheese Quiche
I recommend a quiche pan instead of pie plate for this recipe (you don't end up with an overbaked, bland crust edge to eat at the end), but that decision is entirely up to you! This Jamie Oliver Tart Pie Tin is what I have and really like it!
If you're making this for breakfast or brunch, you can easily prep most of this bacon & cheese quiche ahead of time. Cook the bacon, caramelize the onions, and premix the egg custard for easy assembly. Since all of the ingredients will be cold from the fridge, the quiche may require an extra 3-5 minutes to bake.
You may notice that this quiche recipe has no cream. I found it to be a bit rich when I used whipping cream instead of whole milk, but you could bump it up to half and half without any problems.
Other Recipes You May Enjoy (click on caption to view):
This post contains affiliate links, which means that if you purchase from any links in the post Good Things Baking Co. will receive a small commission at no added cost to you. Thank you for being here, and helping support good recipe to make and eat!
Print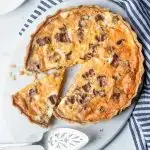 Cheddar, Bacon, and Caramelized Onion Quiche
---
Author:

Total Time:

1 hr + 10-15 minutes

Yield:

1

9″ quiche

1

x
Description
Cheddar, Bacon, and Caramelized Onion Quiche is bursting with flavor. Rich and creamy, studded with bacon and onions perfectly caramelized—what better way to enjoy breakfast or brunch?
---
1

9" pie crust (not deep dish)

1/2

lb thick cut bacon, about

6

slices

1

medium onion, sliced

6

eggs

1 cup

whole milk

1 tsp

. salt

1/2 tsp

. ground black pepper

1 1/2 cups

(

6 oz

.) sharp cheddar cheese, shredded
---
Instructions
Preheat the oven to 375 degrees F. Dock the pie crust (poke it every inch or so with a fork, then line it with parchment paper and fill with pie weights (rice, dry beans, or sugar work well also). Bake it for about 15 minutes, then remove the weights and parchment and bake for another 10 minutes.
While the crust is baking, chop the bacon into 1" pieces and cook in a skillet until crispy and brown. Remove them from the pan, then pour out all but a couple of tablespoons of the grease. Add the onions to the pan with the remaining bacon grease and cook over medium heat until soft and brown, about 10 minutes. You may need to add more grease to the pan.
In a medium bowl, beat together the eggs, milk, salt, and pepper until smooth.
Once the crust is ready, remove it from the oven and spread the caramelized onions over the bottom of it, followed by the bacon and cheese. Pour the egg mixture over it, then return to the oven and bake for another 30-35 minutes, or until the center is set when you jiggle it. Alternatively, you could insert a knife in the center and make sure that it doesn't have raw egg on it when removed.
Once the quiche has baked, remove it from the oven and let it cool and set for at least 15 minutes.
Prep Time:

30 minutes

Cook Time:

40-45 minutes

Category:

Entrees

Method:

Baking

Cuisine:

French
Keywords: quiche, eggs, bacon, onion