Vanilla Bean Simple Syrup is a simple way to enhance and complement flavors in your cocktails, coffee, and desserts. It's an easy, three ingredient recipe that takes less than ten minutes to make.
Who doesn't love the flavor of vanilla? It's certainly one of my favorites for it's subtlety and elegance that elevates any dessert.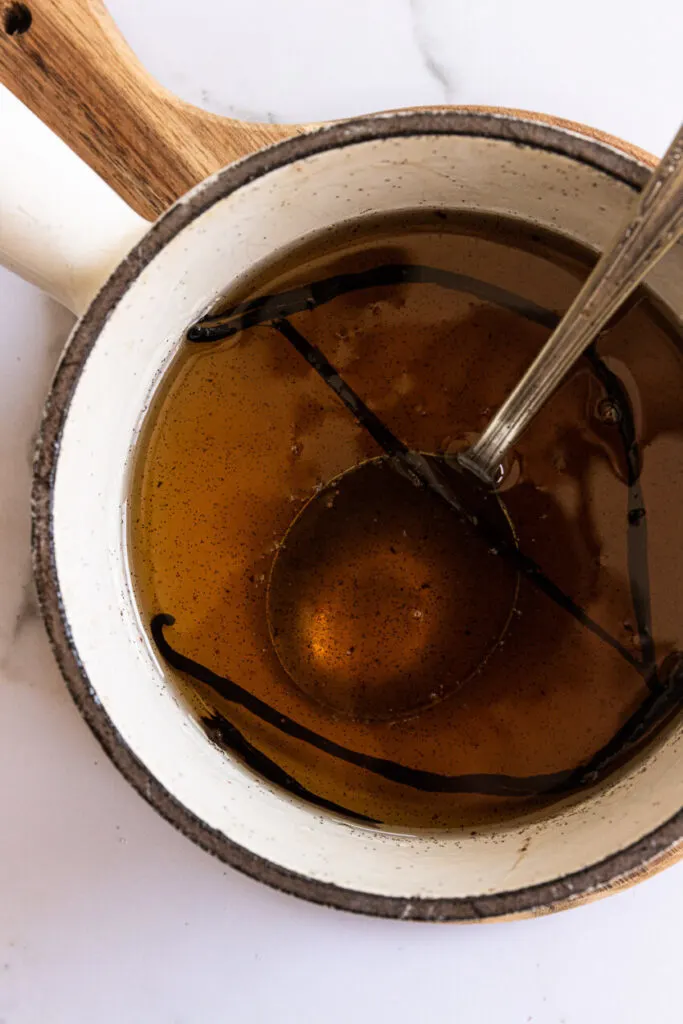 Even if it's not the star of the show, it adds a certain je ne sais quoi to any dish good it's added to. In fact, it's considered a flavor enhancer, and can even be added to savory foods to good effect.
But in this vanilla bean simple syrup, it's the star of the show. And not only is it delicious, it's also so, so pretty. The little tiny flecks of vanilla bean floating in the syrup add such an elegant touch.
Uses for Vanilla Bean Syrup
Cakes and cupcakes can benefit from being brushed with some vanilla simple syrup. This doesn't only help their flavor, it also can keep them nice and moist.
Make your own syrup for cocktails and mocktails and save yourself a trip to the store.
Add a drizzle to your coffee or hot chocolate for an instant upgrade to your hot beverages.
Mix it with another flavored syrup (like this raspberry syrup) and some kind of carbonated water for an Italian Soda.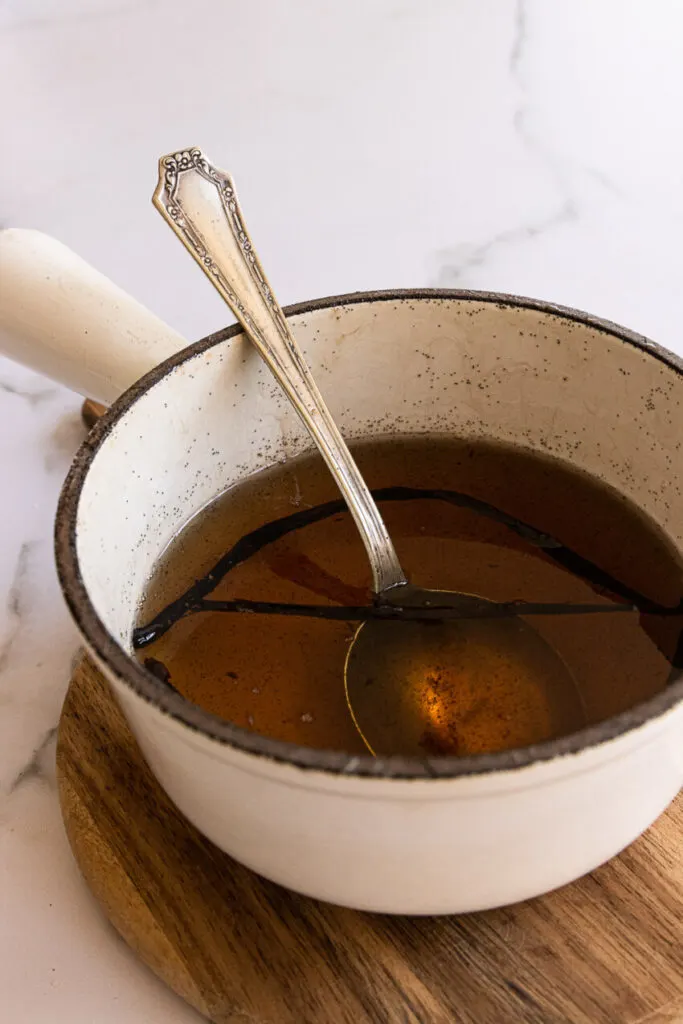 Ingredients
There are only 3, if you count the water. And is that even an ingredient?
Vanilla Beans — These are the most important part of the syrup, since they determine the flavor or your vanilla bean syrup.

There are several different grades and flavor profiles of vanilla. See the Notes on Vanilla Beans section for more light reading on the subject.

Sugar — I prefer using organic cane sugar, but any kind of granulated sugar will work for this recipe. Cane sugar has has a light beige color, which darkens the color a bit. If you use white sugar, your simple syrup will be more clear than the off-white color of the syrup in the pictures.

Water — Filtered water is best, so that you get the cleanest, purest flavor in your vanilla syrup.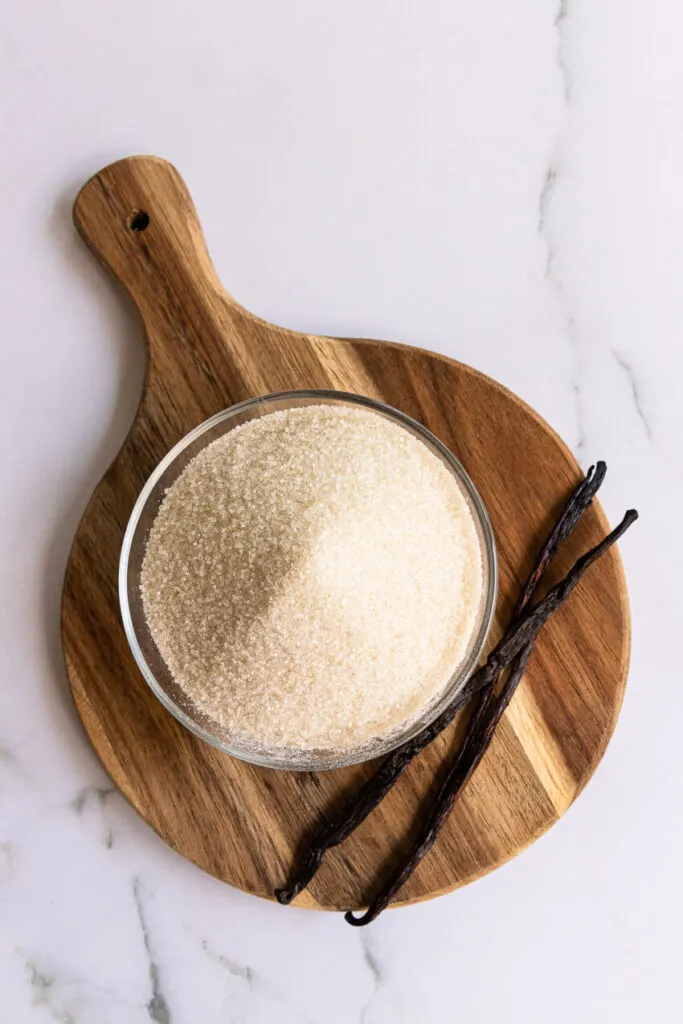 Notes on Vanilla Beans
There are two grades of vanilla beans, grade A and grade B. Grade A beans are soft and pliable and are fairly expensive. Grade B beans are harder and more woody, but also tend to be less pricey. Either grade works well for vanilla bean simple syrup.
Vanilla beans are also sourced from all over the world, with most coming from Madagascar, Mexico, and Tahiti. Each origin has a unique flavor profile and characteristics.
Vanilla first came from Mexico, and Spanish conquistadors brought them back to Europe. From there, vanilla spread to other parts of the world, which developed their own strains. Mexican vanilla has a spicy note while still being sweet, and it's the only place in the world where there's a type of bee to naturally pollinate the vanilla orchid.
The variety of vanilla grown in Madagascar, the island off the eastern coast of the African continent, is known for a smooth, creamy flavor profile. The technique of hand pollination for vanilla bean production was first used in Madagascar, making it possible to cultivate vanilla in places other than Mexico.
Tahitian vanilla is a hybrid of two varieties of vanilla plant, making it unique. It's usually a more floral and fruity bean, with a unique curing process that takes months.
If you want to read more on vanilla, this article from Nielsen-Massey is really interesting.
Equipment Needed
This recipe is pretty simple here too! All you'll need to make it is:
A small pot
A spoon for stirring
A sharp knife to cut open the vanilla beans. This is technically optional, but it helps the tiny flecks of bean to escape.
Making the Vanilla Bean Syrup
On a cutting board, use the tip of a sharp knife to cut the vanilla beans in half lengthwise.
In a small pot, combine the water, sugar, and split vanilla bean. Place it on the stove and heat it on medium heat.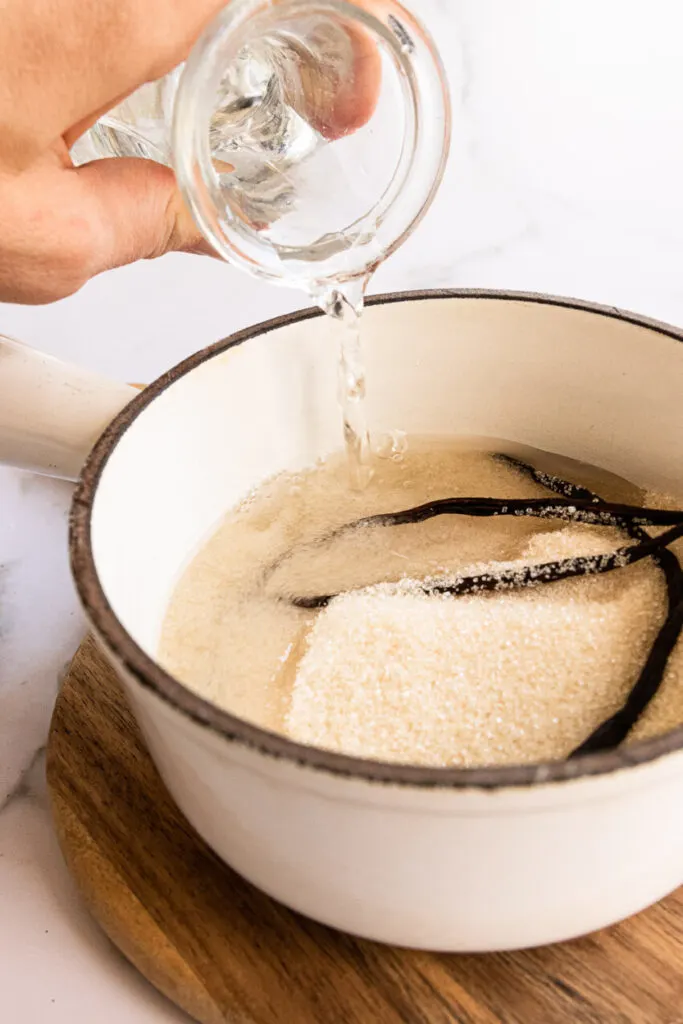 Bring the syrup to a boil, stirring occasionally. Cook it until the sugar is completely dissolved. To thicken the syrup more, cook it for another 3-5 minutes.
Remove the vanilla beans–they can be rinsed, then added to vodka or bourbon to make vanilla extract.
Pour the syrup into a clean bottle or jar that has an airtight lid. Allow it to cool, then store it in the refrigerator.
Vanilla bean simple syrup will keep for 3-4 weeks in the refrigerator.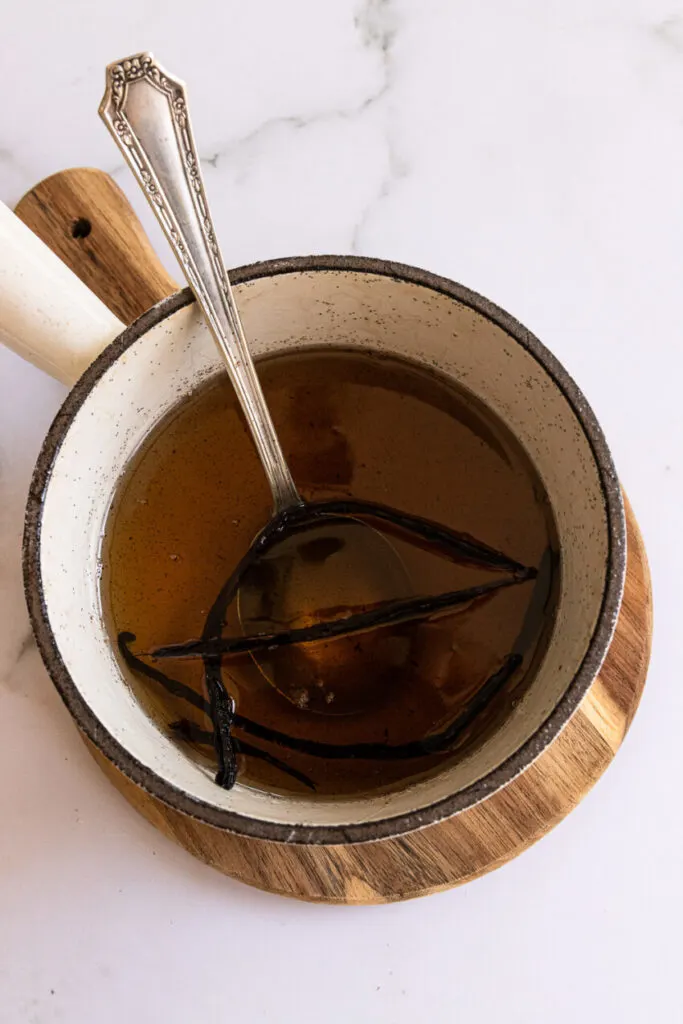 Other Vanilla Recipes You May Enjoy: