Sweet vanilla bean macaron shells and the nutty, deep flavor of brown butter pair perfectly in these Browned Butter Vanilla Bean Macarons.
As an Amazon Associate, Good Things Baking Co. earns from qualifying purchases.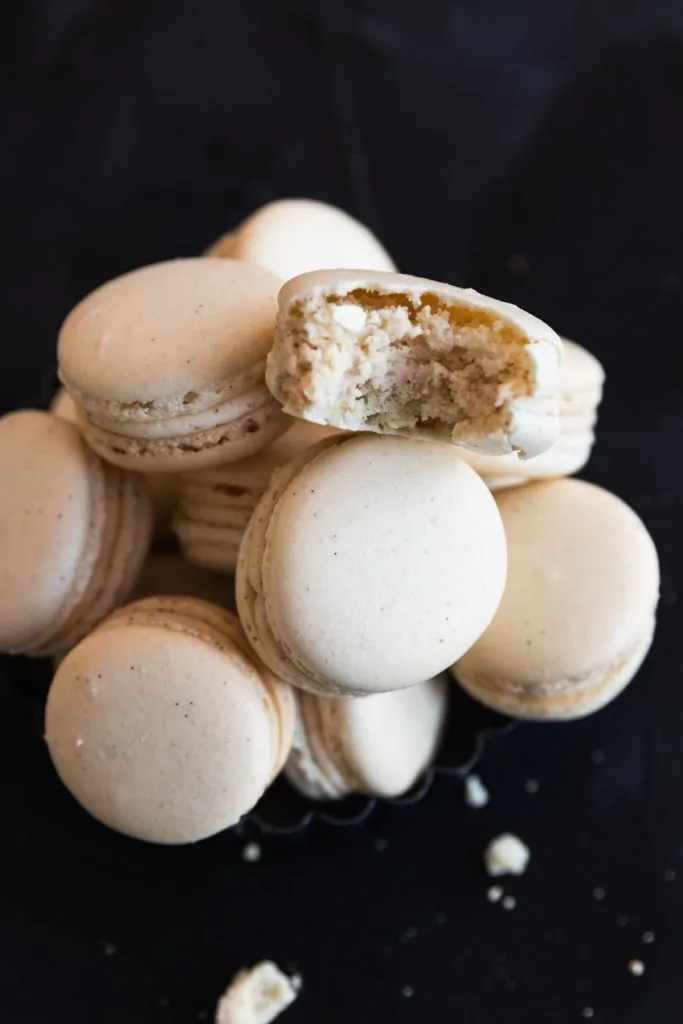 I'm convinced that browned butter is the way to elevate any and every baked good. And while some might think of it as a trend that will become dated, I prefer to think of it as a lifestyle. And these macarons are a perfect case in point.
Thousands of words could be written on the science and details of macarons. But don't worry, I've broken it down into an achievable process. I'll walk you through how to get perfect macaron shells every time, from whipping the egg whites perfectly to getting the perfect batter consistency. And I'll also share a few tips and tricks for how to brown that butter for your buttercream to savory perfection. Once the sweet macaron shells and the salty/sweet buttercream get together, these Browned Butter Vanilla Bean Macarons are cookie perfection.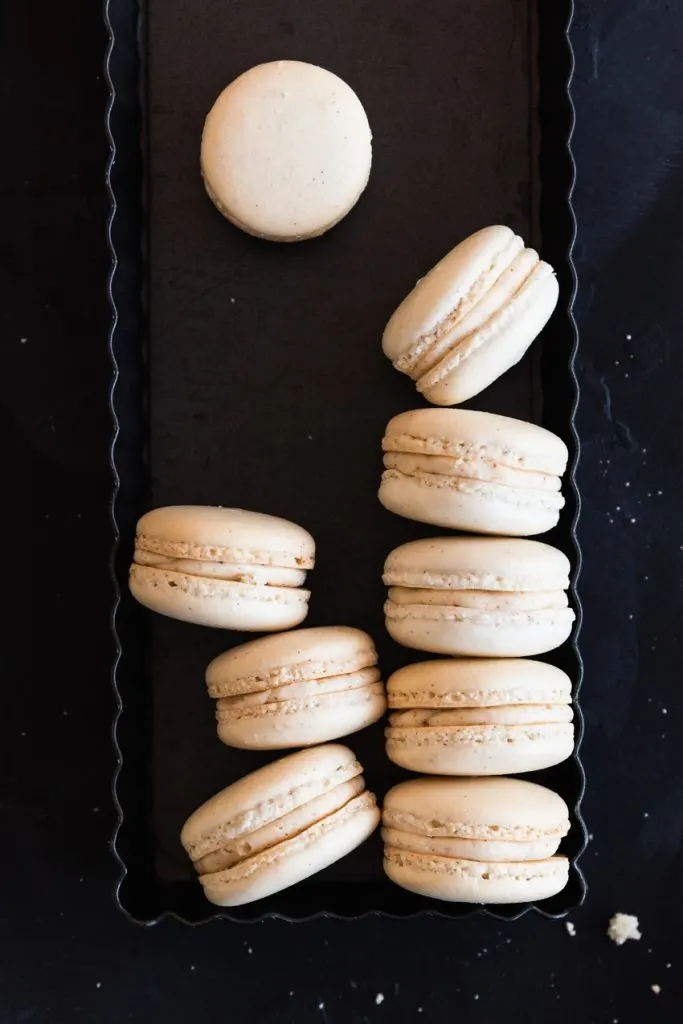 How to Make Vanilla Bean Macarons
First, line a large baking sheet with parchment paper and place a clean coupler in a piping bag (see notes).
Separate the egg whites and set them aside to come to room temperature.
Next, sift together the almond flour and powdered sugar to remove any lumps. Stir them well to make sure they are thoroughly combined.
Using either a stand mixer or an electric hand mixer, begin to beat the egg whites until they are frothy. Add in the cream of tartar, begin beating again, and slowly pour in the granulated sugar.
Continue to beat until the meringue has come to stiff peaks.
Add in the vanilla bean paste and beat until it's well mixed in.
Stir in about 1/3 of the almond flour and powdered sugar mixture with a rubber spatula.
Once it's combined, add the rest of the flour/powdered sugar mixture and fold it in. Continue to fold until the batter runs off the spatula in thick ribbons.
Scoop the batter into a clean piping bag fitted with a coupler. Twist the top of it shut, place the twisted closure in the crease of your thumb joint and wrap your hand around the rest of the bag.
Hold the bag straight up and down over the parchment paper and squeeze gently to a count of three, then stop squeezing and lift the bag straight up.
Pipe macarons over the rest of the baking sheet, leaving at least 2″ between each cookie. Tap the baking sheet firmly a few times on the counter to pop any air bubbles in the shells.
Allow the piped macaron shells to sit and dry. This could take 20 minutes, or an hour depending on how humid your kitchen is. You want the tops to look matte and not wet and shiny–this creates a smooth shell for the macarons to rise under.
Bake the shells at 300° for 15-16 minutes, turning the sheet halfway through the baking time to make sure they bake evenly.
Remove the shells from the oven when finished baking and allow them to cool completely.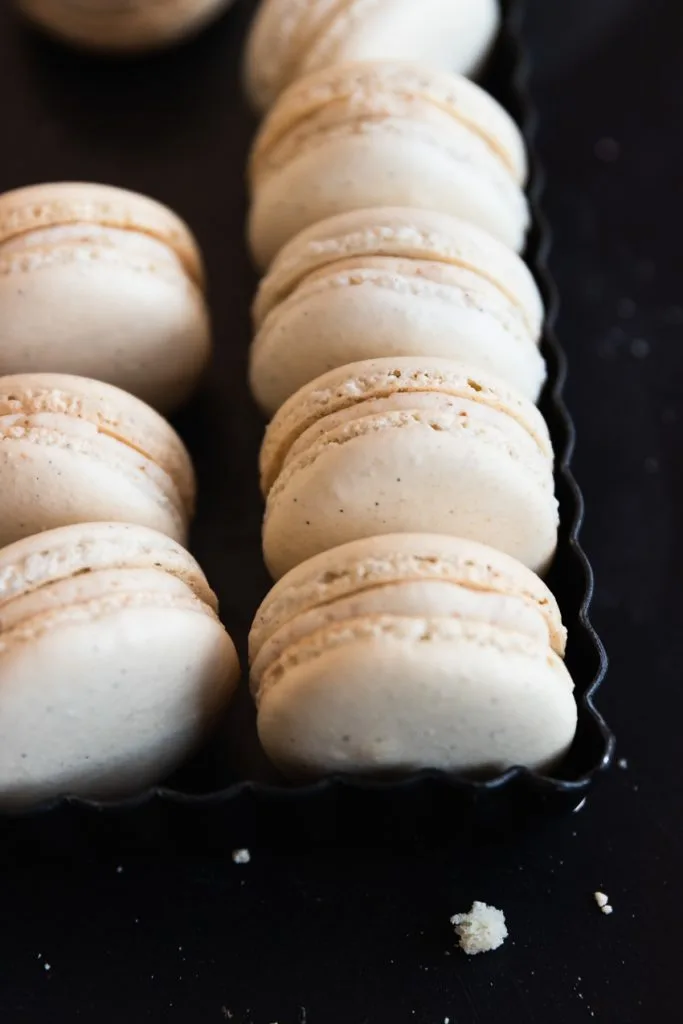 How to Make Browned Butter Buttercream
Cut 1 stick (1/2 cup, or 114 g) of salted butter in a small saucepan. Melt it over medium low heat. Swirl the pan occasionally as it starts to sizzle and foam. When it gets quiet and you can see browned bits in the bottom, remove it from the heat. Pour it into a mixing bowl and place it in the fridge until solidified but not hard.
Once the browned butter has become solid again, use a hand mixer to beat it until it is smooth.
Add the sifted powdered sugar and combine them with the mixer on low to prevent a powdered sugar explosion.
Mix in the vanilla extract and the whipping cream, starting with the smaller amount and adding enough until the consistency is soft enough to easily pipe but still holds its shape.
Place the buttercream in a piping bag fitted with a coupler (you can also use a star tip if you'd like) and twist the bag closed.
Pipe a layer of the buttercream onto the flat side of half the macaron shells, then gently press another shell onto the other side to create a sandwich.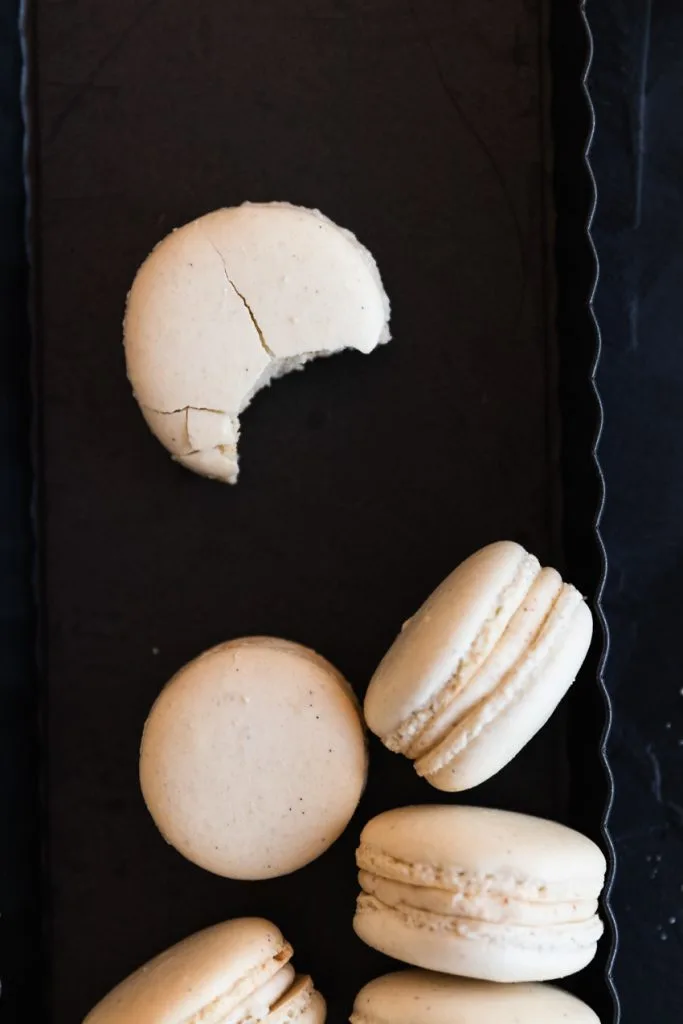 Tips and Tricks for Perfect Macarons
When making macarons, details matter! Things like oven temperature, using parchment paper, how you pipe them, and having clean bowls and tools all can mean the difference between great macarons or a frustrating result.
Start by reading the recipe through at least once and have all of your equipment ready and your ingredients measured out and ready.
For a very detailed, thorough tutorial about making macarons,

check out this post I wrote for Ashley at Sugar and Cloth

. It also includes a trouble shooting list to help you avoid any macaron faux pas!
Macarons call for meringue that has "stiff peaks." This means when you lift the beaters out, the meringue on the end of them should stay pointed, not falling over. However, you also don't want to over-beat it–the beaters shouldn't leave lines in the meringue or break it into little chunks and sections. If it's been overbeaten, I would recommend starting over as this can cause any number of problems (such as no feet on your macs or cracking shells) when making the macarons.
Make sure that all of your tools are clean before starting. Any bit of fat will break down the meringue, cause spreading, pancake-like macarons.
Browned Butter Vanilla Bean Macarons generally have a better texture and flavor after sitting for a day and are best eaten within 3 days. Store them in an airtight container in the refrigerator for optimal flavor.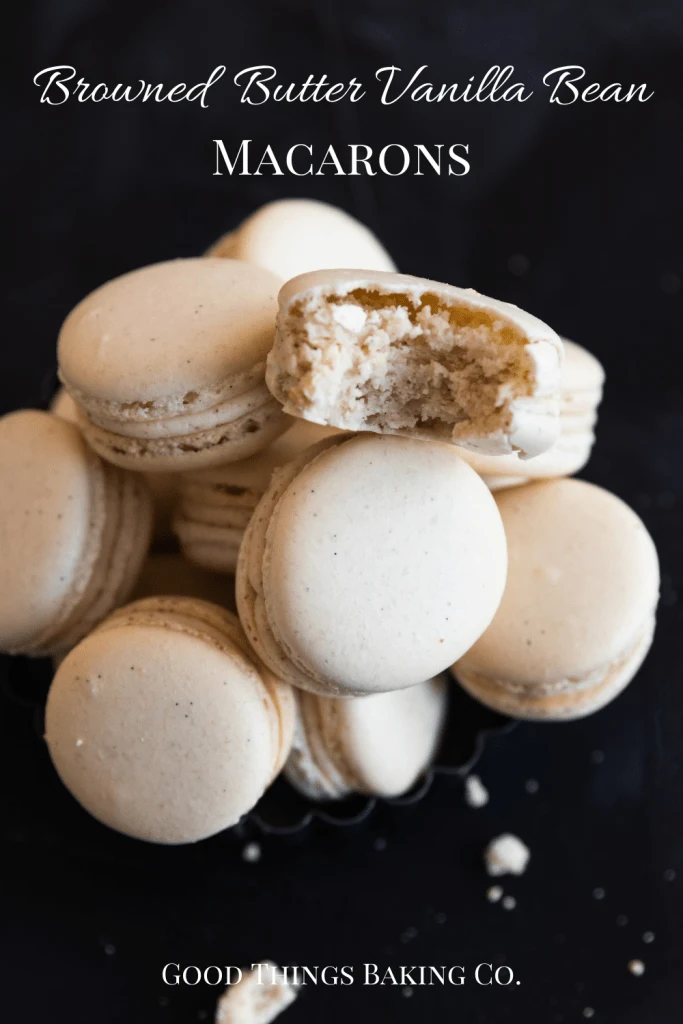 Tools for Making Macarons
Most of these things can be found at any store with a cake decorating or baking department. Walmart, Hobby Lobby, or any other crafting store are all good places to look.
Hand Mixer

— If you don't have an electric mixer of any kind, it's pretty much a necessity for macarons. And while a stand mixer is great, a hand mixer is a much more budget friendly way to start whipping meringue.

Baking Sheets

— The more heavy-duty these are, the more evenly they'll distribute heat, yielding better baked macarons. These ones are a great option
Parchment Paper — This is available in any grocery store. Parchment has better texture than silicone baking mats and your macs will rise up instead of out as the will have better grip on parchment.

Piping Bags

— I recommend using a disposable bag, or having a pastry bag that's only used for macarons. Any bags used with a fat-based recipe (like frostings or batters) are almost impossible to get clean enough to not destroy your macaron batter.

Couplers

— These will hold your piping bag in a perfectly round shape as you pipe the macarons.
Other Recipes You May Enjoy:
Print
Browned Butter Vanilla Bean Macarons
---
4 large (120 g) egg whites

100 g (½ cup) granulated sugar

¼ tsp. cream of tartar

2 tsp. vanilla bean paste

240 g (2 cups) powdered sugar

168 g (1 ½ cups) fine almond flour

1/8 tsp. fine sea salt
For the Browned Butter Filling:
114 grams (1/2 cup or 1 stick) salted butter, browned

240 g (2 cups) powdered sugar

2 tsp. vanilla extract

2-3 tsp. heavy cream
---
Instructions
Begin by pre-measuring all of your ingredients, lining a baking sheet with parchment paper, and putting a coupler on a clean (preferably new) piping bag. Allow the egg whites to come to room temperature.
Place the almond flour, powdered sugar, and salt to a mesh sieve that's over a clean mixing bowl. Stir and shake them together through the sieve. Stir to make sure the ingredients are thoroughly combined and set aside.
Using a stand mixer or electric hand mixer, beat the egg whites on medium speed until the are foamy. Add the cream of tartar and slowly pour in the granulated sugar while beating. Turn the mixer up to high speed and beat until the egg whites have become a meringue at stiff peak stage (see notes).
Add the vanilla bean paste and use the beaters to mix it thoroughly into the meringue.