Raspberry Chocolate Lava Cakes are rich, fudgy, and every chocolate lover's dream. A molten chocolate center with fresh raspberries add a unique twist on the classic dessert.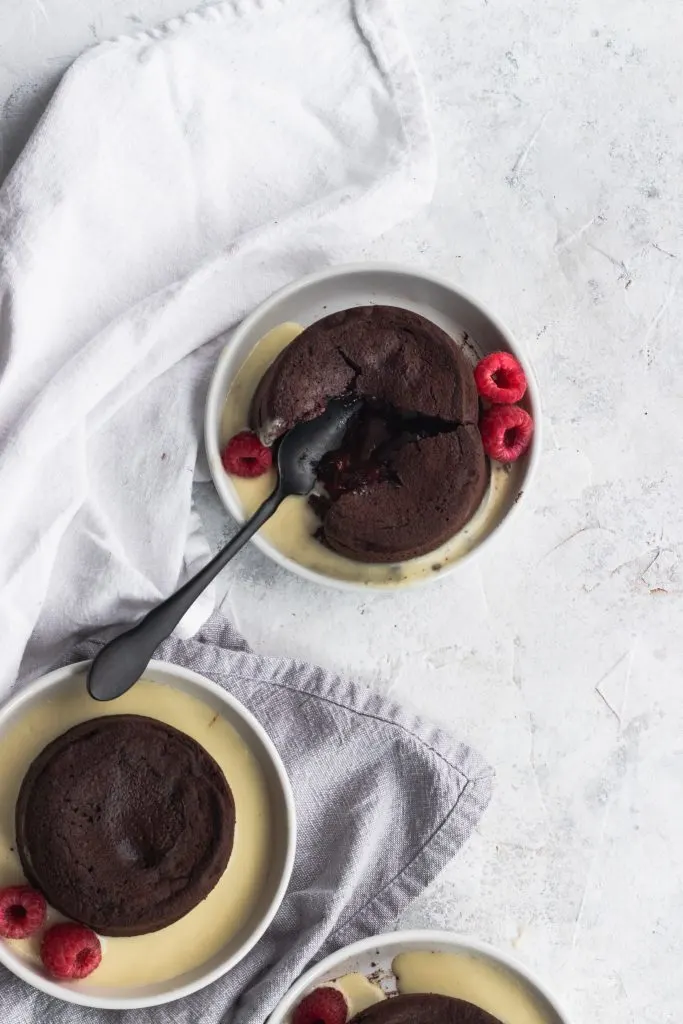 Let's have a frank conversation about the upcoming holiday. You know, Valentine's Day. Do you celebrate or no? Personally, we've never done much, although the year I was sick and Micah brought me a heart shaped donut and chicken noodle soup still lives in my memory as one of the most romantic things anyone has ever done for me.
But if there's one thing I do appreciate about Valentine's, it's the fact that (nearly) everyone is in love with chocolate. And nothing says "I love you" like a homemade dessert–I swear it'll be far more impressive than a little box of heart shaped truffles you can pick up at the store. And these molten lava cakes are perfect for impressing your spouse, significant other, or someone you're hoping will be your significant other.
What are Chocolate Lava Cakes?
So glad you asked. Chocolate Lava Cakes are a fudgy chocolate cake with a molten center, meaning that it's still melty and nearly liquid inside. When you break into it with a spoon, the center should release A classic (and classy!) dessert that may look complex and difficult, but this lava cake recipe is surprisingly simple and easy to make. My recipe also has fresh raspberries tucked in the center, which adds another layer of complexity. Their sweet/tart flavor contrasts so nicely with the dark chocolate, and they're a lovely burst of flavor.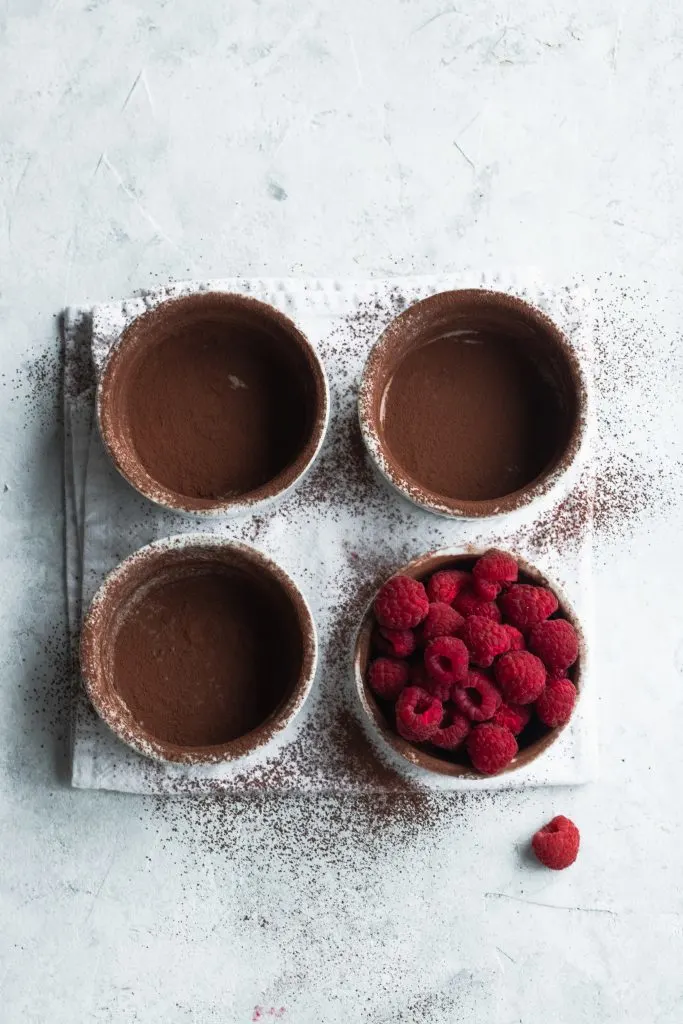 What is Lava Cake Made of?
Ingedients:
Chocolate! Of course. You'll need dark chocolate for this recipe, at least 70%. I like Trader Joe's Pound Plus bars, but you can use any dark chocolate you like. Chocolate Chips will also work, but not quite as well.
Butter I prefer salted, but unsalted will work too! Just add a bit more salt to round your flavors if you do use unsalted butter.
2 Large Eggs + 2 Large Egg Yolks But save those extra whites. They'll come in handy at some point.
White Sugar This recipe calls for a quarter of a cup, but if you like it sweeter, bump that up to 1/3 cup. Your call.
Vanilla Extract When the ingredient list is this simple, go for the good, real stuff. It's worth it.
Flour You've got options here. You can use regular all-purpose flour, or make it gluten free with almond flour or a good gf blend. There's only a couple of tablespoons, so it's easy to make these cakes deliciously gluten free.
Sea Salt Only a pinch, but it makes all the difference.
Tools:
Traditional lava cakes are baked in ramekins, then turned out onto a plate to be served. These are the ramekins I have. They're 8 oz. and you'll get 4 cakes of this size from this recipe.
If you want a unique serving option, these 8 oz. cocottes are so unique and pretty (they would also make a great gift!). Serve the cakes in the tiny little pots–no need to turn them out onto a plate.
Or, if you're working on a budget, a regular muffin tin works well. Standard muffin cups are 4 oz., so you'll get 8 small cakes rather than 4 larger ones. Reduce the baking time (rely on visual cues) and only put a couple of raspberries in the center.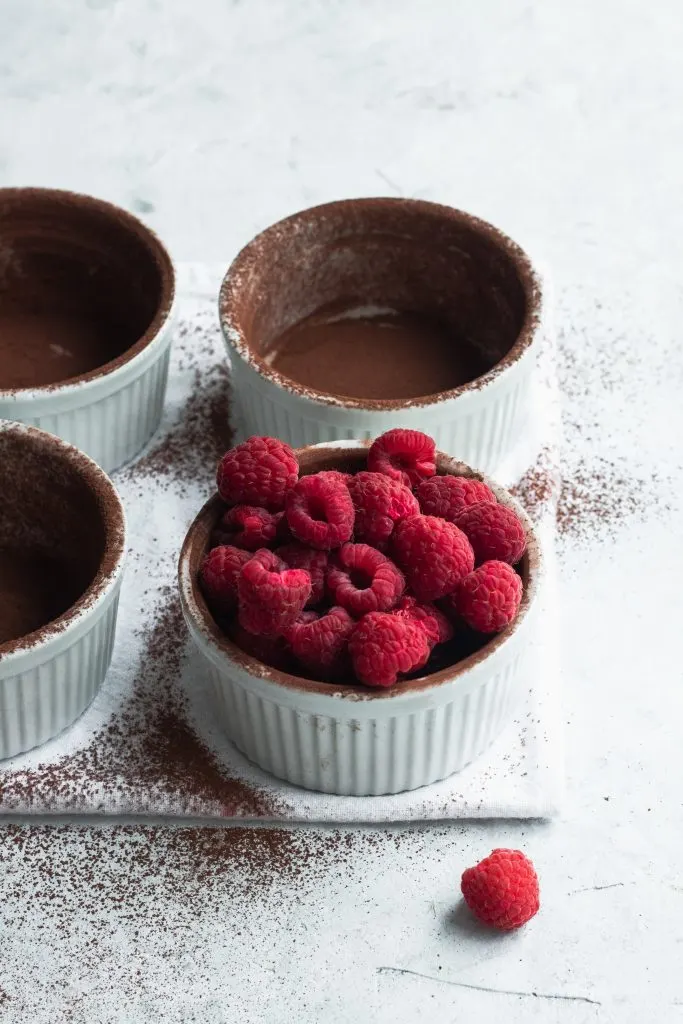 How to Make Raspberry Chocolate Lava Cakes
Start by buttering your ramekins or pans well, then dust them with cocoa powder. Tap the excess out of the pan. Also, use regular cocoa powder rather than dutch process or dark, since the darker cocoa powders will make the outside of your cakes appear burned.
Preheat the oven to 450F
Place the butter and chopped chocolate in a heat proof bowl (metal or glass), then put the bowl over a small pot of water with about an inch of simmering water. Stir the chocolate and butter frequently as they melt, and remove them from the heat when they're mostly melted. Continue to stir until the mixture has completely melted, then set it aside to cool but not harden.
Beat together the eggs, egg yolks, sugar, vanilla extract, and sea salt on medium speed with either the whisk attachment on a stand mixer or with a hand mixer for 5-8 minutes. It may take a couple minutes more if you use a hand mixer. The mixture will become fluffy, pale and thick as you beat it–you want it to come off the beater in thick ribbons. The point of this step is to dissolve the sugar, as well as incorporating a lot of air into the batter for light cakes with a gooey center. So make sure that you whip it well!
Add in the flour and mix until just combined–this should only take 30 seconds to a minute.
Divide the batter evenly between the ramekins, then gently press 4-5 raspberries into the center of each (Reduce it to 2-3 for small cakes). Don't press them to the bottom of the dish.
Place the ramekins on a baking sheet, then bake them for 10-12 minutes. The centers will still look gooey, and you will still be able to see the raspberries peeking out of the tops.
Immediately turn the cakes out onto plates and serve
How to you know when lava cake is done?
The success of your cakes depends on the baking. The goal is to get the outside baked so that the cakes hold up when turned out, while the inside is still molten and gooey (like lava).
The lava cakes are ready when they are puffy with crackly tops and the centers still look gooey.
If you don't want to add the raspberries to the center, only bake the cakes for 8-9 minutes at 450F
If you are adding the raspberries, bake them at 425F for 12-15 minutes
Reduce the baking times for smaller cakes, and rely on visual cues for when they are done.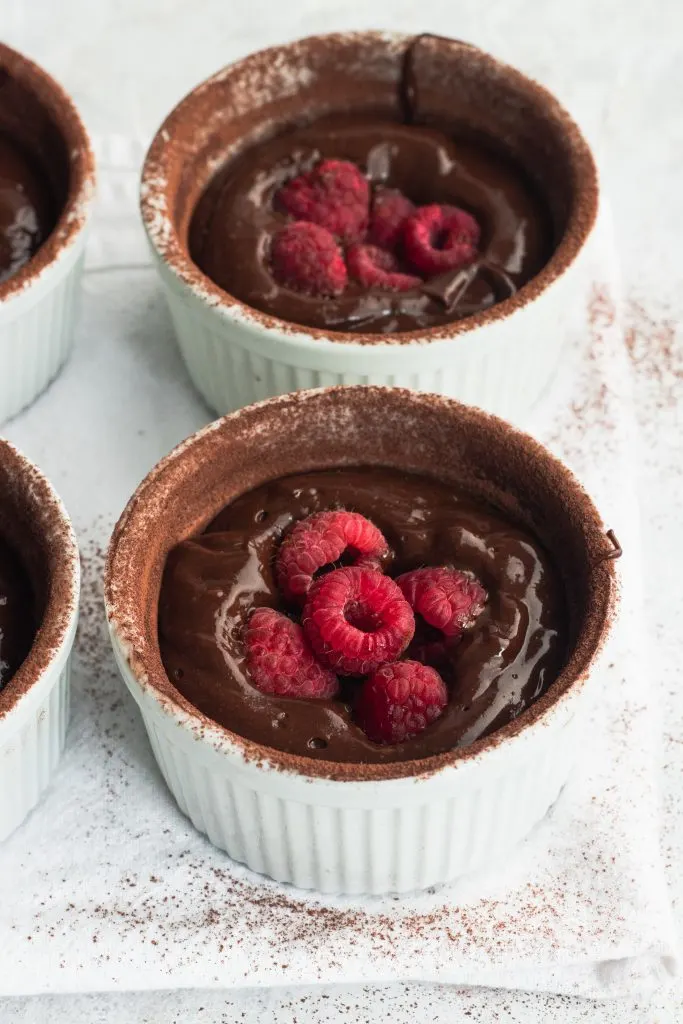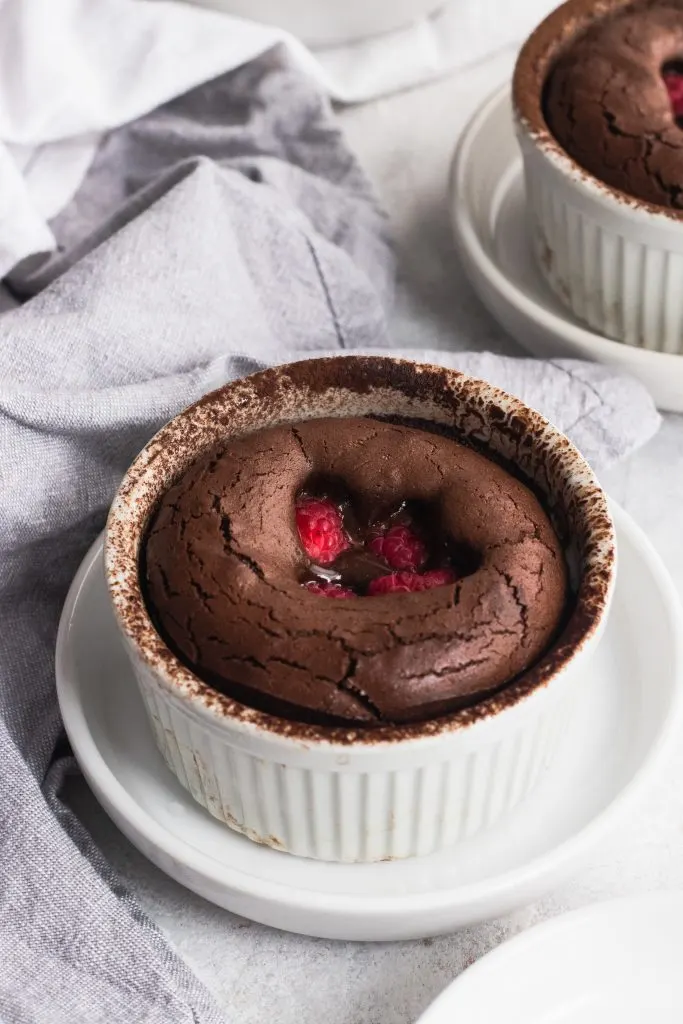 Serving Ideas
Chocolate is fabulous. Chocolate with raspberries is even better. But I would definitely recommend topping them with some whipped cream, vanilla ice cream, or pouring some chilled crème anglaise (find the recipe here) over or around them. The lighter texture and flavor makes the cakes a little less rich and balances the richness of the chocolate and fudgy inside.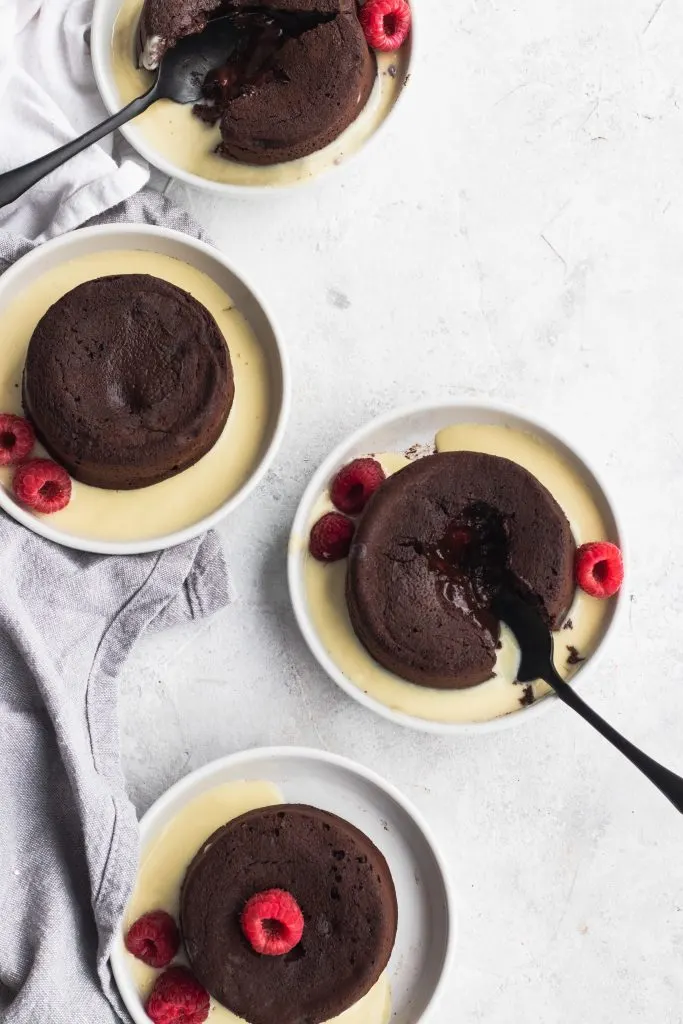 Other Lava Cake Questions & Tips
Can I make the cakes ahead of time?
Technically yes, but it works much better if you make the batter up to 24 hours ahead of time and then bake it just before serving. In fact, chilled batter will give you an even meltier center since it's starting colder and won't get as warm and cook as much as it would if the batter started at room temperature.
Are lava cakes safe to eat?
Yes! The center may stay liquid, but since salmonella is killed at 160F, it'll definitely get hot enough to be safe. You could even use an internal thermometer to measure the center if you want to be extra careful.
Can lava cakes be made gluten free?
Yes! You can use either almond flour or a gluten free all purpose flour with great results.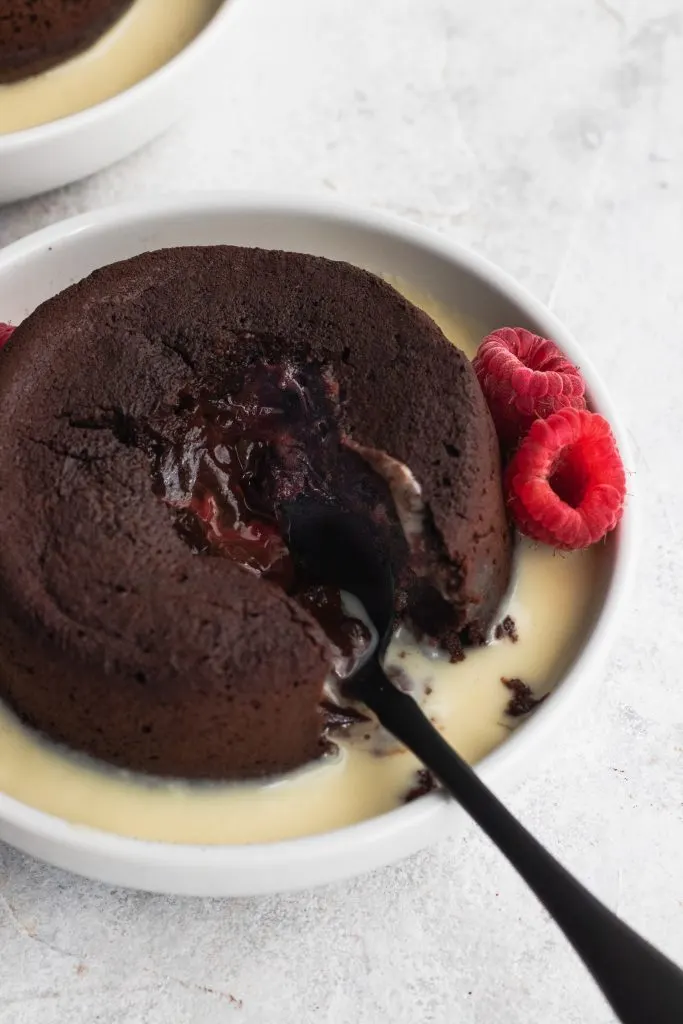 Print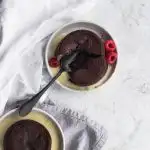 Raspberry Chocolate Lava Cakes
---
Author:

Total Time:

42 minutes

Yield:

4

large or

8

small lava cakes

1

x
Description
Raspberry Chocolate Lava Cakes are rich, fudgy, and every chocolate lover's dream with a molten, raspberry filled center.
---
113 grams

(

1/2 cup

) butter, salted or unsalted

175 grams

(approximately

1 cup

) chopped dark chocolate, at least 70%

2

large eggs +

2

large egg yolks

50

–

68

grams (

1/4

–

1/3

cup) white sugar

1 tsp

. pure vanilla extract

1

pinch of sea salt

18 grams

(

2 Tbsp

.) flour

16

–

20

Fresh Raspberries, plus more for garnishing
---
Instructions
Preheat the oven to 450F. Butter your ramekins or tins, then dust them with cocoa powder.
Put about an inch of water in a small pot and heat it over medium heat until it's bubbling and steaming. Then place a heat proof bowl (glass or metal) over it with the chopped chocolate and butter, cut into chunks, in the bowl. Stir it occasionally until almost all of the butter and chocolate is melted, then remove it from the heat and continue to stir until all of it is melted. Set the mixture aside to cool, but not harden. Once it has cooled, stir in the vanilla extract and chocolate.
In a mixing bowl with an electric hand mixer or the bowl of a stand mixer fitted with a whisk, beat together the eggs, egg yolks, and sugar until the mixture is thick, pale, and fluffy. This should take 5-7 minutes, and it will run off the beater in thick ribbons.
Slowly add the chocolate and butter into the eggs on low speed until thoroughly combined, then add the flour and stir for a few seconds or until just combined.
Notes
You can use either almond flour or a gluten free all purpose flour with great results.
Prep Time:

30 minutes

Cook Time:

12 minutes

Category:

Chocolate Dessert

Method:

Baking
Keywords: chocolate lava cakes, molten chocolate cakes, chocolate raspberry, chocolate cake