Crème Anglaise is a classic creamy custard sauce, lightly sweet and perfect for pouring over any dessert or fruit. This recipe is simple and foolproof.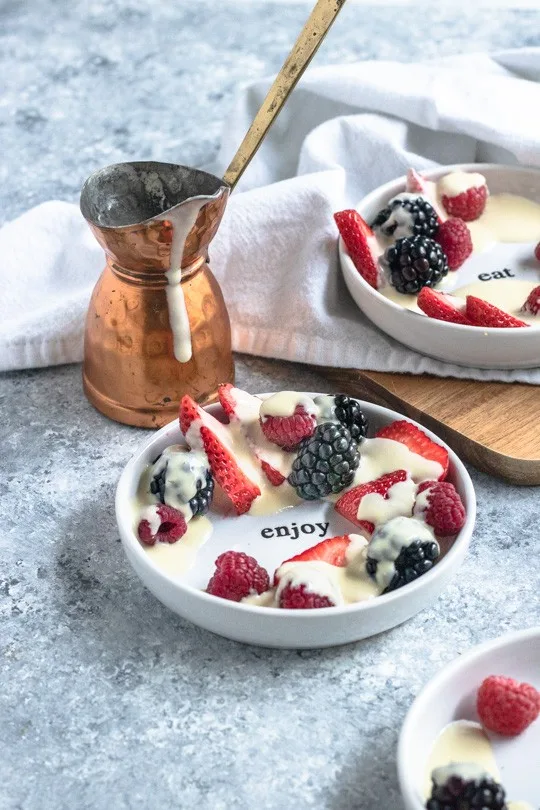 Last week, when I picked up Prentice from school one afternoon he asked his usual question: "Did you bring a snack?" Since I typically work on baking and recipe development while he's out, there's generally something good to be eaten once he's on the way home.
That particular day I had shot this crème anglaise. When I offered him bowl of berries smothered with a generous ladleful of it (my car interior hates me), he wrinkled his nose. True story. Five minutes later, however, he was literally licking the bowl and asking for more when we got home.
I can't really blame him, even if I did say no. I'm pretty sure that no spoon used to make this recipe was left unlicked, because it's really that good. Simple, creamy, and lightly sweet, it compliments and enhances other flavors, even though it's a knockout on it's own.
What is Crème Anglaise?
Crème Anglaise is French recipe that translates to "English cream" because it's based off of traditional English dessert sauces. It's a simple custard used as a sauce for all kinds of desserts, as well as being the base for traditional ice cream recipes, just with less cream and no churning.
When Should I Use Crème Anglaise?
The short answer is always because it's just that good. But to be more helpful, you can use it very similarly to ice cream– pour it over pies, cobblers, souffles and cakes. You can also simply pour it over fruit–berries are my favorite, as you can see. Or add it as a layer to a trifle.
Here are a few classic desserts that use Crème Anglaise: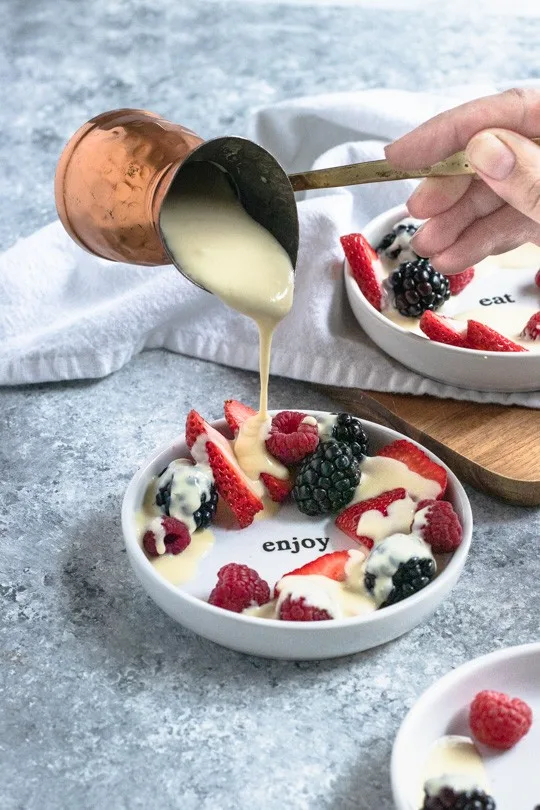 How to Make Crème Anglaise
Start by measuring out all of your ingredients–the cream, milk, salt, and most of the sugar into a saucepan, and the eggs and the couple of tablespoons of remaining sugar into a small mixing bowl. You'll also need a rubber spatula and a whisk for mixing.
Heat the cream and milk mixture over medium low, stirring occasionally, until it is hot and steaming but not boiling.
While it is heating, whisk together the egg yolks and remaining sugar until smooth.
Once the milk is hot, slowly spoon a few ladles of it into the egg yolks while whisking briskly. This warms the eggs up slowly and prevents them from scrambling.
After you've warmed the eggs, whisk them slowly into the pan of hot milk.
Continue cooking and stirring until the mixture is thick enough to coat the back of a spoon without running off, about 5-8 minutes. Be patient here and don't let the mixture boil, as that will curdle the eggs.
Once it's thickened, pour the custard into a clean bowl, place a sheet of plastic wrap directly on top, and refrigerate until it's chilled. Store in an airtight container for up to a week. Crème Anglaise can be served cold or warm.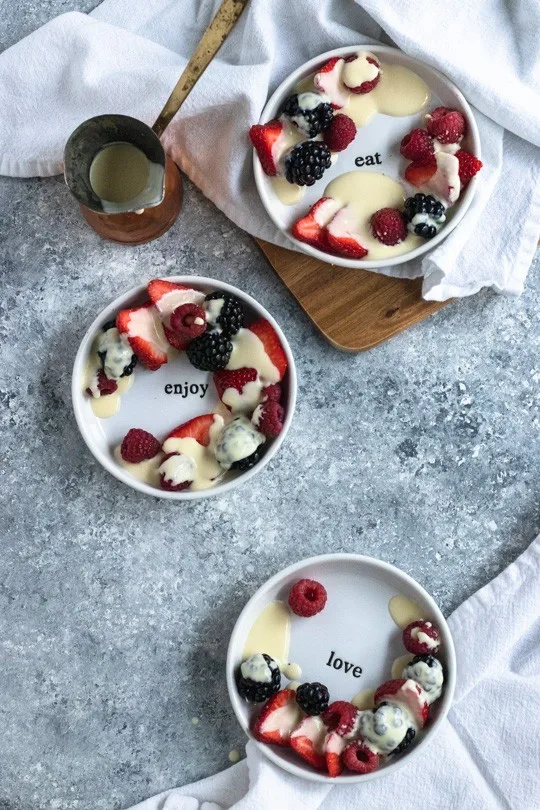 Can Crème Anglaise be frozen?
Unfortunately, it doesn't freeze well. The structure of the egg yolks doesn't respond well to the ice crystals that form when the sauce is frozen, leaving you with a soupy, watery mess. But the good news is, you can make it ahead of time!
How long does Crème Anglaise last?
It will keep in your refrigerator for up to a week in a covered, airtight container. When you first put the sauce in the refrigerator after cooking make sure to place a sheet of plastic wrap directly on top of the cream. This prevents a thick, dry "skin" from forming on top.
If you want to serve the crème anglaise warm, place it in a glass bowl over a pan of simmering water for 5-10 minutes, or until the sauce has reached the desired temperature.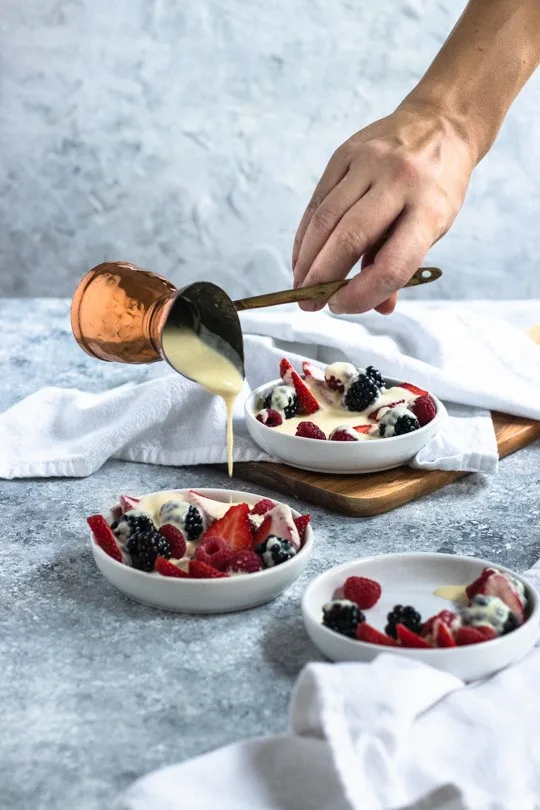 Print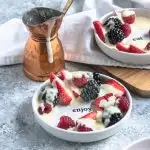 Crème Anglaise
---
1 1/4 cups

(

10 oz

.) whipping cream

1 cups

(

8 oz

.) whole milk

1/2 cup

white sugar
A pinch of salt

4

large egg yolks

1 Tbsp

. vanilla extract
---
Instructions
Combine the whipping cream, milk, salt, and all but a couple of tablespoons of the white sugar in a small saucepan. Heat over medium low until the mixture is hot and steaming, stirring occasionally.
While the cream and milk are heating, stir the rest of the sugar into the egg yolks in a separate small mixing bowl. Once the milk is hot, slowly stir about 1/2-3/4 cup into the egg yolks, whisking as you do to avoid cooking the egg yolks.
Pour it all back into the pan and continue to cook over medium low, stirring constantly to avoid scorching. The creme anglaise is ready once the mixture coats the back of a spoon dipped into it.
Remove it from the heat and pour through a strainer into a clean bowl. Mix in the vanilla extract. Place a layer of plastic wrap directly onto the top of the cream to avoid a skin forming as it cools, and refrigerate until completely chilled.
The creme anglais can be served warm or cold, and will keep in the refrigerator for 6-7 days.