These Chocolate Raspberry Croissants are the classic, flaky French pastry with a sweet raspberry filling and a strip of dark chocolate in the center.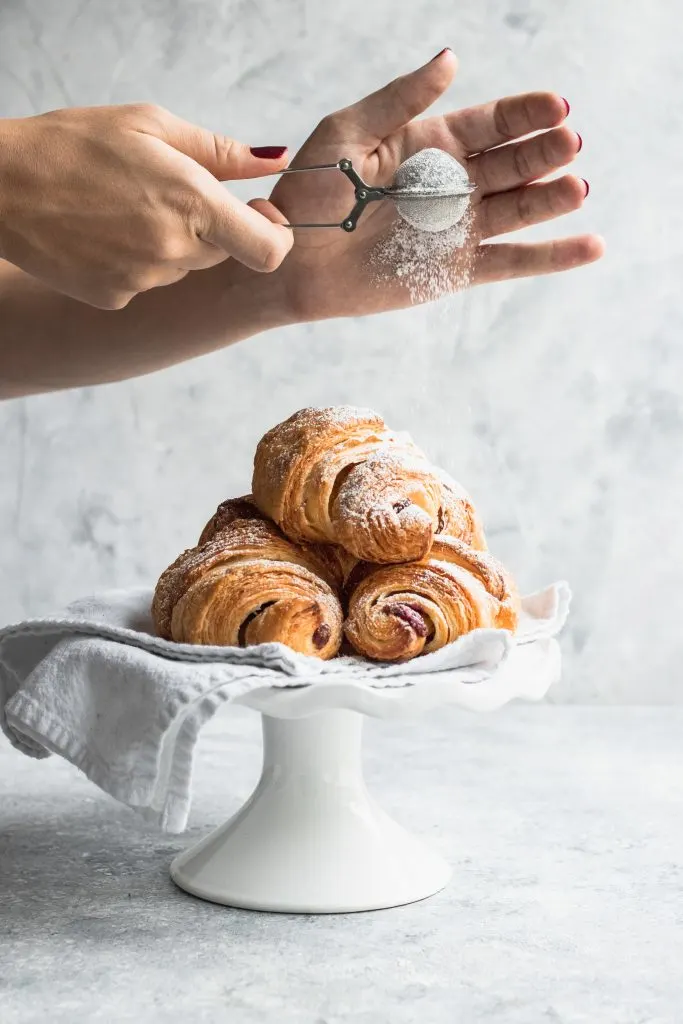 Croissants are my favorite pastry. Chocolate and raspberry is (one of) my favorite flavor combinations. So when they got together in for these chocolate raspberry croissants, I was all "oh HECK YES."
Don't you love how I made all of that sound like these things magically made themselves? But the truth is…this recipe has been sitting here for over a year. It worked beautifully, but I wanted to be more thorough with my basic croissant recipe and make sure that I had something I really LOVED before putting them out in the world. Also, croissants are so dang hard to photograph for some reason, and it took a few tries before I was happy.
I think the powdered sugar on top is what makes the picture magic happen here. It makes me think of snowy mornings with breakfast in bed. Which, incidentally, these would be perfect for.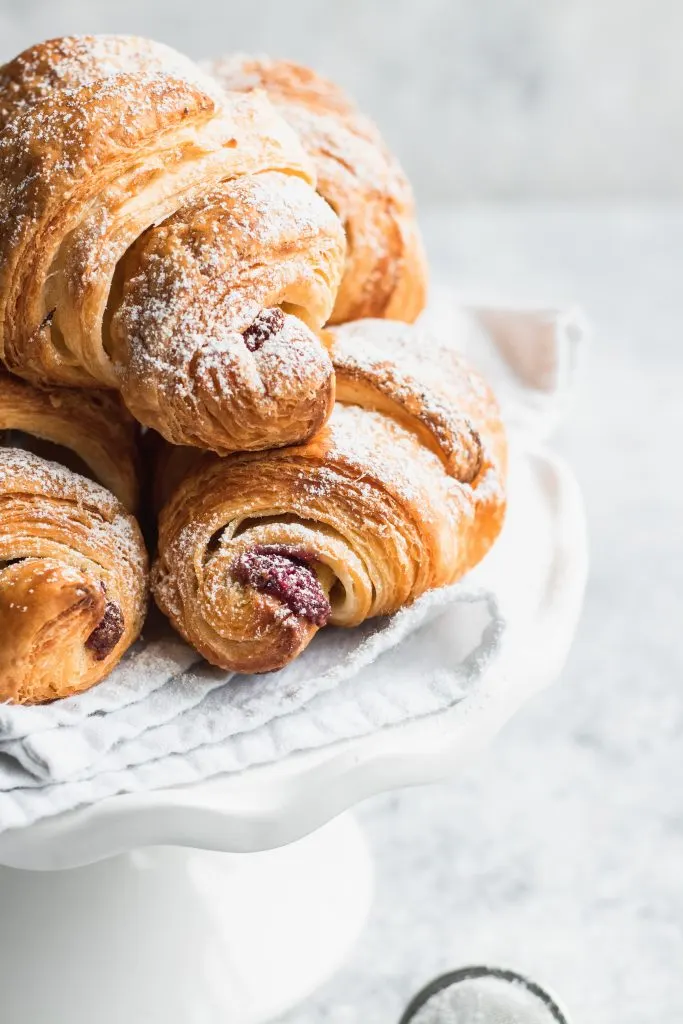 How to Make Chocolate Raspberry Croissants
There are two elements to a croissant. The first is a yeasted dough, which is folded and rolled out with a block of butter multiple times to create layers of fat and dough. This process is called lamination, and it gives you the flaky layers and buttery flavors that croissants are known for.
The second component of croissants — the butter layer– is a butter block, or in French a beurrage. This part is honestly the trickiest part of croissants, but definitely something that can be mastered. You want the butter block to be cold, but still pliable when you begin to fold it in. If it's too cold and hard, it'll shatter when you try to roll it into the dough, leaving you with tiny pebbles of butter in your dough that create pockets, rather than layers of fat. If it's too warm and soft it'll just melt into the dough and you'll have more bread like rolls, rather than flaky layers.
Lamination is achieved through a process called turning. Essentially, you will roll out the dough into a long rectangle, then fold it over in what is called a letter fold. The process will be repeated three times, with 30 minutes of refrigeration between each turn. And then..
…you get to shape your croissants! This is the fun part. For this traditional croissant shape, cut the dough into large triangles. Roll them up with the filling and a bar of chocolate inside, then let them rise for a couple of hours.
And last, you'll bake them. A quick shot of high heat to really get that yeast working, then turn them down so that they can get nice and fluffy inside without burning outside. Don't be afraid of a slightly dark crust, but also don't burn them. That's a tragic way for croissants (and a lot of hard work!) to end.
Actually, there's one more step… eat them. Eat them ALL. As soon as possible, because croissants are definitely best the day they're made. And sharing with friends is recommended too.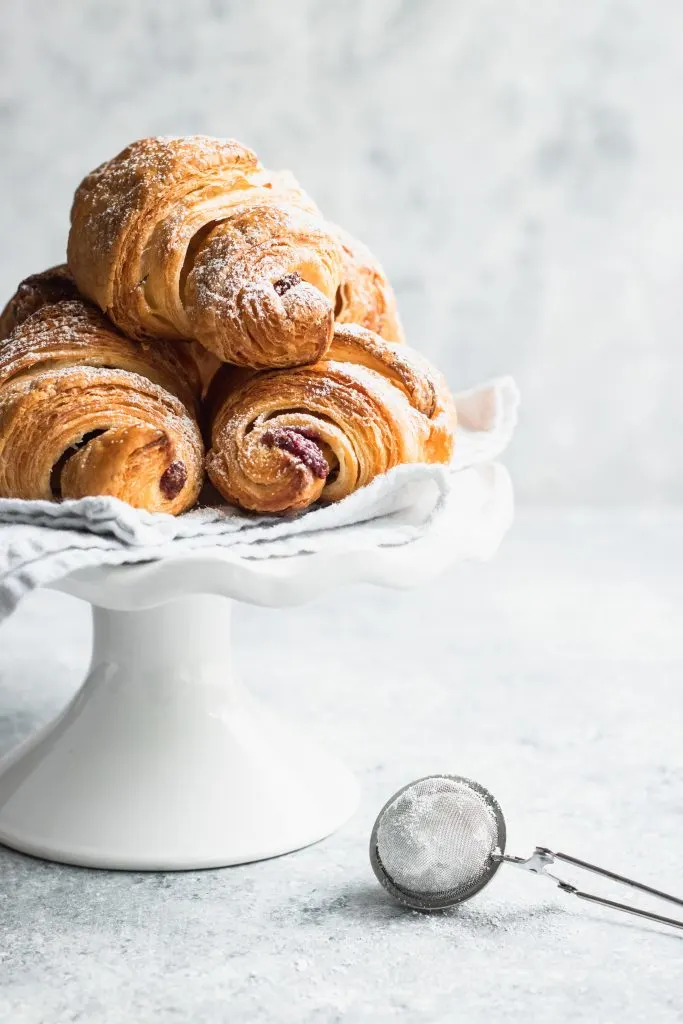 Making the Croissant Fillings
For the raspberry filling, you'll need freeze dried raspberries, almond flour (I like to use fine ground for the best texture), powdered sugar, and soft butter. Simply mix them all into a paste, then put it along the long end of the triangle before rolling each croissant.

While it may be tempting to use fresh berries, the added moisture will create a soggy center in the croissants. Also the freeze dried fruit gives a more intense flavor. You can find them at most grocery stores (I get mine at Sprouts or Trader Joe's), but if you can't find them locally they can also be ordered online.

It is almost impossible to chop a bar of chocolate into the rods needed to roll into croissants. You can be all fancy and buy the chocolate sticks online. Or you can melt down dark chocolate, place it in a piping bag or parchment cone and squeeze out your own onto parchment paper. Let them harden completely before tucking one alongside the raspberry filling before rolling the croissant.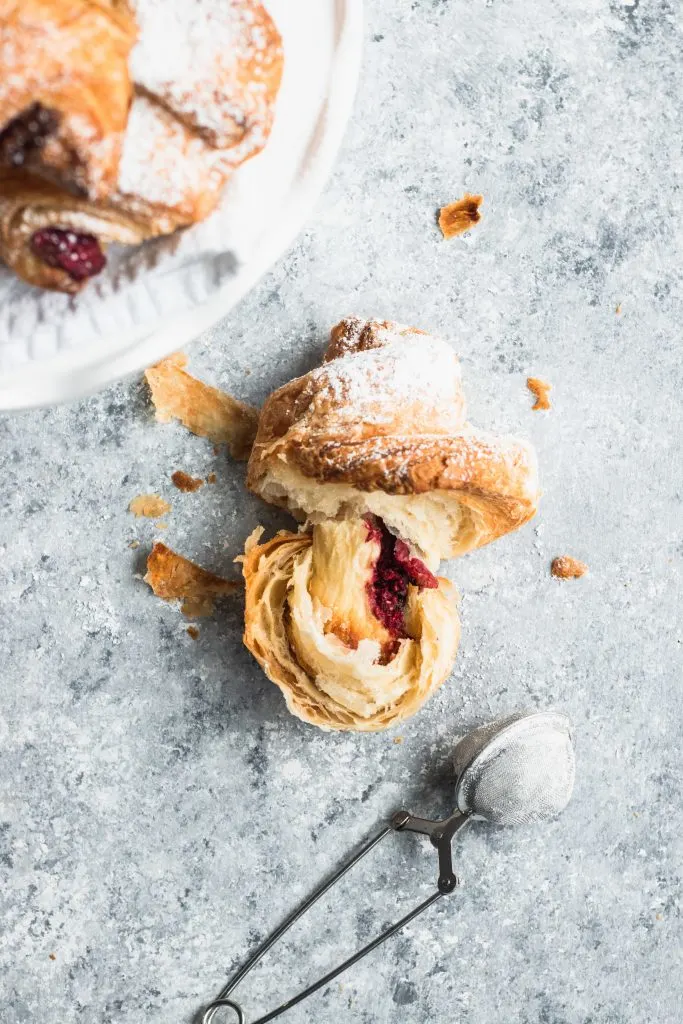 Can Croissants be Made Ahead of Time?
Yes! In fact, I recommend making the dough and doing the turns the day before you plan to bake, then keep the laminated dough in the refrigerator overnight. On the morning you are baking, roll, fill, shape, rise, and bake the croissants and serve them fresh.
If you do want to bake ahead of time, reheat them in an oven preheated to 350F until the outsides are crisp and flaky. They won't be as good as freshly baked, but
Can you freeze croissant dough? That's also a yes. After doing the turns, wrap it very well in a couple of layers of plastic wrap, the foil. Don't keep it in the freezer for more than a week or two–the ice crystals that will form from the moisture in the dough can damage the yeast and affect the dough's ability to rise. To thaw the dough, place it in the refrigerator overnight, and when it's thawed roll, fill, rise and bake.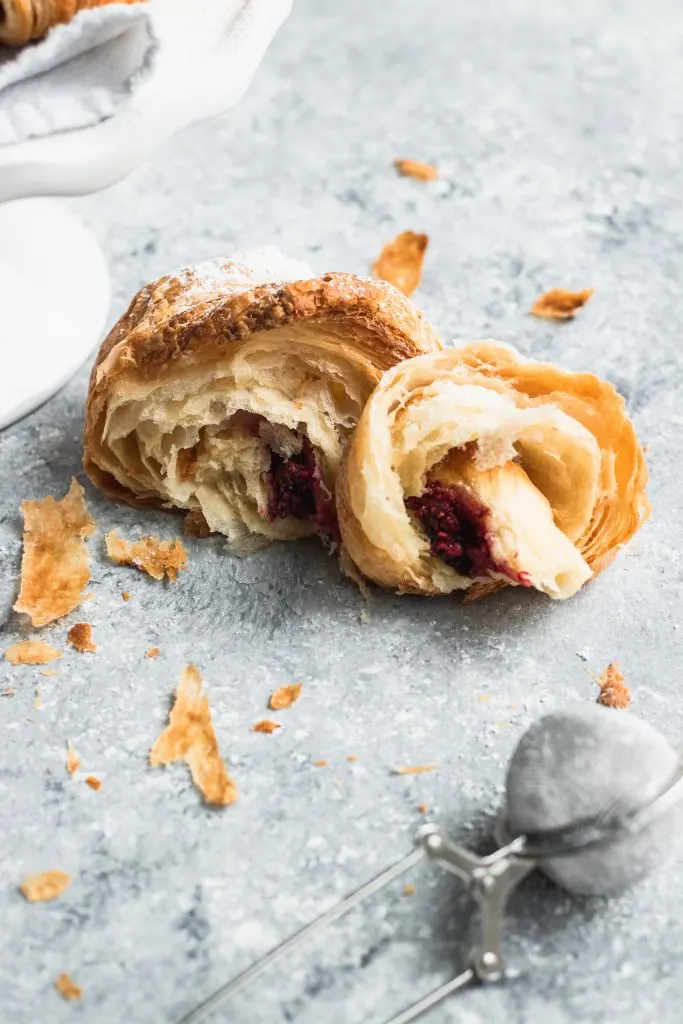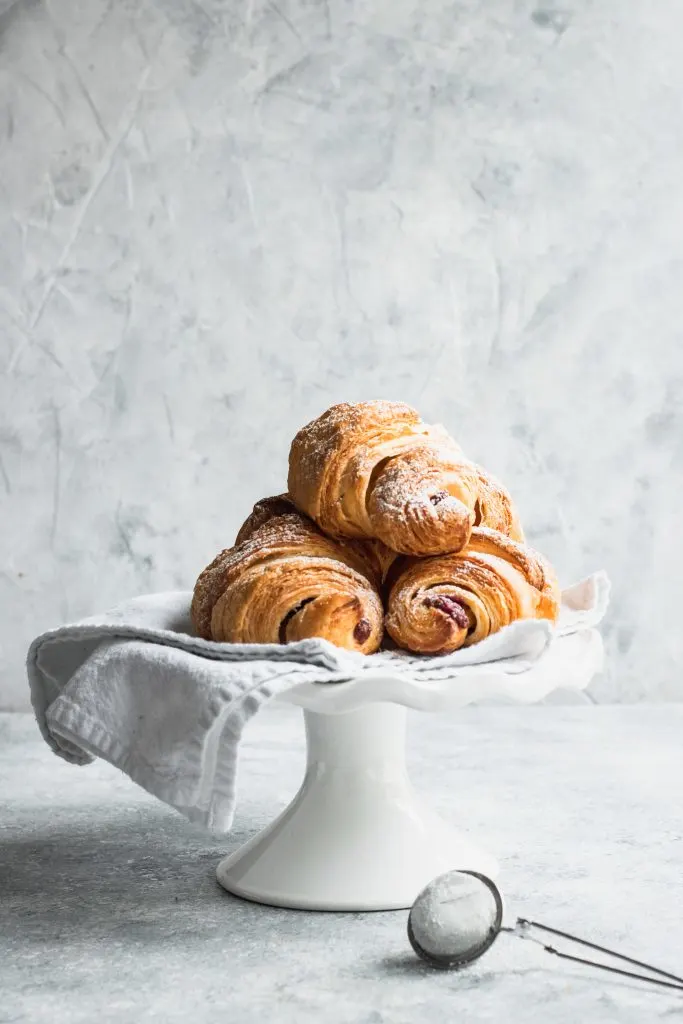 If you have any questions or comments about this recipe, please let me know in the comments below or by email at [email protected]. I love hearing from my readers!
Other Recipes You May Enjoy (Please Click on Caption):
This post contains affiliate links, which means that if you purchase from any links in the post Good Things Baking Co. will receive a small commission at no added cost to you. Thank you for being here, and helping support good recipe to make and eat!
Print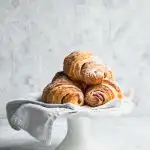 Raspberry Chocolate Croissants
---
Author:

Total Time:

1 hour 45 minutes active, 24 hours with rest times

Yield:

12

large croissants

1

x
Description
These Raspberry Chocolate Croissants are the classic, flaky French pastry with a tart and sweet raspberry filling and a strip of dark chocolate in the center.
---
1 1/2 cup

s (

12 oz

/339 g) whole milk

1/4 cup

(

50

g) white sugar

1 Tbsp

. +

1 tsp

. (

11

g) yeast

2 1/2 tsp

. (

15

g) sea salt

4 1/4 cup

s (

510

g) all-purpose flour, plus more for the butter block and rolling

1 cup

+ 6 Tbsp. (

310 gram

s) butter (see notes)
For the Filling:
1/2 oz

, (15g), heaping half cup or about

half of a

bag freeze dried raspberries

1/4 cup

(30 g) powdered sugar

4 Tbsp

. (28 g) almond flour

3 Tbsp

.(42 g) butter

4 oz

. (115 g) semi-sweet chocolate, chopped into small pieces
---
Instructions
For the Dough:
In the bowl of a stand mixer fitted with a dough hook, combine the flour, sugar, yeast, and salt. Whisk them together to combine, then pour in the milk while the mixer runs on slow. Continue to mix until all of the flour is incorporated, then turn it up to medium speed and mix until the dough is smooth and elastic, about 5 minutes.
Place the dough in a clean bowl, cover with a kitchen towel and let it rise for about an hour, or until it is slightly puffy and soft. Place it in the fridge for at least an hour, or overnight if you can.
For the Butter Block:
Prepare two pieces of parchment paper. Lay one on your work surface and sprinkle it generously with flour. Lay out your butter on the floured parchement– it should be cold but not completely firm, or it will just break up into chunks. If you're using sticks, cut them in half lengthwise and lay them side by side.
Sprinkle the top of the butter generously with flour, lay the other sheet of parchment on top, and gently bash it/roll out with a rolling until it is about 8″x8." Set it in the refrigerator until the dough is ready. You want it to be cold, but still pliable when folding it into the dough.
To Laminate the Dough:
On a floured surface, roll out the dough into a square about 10″x10″, then lay your butter block on top an angle, so that you have a diamond on top of a square. Pull the edges of the dough up and around the butter, pinching at the seams to seal it in.
Next, take your rolling pin and gently tap up and down along the dough, beginning to spread out the butter and pushing it out into a more rectangular shape. Gently roll the dough in one direction strokes (not going back and forth over it) until you have a rectangle measuring 18″x10″. Fold one third of the end of the rectangle over the center, then follow with the other end. The dough will be folded like a letter. Wrap it well in plastic wrap, then place it in the refrigerator for about 30 minutes.
Remove the rolling/folding/refrigerating process 3 times, then your dough is ready to shape.
For the Filling:
During the refrigeration stage, crush the freeze dried raspberries until they are powder and small bits. Mix with the butter, powdered sugar, and almond flour until it's thoroughly combined, then divide into 12 portions and roll into logs about 4″ long. Refrigerate until ready to use. Next, place a piece of parchment on a small baking tray. Melt down the chocolate down over a double boiler or in the microwave, stirring every ten seconds. Place it in a piping or disposable zippered bag and cut the tip or corner off. Pipe out 4″ batons of chocolate, then refrigerate until hard.
To Shape Traditional Croissants:
Cut the dough in half, and roll each half into a sheet of dough 12″x18″. Cut alternating triangles in the dough with 6″ wide bases. Cut a slit 1/2″ deep in the base of each one, then place about 1 Tbsp. of the raspberry filling and a bar of chocolate along the length of it. Roll each triangle up with one hand while holding and gently stretching the point of the triangle with the other hand.
Set each croissant on a parchment lined baking sheet, cover them with a clean plastic bag and allow them to rise for 1-2 hours, or until the dough is puffy and soft.
Brush the tops of the croissants with milk. Bake at 425F for 8-10 minutes, then reduce the heat to 375F and continue baking for another 15-20 minutes, or until the outsides are a deep golden brown.
Prep Time:

1 hour 15 minutes, divided

Cook Time:

25-30 minutes

Category:

Pastry

Method:

Baking

Cuisine:

French
Keywords: how to make croissants, raspberry chocolate croissants, croissant recipe