Raspberry Chocolate Donut Holes are an old fashioned style donut recipe stuffed and glazed with bits of raspberry and chocolate that make for a flavorful, unique indulgence.
At the end of December, I joined a gym for the first time in my life. It wasn't really a New Year's Resolution thing, more of a too cheap to pay full price and waiting for the New Year's deals thing. But the really awkward part was that, as part of signing up, I got a free consultation with a personal trainer. And that was…interesting.
Imagine Billy (name changed, of course), with his rather muscular, vegan self sitting there and asking me about my "goals." It went something like this:
"So what changes are you hoping to make? Are you trying to give up soda? Sweets, maybe?"
Me:"Um…I'm a dessert blogger."
Him:"Oh."
So yeah. I may not have said it, but I'm pretty sure that Billy figured out that my main motivation for being at the gym is donuts. And cookies. Oh! The class schedule is pretty good, and so is the fact that I'm paying less for a month of childcare than I pay a sitter for two hours. No more trying to fit in workouts with 22 pounds of one year old sitting on my stomach! I'm pretty much moving in.
But these Raspberry Chocolate Donuts Holes? They make all of the sweating, sore muscles, and getting up a little earlier worth it. Also, I swear my baby is getting easier to pick up, even after only two weeks. That's even better.
Also, you can make this dough ahead of time, and then it's ready for you to fry when you get home from the gym. Just sayin'. I really like that kind of efficiency, ya know?
Both of the glazes are based on recipes from Alton Brown. While I'm not a huge Food Network fan, the man know how to glaze some donuts. If you want a less sweet donut, you can skip the first glaze and just go straight for the chocolate. Because we all know that's the best part, right? What you can't skip is the extra bit of raspberry on top– it adds the perfect bit of crunch and tartness that really makes these aMAZing.
And aMAZing is always the goal, friends.
Print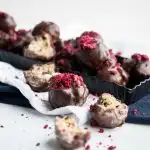 Raspberry Chocolate Donut Holes
---
Author:

Total Time:

1 1/2 hours

Yield:

about

30

donut holes

1

x
2 cups

+ 2 Tbsp. (

255 g

) all-purpose flour

1/4 cup

(

32 g

) cornstarch

1 tsp

. salt

2 1/4 tsp

. baking powder

1/4 tsp

. nutmeg

3 Tbsp

. butter, melted

2/3 cup

(

132 g

) white sugar

2

egg yolks

1 tsp

. vanilla extract

2/3 cup

sour cream
Heaping

1/4 cup

(

16 g

) freeze dried raspberries, crushed

1/4 cup

(

40 g

) bittersweet chocolate, chopped
For the Glaze:
1/4

whole milk

1 tsp

. vanilla extract

2 cups

powdered sugar
For the Chocolate Glaze:
1/4 cup

butter

3 Tbsp

. whole milk

1 tsp

. corn syrup

1 tsp

. vanilla extract

2 oz

. bittersweet chocolate, chopped

1 cup

powdered sugar
Freeze dried raspberries, lightly crushed
---
Instructions
In a medium sized mixing bowl, sift together the flour, baking powder, salt, and nutmeg.
In a different bowl, use a hand mixer to cream together the melted butter and sugar until crumbly. Add in the egg yolks and vanilla and beat until smooth. Next, mix in the sour cream until well combined.
Add a third of the flour mixture to the wet ingredients and mix on medium speed until combined. Repeat with the rest of the flour, and mix on medium-high until all of the flour has been absorbed and the dough is smooth. Mix in the crushed freeze dried raspberries and chocolate chunks.
Using a rubber spatula or large spoon, move the dough to a sheet of plastic wrap. Wrap it well and refrigerate for at least two hours, or up to 24.
To fry the donuts, pour about 2″ of canola or vegetable oil into a small pot. Heat it over medium high until it reaches a little over 350 degrees f, then turn it down to medium low to maintain the temperature.
Remove the dough from the fridge and cut into 1″ squares, then roll them between your palms to make them round. Place five or six of the dough balls on a slotted spoon and lower them into the oil. Allow them to fry for 1.5 to 2 minutes on each side, making sure that both sides have cooked. Remove them with the slotted spoons or tongs and place on a tray lined with paper towels.
For the Glaze:While the donuts are cooling, warm the milk and vanilla extract in a small pan. Sift in the 2 cups of powdered sugar and whisk until smooth. Remove the glaze from the heat and, using a fork, dip each donut hole and flip until they are all covered in the glaze. You may have to tip the pan and turn the donuts some to cover all of the sides. Let the glaze harden completely before dipping in the chocolate glaze.
For the Chocolate Glaze: In a small saucepan, heat the butter, milk, corn syrup, and vanilla until the butter has melted and the mixture is barely steaming. Add in the 2 oz. of bittersweet chocolate and stir until melted. Sift in the cup of powdered sugar and whisk in until it's completely combined and dissolved. Dip the top of each donut hole in the chocolate glaze, then turn it over. The glaze will drip down over the sides. Sprinkle with a few pieces of the freeze dried raspberries, and let the glaze harden at least 30 minutes.
Notes
These are best the day they're made. If you want to serve them for breakfast, I would recommend making the dough the day before and then rolling, frying, and glazing them just before serving.
When frying donuts, you need to keep the oil between 350° and 375°. If it drops below 350°, the donuts will take longer to fry completely and will absorb more oil, making them greasy and heavy. If it get much above 375°, the outside of the donut will likely burn before the inside is cooked, leaving you with doughy donuts.
This one is important, so pay close attention. BE VERY CAREFUL when working with hot oil. It will hurt if it touches you. It can burn you seriously. Always use caution and metal tools with long handles to keep your hands as far away as possible. I usually place the donut on a slotted metal spoon and then lower it into the oil to avoid dropping it and potentially splashing oil.
Heating the milk for the glaze makes it set much faster and develop a nice, shattering crust. It's not necessary, but it shortens the wait between you and eating.
Prep Time:

1 hour

Cook Time:

30 minutes

Category:

donuts

Method:

frying

Cuisine:

American