Looking for an easy, quick sweet treat? Edible Sugar Cookie Dough is the perfect quick fix! It's an eggless cookie dough, with flour that's heated to make it safe for eating, giving you a food safe, edible cookie dough!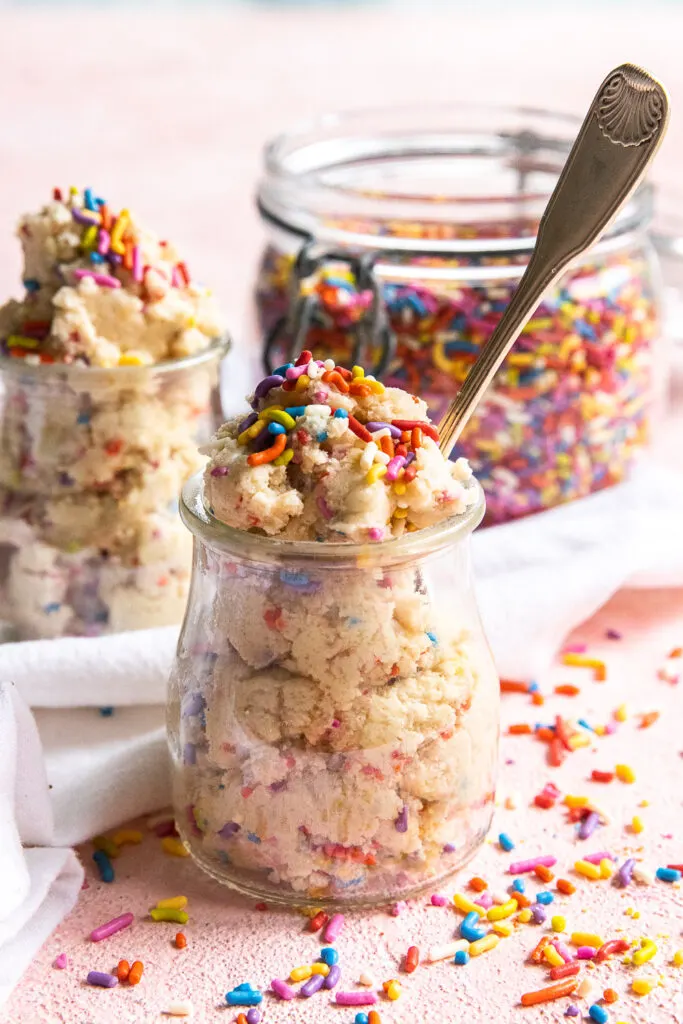 I've made Edible Chocolate Chip Cookie Dough before, and I stand by that recipe as one of my favorites. But edible sugar cookie dough? With SPRINKLES? Yes please, sign me up.
Let's be honest. The best part of making any kind of cookies is digging into the dough. But not so much fun when you know that the dough could possibly make you sick.
Enter edible sugar cookie dough, a completely safe, egg-free cookie dough that you can eat by the spoonful. It gives you peace of mind, especially when you're sharing with kids.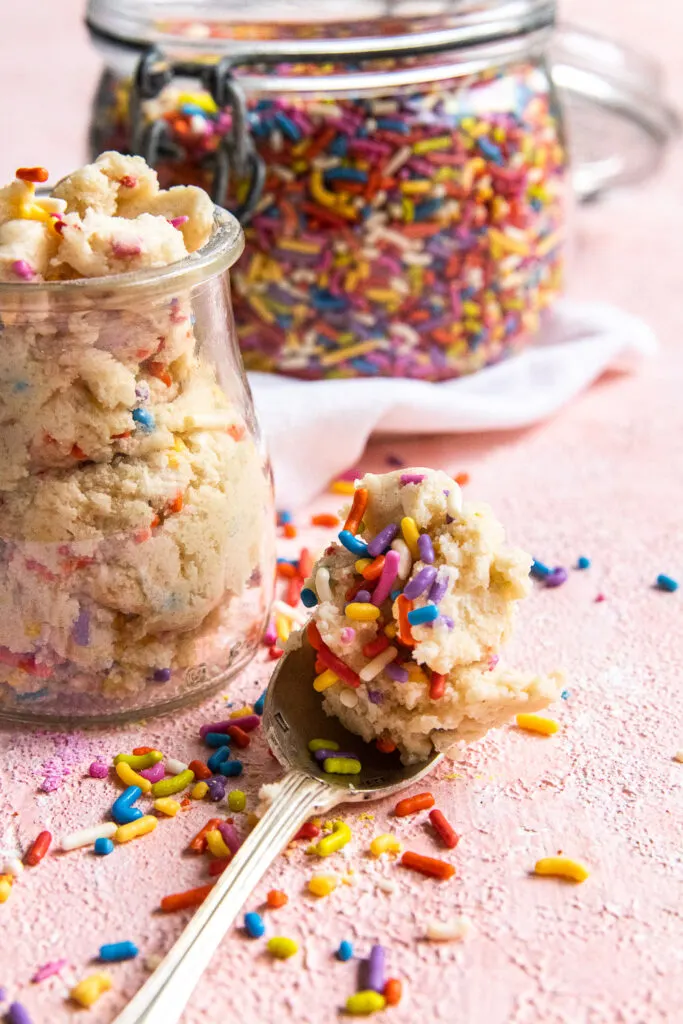 Things to Love About Edible Sugar Cookie Dough:
This recipe comes together in minutes, quite literally. And since you don't have to do any baking, you just mix up the cookie dough and dig in!

Edible cookie dough is a no bake dessert, so you don't have to turn on the oven at all! I'll teach you how to microwave the flour so that there's no baking at all.

The seven ingredients are all pantry staples that you have on hand. No running to the store to buy something fancy or hard to find.

Because the edible dough is egg-free and the flour is cooked to be safe to eat, you can eat it without worrying about getting sick.

You can get creative with mix-ins. Sprinkles, nut, or chocolate chips are all great options, but you could even add things like chopped bits of dried fruit or candy.
Ingredients List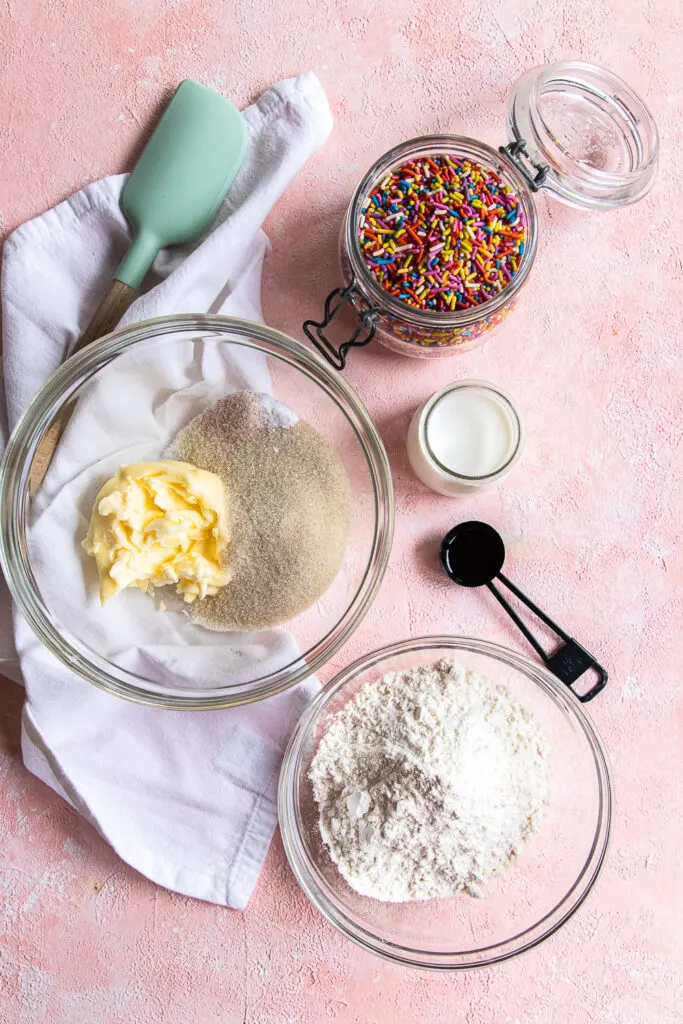 Salted Butter — you want this to be soft, but not melted. And if you only have unsalted butter on hand, you can definitely use it! Just add an extra pinch of salt to the dough to make up the difference.

White Sugar — This edible dough is made without brown sugar, and any granulated white sugar will work. I prefer to use organic cane sugar (I get it at Costco), but any variety will work!

Salt — It may seem unnecessary in a recipe like this, but salt rounds out the flavors in the dough and helps to balance the sweetness.

Baking Soda — I find that baking soda is the key to making your edible cookie dough taste like the real deal. It's completely safe to eat in small amounts, and adds a depth of flavor to the dough that most recipes for edible cookie dough don't have.

Vanilla Extract — This just makes the dough taste better, because vanilla is magic.

All-purpose Flour — Flour should be cooked before eating, since it can contain harmful bacteria like e.coli or salmonella. There's a section below on how to cook it to make it safe to eat.

3-4 Tablespoons milk — Milk is the liquid that replaces the eggs in edible cookie dough. Add this, a little at a time, until your cookie dough is the consistency you want. Because it has as lower viscosity (is runnier) than eggs, you don't need as much milk by volume.

Sprinkles — These are optional, but also add an element of fun to the cookie dough. I like these sprinkles that are free of artificial dye, but any kind you like will work well.
Mixing the Edible Sugar Cookie Dough
In a mixing bowl, cream the butter, sugar, baking soda, and salt together for 2-3 minutes with an electric hand mixer. You want the sugar to have dissolved completely, so if you rub a tiny pinch of butter between your fingers it should be smooth and not grainy.
The color will also change, becoming visibly lighter and smoother.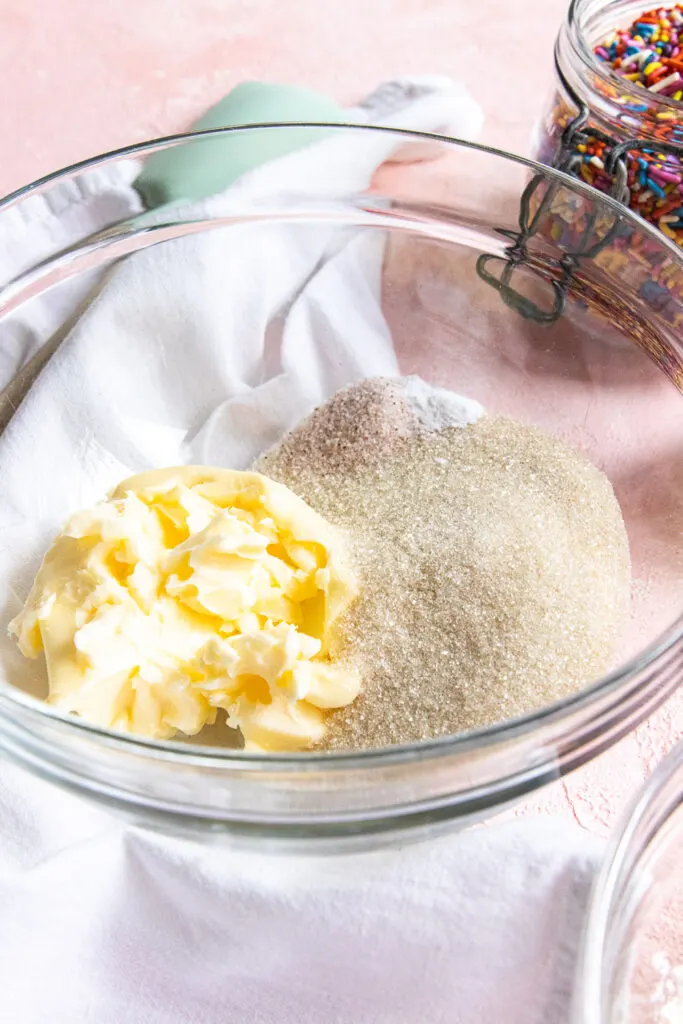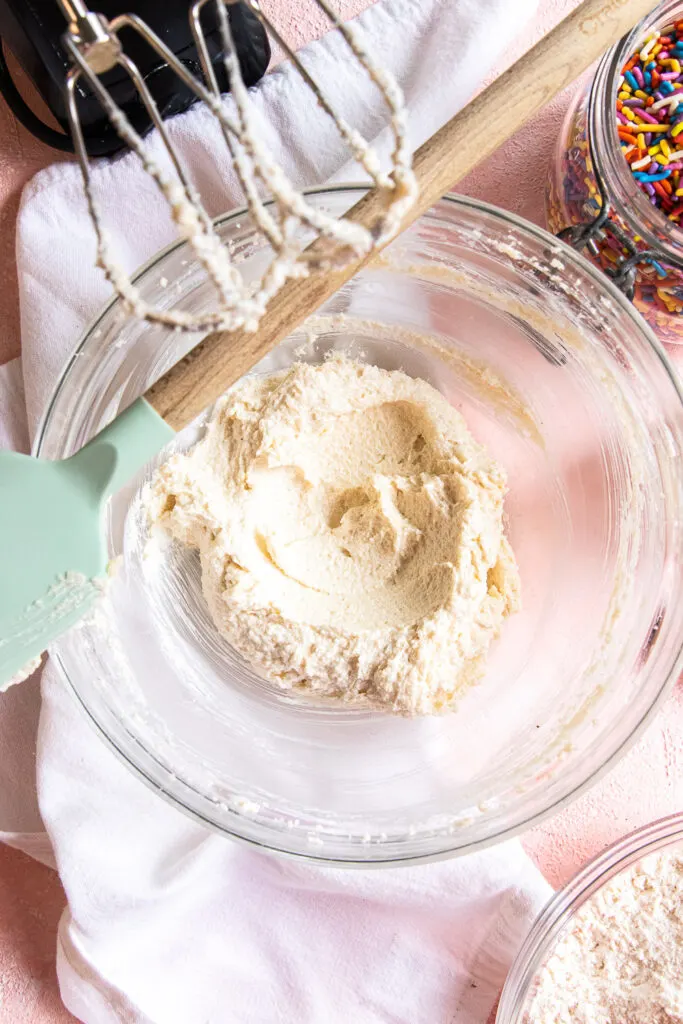 Once the sugar and butter are creamed together, add in the vanilla extract and 1 tablespoon of milk. Mix them in until well combined.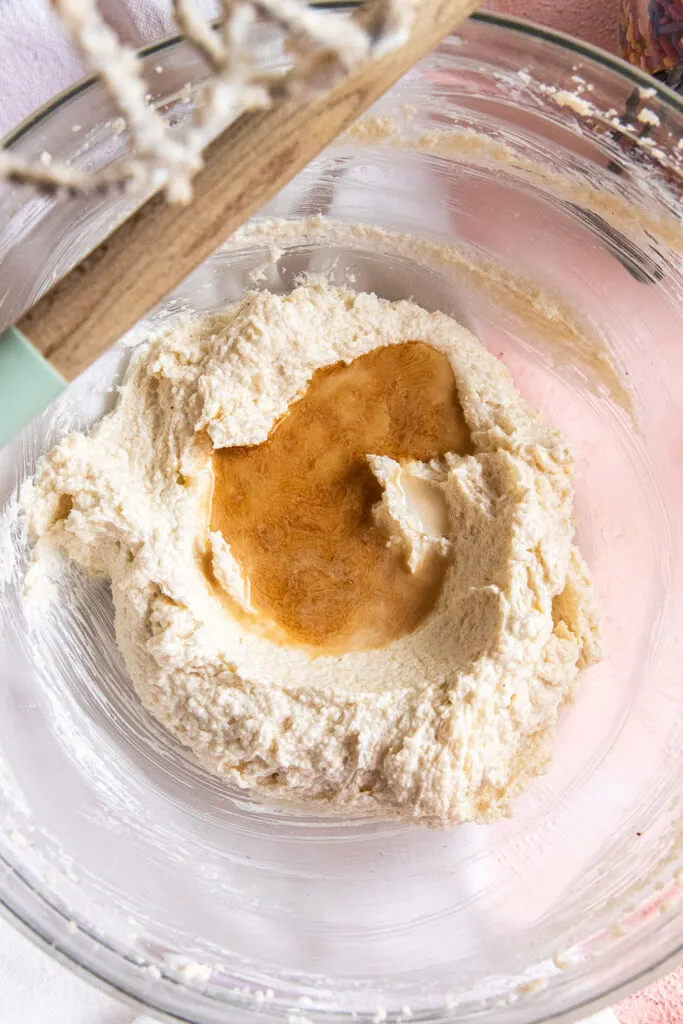 Add about half of the flour ( it doesn't have to be an exact amount) to the bowl and mix it in. Mix in a couple of tablespoons of milk, then the rest of the flour. Add more milk, a teaspoon at a time, until your dough is a good consistency. You can tweak it to be stiffer or thinner, depending on how you like it. Just add the milk carefully, as a little can go a long way.
Note: As it chills, the cookie dough becomes more stiff and dry. You may want to err on the side of a softer, wetter dough so that it won't be dry and crumbly after chilling.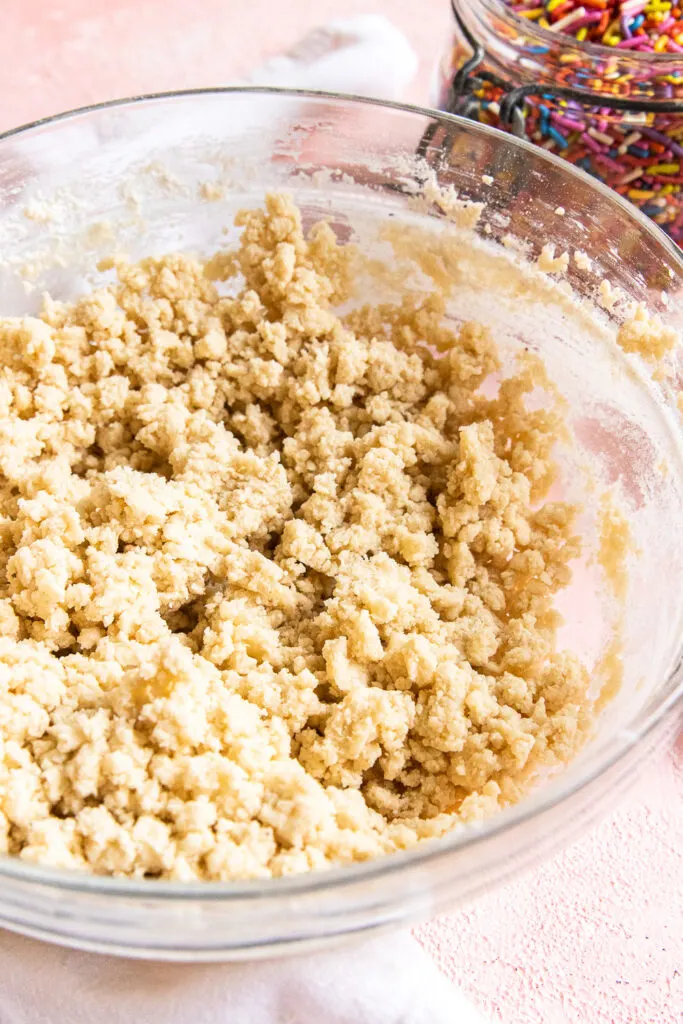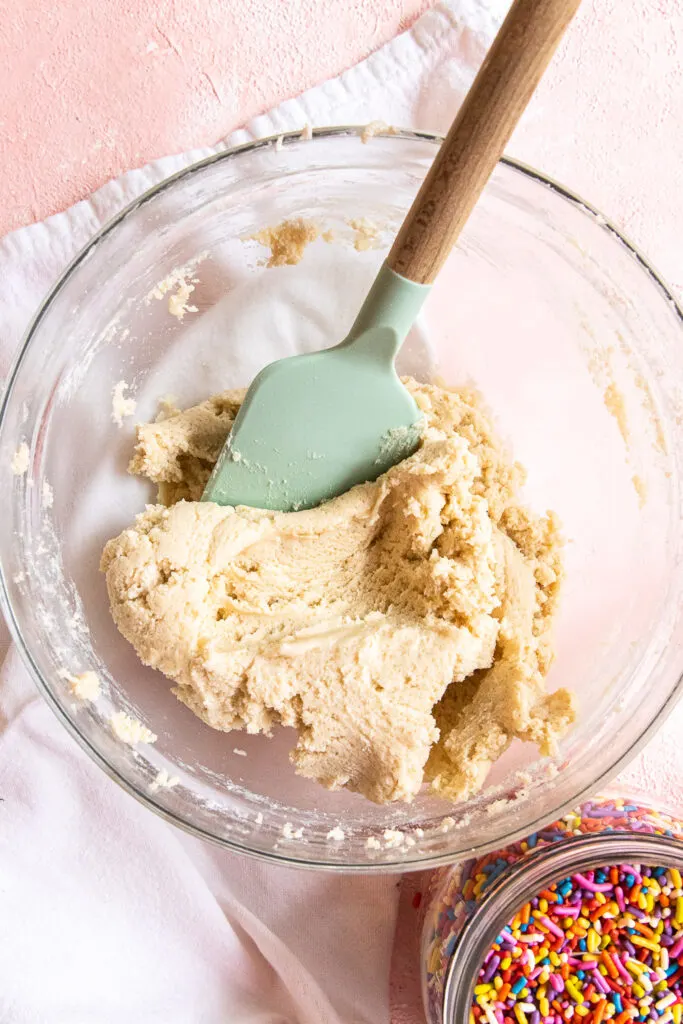 If adding the sprinkles, fold them into the dough by hand. An electric mixer can cause them to crumble and disintegrate in the dough.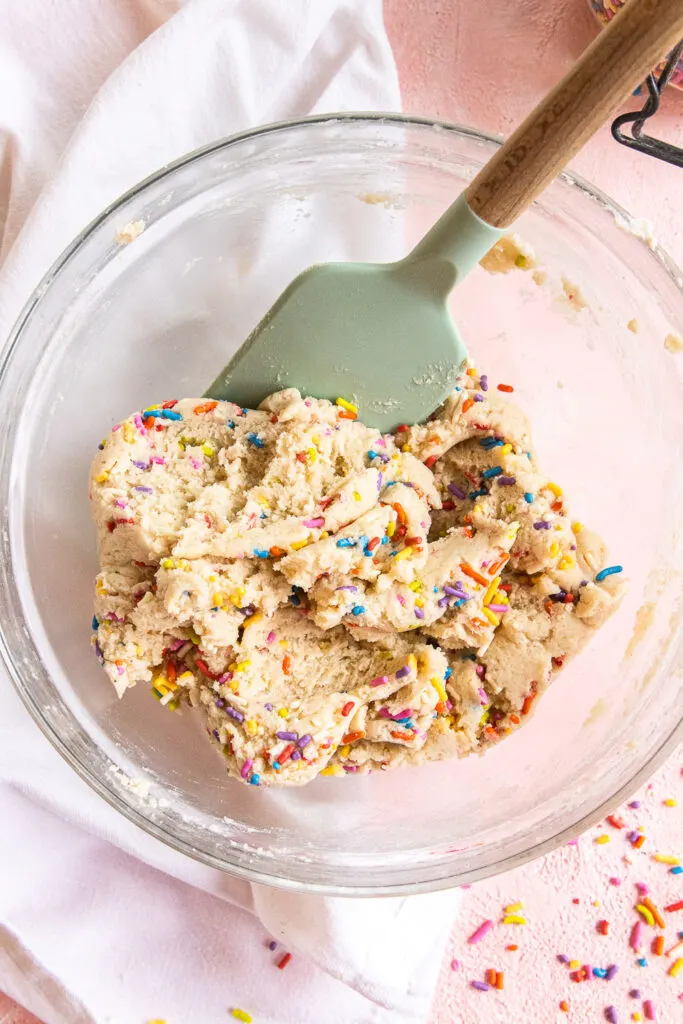 Refrigerate the edible cookie dough until you're ready to eat it. It will get thicker and stiffer as it is chilled.
Heating Raw Flour to Make it Edible
Did you know that raw flour is considered unsafe to eat? We all know that eggs can carry salmonella, but flour can have the same bacteria, as well as other bacteria, like strains of e. coli.
Cooking the flour and heating it to 160°F kills those bacteria, making the flour safe to consume. Here are two ways to heat the flour:
Cooking the flour in the oven
To heat treat the all-purpose flour spread it out on a cookie sheet with edges. Bake in an oven preheated to 350° for 5-7 minutes, or until the temperature registers 160°F on an instant-read thermometer. You may need to scrape the flour into a pile with a spatula to get an accurate temperature reading.
Allow the flour to cool, then it's ready to add to your cookie dough!
Cooking the flour in the microwave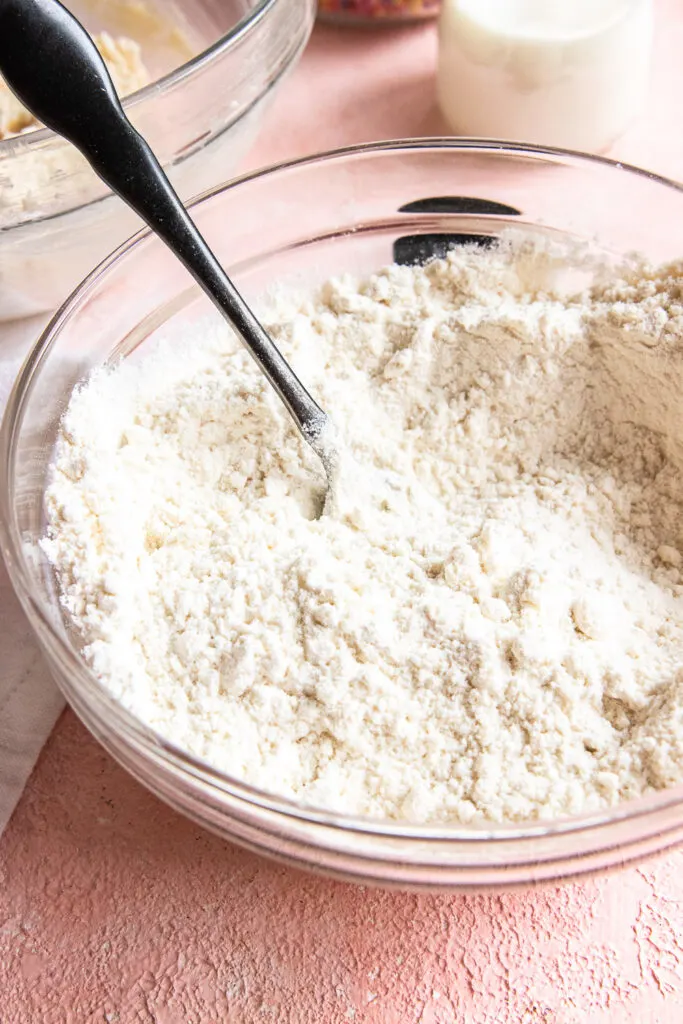 Place the flour in a heat proof bowl, something like glass or ceramic. Heat the flour at 30 second intervals 3 separate times, stirring after each interval, for a total of 90 seconds.
Let the flour cool completely, then it's ready to use in your cookie dough.
A Note on Cooking Flour
While both options will make your flour safe to eat, I prefer the oven method. I found that microwaving the flour made it lumpy and a bit mushy.
However, if you want to avoid turning on your oven, microwaving it will do the job well! Just make sure to stir it every 20-30 seconds.
How to Store Edible Sugar Cookie Dough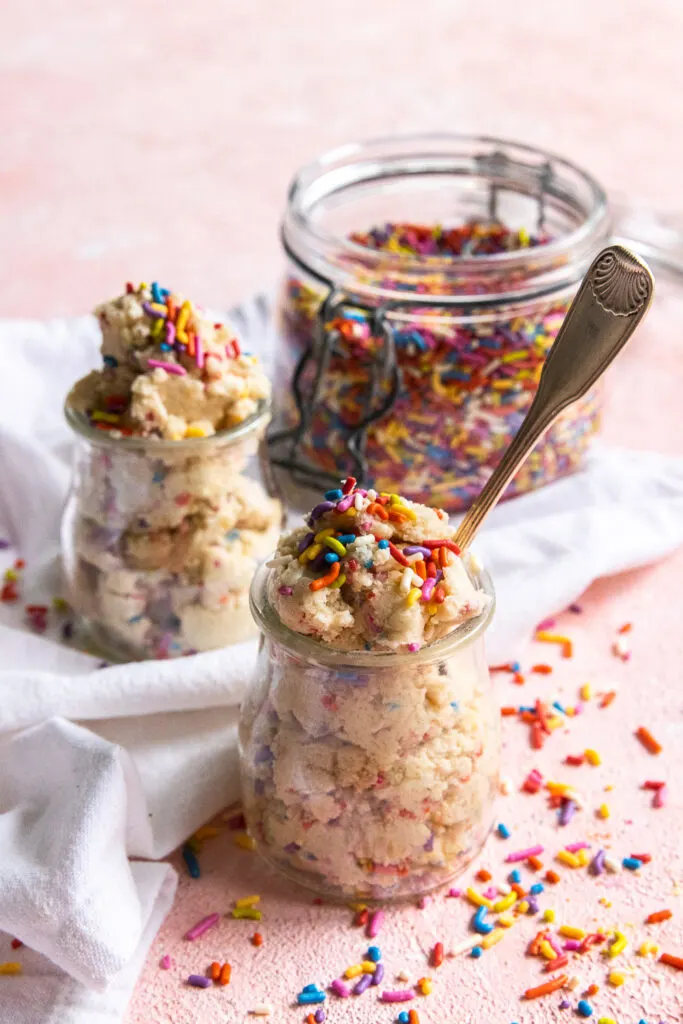 After mixing the cookie dough, store it in an airtight container or bag in the refrigerator. It'll keep for about 5 days in the fridge.
To serve the cookie dough, simply scoop it out into a small bowl, just like you would ice cream. Add a few extra sprinkles on top if you'd like, and dig in!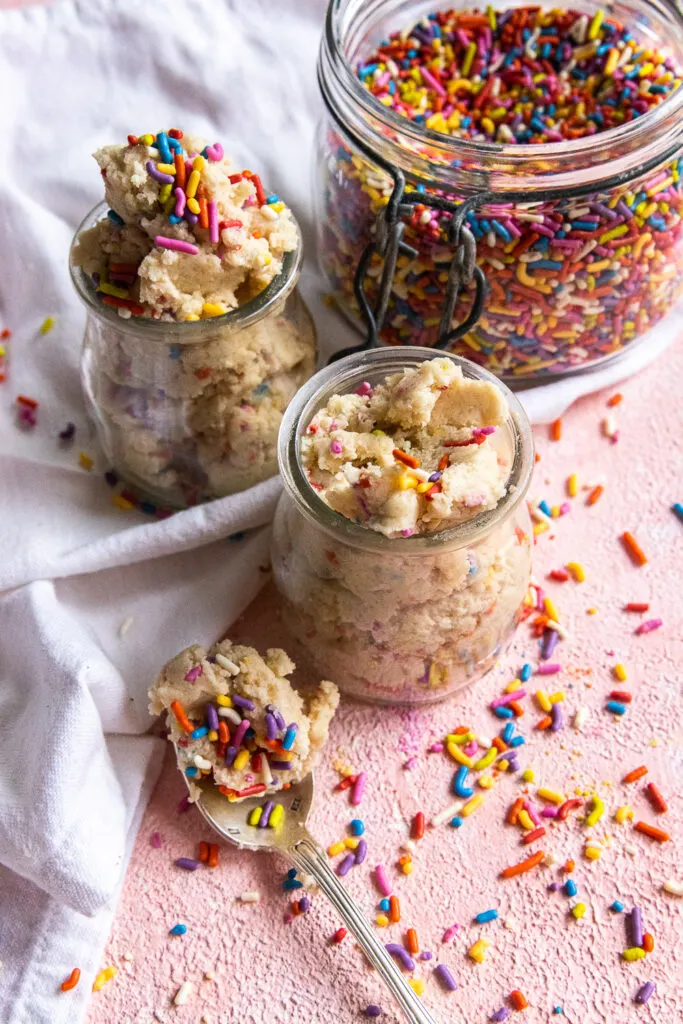 You can eat the sugar cookie dough by itself, or you can press it into a pan. Chill and then cut it into bars for a fudge-like treat.
It's also a great topping for ice cream!
Other Recipes You May Enjoy
Print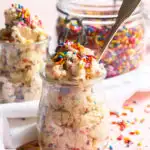 Edible Sugar Cookie Dough
---
Author:

Total Time:

10 minutes

Yield:

2 1/2 cups

1

x
1/2 cup

(113 grams) salted butter, softened

2/3 cup

(

132 grams

) white sugar

1/2 teaspoon

salt
A pinch of baking soda

1 teaspoons

vanilla extract

1 1/2 cups

(

203 grams

) all-purpose flour

3

–

4

Tablespoons milk
Sprinkles (optional)
---
Prep Time:

10 minutes

Category:

Dessert

Method:

No-Bake