Homemade peanut milk and chocolate sauce makes for a allergen friendly, delicious treat in a glass! It's basically like drinking a Reese's Peanut Butter cup.
The coupon codes contained in this post are affiliate links, which means that I will receive a small compensation if you use them to make a purchase with no additional cost to you. Thank you for supporting me and the companies I love!
True confession: I'm a bit of a candy snob.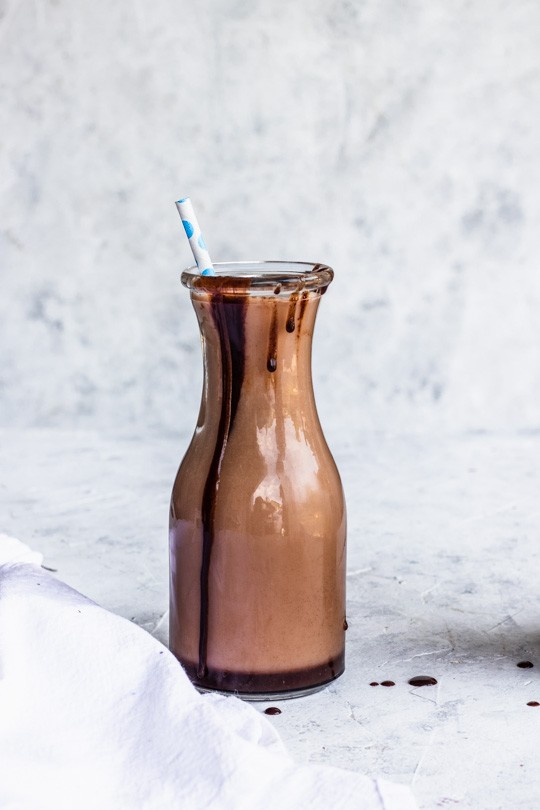 I mean, it's nearly May and I still have Christmas candy in my cupboard because it's cheap chocolate and just not worth the calories. And don't get me started on hard or gummies. I wouldn't be sad if I never saw a Twizzler, Sour Patch Kid, or Jolly Rancher again. I know, I'm a ridiculous human.
However, there are three exceptions to my snobbery. I'm only human, after all–even I can't be obnoxious all the time. They are Twix, York Peppermint Patties, and, of course, Reese's. Because can anyone say no to peanut butter and chocolate? I have yet to meet that human, unless there are allergies involved. Although I still avoid even those candy bars, mostly because of all of the unpronounceable ingredients, and because they seem to make my self-control completely dissipate.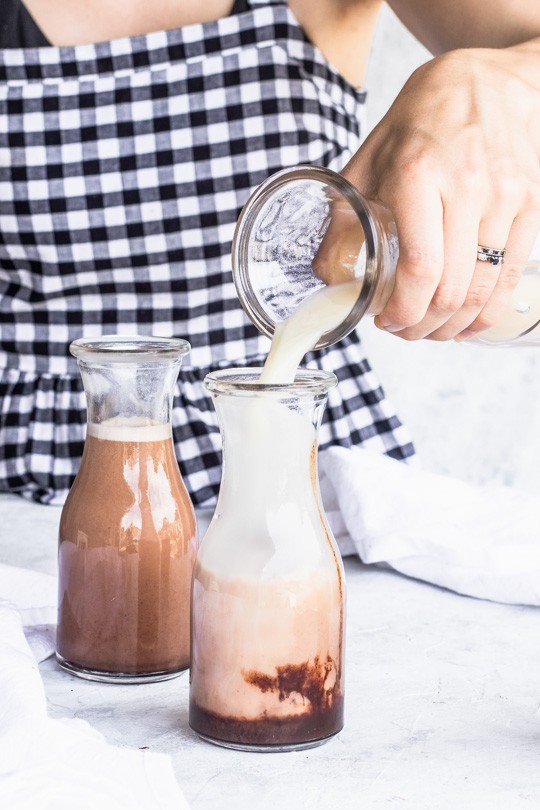 The last few years have seen a rise in the popularity of nut milks, but peanut milk doesn't seem to get much spotlight. In fact, I have yet to see it in my local supermarkets, which means that you'll need to make it yourself. Fortunately for all of us, it's quite simple and it's made even simpler with a nutbag. I like the Bigger and Better Nut Bag from Ellie's Best, and you can get 10% off of your order from them by using the code goodthings.
Making Peanut Milk
The process is similar to any other nut milk. Soak your peanuts for at least two hous or overnight, then process in a blender or food processor until you have a smooth, creamy milk. Next, strain the milk through a nut bag and into a pitcher or bowl to remove the ground up nuts. And that's it! I like to add a bit of salt to mine while grinding if I'm going to be making it into chocolate milk. The salt complements the flavors so well!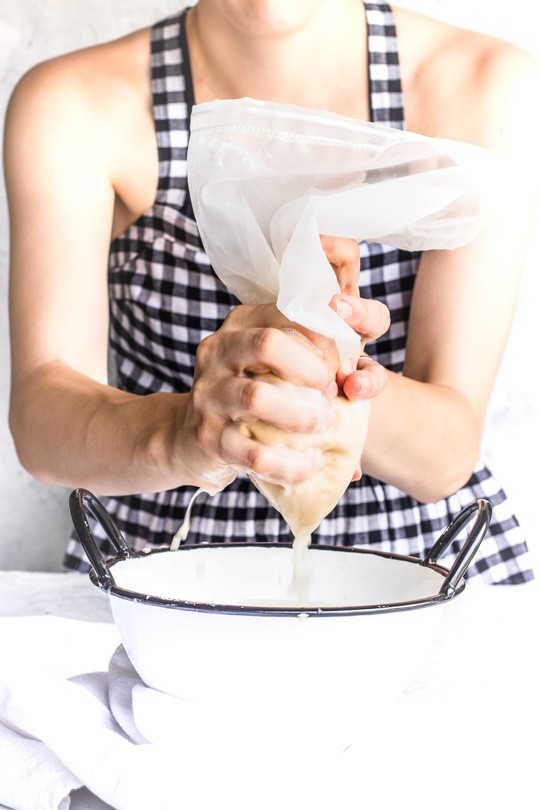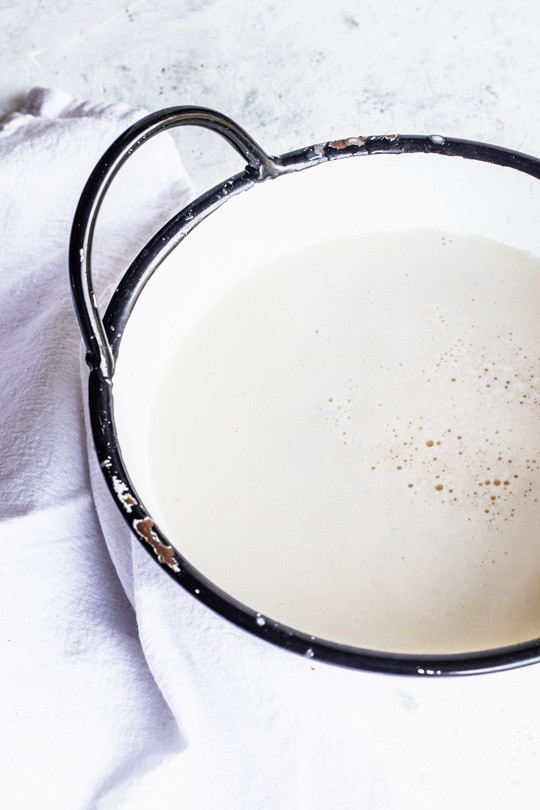 Chocolate Sauce
This is Julia Child's recipe, because she's really the best, right? But if you don't have time for making your own, just grab a bottle from the grocery store! No shame in that game, I promise. Though I will say that I think homemade is always better. See above for my obnoxious snob confessions. Heh.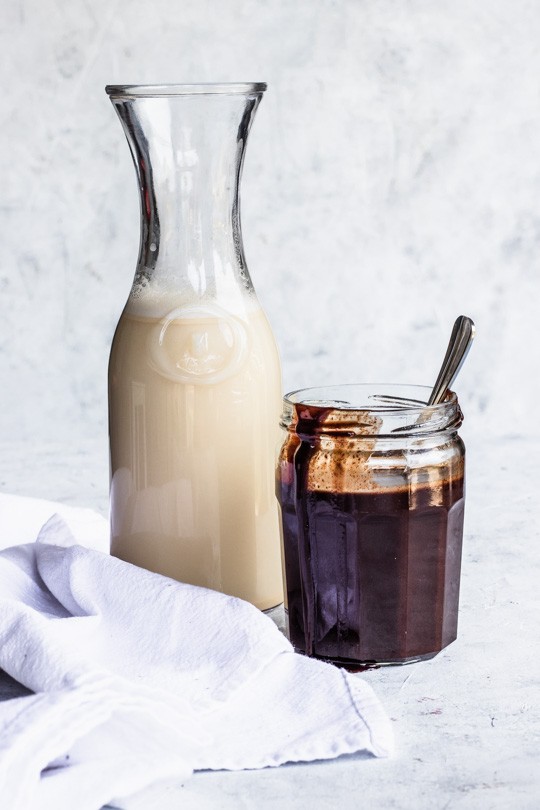 Print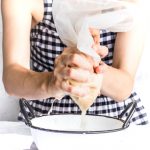 How to Make Peanut Milk
---
Description
It's like drinking peanut butter, in the best way possible! This healthy nut milk is delicious and refreshing.
---
Scale
Ingredients
4 cup

s filtered water

1 cup

dry-roasted peanuts
a pinch of sea salt, optional

1

–

2

Tbsp. white sugar, optional
---
Instructions
Place the peanuts in the container of a blender or food processor, the pour the filtered water over them. Allow them to soak for at least four hours, or over night in the refrigerator. 
After soaking, add salt and sugar to the water and peanuts if using, then process for 1-2 minutes, or until they have become a creamy, milky consistency.
Place a nut bag over a bowl or pitcher and pour the nut milk into it. Gently knead the bag to strain out the milk, then discard the remaining peanut paste. 
Store in an airtight container in the refrigerator for up to a month. Some settling is natural, so shake the milk before using.
---
Print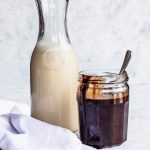 Chocolate Sauce
---
Description
This classic fudge sauce can be served hot or cold, and used for ice cream, fruit, or adding to milk!
---
Scale
Ingredients
2/3 cup

light corn syrup

2/3 cup

water

1/2 cup

unsweetened cocoa powder

1 1/2 cup

s sugar

2 ounce

s unsweetened baking chocolate, chopped

6 tablespoon

s unsalted butter

1/2 cup

heavy cream
a "big pinch" of salt

2 teaspoon

s vanilla extract
---
Instructions
Boil the corn syrup in a small saucepan for a minute or two, until it thickens and forms heavy strands as you drop it off a spoon. Remove from heat and stir in the water.
Sieve together the cocoa and sugar, then whisk them into the corn syrup and water. Simmer, stirring, for a few minutes, until the sugar has dissolved completely. Make sure the sugar is completely dissolved, to avoid the sauce crystallizing later.
Add the baking chocolate and simmer, stirring, until melted. Blend in the butter and heavy cream and bring to a full boil for 15 seconds.
Remove from heat, and blend in the salt and vanilla. Let it cool for about 10-15 minutes; until it is warm but not hot. Serve over ice cream or as a dip for fruit.
Makes about 2 1/2 cups.
---
Notes
This will keep very well in the refrigerator for up to a month. You can use it cold, or heat it up for hot fudge