A French patisserie classic, the best Almond Croissants are simple and delicious, a perfect breakfast or brunch pastry!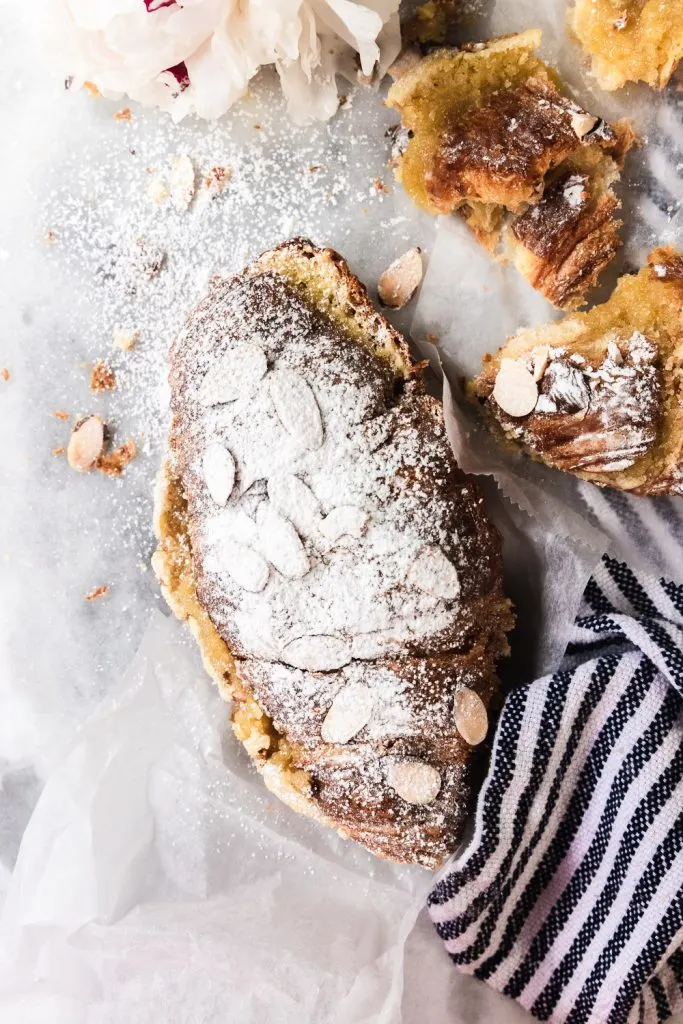 French Almond Croissants are a classic pastry, created to use up day old, stale croissants. You'll often see them gracing the windows of bakeries in France, tucked in next to the classic croissant aux beurre and the pain au chocolat. They're distinctive for their topping of sliced almond and dusting of powdered sugar.
Luckily, homemade almond croissants arealso very simple to make and come together quickly.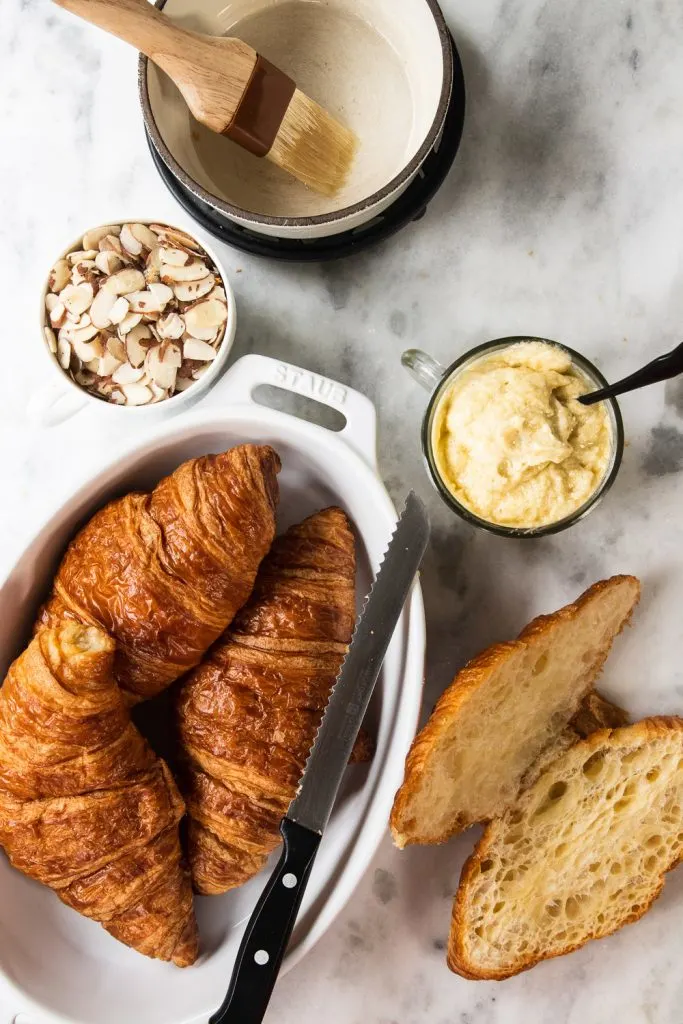 The best almond croissants are made of a few different ingredients and elements that can be purchased or prepared ahead of time. You'll need:
Day-old Croissants: You want your croissants to be slightly dry and stale. This helps them absorb the filling while they're baking, making the centers gooey and sweet with a crisp, flaky exterior. If you want to make an almond croissant recipe from scratch, I've got

a croissant recipe and tutorial for you

! However, purchasing croissants from a bakery works well too-these actually came from Costco.
Almond Pastry Cream: Almond croissants filling is a simple mixture of butter, almond flour, sugar, eggs, and almond extract, and it's delicious! It comes together in just a few minutes, and you can make it up to a week before using it.
Sugar Syrup: Simply simmer water and sugar together for a couple of minutes to make the syrup for topping the croissants. You can also add 2 Tbsp. of dark rum if you'd like, but it's not necessary.
Sliced Almonds: Sprinkle them over the top of the croissants. They add a lovely toasted almond flavor and a bit of crunch.
Powdered sugar: This is dusted over the croissants after baking. It adds a nice touch of sweetness, and it's just so pretty!
How to Make the Best Almond Croissants
These are basic directions for assembling and baking your almond croissants. Continue reading the post for instructions on each part of the croissants.
First, make your sugar syrup and let it cool to room temperature.
Next, mix up the almond pastry cream.
Preheat the oven to 350°F and line two baking sheets with parchment paper.
Slice your croissants in half lengthwise, as if you're going to make a sandwich with them.
Spread 2-4 tablespoons of almond cream on the bottom half of each croissant in an even layer. The amount of cream will vary based on the size of your croissants. You don't want to have too much cream, but make sure to spread it generously so that no croissant is showing through it.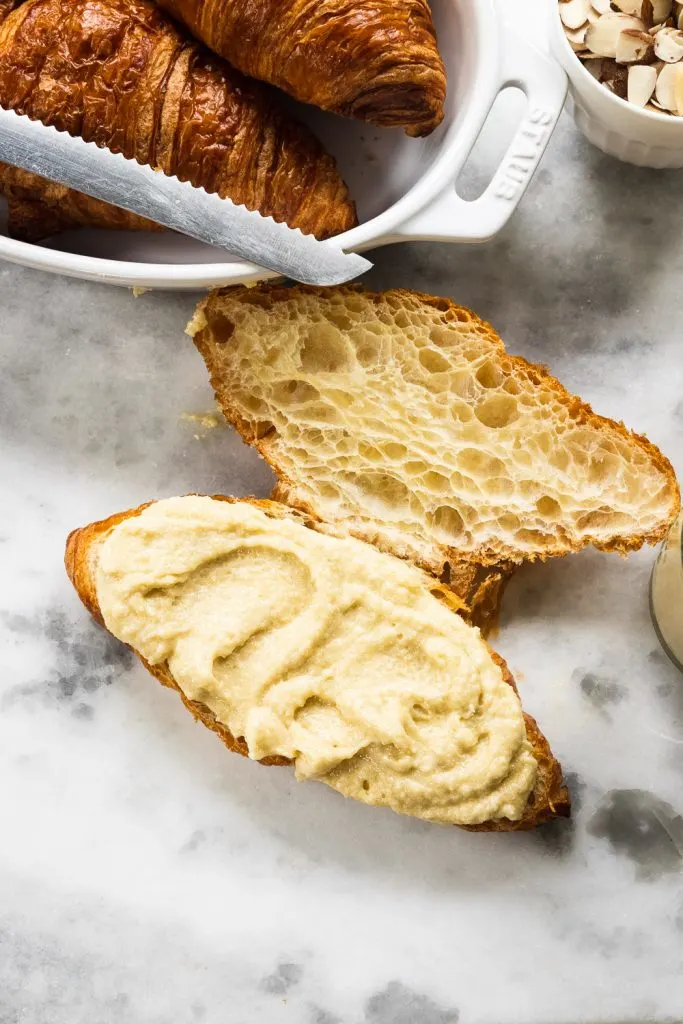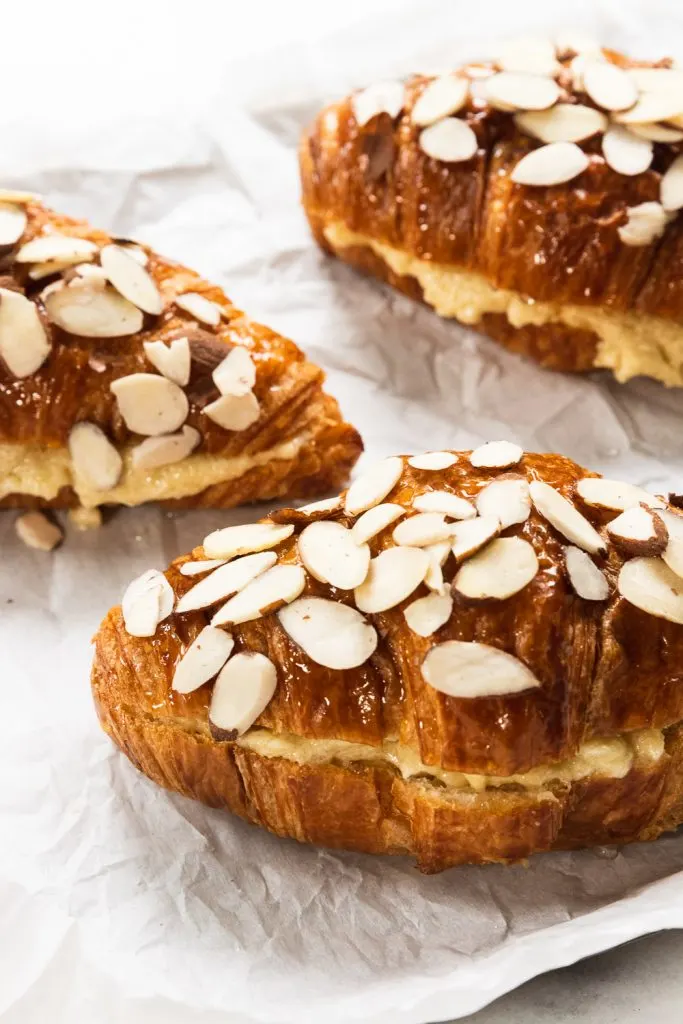 Fold the croissants shut and place them on a parchment lined baking sheet.
With a pastry brush, generously brush the sugar syrup onto the tops of the croissants.
Sprinkle sliced almonds on each of the croissants, gently pressing to help them stick to the syrup on top.
Bake the almond croissants at 350°F for 18-20 minutes. The almonds on top should look lightly toasted, and the filling should looked baked around the edges.
Remove the croissants from the oven and dust them generously with powder sugar.
Almond croissants are best eaten the day they are made and when slightly warm.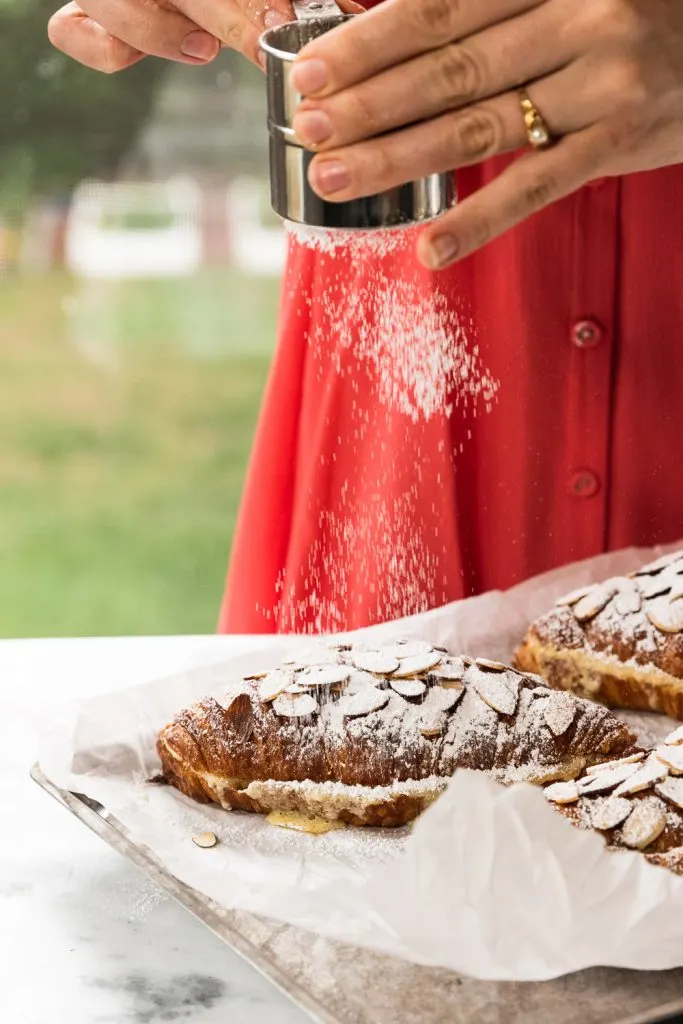 For the Almond Croissants Filling:
For a full post and tutorial for the almond pastry cream, you can click here. However, here are the basic directions for making the almond croissant filling:
Begin by placing 11 Tbsp. (or 155 g) of soft, unsalted butter in the bowl of a stand mixer.
Add in the 3/4 cups (150 g) white sugar to the butter and beat with the paddle attachment on medium-low until the butter and sugar are light and fluffy, about 3-4 minutes.
Add 1 1/2 cups (165 g) fine almond flour to the butter and sugar mixture and beat until combined
Next, mix in the eggs and almond extract (if using) and beat until it is a cohesive, smooth mixture.
The almond paste is now ready to use in a variety of tarts and pastries.
Store the almond pastry cream in an airtight container in the refrigerator for up to a week.
Is Almond Cream the same thing as Frangipane?
Frangipane is very similar to almond pastry cream, and some recipes use the two names interchangeably. However, according to BienManger.com, authentic frangipane is made by mixing almond pastry cream with crème pâtissière, or traditional custard-based pastry cream. So while the recipes are related, they are also distinctly different.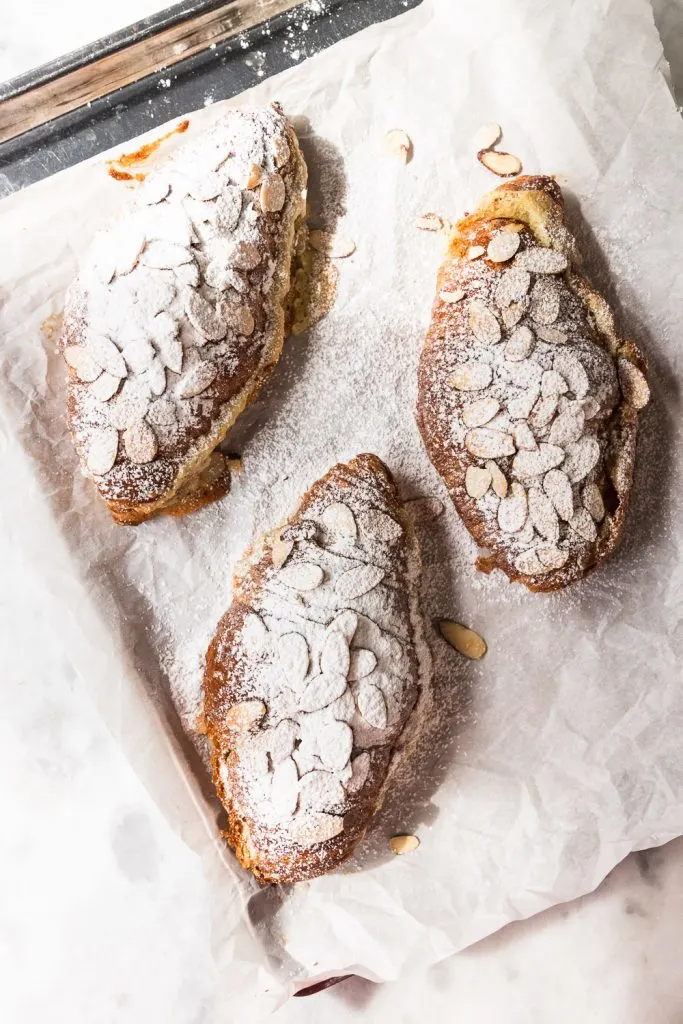 For the Sugar Syrup:
This is the syrup you'll be brushing over the tops of the filled almond croissants before baking. Because these are twice baked croissants, it prevents the tops from drying out or burning, as well as giving the sliced almonds something to stick to.
Combine 2 Tbsp. of white sugar and 1/4 cup of water in a small saucepan. Stir them while bringing the mix to a simmer, and let it cook for 1-2 minutes.
You can also add 2 Tbsp. of dark rum with the sugar and water, but it's not required. The alcohol will cook off during simmering and baking, leaving only the flavor.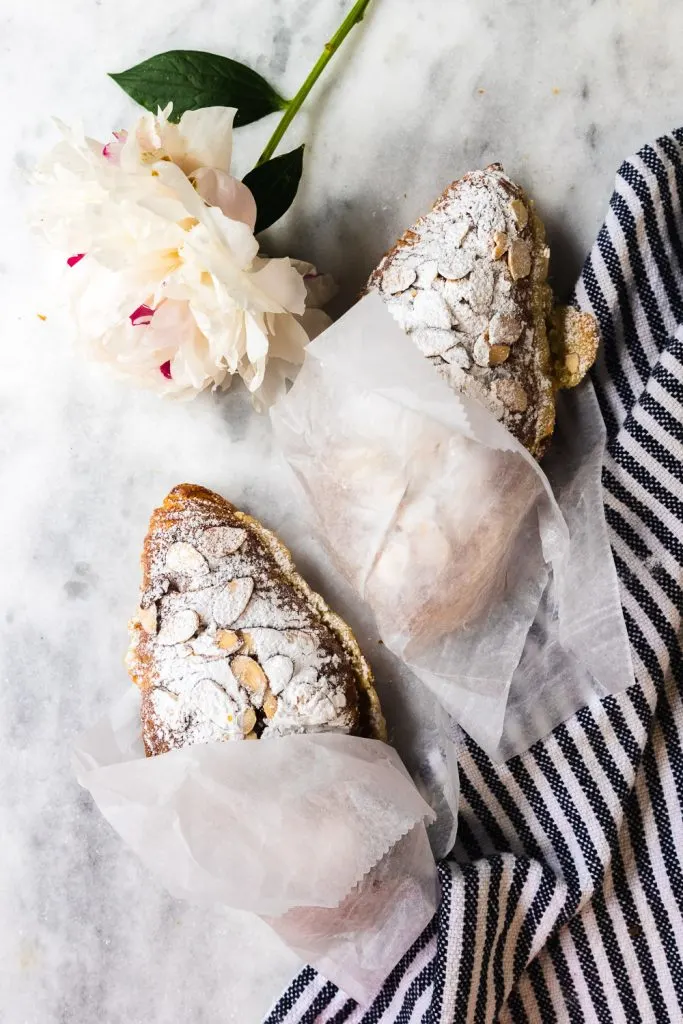 Recipe Notes and Tips
You can brush some sugar syrup over the top of the inside of your croissants if they are dry.
If you have leftover almond croissants, you can put them in the microwave for 10-12 seconds to make them warm and soft again.
The amount of pastry cream you use will vary based on the size of your croissants. See the section about almond pastry cream for recommendations on how much almond croissant filling you'll need.
Print
Description
A French pastry classic, this Almond Croissant recipe is simple and delicious, a perfect breakfast or brunch pastry!
---
For the Almond Pastry Cream:
1 1/2 cup

(

165 g

) almond flour

11 Tbsp

. (

155 g

) unsalted butter

3/4 cups

(

150 g

) white sugar

3

large eggs (150 g)

1 tsp

. vanilla or almond extract (optional)
For the Syrup:
1/2 cup

water

1/4 cup

sugar

1/4 cup

dark rum (optional)
Toppings:
Sliced Almonds
Powdered sugar
---
Instructions
For the Almond Pastry Cream:

In the bowl of a stand mixer fitted with the paddle attachment, beat the soft butter and sugar together until they are well combined and fluffy, about 3-4 minutes.

Add in the almond flour and beat until it's completely combined. Next, mix in the eggs and almond extract, if using, and beat until it is a cohesive, smooth mixture.

Store the almond pastry cream in the refrigerator in an airtight container. It will keep for up to a week before using.