Light and fluffy, this bread packs a flavorful punch! A traditional focaccia with sundried tomatoes, artichoke hearts, caramelized onions, and parmesan added.
When most people talk about baking, they're generally talking about desserts. Something sweet and comforting, like brownies or cookies. And I absolutely love working on those kinds of recipes, creating treats that bring people back to their favorite memories and times in the kitchen.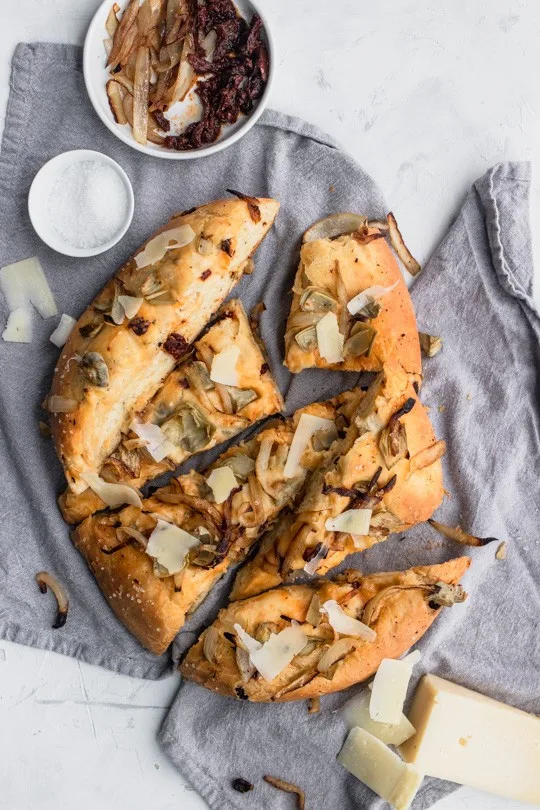 But lately, I've been enjoying the challenge of savory baking. My heart will always belong to chocolate and butter, but it's so satisfying to make something that can be enjoyed anytime and sustains my family on a regular basis, not just when it's time for dessert. Recipes like this Sundried Tomato and Artichoke Focaccia have been making it on our menu regularly. And I'm really enjoying digging into different flavors and techniques for savory things too.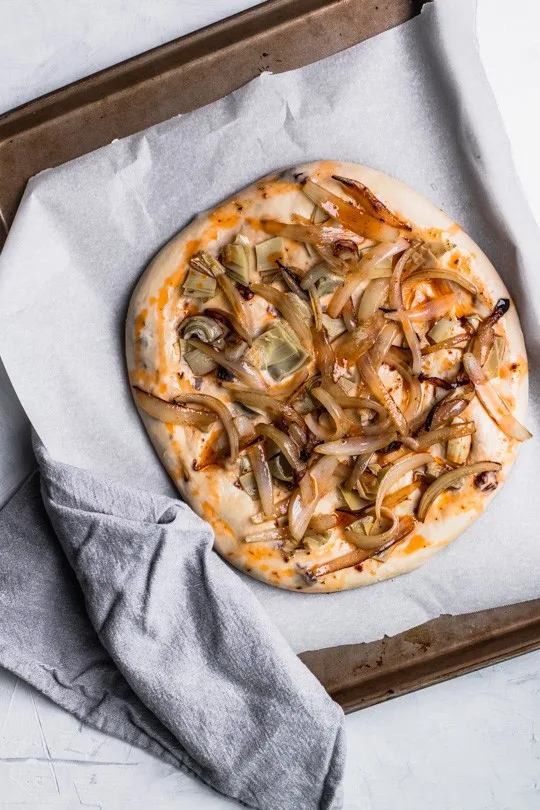 The beauty of focaccia is it's simplicity. There's an easy yeast dough, made tender and soft with olive oil. And because you bake it flat, you don't have to fuss with shaping loaves. You'll fold some sun dried tomatoes into the dough for flavor, but the rest of the additions can just be sprinkled over the top. It almost becomes like a pizza with the toppings piled on, but the main star here is still the bread. Soft, pillowy, and tender.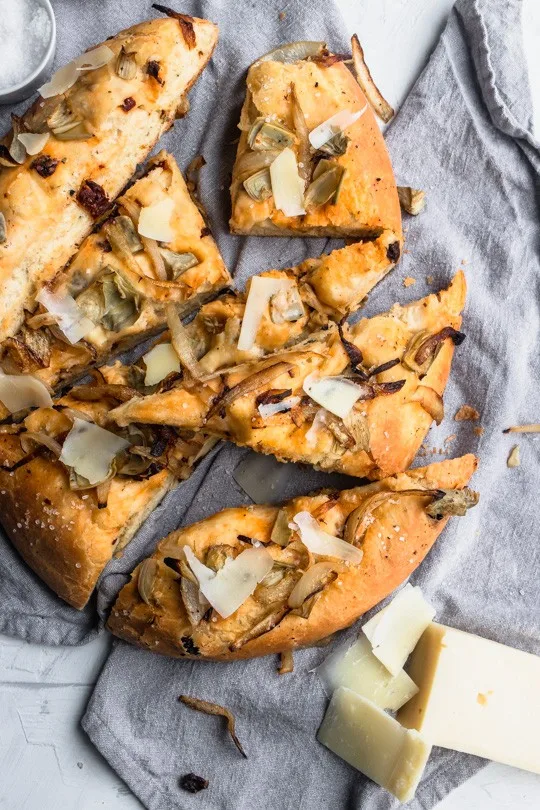 One of my favorite parts of a focaccia is the dimples all over the top that catch and hold bits of oil and salt. And the best part? You get to poke the dough with your fingers to make them. It's entertaining at the very least, and possibly a bit therapeutic. And it's really the best way to get your carb fix at dinner time. All of the above statements are scientifically proven, of course. Would I steer you wrong?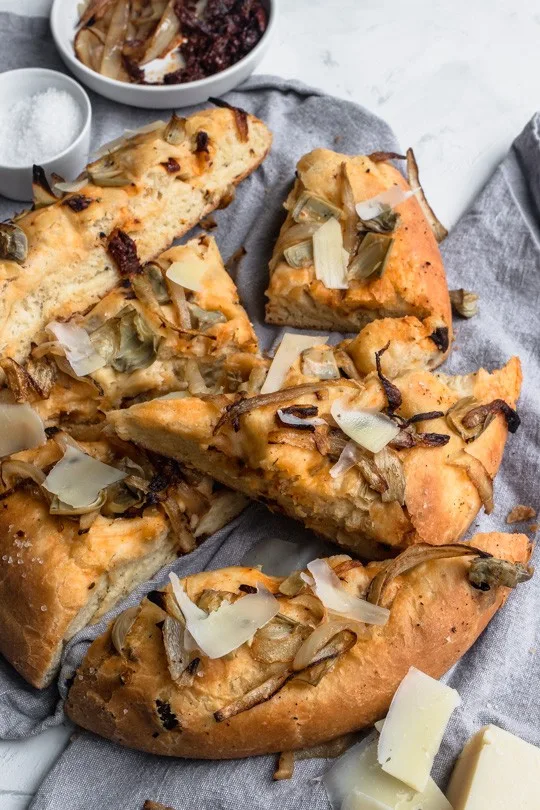 And the next pro tip will blow. Your. Mind. For real. The day after you've made the focaccia, and there's just a piece or two left on your counter, you're going to want to slice it in half, butter the soft insides, and turn it inside-out, throw some thick slices of cheddar in there and make yourself a grilled cheese. Or ten. All depends on how much you have leftover and/or how much self-control you possess.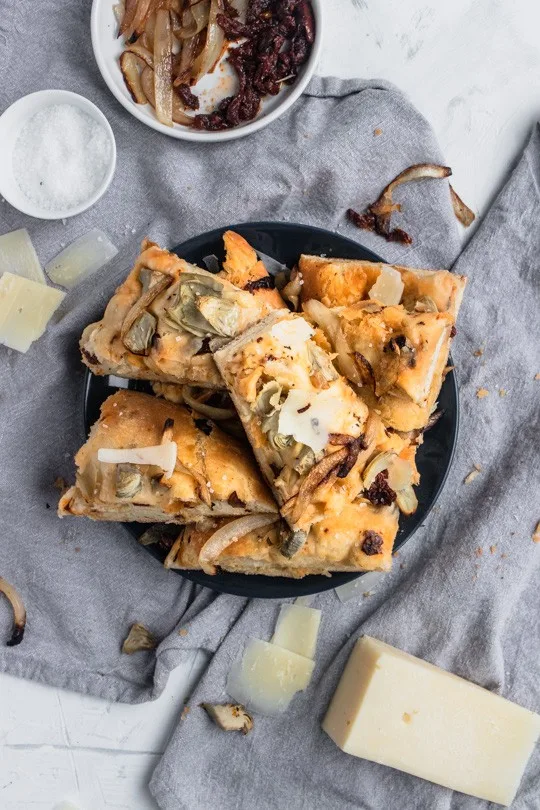 You can guess how many I made. It wasn't pretty. But it was SO GOOD. And so very worth it.
Print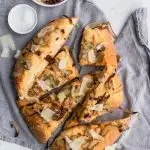 Sun Dried Tomato and Artichoke Focaccia
---
Author:

Total Time:

2 hours

Yield:

1

large focaccia bread

1

x
Description
Light and fluffy, this bread packs a flavorful punch! A traditional focaccia with sundried tomatoes, artichoke hearts, caramelized onions, and parmesan added.
---
1 1/3 cup

warm water (about 110°F*)

1 Tablespoon

sugar or honey

1

(0.25 ounce) package active-dry yeast

3 1/2 cups

all purpose flour

1/4 cup

extra virgin olive oil

2 teaspoons

sea salt flakes

1/2

a large onion

1 Tbsp

. olive oil, plus more for drizzling

1/4 cup

sundried tomatoes, chopped

1/2 cup

canned artichoke hearts, cut in 1″ pieces
sea salt flakes
Parmesan cheese, sliced
---
Instructions
Combine the warm water, yeast, and sugar in the bowl of a stand mixer fitted with the dough hook. Give it a quick stir to make sure that all of the yeast is able to dissolve in water. Allow it to sit for 5-10 minutes, until the yeast is foamy. Add the flour, 1/4 cup olive oil, and 2 tsp. sea salt and mix it on low until it has come together into a rough, shaggy dough. Turn the mixer up to medium and mix for 4-5 minutes, or until it's a smooth. If the dough isn't forming a ball and pulling away from the sides of the bowl, you can add flour 1/4 cup at a time until it's sturdier. Once the dough has been kneaded, place it on a lightly floured surface and gently press it out. Sprinkle half of the chopped sundried tomatoes on the dough and fold the edges up around it. Repeat the flattening/folding with the rest of the tomatoes, then place the dough in a clean bowl. Cover it with a clean kitchen towel or cloth and set it somewhere warm (beside a sunny window works well!) to rise. Allow the dough to rise for about an hour, or until it has doubled in size. While it is rising, slice the onion and caramelize in the 1 Tbsp. of olive oil until soft and browned. Once the dough has risen, preheat the oven to 400F and line a large baking sheet with parchment paper. Turn the dough out onto the floured surface and roll out to a rectangle or round that is about 3/4″ thick. Move it to the parchment lined baking sheet and cover it again with the cloth. Allow it to rise for another 20 minutes, then poke it all over with your fingers to create dimples in the dough. Brush with the oil from the sundried tomatoes, then place the artichoke hearts and onions across the top of the dough. Drizzle with a bit more olive oil, then sprinkle with the large flake sea salt. Bake for 30 minutes, or until the edges are beginning to turn golden brown. Remove from the oven and serve warm.
Notes
You can definitely roll your dough thinner! I just like it thick and fluffy.
The sundried tomatoes will burn if you put them on top, so make sure to not skip the folding in step!
Prep Time:

15 min. // 1 hour 15 minutes for rising

Cook Time:

30 minutes

Category:

Breads

Method:

Baking

Cuisine:

Breads