Layers of chocolate cake, tangy orange curd, and sweet buttercream make this cake a beautiful blend of flavors and textures.
You guys. Today I'm turning 29 years old. 29. In some ways, it feels indescribably old (all of you older folks are free to roll your eyes now). In other ways, I feel like life is really just getting started (all of you young people can now gasp at my ancientness). And while getting older gets a lot of negative press, I also have to admit that I'm so very glad to be where I am in life, and the only reason I would ever roll back the years would be to give my younger self a pep talk, a box on the ears, or a hug.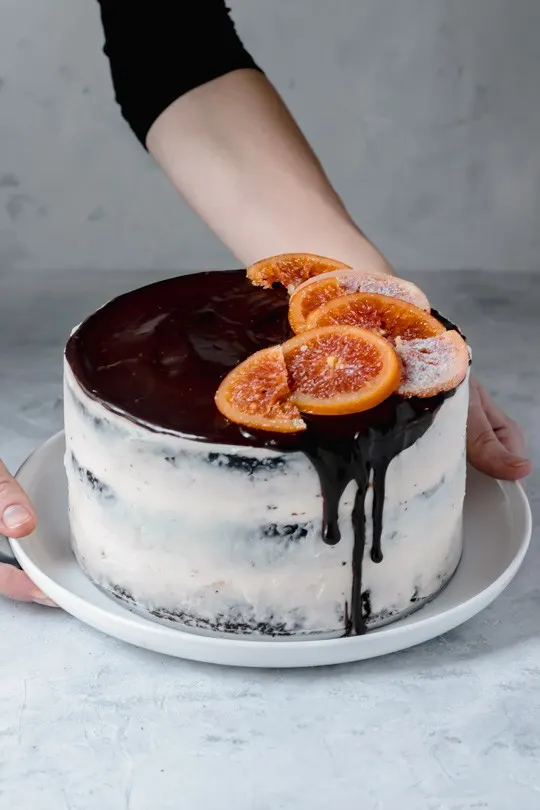 I like to tell my husband that he's done a good job raising me, and he's not too shy about accepting the credit. When we married at the ripe old ages of 22 & 23, I was a bit of a mess. In some ways, I was old for my age (I mean, I could do things like run a house, make dinner, and keep kids alive without even thinking about it), but in others I was incredibly immature. Simple decisions paralyzed me, and I was completely unsure about who and what I wanted to be in life. Coming from a very sheltered environment left me with a deficit in the life experience department, which in turn meant I had little confidence and direction.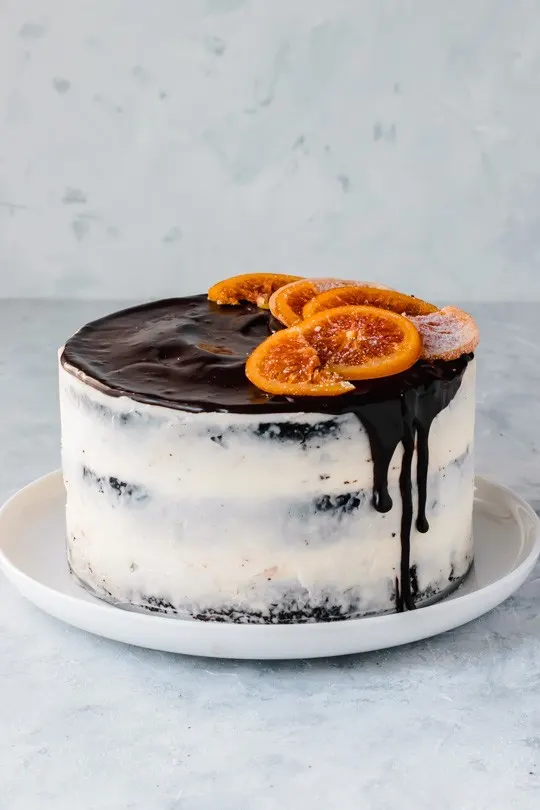 But thankfully, God wasn't done with me, and neither was Micah. There was a lot of hurt, growing pains, and tears. And while I hope to never think I've "arrived," I'm happy with both the growing that has happened and that is yet to come. I think that's part of why I'm good with reaching the beginning of the end of my twenties. Because that girl I was when they started? I don't want to go back to being her. But here are a few things I would tell her, along with a hug:
It's ok to challenge the status quo and want to live differently than the way your peers and authorities tell you to.
Look back and remember so that you can learn and grow, but never to hold on to a grudge.
You actually don't need to be skinnier, you need to be healthier. Eat the food. Exercise to be strong. And enjoy having a flat stomach without trying, because babies will change that forever.
Confidence and arrogance are not the same thing. Learn the difference and cultivate the former because you, my dear, are going to need it.
It's ok to be beautiful. Wear the clothes that make you look and feel amazing, and put on that eye-liner if it makes you feel pretty.
You'll see and experience life, and have different beliefs than others, even people you admire. And that is perfectly alright.
Never stop learning about everything. But no matter how much you've learned, someday your four year old will ask why you don't know anything.
Don't be afraid of the world and life. Go out and experience it. Breathe in the smells, absorb the sounds, be overwhelmed by the sights. It will change you, it will grow you. It will be uncomfortable, and the best thing you could do.
Love God, and obey Him only. Not what other people tell you He says, and not living according to the over-active voice of guilt in your head, but just what he actually says in the Bible. The rest is (generally) just a lot of hot air.
Eat more cake.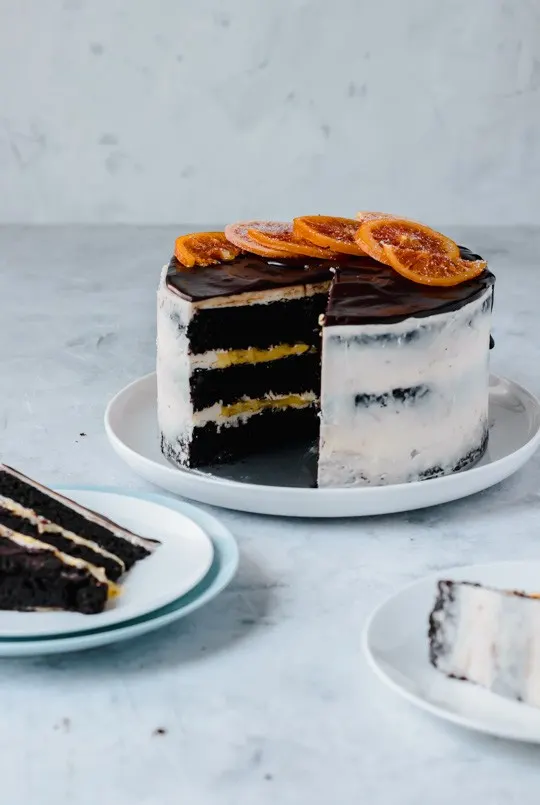 And on that note, now is probably a good time to actually talk about, you know, the recipe you're here for. This Chocolate Orange Layer Cake is made from my one-bowl chocolate layer cake, and you'll need three of them. The filling is orange curd, and it's all topped off with a Swiss buttercream. It's a perfect blend of sweet, tart, and, of course, chocolate. SO GOOD!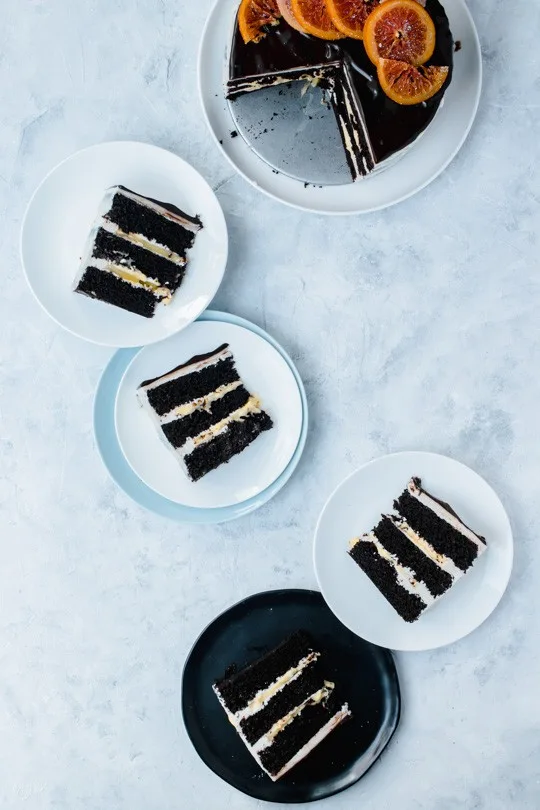 You can absolutely candy your own orange slices (I used this recipe from Baked by an Introvert) and while they were delicious, it was definitely an extra step. Opting to buy them will definitely save you a little time–I know Trader Joes sells them, and they're also available online (I heart Amazon Prime!)
This is a celebration cake! Whether you're celebrating with a huge group, or are a party of one, I hope it makes your special occasion even sweeter. I know it's going to help make my last year of 20 even more amazing.
Print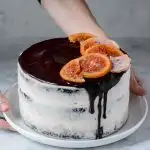 Chocolate Orange Cake
---
Author:

Total Time:

3 hours

Yield:

An

8

", 3 layer cake

1

x
Description
Layers of chocolate cake, tangy orange curd, and sweet buttercream make this cake a beautiful blend of flavors and textures
---
For the Cake Layers:
2 1/4 cup

(

270 g

) all-purpose flour

2 1/4 cups

(

450 g

) white sugar

3/4 cup

(

60g

) dark cocoa powder

1 1/4 tsp

. (

9 g

) baking powder

1 1/2 tsp

. (

9 g

) baking soda

1 1/2 tsp

. (

14 g

) salt

1 1/2 Tbsp

. (

12 g

) cornstarch

1 1/2 cups

whole milk

1/2 cup

+

1 Tbsp

. vegetable oil

3

eggs

1 Tbsp

. vanilla extract
For the Orange Curd:
2/3 cup

orange juice

1 Tbsp

. lemon juice

1/2 cup

sugar
Pinch of salt

6

egg yolks

8 Tbsp

. butter, unsalted
For the Buttercream:
5

egg whites

1 1/4 cups

white sugar

1 tsp

. vanilla extract

2 cups

+

4 Tbsp

. soft butter
For the Ganache:
4 oz

. (

1/2 cup

) whipping cream

4 oz

. chopped dark (at least 60%) chocolate
Candied Orange Slices
---
Instructions
Preheat your oven to 350 degrees f, then grease two 8" cake tins and sprinkle them with cocoa powder.
In the bowl of a stand mixer, combine all of the wet ingredients together and mix on low until well combine. Sift in the dry ingredients, then stir on medium low for about 2 minutes, scraping the sides and bottom of the bowl with a spatula to make sure that all of the ingredients are being mixed together.
Divide the cake batter between the two cake pans and bake for 28-30 minutes, or until the top of the cake springs back when you tap it very gently. Alternately, you can insert a toothpick and make sure it comes out clean or with only one or two crumbs on it.
Remove the baked cakes from the oven and allow them to sit in the pans for 5-10 minutes before turning them out onto cooling racks. Allow them to cool completely before leveling or decorating.
Orange Curd:

In a small mixing bowl, beat the egg yolks until smooth, then set them aside. Combine the raspberry and lemon juice, sugar, and salt in a medium sized saucepan, then stir and heat over medium-low heat until the sugar has completely dissolved and the mixture is steaming.

Slowly pour the hot juices into the egg yolk while whisking briskly. Be sure not to add it too quickly, or it will cook the egg yolks and create chunks. Pour it all back into the saucepan and cook over low heat, stirring constantly, until the mixture has thickened enough to coat the back of a spoon.

Remove it from the heat, then cut the butter into chunks and stir it in until it has all melted. Pour the curd into a clean bowl and cover it with a sheet of plastic wrap. Refrigerate until completely cool, then store in an airtight container.
For the Buttercream:
Place the egg whites and sugar in the bowl of your stand mixer (make sure it's heat proof). Add about an inch of water in the bottom of a medium sized pot and bring it to steaming over medium low heat. It shouldn't be actually boiling, but there can be small bubbles around the edges. Place the bowl with egg whites over the water, and whisk and heat until the sugar has completely dissolved and the mixture has reached 160F.
Once they are ready, place the egg whites bowl on your stand mixer fitted with the whisk attachment and beat on medium speed until it forms stiff peaks and the bowl no longer feels hot to the touch. You don't want it melting your butter!
Cut the soft butter into chunks of 1-2 tablespoons, and with the mixer still running, add the butter in one piece at a time. It will look curdled while adding the butter, but once it's all added it should be smooth and fluffy, perfect for spreading!
To Assemble the Cake:
Set one layer of the cooled cake on your cake plate, then spread a very thin layer of buttercream over it. Place some of the buttercream in a piping bag or ziploc bag and cut the corner of. Pipe a rope of frosting around the edge of the cake, creating a dam to hold the filling in. Spoon a layer of the curd over the cake inside the dam, then set another layer of cake on top.
Repeat the frosting/dam/filling steps, and place the top cake on upside down so that the finished edge from the pan is facing up. This will make it easier to decorate without getting lots of crumbs in the frosting.
Frost the entire cake with a thin layer of frosting, then put it in the refrigerator and allow it to harden completely. This traps and crumbs in the lowest layer and makes the final product look cleaner.
Once the frosting is chilled and hardened, add a thicker layer of frosting. You can opt for a semi-naked finish on the sides (that's what I did), which simply means you want to add less frosting and allow some of the cake to show through. Or you can smooth more frosting over it and cover the cake completely.
To decorate the frosted cake, make the ganache by bringing the whipping cream to a simmer. Pour it over the chopped chocolate and allow it to sit for 5-8 minutes, then stir until smooth. Spread it over the top of the cake, pushing it gently over the sides if you want a drip. Top with the candied oranges, and serve.
Cake can be made a day ahead of time and stored in the refrigerator.
Notes
There are multiple components for this one, so I would recommend starting at least a day before you want to serve this cake. You can even make the cake layers a couple of weeks ahead of time and freeze them, and the orange curd can be made several days early!
You can make your own candied oranges (I used this recipe), or you can purchase them. Trader Joes has some nice ones.
Prep Time:

2 hours

Cook Time:

1 hour

Category:

Cakes

Method:

Baking

Cuisine:

Dessert
Keywords: Chocolate Orange Layer Cake