This delicate, buttery shortbread recipe uses brown sugar for a warmer, richer flavor than traditional shortbread. Cut the dough it into wedges or use as a cutout cookie recipe for a delicious holiday treat.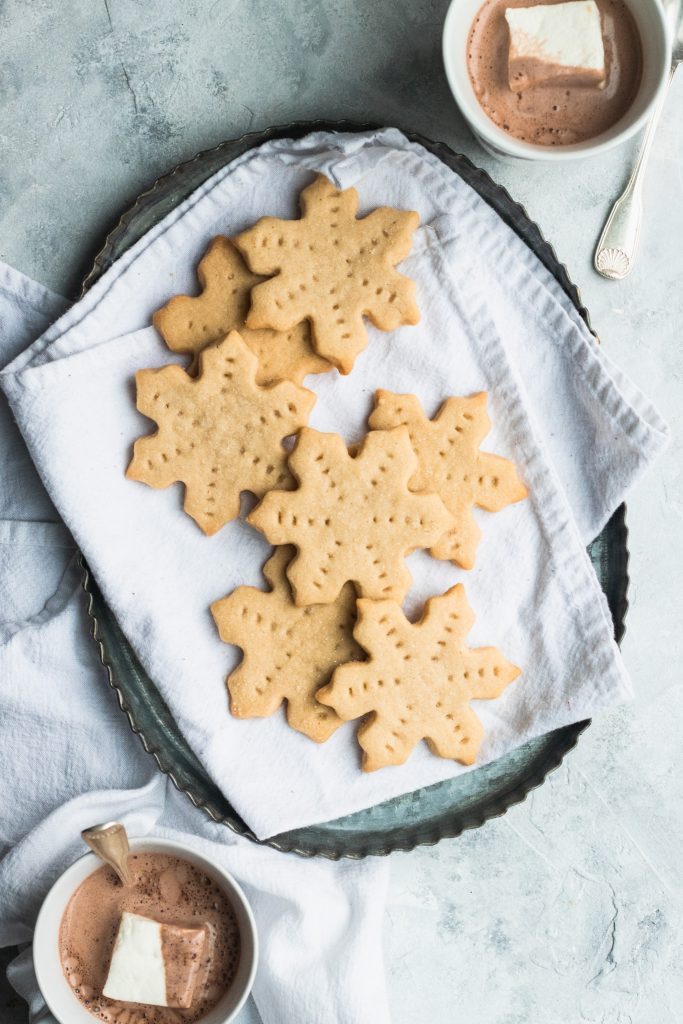 Occasionally someone on social media will get excited because it's cold and the holidays are coming and that means that it's "cookie season" again. And I just have to wonder…when did cookies go out of season? I mean, at my house they're on pretty much permanent rotation, and it's pretty rare that we don't have some in the freezer.
But there definitely are seasonal cookies. I usually save the cutouts for Christmas time because they definitely take longer and make more of a mess than your average scooped cookie. My cutter collection is also mostly limited to trees, snowflakes, and mittens because my kitchen is tiny and storage space is at a premium. Not to mention, it's just something that feels fun and festive, and it's one of my favorite Christmas traditions with my boys.
Shortbread is my idea of cookie perfection. It's simple and timeless, not overly sweet yet still decadent, and can be appreciated any season, event, or holiday. They can be perfect whether they come from the kitchen of a novice or a professional. They're classy and appealing without being pretentious or stuffy.
The brown sugar in this recipe adds another layer of flavor, while the sprinkling of turbinado sugar on the top give a subtle bit of crunch to the soft crumble of the texture. Based on how long you bake them, you can have cookies with a more chewy texture, or give them a couple of extra minutes in the oven for a classic, crumble shortbread. It's all up to you!
They're best if served with hot chocolate or something lovely like that to drink, and dipping them in the melty marshmallow comes highly recommended.
What is Shortbread?
Shortbread is a buttery, crumbly cookie that is a traditional Scottish recipe. They are simple to make with a short ingredient list, and a classic favorite cookie.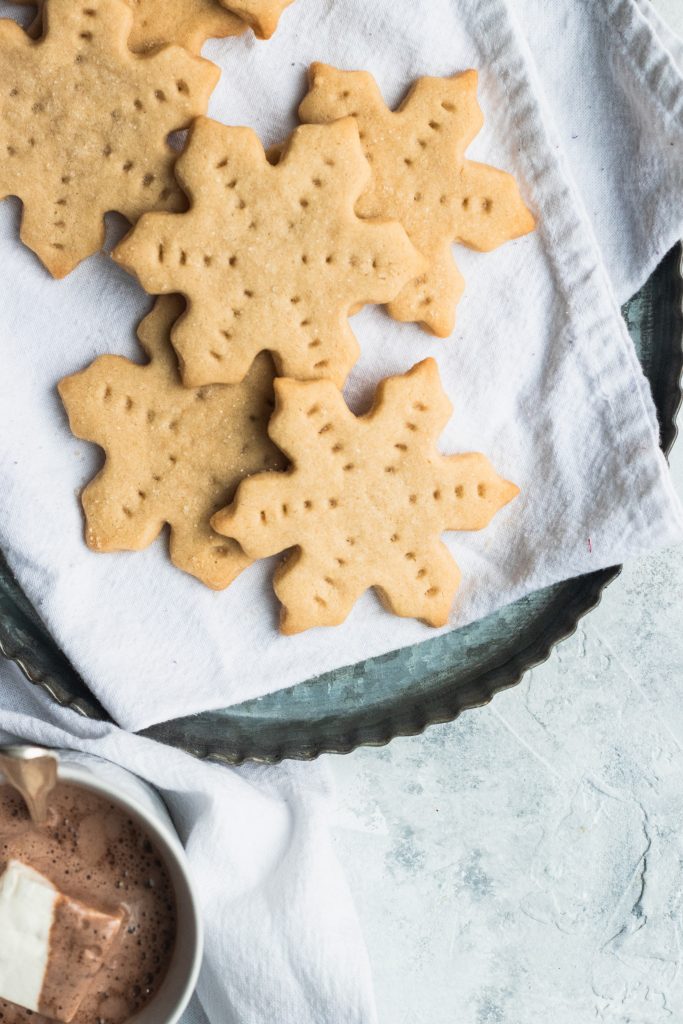 How to Make Brown Sugar Shortbread
Start by preheating the oven to 350F. Prepare whatever pan you'd like for the shape you wish to make.
creaming together the soft butter, brown sugar, and vanilla extract 2-3 minutes, or until it's fluffy and light. I like to use a hand mixer for this. If you don't have one, you can definitely do it by hand! It'll take a couple minutes more and you'll get in a good arm workout.
Add in the flour and salt and mix until they are completely incorporated into the dough. It may look crumbly and dry at first, but keep mixing and it'll all come together!
Shape and cut your shortbread, then dock it (poke it all over with a fork).
Sprinkle the tops with coarse sugar.
Bake for 8-10 minutes (longer if baking in a pan), or until the edges are golden brown and the centers don't look wet and doughy anymore.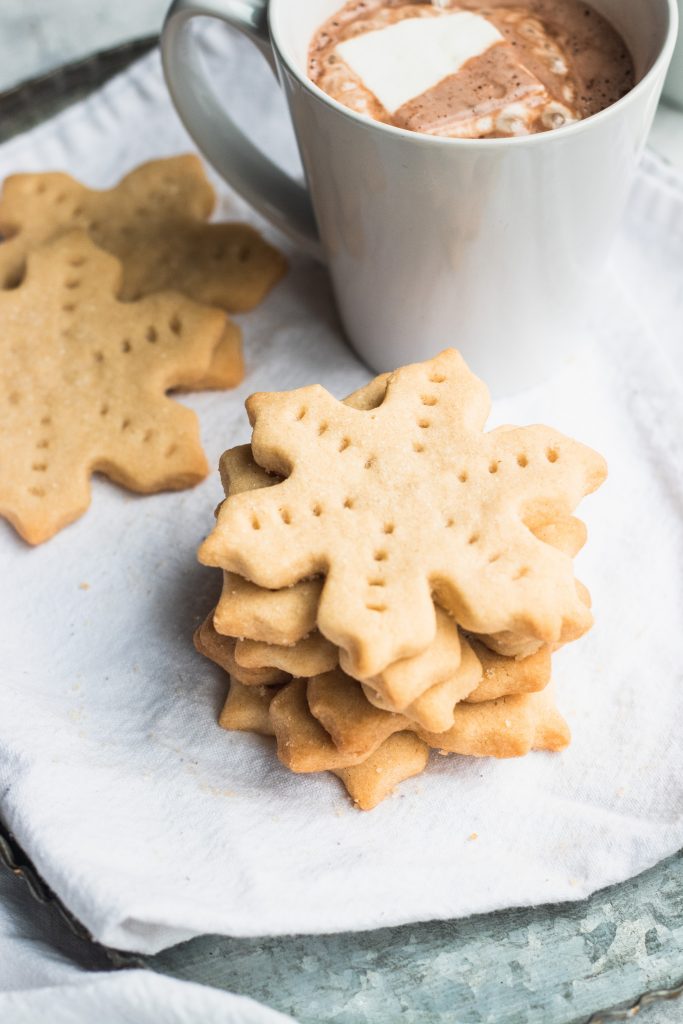 How to Shape Shortbread
You've got options! Here's a few, and you can pick which one works best for you.
Cutout cookies: This is what I did, because CHRISTMAS! Sprinkle a surface and rolling pin lightly with flour, the roll the dough into an even layer 1/4″ thick. Cut out as many as you can with cookie cutters and place them on a parchment lined baking sheet. Press together the remaining dough and repeat the rolling and cutting process until you've cut all of the dough.
Shortbread Wedges: This shape is a very traditional shortbread shape. Divide the dough in half, then press each half into a circle about 1/2″ thick. Use a large knife or pizza cutter to cut it into 8 sections, then dock each with a fork. You can pull the wedges slightly apart so they don't join back together as they bake, or leave them together and recut them after they're finished baking.
Pan Baking: Line an 8″x8″ or 9″x9″ baking pan with parchment paper and press the dough into it in an even layer. Poke all over with a fork (sensing a theme yet?) and bake for 15-20 minutes, or until the edges are golden brown and the center is no longer doughy and wet.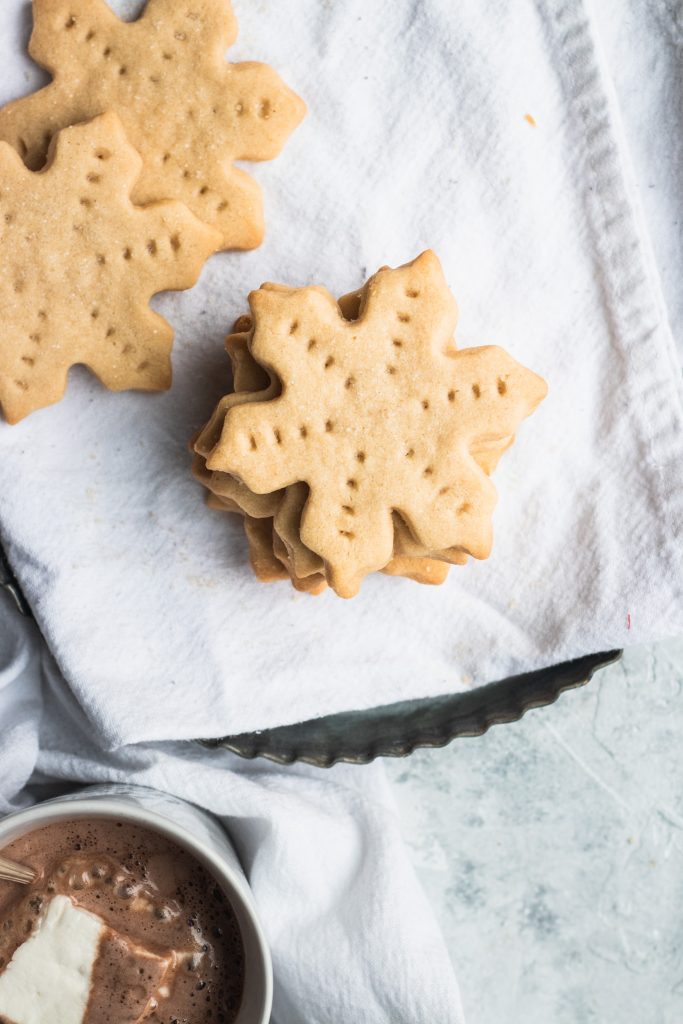 Tips and Tricks for Perfect Brown Sugar Shortbread
Use good butter with lots of flavor, since it's one of the main components of shortbread. I also use salted butter in this recipe–I find it adds a depth of flavor that you can't get with unsalted.
Make sure your butter is soft, but not oily. Besides a bit of vanilla, it's the only "wet" ingredient in the recipe, so you need to make sure it's able to bind all of the ingredients.
Shortbread has to be poked, or it will bubble up and become uneven during baking. This is the fun part, because it's a clean, simple way to add interest to your cookies. I went for simple fork marks in each snowflake stem, but you could use a drinking straw in the center, then the flat end of a toothpick for the smaller holes for a more elaborate design.
When baking the brown sugar shortbread, keep an eye on it to make sure that it's done hwo you prefer it. Because of the brown sugar, it's chewier than traditional shortbread and may need an extra couple of minutes in the oven to become crumbly.
Shortbread is egg free, so it makes a great option for anyone you know who has an egg allergy!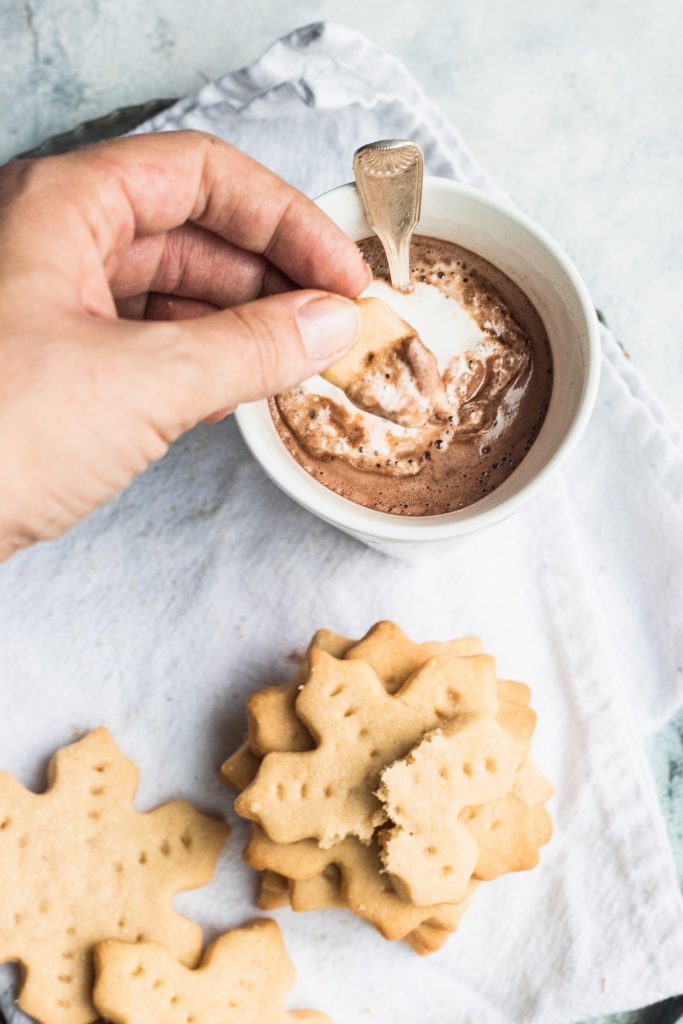 Other Recipes You May Enjoy (Click on Recipe Name Under Picture):
Print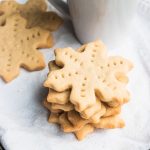 Brown Sugar Shortbread Cookies
---
Author:

Total Time:

30 minutes

Yield:

18

cookies

1

x
Description
This delicate, buttery shortbread recipe uses brown sugar for a warmer, richer flavor than traditional shortbread. Cut the dough it into wedges or use as a cutout cookie recipe for a delicious holiday treat.
---
8 Tbsp

. soft unsalted butter (I recommend a high-quality brand)

1/4 cup

brown sugar

1 cup

all-purpose flour

1/8 tsp

. salt

1/4 tsp

. vanilla extract
Turbinado, or any other large-grain sugar, for sprinkling
---
Instructions
In a large mixing bowl (you can also use a stand mixer if you're doubling it), cream butter, brown sugar, and vanilla until smooth and fluffy. Combine the flour and salt and slowly beat into the butter and sugar. It may look crumbly and dry at first, but if you keep mixing it will eventually form a smooth dough. Dough can be used immediately, or left in the refrigerator for up to a week. If you a going to chill it, be sure to allow time for it to soften before it is baked.
When you are ready to bake, preheat the oven to 350 degrees. On a lightly floured surface, roll out dough until it's approximately 1/4″ thick. At this point, you can cut out shapes (totally fun) or cut it into 2″ rectangles or squares (totally traditional). Just rock your final design, get them on the baking pans, then make sure to prick small holes and give a sprinkling of turbinado sugar before putting the cookies in the oven. Bake for 8-12 minutes, depending on the size of the cookies, until the edges are beginning to turn golden brown and the centers don't look dough-y.
Remove to cooling rack and enjoy! These are best within a week, but they freeze beautifully for up to a month in an airtight container.
Prep Time:

20 minutes

Cook Time:

10 minutes

Category:

Cookies

Method:

Baking

Cuisine:

Scottish
Keywords: shortbread recipe, brown sugar shortbread, how to make shortbread, christmas cookie recipe