A classic cheesecake gets an elegant upgrade with a mousse layer and vanilla beans flecked throughout. This Vanilla Bean Cheesecake is a simple yet effective dessert for any celebration!
Do you ever compare flavors to people in your head? I do, all the time. Is this weird? Probably. Actually, definitely.
I think of chocolate as the dramatic, sexy type–the bold personality that makes everyone stare and ask for more. Something like a the Sophia Loren, Rita Hayworth, or Hedy Lamarr. Fruity flavors like strawberry and lemon are where I would put the perky, cute ones. Think Sandra Dee, Doris Day, or Shirley Temple. I mean, have you seen her as a teen? She was still the cutest thing ever. I dare you to watch The Bachelor and the Bobby Soxer and not want to pinch her dimpled little cheeks. But I digress.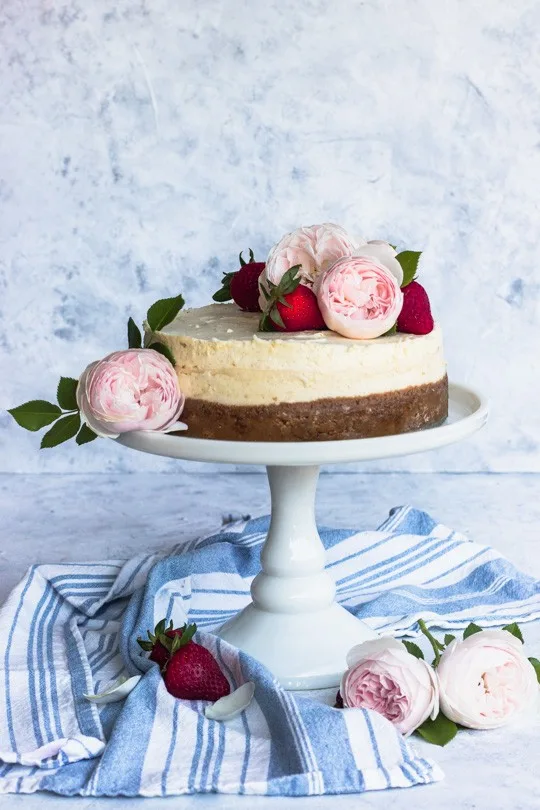 And when we get to vanilla bean? That's my favorite. Vanilla bean is the quiet, classy lady who turns heads with her elegance when she enters the room. The Audrey Hepburn or Grace Kelly in a sweeping evening gown, poised and dignified. The men might not whistle when they see her (bear with me, it used to weirdly be a compliment), but they'll probably stand up and give her their chair. Maybe with a bit of a bow, because they feel like the honor is actually theirs.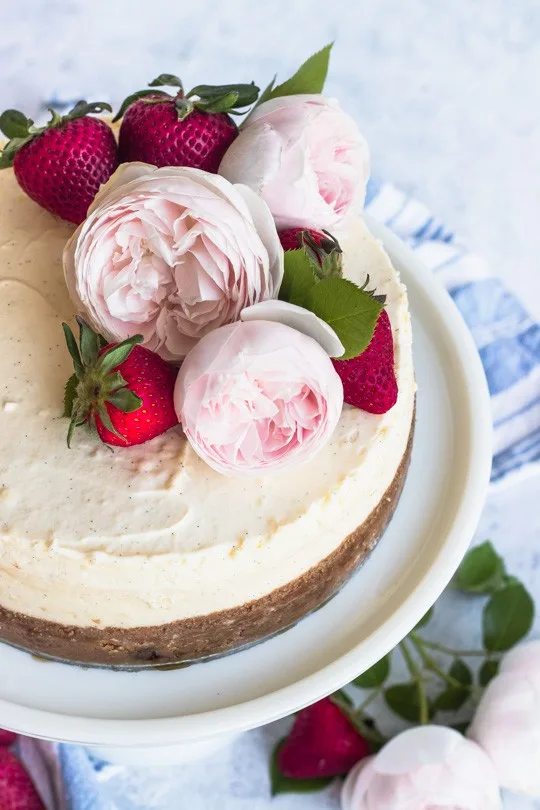 Ok, now that that bit of strangeness is out of my system, let's talk cheesecake. Specifically this vanilla bean cheesecake. Because it really is everything I said about Grace and Audrey. Elegant, confident, and beautiful in a classic, never-out-of-style way. The layer of vanilla mousse on top makes it stand out, and the tiny little black beans dispersed throughout lend it an extra fancy air.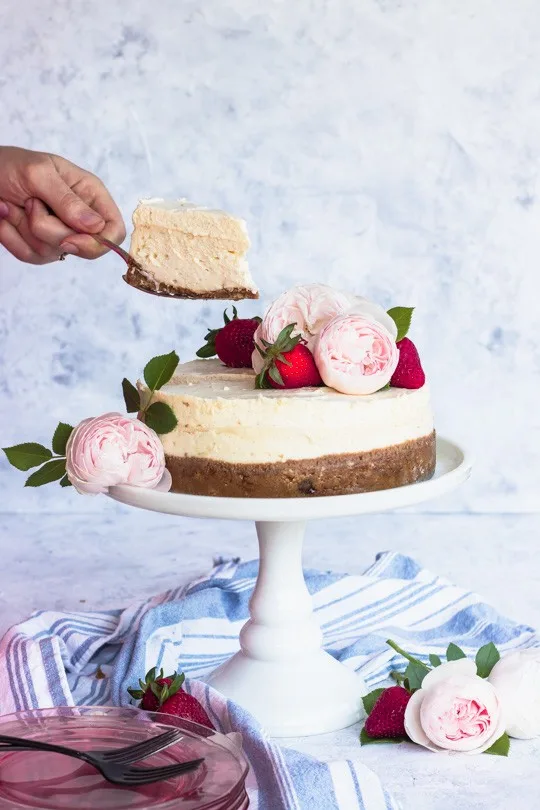 I'm not going to lie, this one is a labor of love. Three layers means three chunks of time (and sets of dirty dishes-gulp) invested. But they can definitely be broken up over several days, and the results are ever so worth it. Just make sure you've planned ahead and don't cut your cooling/setting times short.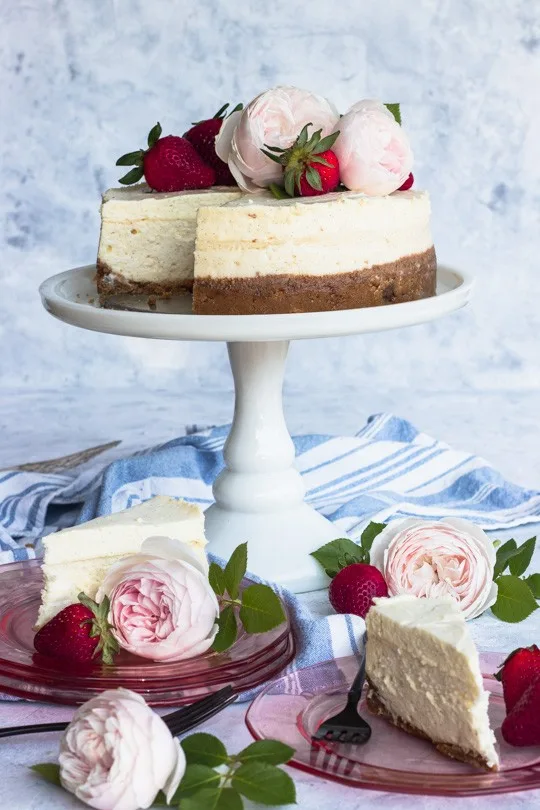 Tips for a Perfect Cheesecake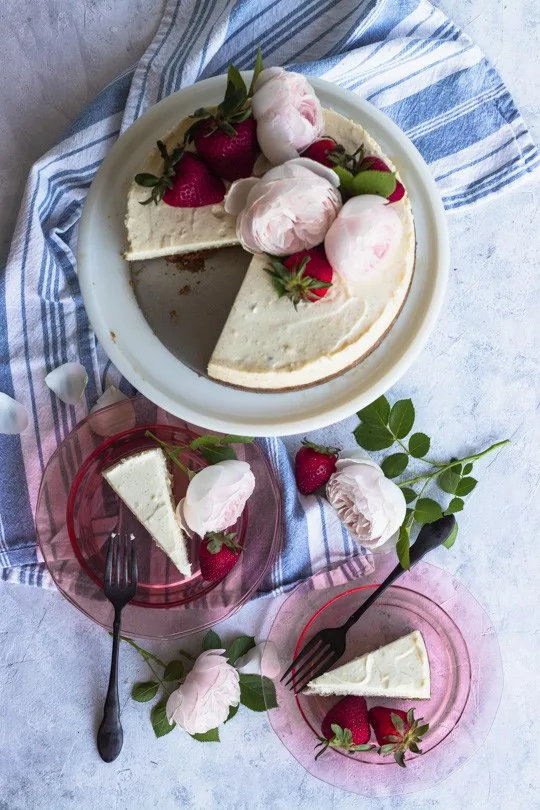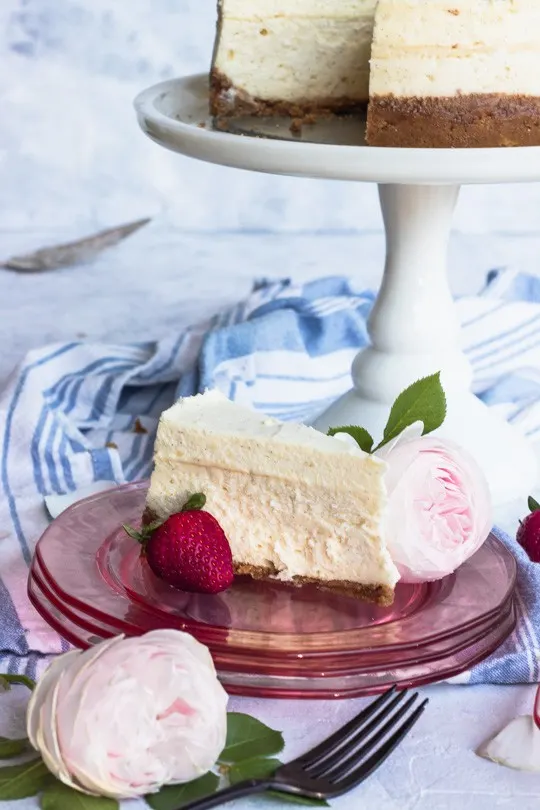 This is a great dessert to make ahead. You'll need to cool the cheesecake completely before adding the mousse layer, and then let that set in the refrigerator for a couple of hours also. Which makes it a perfect option for Mother's Day! Make it the day before, then add any flowers or berries you'd like on the top just before serving.
Make sure that all of your ingredients are at room temperature before mixing! Cold cream cheese will never be smooth, and cold eggs won't want to mix in very well either.
The cooling process is one of the most important parts of getting a smooth cheesecake top with no cracks. Since drastic, sudden changes in temperature are chief culprits in cracking, let the cheesecake cool completely in the oven with the door open, then in the fridge until it's chilled completely through.
A little bit of flour in the mix will go a long way towards helping with the cracking problem too, and doesn't alter the texture or flavor. I learned this from Sam at Frosting and Fettuccini. She has a great post on how to create a perfect cheesecake that's worth a read!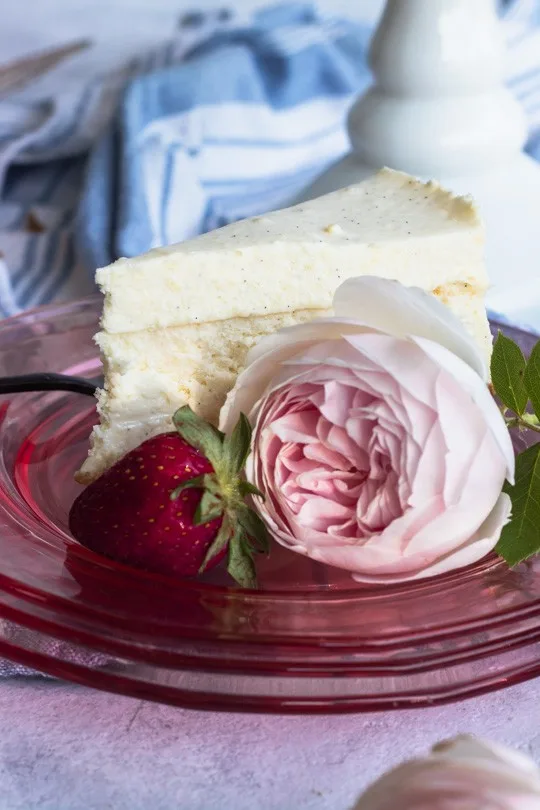 Print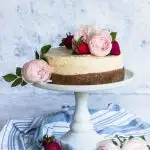 Vanilla Bean Cheesecake
---
Description
A classic cheesecake gets an elegant upgrade with a mousse layer and vanilla beans flecked throughout. This Vanilla Bean Cheesecake is a simple yet effective dessert for any celebration!
---
For the Crust:
1 1/2 cups

crushed graham crackers

6 Tbsp

. salted butter, melted

1/3 cup

brown sugar
For the Cheesecake:
3

8 oz. blocks of cream cheese

1 cup

(

200 g

) sugar

1

vanilla bean, scraped

2

eggs at room temperature

1/3 cup

sour cream

1/4 cup

whipping cream

1/4 cup

(

30 g

) all-purpose flour

1/2 tsp

. salt
For the Mousse:
2

egg yolks

1/4 cup

(

50 g

) white sugar

1/2

a vanilla bean, split down the middle

1 tsp

. plain gelatin

2 Tbsp

. cool water

1 1/2 cups

whipping cream, divided
---
Instructions
For the Crust:
In a small mixing bowl, combine the graham cracker crumbs and brown sugar. Pour the melted butter over them and stir until combined. Press the mixture into the bottom of a 8″ or 9″ pan with a removable bottom, like a springform pan. Bake at 350F for 10 minutes.
For the Cheesecake:
In the bowl of a stand mixer, beat the cream cheese with the whisk attachment until it is light and fluffy, 2-3 minutes. Split the vanilla bean in half lengthwise and scrape out all of the seeds with the sharp edge of a paring knife and rub it into the sugar until it is evenly dispersed and fragrant. Add the vanilla sugar, sour cream, whipping cream and eggs to the cream cheese and mix until well combined. Sift the flour and salt together into the bowl and mix again mix until it is all incorporated.
Pour the cream cheese mixture over the graham cracker crust. Wrap the bottom of the pan with aluminum foil twice and place it in a large baking pan with sides several inches deep. Add about 2 inches of water to the pan and place it all on a rack in the middle of the oven. Bake at 350F for 50 minutes-1 hour. The center of the cheesecake should have a slight wobble when you give it a gentle shake when it's done.
Turn off the oven and open the door, leaving the cheesecake inside to cool slowly (this helps prevent cracking). Allow it to cool like this for at least an hour, then remove it from the oven to let it cool completely to room temperature. Once it has cooled, wrap the top with aluminum foil and refrigerate until chilled.
For the Mousse:
In a small saucepan, heat 1/2 cup of the cream until it is simmering, then remove it from the heat. Scrape the vanilla beans out of the pod with the sharp edge of a paring knife, then stir them into the warm cream and let sit for 15 minutes.
While the cream and vanilla beans are steeping, whisk together the egg yolks and sugar until smooth. Once it's ready, slowly drizzle the warm cream into the eggs, then return the mixture to the pan and cook over medium-low heat until it has thickened. Remove the pan from the heat.
In a small bowl, sprinkle the gelatin over the cool water and allow it to soften. While it's still soft, add it to the warm custard and stir until it has all dissolved. Press the custard through a mesh sieve into a clean bowl and refrigerate until completely cool but not set.
While the custard is cooling, beat the remaining cup of cream until it reaches soft peak stage. Fold the custard into the cream until it is incorporated, being careful not to deflate the cream as you're folding. Spread it over the top of the cooled cheesecake and place in the refrigerator until it has set, as least 2 hours.
To remove the cheesecake from the pan, run a thin bladed knife around the edge of the pan and carefully remove the edges. This will keep for 2-3 day sin the refrigerator.
Notes
Make sure all of your cheesecake ingredients are at room temperature when you mix them–this will help them combine more smoothly for a creamier cheesecake
Avoid sudden temperature drops with the cheesecake when it's baking and cooling. This contributes to cracking.
After using the vanilla bean pods, you can add them to your current bottle of vanilla extract and top it off with either vodka or bourbon. It's a great way to stretch your vanilla investment-those beans and extract can be pricey! It also has a really great flavor.
If the gelatin for the mousse gets thick quickly, microwave it for 8-10 second increments until it has turned into liquid again. After you've added it to the custard, don't let it sit for too long before folding it into the whipping cream, or it won't fully incorporate and you'll have chunks of set custard in the mousse.