This cruffin recipe will give you a light, flaky pastry, perfect for breakfast or brunch. Roll them in sugar, or fill and flavor them to your heart's content! What is a cruffin? Basically a croissant/muffin hybrid.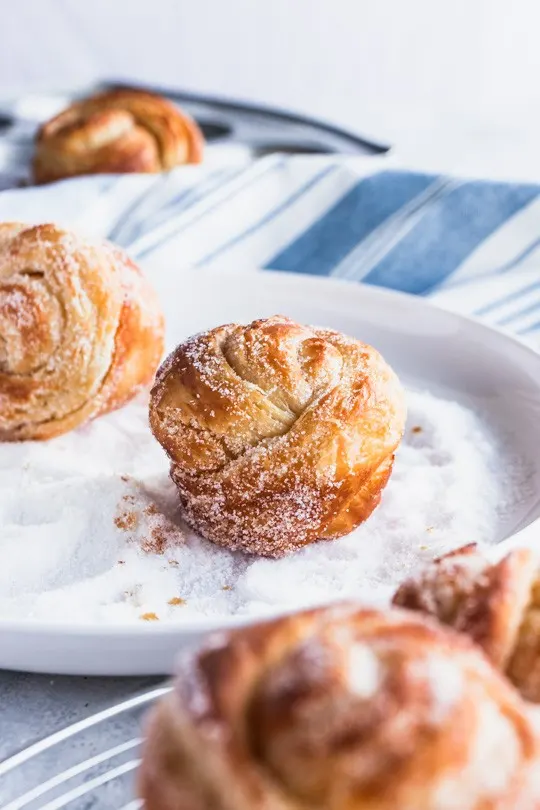 So, what exactly is a cruffin?
How do you feel about food hybrids? You know, the ones where brownies and cookies get together to make brookies, or cookie dough gets scooped onto an ice cream cone to be eaten by the spoonful?
Well, I hope you like those kinds of things, because that's what we're making today. But these are one of the best hybrids out there. You see, when a croissant and a muffin love each other very much… ew. Never mind. That got weird fast. But essentially, these are a croissant/muffin crossover, and they are SO DANG GOOD.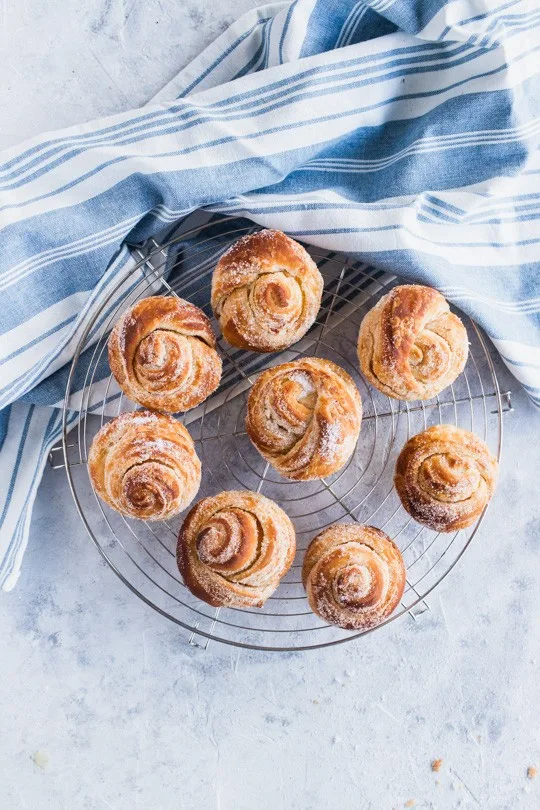 They were first made popular by Mr. Holmes Bakehouse, a bakery in San Francisco. Their version features a gigantic cruffin with a variety of fillings and toppings, and they're currently on my travel eating bucket list. Don't tell me you don't have one of those too? I'm pretty sure this video will make you start one, with SF at the top of the list.
These ones are a bit more simple, but you could absolutely add fillings, toppings, or different flavored sugars to the outside! It's basically a palette to start with and go flavor crazy. Though I'm here to tell you, plain sugar ain't too shabby either.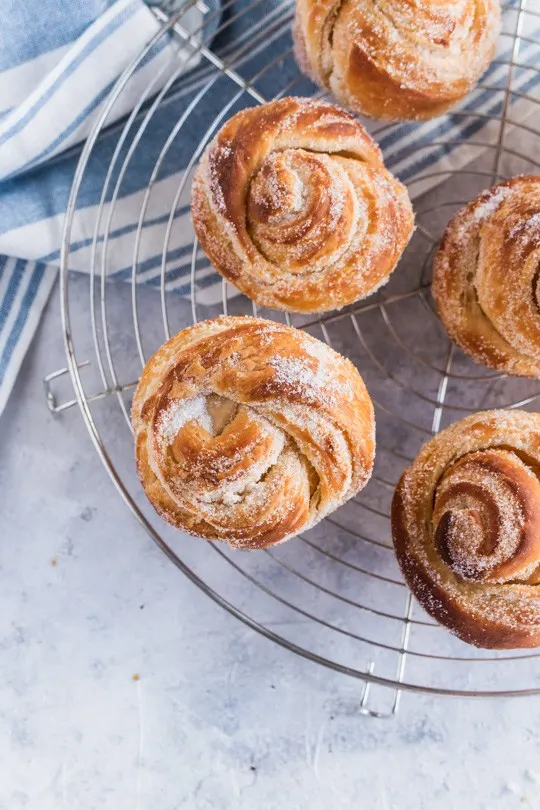 Tips for Successful Cruffins
Have you seen my post on how to make croissants? you should definitely go check it out, because it's the basis for this recipe. It's chock full of tips on how to successfully make croissant dough, so it allll applies to this cruffin recipe.
Play with your dough! I personally liked the look of a spiral with the end wrapping over and under the roll. It came out looking something like a rose. However, if you want to do a plain spiral (or be even more creative than that, go for it! Just make sure to…
Tuck the end of your dough securely underneath the cruffin dough before placing it in the pan. If it's not secure, it could pop out and poke around in unsightly ways while it's rising and baking.
Remember to not work the dough too much though! It's all about balancing things with laminated dough. Warm hands will melt the butter, and you won't get the same layered, flaky finished product if that happens.
Get them in the sugar as soon after baking as possible. The warmer the cruffin, the better the sugar will melt and stick to it. But please don't burn yourself!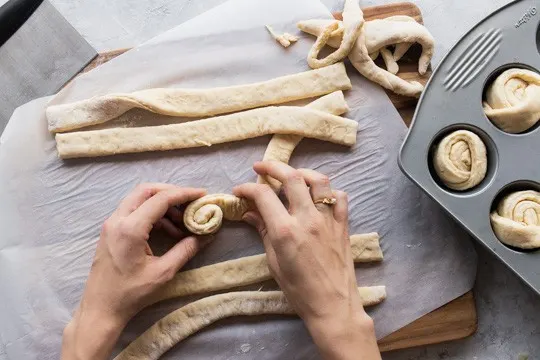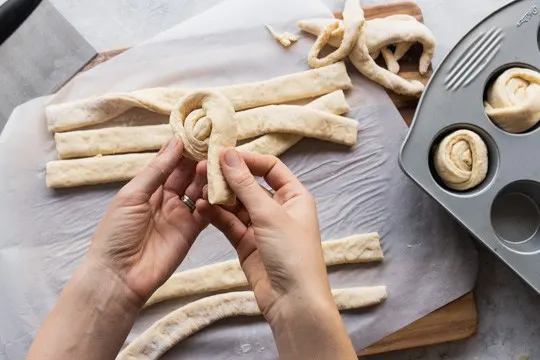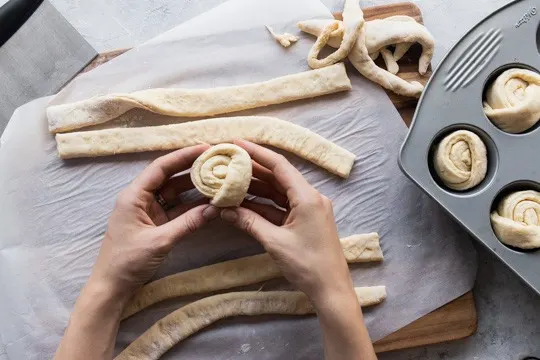 Flavoring Cruffins
These are coated in just plain old white sugar. But! You could flavor that sugar by rubbing in vanilla bean (scrape a pod to extract the little black seeds), citrus, or spices like cinnamon or chai. Just rub you flavoring into the sugar until it is very fragrant and well distributed.
Fillings are also a great option! Insert a sharp knife in the top, going down just a few inches, and move it around in a small circle. Place your filling (jellies, custards, or creams are all great options) in a piping bag, trim off the end, then insert it into the cut in the cronut and squeeze until filled.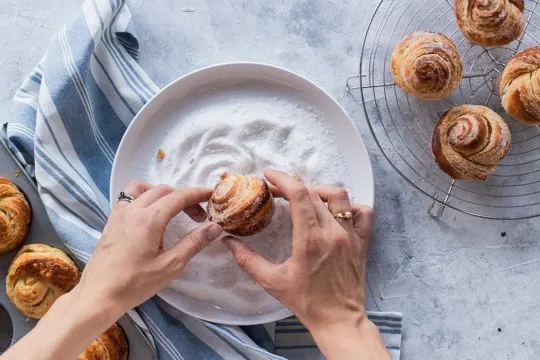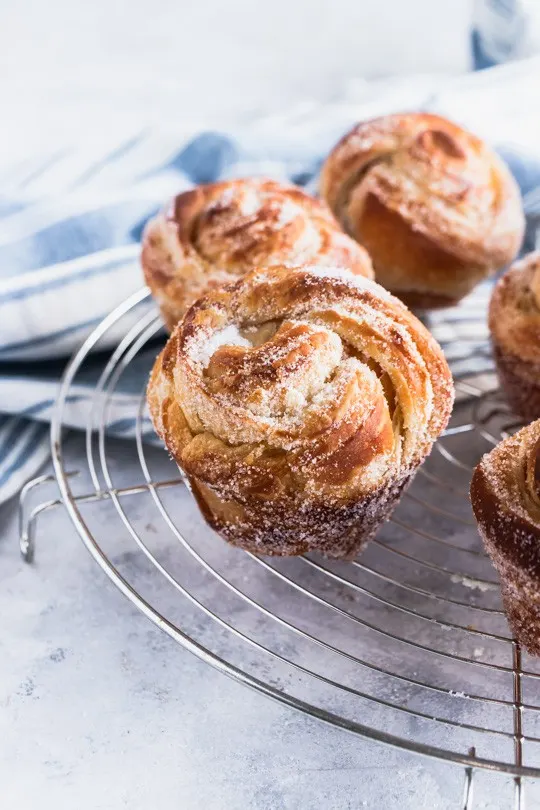 Other Recipes You May Enjoy (click on caption to view):
Print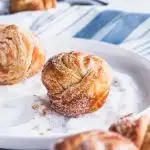 Cruffins
---
Author:

Total Time:

21.5 hours

Yield:

16

cruffins

1

x
Description
This cruffin recipe will give you a light, flaky pastry, perfect for breakfast or brunch. Roll them in sugar, or fill and flavor them to your heart's content!
---
1 1/2 cup

s (

12 oz

/339 g) whole milk

1/4 cup

(

50

g) white sugar

1 Tbsp

. +

1 tsp

. (

11

g) yeast

2 1/2 tsp

. (

15

g) sea salt

4 1/4 cup

s (

510

g) all-purpose flour, plus more for the butter block and rolling

1 cup

+

6 Tbsp

. (

310

grams) butter
white sugar for rolling
---
Instructions
For the Dough:

In the bowl of a stand mixer fitted with a dough hook, combine the flour, sugar, and salt. Whisk them together to combine.

Warm the milk just until it is warm to the touch, and between 90° and 110°F. Add the yeast and let it sit for 5-10 minutes, or until the yeast is foamy.

Pour the milk and yeast into the mixer while it runs on slow. Continue to mix until all of the flour is incorporated, then turn it up to medium speed and mix until the dough is smooth and elastic, about 5 minutes.

Place the dough in a clean bowl, cover with a kitchen towel and let it rise for about an hour, or until it is slightly puffy and soft. Place it in the fridge for at least an hour, or overnight if you can.

For the butter block:

Prepare two pieces of parchment paper. Lay one on your work surface and sprinkle it generously with flour. Lay out your butter on the floured parchment– it should be cold but not completely firm, or it will just break up into chunks. If you're using sticks, cut them in half lengthwise and lay them side by side.

Sprinkle the top of the butter generously with flour, lay the other sheet of parchment on top, and gently bash it/roll out with a rolling until it is about 8″x8." Set it in the refrigerator until the dough is ready.

To Laminate the Dough:

On a floured surface, roll out the dough into a square about 10″x10″, then lay your butter block on top at an angle, so that you have a diamond on top of a square. Pull the edges of the dough up and around the butter, pinching at the seams to seal it in.

Next, take your rolling pin and gently tap up and down along the dough, beginning to spread out the butter and pushing it out into a more rectangular shape. Gently roll the dough in one direction strokes (not going back and forth over it) until you have a rectangle measuring 18″x10″. Fold one-third of the end of the rectangle over the center, then follow with the other end. The dough will be folded like a letter. Wrap it well in plastic wrap, then place it in the refrigerator for about 30 minutes.

Remove the rolling/folding/refrigerating process 3 times, then your dough is ready to shape.
To Shape the Cruffins:
Begin by cutting the dough in half. Instead of shaping like a traditional croissant, roll each half of the dough into rectangles a bit larger than 8″x15″, keeping the edges as straight as possible. Trim off any uneven edges, then cut them into 1″ strips lengthwise so that you have 8 1″ wide strips that are 15″ long.
Roll each strip into a spiral, wrapping the end over the top and then securing it underneath (see pictures above). Place each roll into a muffin tin, then place it in a clean plastic bag to rise, tucking the ends of the bag under to protect the dough from drafts. Allow them to rise for 1 1/2 – 2 hours, or until the dough is soft and puffy.
Bake at 425F for about 5-8 minutes, then turn it down to 375F and continue to bake for another 20-22 minutes, or until the edges are a deep golden brown. Remove them from the oven, and allow them to cool so that you can handle them without burning your fingers. Roll the warm cruffins in white sugar, then fill or top if desired. These are best the day they're baked.
Prep Time:

1 hour + 15-18 hours rest + 2 hours rise

Cook Time:

25-30 minutes

Category:

Breads and Pastries

Method:

Baking, laminating

Cuisine:

French, American
Keywords: Cruffin Recipe, how to make cruffins,