Cinnamon Ice Cream is the perfect way to top off your pies, crisps, and cakes this season, all while being perfect to enjoy on it's own.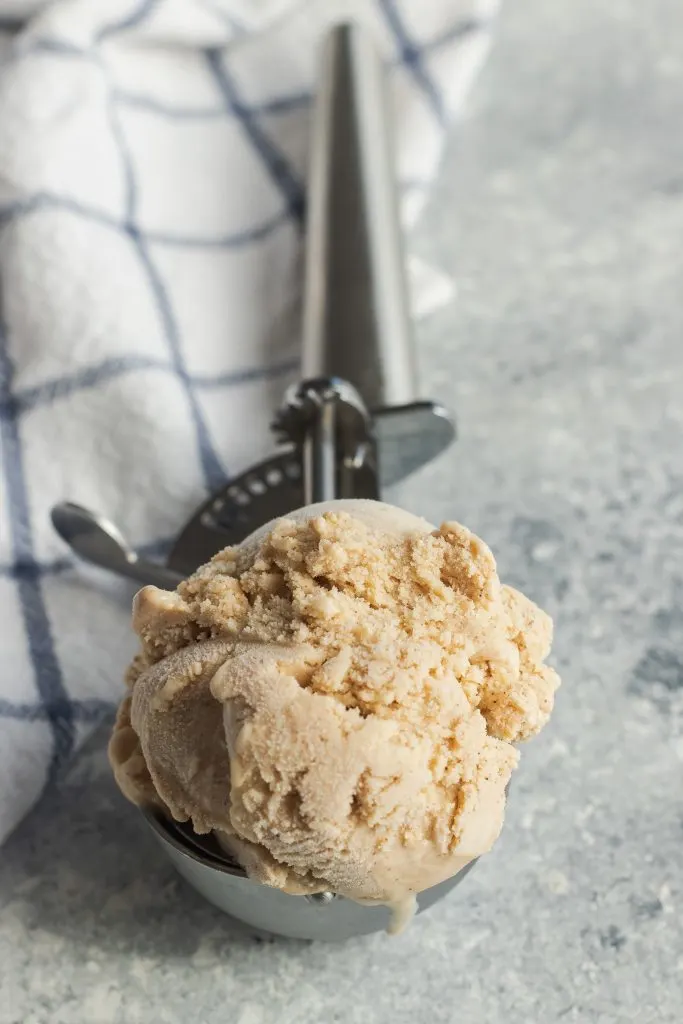 This recipe has been brewing in my mind for over a year. In fact, I made it last year and for some odd reason never got around to photographing and sharing it here–I don't even remember why. Ah, well, 2018's loss is 2019's gain.
So what does cinnamon ice cream taste like? Well, I would have to say it's like a cold, creamy cinnamon roll. Because I based it on this brown sugar ice cream, it has lovely caramel undertones that compliment the warm spice of the cinnamon flavor so beautifully.
It also pairs well with all of the pies, cakes, and other lovely baked goods that are in full swing right now. A scoop of cinnamon ice cream melting into a slice of homemade pumpkin pie or a heaping bowl of apple crisp–Doesn't that sound like perfection?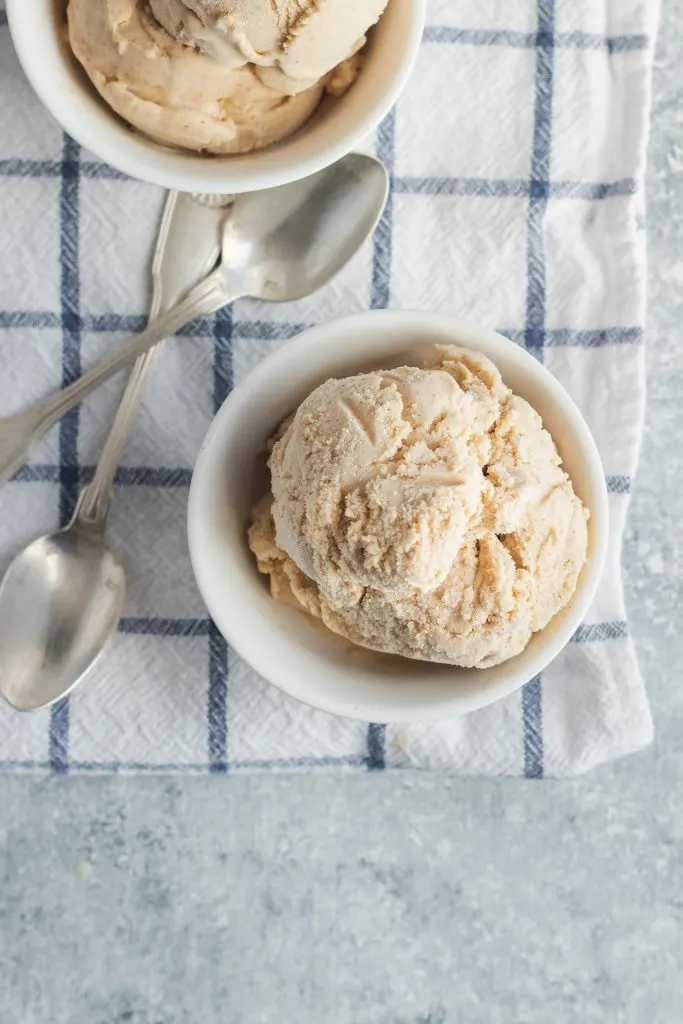 How to Make Homemade Cinnamon Ice Cream
Start by making your custard. Beat the egg yolks in a medium sized mixing bowl and set them aside.
In a medium sized stock pot, combine the milk, on cup of whipping cream, sugar, cinnamon, and salt.
Heat and stir the milk and cream until gently simmering, then gradually pour it into the egg yolks, whisking as you pour. You are tempering the eggs with this step, or slowly bringing them to a similar temperature as the warm cream, so that they don't scramble when they are poured into the warm pan.
Return the entire mixture to the pan, then heat over medium low, stirring constantly with a rubber spatula to prevent it from burning and clumping. Do not let it come to a boil, as this will likely make the mixture curdle. Heat until it is 194° F (90°C), or is thick enough to coat a clean spoon without dripping off. Stir in the vanilla extract.
Pour the mixture into a bowl, cover with a layer of clingwrap directly on top of the custard. Refrigerate for at least 8 hours and up to 24.
Churn the custard according to your ice cream maker's instructions. Once it has reached soft serve stage, place it in an air tight container, cover, and freeze until thoroughly frozen.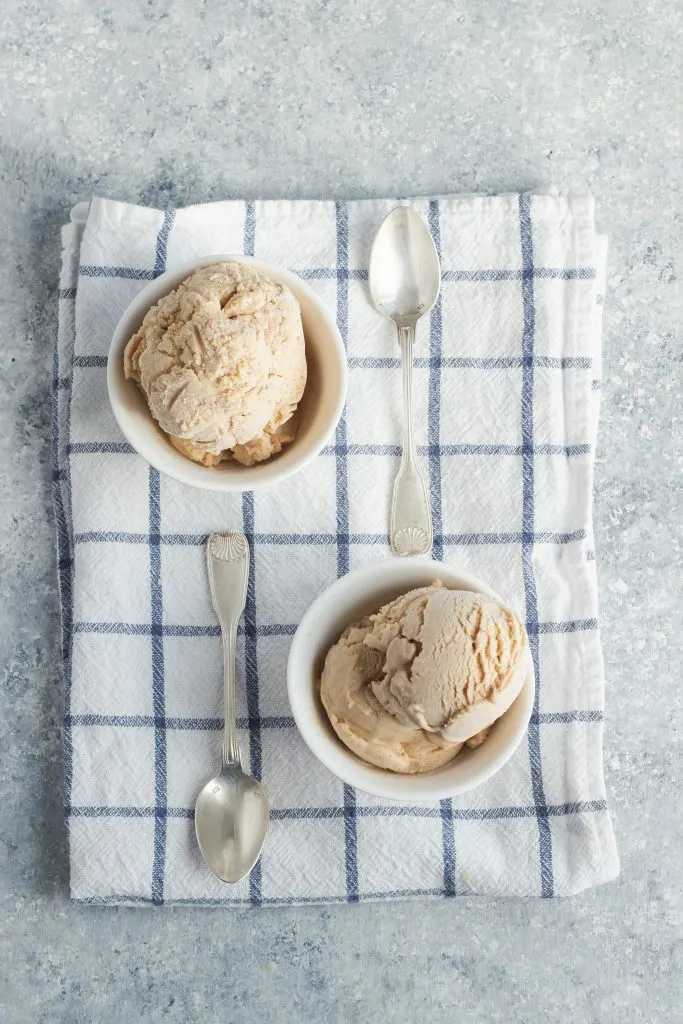 Why does homemade ice cream sometimes freeze too hard?
Ice cream is a highly scientific creation, believe it or not. A combination of freezing temperature, fat and sugar content, and the air mixed in during freezing all affect the final outcome.
Unfortunately, home ice cream makers can't replicate the air that an industrial churning machine can add to the the finished product. That means that for a good, scoopable homemade ice cream that isn't icy we need a good blend of the other non-freezing ingredients, namely the fats (from egg yolks, cream, and milk) and sugar. This recipe yields exactly that for a perfect scoop.
Also, getting your ice cream as cold and frozen as possible when churning will help prevent ice crystals from forming as it hardens completely. Don't stop churning before it's at a thick soft serve stage, and transfer it quickly to a glass or metal pan that's been in the freezer so that it doesn't go back to liquid before freezing.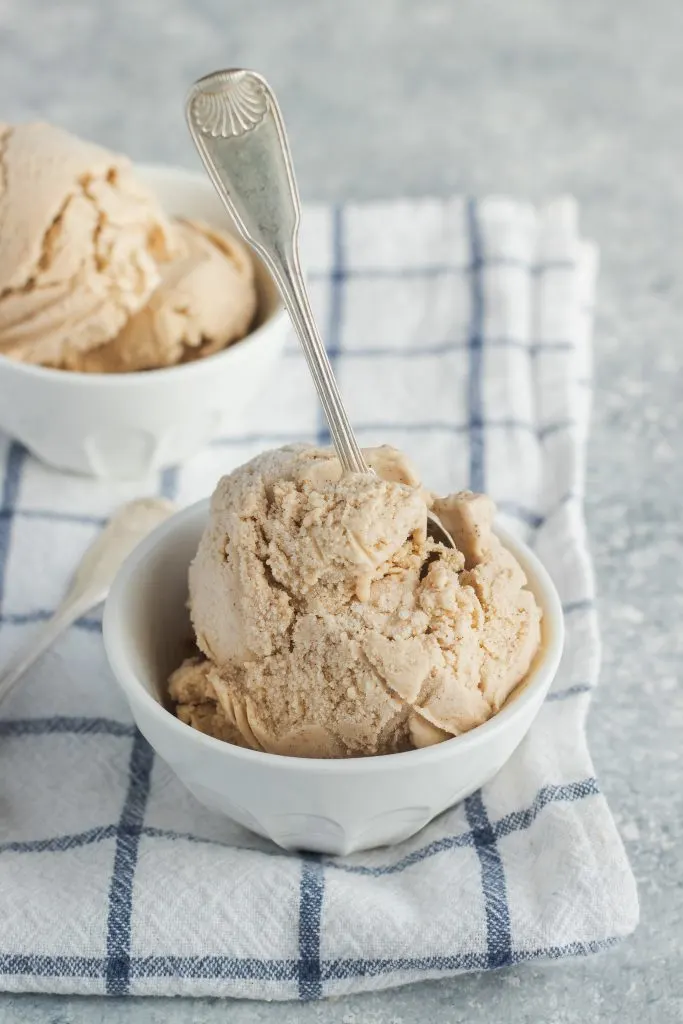 The Best Ice Cream Freezers for Homemade Ice Cream
Old-Fashioned Bucket Style: You don't have to crank it by hand, but you'll keep adding ice and rock salt around the freezing cylinder to get your ice cream cold with this Nostalgia 4-Quart Ice Cream Maker. Not as convenient as the other options, but they get bonus points for being cute.
Freezer Bowl Style: This Cuisinart Pure Indulgence 2 Quart Ice Cream Maker is an updated version of the model I have, and I have no complaints! The only thing that I don't love is the wait time for the bowl to get cold enough for the ice cream to freeze, but it's a great budget option that's more efficient than a bucket style.
Deluxe Option: I'll be honest, you can get them even more expensive than this Cuisinart ICE-100 Ice Cream and Gelato Maker. But this is definitely a great maker–I've used one before and you can't beat it for ease of use. It is fairly large, so you need to account for that before buying if your storage and counter space are limited.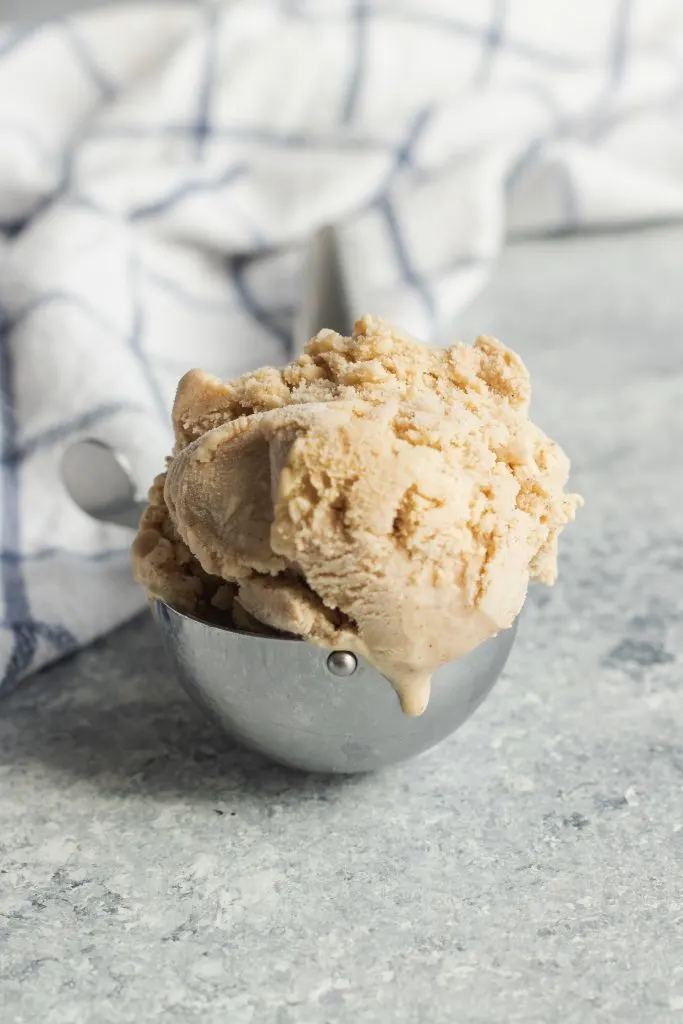 Other Recipes You May Enjoy(Click Captions to View Recipe):
This post contains affiliate links, which means that if you purchase from any links in the post Good Things Baking Co. will receive a small commission at no added cost to you. Thank you for being here, and helping support good recipe to make and eat!
Print
Cinnamon Ice Cream
---
Author:

Total Time:

13-24 hours
5

egg yolks

1/2 cup

light brown sugar

1/4 cup

white sugar

1 cup

whole milk

2 cup

s whipping cream, divided

1 Tbsp

. ground cinnamon
Pinch of salt

1 tsp

vanilla
---
Instructions
Combine one cup of the whipping cream, whole milk, sugar, cinnamon, and salt in a medium sized sauce pan and bring to a simmer over low heat. Heat until steaming, stirring frequently to prevent scorching.
While the milk and cream heat, beat together the egg yolks in a small mixing bowl until they are completely combined. Once the milk & cream are heated, slowly pour half of it into the eggs, beating as you pour. Add the whole mix back into the pot and cook over medium-low heat while stirring constantly with a rubber spatula. Continue cooking until the mixture has thickened and coats the back of a spoon without running off the edges, about 5-8 minutes.
Pour the custard through a sieve into a clean bowl, lay a piece of cling wrap over the custard (this prevents a film from forming on the top), and refrigerate until very cold, for 4 hours or up to 48 hours.
Prepare your ice cream maker according to the directions, adding in the custard, extra cup of whipping cream, and vanilla extract at the same time. Use a rubber spatula to remove all of the ice cream to a container that is freezer safe and freeze for at least 12 hours, or until it's frozen solid.
Serve on it's own, or with pie, cake, or cookies.
Prep Time:

15 minutes, plus at least 36 hours (divided) to chill/freeze

Cook Time:

15 minutes

Category:

Ice Cream

Method:

Freezing

Cuisine:

American