Ever wonder how to make delicious brownies from scratch? This brownie recipe is fudgy and perfectly rich, with a shiny crackly top. So much better than brownies from a box mix!
When Prentice was old enough to get out of his bed and open a door, his little face inches from mine whispering "hey mom!" became my alarm clock. Either that or dimpled little fingers poked at me, asking me to pull him in bed to snuggle. Then, after much wiggling, cover adjusting, and probably several wet kisses and tight neck hugs, he would settle into stillness. No morning was properly started unless there were at least a few minutes of closeness.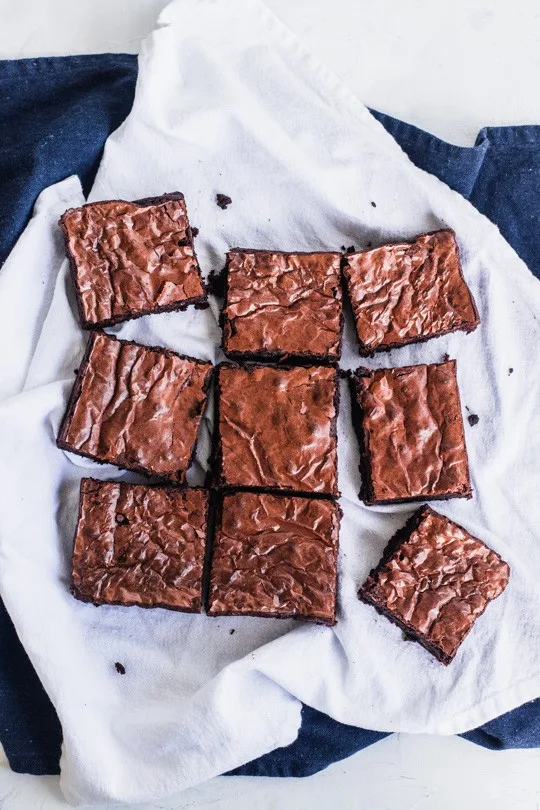 Sometimes he was just needing a few more minutes to wake up, sometimes he was waiting for me to do the same. Sometimes elbows and knees ended up in my stomach when he couldn't contain the wiggles. Occasionally he had lots to tell me–he's never been one to run out of words. Very rarely, he would fall back asleep, and I would stare at his button nosed, round cheeked profile in a rare state of complete rest.
But then I noticed something a couple of weeks ago–he doesn't snuggle every morning anymore. Occasionally he'll poke his head in and ask if he can climb in bed, but it's far more likely that he's already playing with his Legos and needs help pulling a couple pieces apart, or already has a list of things he wants to do that day that can't wait to be talked about any longer. Sometimes he's desperate for breakfast. But the day starts with or without those few minutes of quiet.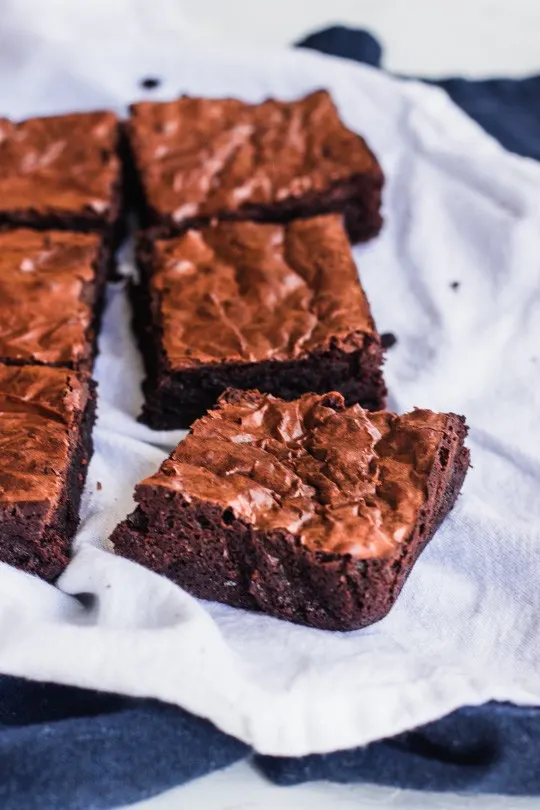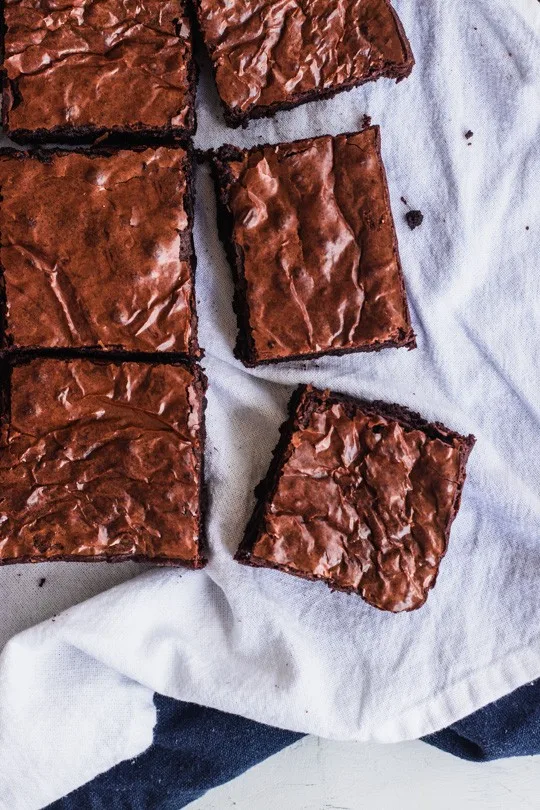 It's all part of the whole growing up bit that kids do. And it's good, you know? It's exciting to see his body grow while his mind explodes and he become more independent. More and more, glimpses of the person he's becoming show through as the baby ways disappear. But still, it's bittersweet, the Catch 22 of motherhood.
So when he asks me if we can bake together, you'd better believe I ask him if he wants to make cake or cookies. These brownies were my idea, but he's usually happy if there's chocolate involved, and even more into it if he gets to lick the bowl. The best bit is when he tells me that baking is his favorite things to do, even though he has a lot of favorites. It's something that I hope he can take with him even when he's all grown up and doesn't need me to read ingredients or help do measurement math.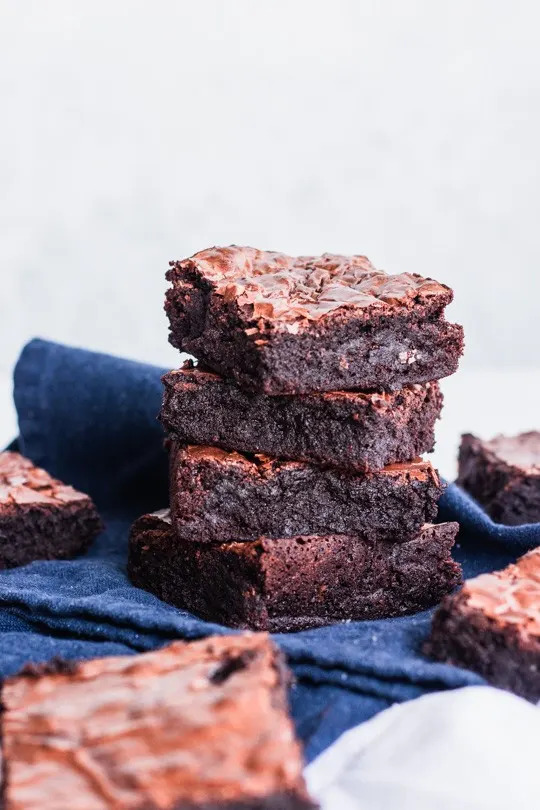 Shiny Top Brownies
This recipe is based on Stella Parks' Glossy Fudge Brownie recipe with just a few minor tweaks. They're seriously better than the kind you get from a box.
Heating the sugar by adding the warm butter and chocolate helps to create the shiny, crackly top.
Combining chocolate and cocoa powder gives you a fudgy, deep chocolate flavor.
The browned butter adds a lovely, rich flavor. just make sure to keep simmering until the sound has stopped while stirring the butter to prevent the milk solids from burning.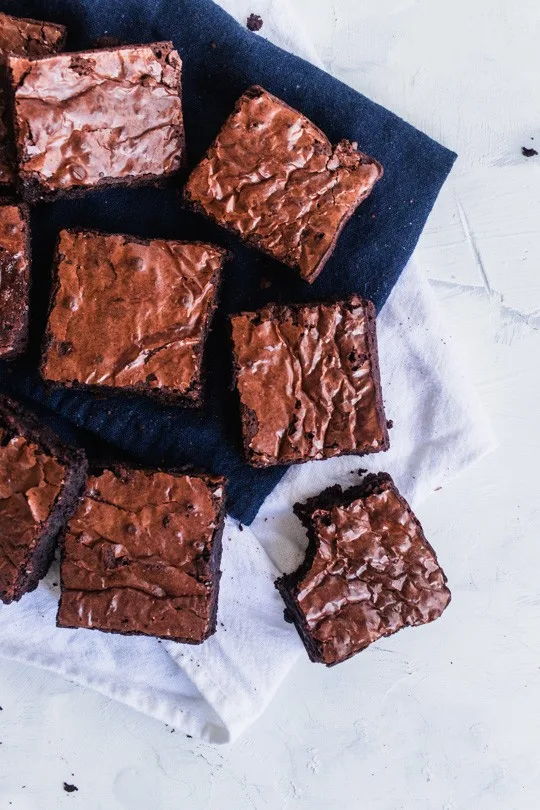 Print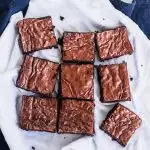 Brownies
---
Author:

Total Time:

1 hour

Yield:

a

9

" pan of brownies

1

x
Description
This brownie recipe is fudgy and perfectly rich, with a shiny crackly top. So much better than brownies from a box mix!
---
12 Tbsp

. (

170 g

) salted butter

3 oz

(about

1/2 cup

) dark chocolate, chopped

1 cup

+ 2 Tbsp. (

225 g

) white sugar

2 Tbsp

. (

25 g

) brown sugar

3

large eggs

1/2 tsp

. (

1 g

) sea salt

1 tsp

. vanilla extract

1/2 cup

(

60 g

) all-purpose flour

3 Tbsp

. (

56 g

) dutch-process cocoa powder
---
Instructions
Line a 9″ square aluminum baking pan with foil so that it is rising up past the edges of the pan, then grease it well. Preheat the oven to 350F.
In a small saucepan, heat the butter over medium heat until it has melted and begun to foam. Gently scrape the bottom with a rubber spatula to prevent it from burning. Continue to cook until it has stopped making noise– the liquid will pop a lot while it is evaporating, but will be quiet when it's cooked off.
Once the butter has browned, remove it from the heat and add in the chopped chocolate. Stir it until it has all melted and set aside. Sift the cocoa powder and flour together and keep nearby.
In the bowl of a stand mixer fitted with a whisk, beat the eggs, sugars, salt, and vanilla together on medium-high for about 8 minutes, scraping the bowl occasionally to make sure everything is getting combined. The mixture should be very pale and thick when it's done.
Turn the mixer down to low and pour in the melted browned butter and chocolate while still mixing. Remove it from the mixer, add the flour and cocoa powder all at once and fold it in with a rubber spatula until it is all combined.
Pour the batter into the lined, greased baking dish and place in the oven on a rack in the middle of the oven. Bake for about 30 minutes, or until the center is just set. And if you have an internal thermometer, they are ready when the center measures 205F.
Remove them from the oven, then use the foil to lift the brownies out of the pan and onto a cooling rack. This stops the baking and allows them to cool faster.
Once the brownies have completely cooled, cut them into squares.
Prep Time:

25-30 minutes

Cook Time:

30 minutes

Category:

Desserts and Sweets

Method:

Baking

Cuisine:

American
Keywords: Classic brownies, Brownies